With support from 24 percent of past Republican Primary voters, former two-term Governor Sonny Perdue leads among the serious potential candidates who have not foreclosed the possibility of running for the Republican nomination for United State Senate in 2014 following the announcement by Senator Saxby Chambliss that he will not seek reelection.
Former Fulton County Commission Chair and Georgia Secretary of State Karen Handel comes in second with 15 percent, reflecting a strong 2012 Gubernatorial campaign in which she came in first in the Republican Primary before losing the runoff to then-Congressman Nathan Deal.
Four Republican Congressmen, Paul Broun, Tom Graves, Tom Price, and Lynn Westmoreland hover in the range from six to ten percent; I'd guess any other incumbent GOP Congressman would score similarly.
The Gender Factor
The following table shows that sixty percent of Handel's support comes from women, significantly higher than any other potential candidate, and nearly 64% of undecided respondents are women, showing some upside for Handel in a demographic that has been a weakness for the GOP lately. With an identical number of male respondents choosing Handel and Congressman Tom Price, whose geographic bases overlap, Handel's lead over Price comes entirely from additional female votes.
At the same time, Governor Perdue's strong lead overall means that he still attracts more votes from women overall.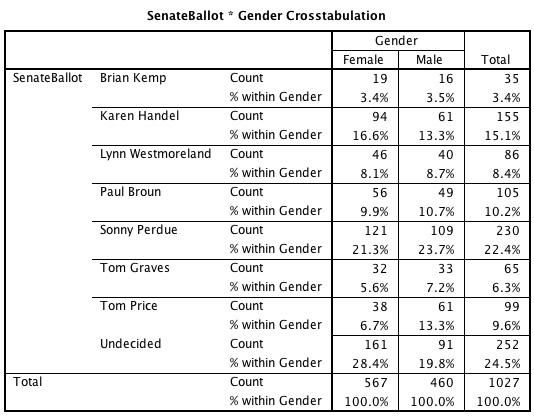 Click here for a copy of the script and research methodology.