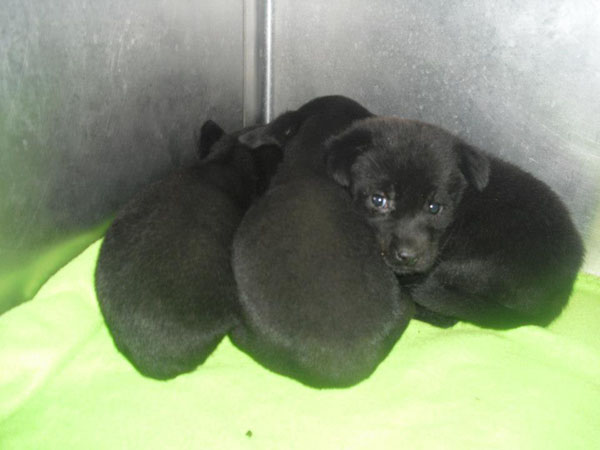 One of these little seven-week old pups found a home yesterday with a GaPundit.com reader and I couldn't be happier. Another reader's family stepped up and volunteered to foster the other two if enough money can be raised through a rescue organization to pay for their vetting, which will cost $400. If everyone who has written me about how much they enjoy seeing the adoptable dogs or asking how they can help will give $50, $20, or even $5 today, we can save the remaining puppies. They must be saved by Thursday night or they'll be euthanized on Friday before dawn. Please click here and go to Angels Among Us Rescue's webpage and donate today with a credit or debit card or PayPal account. When making your donation, please put "GaPundit – Murray County Puppies" in the purpose field.
This boxer puppy will qualify for the "Black Friday Sale" discounted $30 adoption fee on Friday at Gwinnett County Animal Shelter. She's a friendly little puppy and has five brothers and sisters in the shelter with her, who were found stray and are available for adoption today.
Finally, we bring you one of our favorite kind of dog, a basset hound "low rider" mix. Meet Binkie, a Pit Bull-Basset Hound mix.
Binkie is a spayed female, approximately 2 years old and just over 26 pounds of awesome. She is available for adoption tomorrow from Walton County Animal Services.
Georgia Politics, Campaigns & Elections
Senator Vincent Fort doesn't want voters to be armed in exchange for voting and has filed a complaint with the Secretary of State's office alleging that a Cobb business offering a chance to win a Browning rifle or Glock violates Georgia law that prohibits giving people something of value for voting.
Fort says the promotion violates state law prohibiting anyone from offering money or gifts in exchange for voting or registering to vote.

"I sent a letter to the secretary of state this morning, asking him to look into it and put a stop to the raffle," Fort said. "These billboards are prominently positioned all over the metro area, and I'm surprised the secretary of state didn't intervene earlier."

Four years ago, that office put a quick stop to shops offering free coffee and doughnuts to those showing proof that they voted, he said.