Weebles, a black lab, gave birth to 11 puppies in an animal shelter, then got sick and was unable to nurse them. Five puppies survived after Angels Among Us pulled Weebles and the puppies. The puppies aren't ready for adoption yet, but the vet bills are causing a drain on the rescue's money. Visit their website if you wish to donate online or to apply to foster or adopt a dog or cat.
You can also help Angels Among Us by voting for them in the Shelter Challenge, which is giving away grants ranging from $5000 to $1000 to winning shelter. To vote, hit the link and in the "Search and Vote for A Shelter" box, set the state to Georgia, hit search and wait for the results. When it shows the result, click vote, then you'll have to fill out some letter to confirm your vote.. Then go to another computer and vote again and repeat every day through September 16th.
Georgia Politics, Campaigns & Elections
Justice Party Presidential Candidate Rocky Anderson qualified as a write-in candidate on the Georgia ballot, which means that he filled out some paperwork correctly and both of his write-in votes will be counted. Mickey Mouse failed to qualify as a write-in candidate, but will likely receive more write-ins. Seriously.
Attorney General Sam Olens has raised his profile in Georgia politics as the best conduit to a potential Romney administration.
Dalton native Andrea Saul serves as press secretary for the Romney campaign. Dalton is quite proud of her.
Federal investigators are looking into allegations of planted drugs in the Murray County arrest that led to the resignation of the chief magistrate after allegations he propositioned the defendant.
The AJC tells us that the Feds looked into allegations of ethics violations by Gov. Deal.
The governor's attorney said this week that Kalberman and Streicker were merely trying to "shop" baseless charges to the FBI.

"There was never anything to it," the attorney, Randy Evans, said. "They were writing checks they couldn't cover."

The ethics commission in July cleared Deal of major violations, which effectively ended more than two years of state complaints and investigations. The commission voted to dismiss allegations that Deal benefited when his campaign paid for airfare on a plane that he partly owned, as well as claims that he improperly used state campaign dollars to pay for legal fees related to a federal ethics investigation.

Evans, Deal's attorney, said Kalberman and Streicker "tried to stir up trouble" by contacting federal officials. "They were desperately trying to find anyone who would listen."

The evidence of that, he said, is that the whole thing "just kind of died."

"Law enforcement did their job," he said. "The best evidence that there was nothing to it was what happened. Nothing."
I'm not sure there's any actual "news" in that story by the AJC, but anything that allows them to continue their smear campaign against Republicans, right?
Public Service Commissioner Chuck Eaton (R) has been talking to Georgia Power about the feasibility of adding solar power generation to the utility's portfolio without causing higher rates.
Few details were available, but the project will be "significantly" larger than the 50 megawatts of solar electricity Georgia Power must have on the grid by 2015, Eaton said. One megawatt of solar can provide electricity for one large department store, such as a Super Target.

"I've been working with Georgia Power over the last couple of months to get more solar in the marketplace and do it in a manner that does not put upward pressure on rates," Eaton told the Atlanta Journal-Constitution. "The price of solar has come down dramatically."

Georgia Power said it has been "working with the PSC for the past several months to find new ways to responsibly add more solar to our mix without causing rates to go up for customers."
Eaton's plan for more solar is based on allowing the utility to purchase power through a competitive process designed to avoid favoritism and to keep utility rates low.
A failed government-sponsored ethanol plant in South Georgia would have produced more electricity if it had simply burned $75 million in taxpayer dollars, rather than spending the money without ever producing a drop of ethanol.
Government support for alternative energy has become a hot-button political issue, pitting the promise of energy independence against the prudent use of tax dollars.

Both the Bush and Obama administrations strongly supported Range Fuels, which was expected to showcase the feasibility of cellulosic ethanol, as did politicians of both parties keen to bring jobs to Georgia.

The breakdown of taxpayer losses includes $43.6 million from DOE and $32 million from USDA. Georgia's loss is $6.2 million – unless the factory's new owners succeed.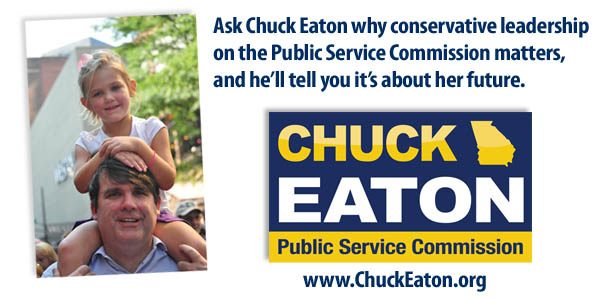 These two projects illustrate different approaches to alternative energy production. Eaton's approach relies on competition and private enterprise to encourage the use of alternative sources where it doesn't increase costs to ratepayers or taxpayers. The other approach relies on government picking and choosing winners and losers at the expense of taxpayers and ratepayers.
Georgia's voter ID law appears not to have kept any lawful voters from casting ballot, although 1586 provisional ballots were cast but not counted when the voters did not return with proper ID.
Georgia first adopted a voter ID law in 2005 and won court approval to implement it in 2007. The law has now been in place for two major statewide general elections: 2008, when the presidential race was on the ballot, and 2010, when voters selected a new governor. Prior to the new law, voters had been able to present one of 17 forms of identification, including a utility bill.

Elections data reviewed by the AJC show that participation among black voters rose by 44 percent from 2006 — before the law was implemented — to 2010. For Hispanics, the increase for the same period was 67 percent. Turnout among whites rose 12 percent.

It was expected that African American turnout would spike in 2008, when Barack Obama became the first person of color to win the presidency. And it did rise to historic highs in Georgia.

Black participation fell in 2010, as it did for all demographic groups. Still, a far greater share of black voters turned out in 2010 than in 2006, showing that Obama was not the only factor driving turnout.

Under Georgia's law, an in-person voter who arrives at the polls without a photo ID may cast a provisional ballot. The provisional ballot is counted only if the person returns with proper identification by the Friday following the election.

Records show that since 2008, 2,244 provisional ballots were cast by voters lacking photo ID. Of those, 658 returned with an ID and 1,586 did not — meaning their votes did not count.
It can't be any fun to kick off your Congressional campaign with news coverage that begins with "bless his heart," as is the case for Democrat Danny Grant, who is running against Republican Congressman Tom Graves in the General Election.
He admits it's a long shot in a district drawn for Republicans, but Democrat Danny Grant is seeking the new 14th Congressional District seat in the Nov. 6 general election.
Also having that experience is Jody Cooley, the Democratic candidate running against State Rep. Doug Collins, winner of the Ninth Congressional District's Republican primary.
 Cooley, sitting on a bench in Longwood Park minutes before he gives the first speech of his campaign, is "pretty nervous." He's never done this before. And he seems to understand that he's expected to lose in November.

"I don't think anybody's going to come," he says of the imminent party.

It's a legitimate fear.

Democrats don't do well in these parts. In the two decades since Deal switched to the Republican Party in the 1990s, Democrats have challenged the seat only four times.

Jeff Scott was the last to do so. In 2008, he fell short of even 25 percent of the district's voting support.

Scott's performance was only slightly better than that of John Bradbury and James Harrington, who challenged Deal in 2006 and 2000, respectively.

The most successful a Democrat has been in the district since 1994 was the nearly 35 percentage points McCracken Poston nabbed in the polls during his 1996 challenge to Deal.

While [UGA Political Science Professor Charles] Bullock says Democrats on the ballot in Georgia may have a better chance this November with President Barack Obama — who received 47 percent of Georgians' votes and spurred strong turnout among black voters in 2008 — on the ballot, it's not likely to help in the 9th, where 88 percent of registered voters are white.

Democrats in Georgia, according to Bullock, "have not yet fully adjusted to the fact that they are the minority."

For generations, Democrats in the state did not have to worry about candidate recruitment. This year, however, Cooley was the only candidate on Hall County's Democratic primary ballot.
State Senator John Wilkinson (R-Toccoa) was appointed to the Senate Aging Study Committee along with Sen. Renee Unterman (R-Buford), who will chair the committee, Sen. John Crosby (R-Tifton), Sen. Mike Crane ( R-Newnan) and Sen. Valencia Seay (D-Riverdale).
"I'm honored to have been tapped to serve on this committee," said Wilkinson. "It's vital that lawmakers are aware of the issues that face Georgians young and old. This committee is a step forward to ensure the state is providing the best possible care to seniors."

The committee will examine if the state is prepared to handle the growing needs of the seniors in Georgia. This population sector is growing at a pace that one in four Georgians will be over 55 years by 2030. Members will determine if any issues need to be addressed by through legislation. The committee will complete its study by the end of this year.
Paulding County property owners will see higher tax bills under a FY2013 budget passed 4-1 by the County Commission. You can watch the Commission meeting here.
The Hall County Commission approved the Board of Education's action raising the millage rate for school board property taxes.
The commission's vote on the tax largely seems insignificant because it has no authority to change the rate the school board approves.

Still, since the commission has to actually levy the tax and send the bills to property owners, Thursday's vote was a necessary procedure, according to Georgia law.
A grand jury looking into the finances of Ball Ground Recycling, which failed and left taxpayers on the hook for  $18.1 million dollars has recommended a forensic audit, and changing the compostition of the Resource Recovery Development Authority to include private citizens rather than only County Commissioners.
A civil jury found that Fulton County discriminated against a white male who did not get a promotion with the County.
Former Gwinnett County Commissioner Shirley Fanning-Lasseter, who resigned and pled guilty to federal bribery charges, is expected to be sentenced tomorrow.
Forsyth County and the City of Cumming continue at loggerheads over a water contract.
The previous 25-year agreement expired in May and the governments have yet to sign a new deal.

An agreement is needed because the county does not have a permit from the U.S. Army Corps of Engineers to withdraw water from Lake Lanier, while the city does.
Nelson City Council will consider revising the city charter in its meeting Tuesday at 7 PM at Nelson City Hall.
Two incumbent City Council members in Holly Springs face opposition, while Mayor Tim Downing and Post 5 Councilman Jeremy Smith are unopposed.
In Post 3, Alex Berkobin is running against Councilman Michael Zenchuk. Berkobin, a lifelong Cherokee County resident, said he did not pick Post 3 for any particular reason — the posts are at-large.

Post 4 Councilwoman Karen Barnett is being challenged by Bob Kovacs, who has served on the Holly Springs Planning and Zoning Commission since February.

Kovacs said he has been involved with the city for several years and thought it was time to step up his involvement in a higher position. He has also previously served on the city's historic preservation committee and the Downtown Development Authority.

"I think it's just time for a change," Kovacs said. "Two of the incumbent have been on (the council) eight years."
The incumbent Lawrenceville Mayor and two City Council members who are up for reelection are all unopposed.
Norcross Mayor Andrew Hixson is unopposed for reelection, while two City Council members drew opposition.
Arlene Beckles and Keith Shewbert will run against the current councilmen whose terms will end this year. Those councilmen are Ross Kaul and David McLeroy
Flowery Branch City Council member Tara Richards has returned from deployment to Afghanistan.
Tara Richards was called to deployment as part of the 628th Civil Engineer Flight at Dobbins Air Reserve in Marietta. She was in the middle of her first four-year term on the Flowery Branch Council at the time.

Mayor Mike Miller said he expects that Tara Richards will return to her council chair at 6 p.m. Thursday, the first of two regularly scheduled meetings in September.
The same weekend, Loganville City Council member Rey Martinez left for another tour with the Navy:
Martinez was elected to the Loganville City Council in 2010 after returning from his last tour of active duty.

However, he intends to be skyped in from the combat zone so he can still participate in the city's business. He also confirmed that on his return he will be running for reelection.

"(City Manager) Bill Jones is going to set it up with skype – there's a lot going on and I still want to be involved," Martinez said, adding that he had informed the mayor of his intention to seek another term when he returns next year. His council post is up for reelection in November 2013.
Dalton's unemployment rate may be damaging its reputation as the story spreads across the nation.
the metropolitan statistical area, which covers Whitfield and Murray counties, has recently garnered national attention as having the worst job loss in America among metropolitan areas.

Brian Anderson, president of the Greater Dalton Chamber of Commerce, said there is "a vibrancy in the economy" the unemployment numbers don't show.

"We certainly are pulling out of the economic downturn like all communities are to some degree as evidenced by the new retail investments, the hotel/motel tax increases, the better than state average in our sales tax growth," he said.

Dalton Mayor David Pennington questions whether the numbers are even accurate because they are based on a mathematical calculation of expected job loss rather than an actual count. Regardless, even with the losses, Dalton continues to stand as the economic hub for northwest Georgia, Pennington said.

"We're the center for retail," he said. "We're adding to it almost every month now, and our retail sales are growing at 10 percent at the moment, which is twice the state average."
The movement to create a Lanier Islands Parkway Community Improvement District that would levy an additional 5 mills to pay for transportation improvements is moving ahead under interim Director Mack Burgess, who also managed Stan Wise's primary campaign for reelection to the Public Service Commission.
To move forward with the CID, Burgess must get the signatures of 50 percent plus 1 of the commercial property owners in the proposed district, a swath of land from Lake Lanier Islands resort to the I-985 area.

And the 50 percent plus 1 "has to account for 75 percent of the total commercial value," Burgess said.

He is shooting for completion of the project by February, to be eligible for the 2013 tax year, but "the sooner the better. I'd like to be able to get it done by the end of the fall."
Floyd County Republicans gathered together to watch the national convention.
Ansley Saville, the director of fundraising, said she originally backed Gingrich, but her allegiance now is to Romney. "He's going to bring God back into our nation," she said. "I've had enough of people bowing to the minority when the majority wants to see family values."

She said Romney's Mormon faith is not an issue with her because its foundations are Christian.

"They have the 10 Commandments; that's what the nation was built on. They believe in God and Jesus," Saville said.

Party vice chairman Tom Saltino said the message of Romney and his vice presidential running mate Paul Ryan is starting to resonate with the country.

"I feel we're really getting to know Mitt Romney, and I can't say enough about Paul Ryan," Saltino said. "It has come together, and I think they're going to make a great ticket."

[Congressman Tom] Graves said Ryan "took me under his wing" when Graves first took office in a 2010 special election, and helped him get a coveted place on the House appropriations committee. The two have become good friends, he said — a local connection the Rome contingent was happy to claim.
The Smyrna real estate market appears to be improving with rising commercial occupancy and fewer foreclosures.
The City of Roswell will place a wreath and observe the 9/11 Anniversary beginning at 8:30 AM next Tuesday at the Faces of War Memorial behind City Hall, located at 38 Hill Street.
You may also observe the 9/11 anniversary in Cherokee County at 8:30 AM next Tuesday at the Cherokee County History Museum and Visitors Center, located at 100 North Street in Canton.
Georgia Power is predicting an additional $90 million expenditure for its share of the construction of Plant Vogtle's two new reactors. That's about 1.4% of the estimated cost and this is the first actual cost increase forecast by the utility company.