The General Election date is November 6th, 2012. The deadline for voter registration for the General Election is October 9, 2012, less than one week from today. Today would be a good day to email five friends with the following information, so they can make sure they're registered.
To check your voter registration or view a sample ballot, please visit the Georgia Secretary of State's office and use their MVP voter registration tool.
For questions about election dates, always check with the Georgia Secretary of State's website or your local County Elections Office.
Advanced voting in person starts October 15, 2012. More than 10,000 voters are marked as having already voted in the November 6th General Election, according to data from the Georgia Secretary of State's Office.
Dog Rescue
Khloe is a young female lab mix who is available for adoption from the Lowndes County Animal Shelter in Valdosta. She looks like a great playful dog. The $105 adoption fee includes neutering, vaccinations, heartworm removal and preventative, cleaning, flea spray, and a nail trim. Compared to the cost of a puppy's first vetting, that's a pretty good deal.
Georgia Politics, Campaigns & Elections
Governor Nathan Deal announced yesterday his intention to restore days cut from state-funded pre-K programs in the next budget. Dennis O'Hayer with WABE spoke with the Governor and with Democratic State House Leader Stacey Abrams.
Jim Galloway writes that state Senator Tim Golden introduced Senator David Shafer to fundraiser attendees as "the next President Pro Tem of the Senate." The President Pro Tem of the state Senate is important to voters because he or she often functions as one of the most valuable spokespeople for the Senate, and because the position can play a significant role in the administration of the Chamber, influencing the flow of legislation and committee assignments.
David Shafer represents parts of Gwinnett and Fulton Counties and was first elected to the Senate in a special election in February 2002. He currently chairs the Regulated Industries Committee.
Doug Collins, Congressman Elect the Republican candidate for Eleventh Congressional District, spoke at a Tea Party debate in Forsyth County last week. Five additional debates or joint appearances are planned between now and election day with Collins and his Democratic sacrificial lamb opponent Jody Cooley.
Chuck Eaton is the only incumbent Public Service Commissioner who will debate in the Georgia Public Broadcasting televised debates. Eaton faces Democrat Steve Oppenheimer, who appears unable to tell the truth, and Librarian Libertarian candidate Brad Ploeger.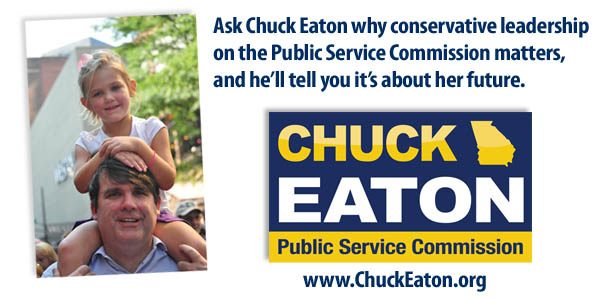 Two bald guys writing in Gainesville Times ask why politicians seldom directly answer questions at debate or press appearances.
In our research, we have found that viewers are most likely not to detect dodging when politicians offer answers to similar, but objectively different, questions than the ones they are asked.

In one study, for example, participants were shown video of a politician being asked a question about his policy on either health-care coverage in America, the illegal drug use problem in America, or America's war on terrorism. He offered the same answer to all three questions: "I'm glad you asked me that. There are so many important problems facing America today. We need universal health care because …" and then proceeded to give a long answer about health care.

People who saw video of the politician who was asked about health care saw him as trustworthy, honest and likable; he answered the question he was asked, after all.
State Rep. elect Lee Hawkins (R-Gainesville) met with a group of constituents Monday night. Jeff Gill of the Gainesville Times gives lengthy coverage of what was a small meeting; this is good reporting, does a service to the voters, and is incredibly rare nowadays.
Candidates on the November 6th ballot are reminded that the grace period for their September 30th Campaign Contribution Disclosure Report runs out October 5th. Get it finished early.

Republican organizations across the state will gather tonight to watch the first Presidential debate of the General Election. Here are some cool places to gather with friends tonight:
Atlanta Young Republicans – Debate Watching Party
8:30 PM – 10:30 PM
Hudson Grille – Midtown
942 Peachtree Street NE
Atlanta, GA 30309
Contact: staff@atlantayoungrepublicans.org

Cobb County Republican Party (East Cobb) – Debate Watching Party
8:30 PM – 11:00 PM
Tijuana Joe's Cantina – Marietta
690 Johnson Ferry Road
Marietta, GA 30068
Contact: (770) 820-6545 or cobbgop@gmail.com

Cobb County Republican Party (Northwest Cobb) – Debate Watching Party
8:30 PM – 11:00 PM
El Nopal Mexican Restaurant
3100 Creekside
Kennesaw, GA 30144
Contact: (770) 820-6545 or cobbgop@gmail.com

Emory University College Republicans – Debate Watching Party & Meeting
7:30 PM – 10:00 PM
Harland Cinema, Emory University Main Campus
605 Asbury Circle
Atlanta, GA 30322
Contact: wrightn@emory.edu

Forsyth County Young Republicans – Debate Watching Party
8:00 PM – 11:00 PM
Taco Mac – Cumming
2275 Market Place Blvd.
Cumming, GA 30041
Contact: (954) 553-1529 or joel.natt@gmail.com

Fulton County Republican Party – Debate Watching Party
7:00 PM – 11:00 PM
Fulton GOP Headquarters
5920 Roswell Road, Suite B-115
Sandy Springs, GA 30328
Contact: (404) 851-1444 or execdir@fultongop.org

Gwinnett County Republican Party – Debate Watching Party
8:30 PM – 11:00 PM
Olde Towne Tavern – Suwanee
340 Town Center Avenue
Suwanee, GA 30024
Contact: (770) 564-9864 or brucelevell@bellsouth.net

Muscogee County Republican Party – Debate Watching Party
8:30 PM – 11:00 PM
Muscogee County GOP Headquarters
2910 2nd Avenue
Columbus, GA 31904
Contact: (706)871-4467 or info@muscogeegop.org

Paulding County Republican Party – Debate Watching Party
8:00 PM – 11:00 PM
Paulding GOP Victory Center
168 North Johnston Street, Suite 205
Dallas, GA 30132
Contact: info@pauldingrepublicans.org

Georgia Commissioner of Juvenile Justice Gale Buckner (not to be confused with 2012 Democrat Senate candidate and former Senator Gail Buckner) will step down from the agency to become the new Chief Magistrate Judge for Murray County. Her predecessor as Chief Magistrate, Bryant Cochran, resigned in the midst of investigations by the FBI, GBI and JQC.
Polling
National Public Radio ran a national poll on the Presidential race administered by Democrat Stan Greenberg and Republican Whit Ayres, who formerly called Atlanta home. Given the glut of national surveys lately, the actual results aren't as interesting to me as the discussion by two pollsters of different parties of the likely makeup of the November electorate.
Ayres, the Republican half of the team, noted that the actual electorate in November may not have as many Democrats as this NPR poll's likely voter sample, which he called "a best-case scenario" for the president's party.

"When you sample voters over time, you inevitably get varying proportions of Democrats and Republicans in the sample. It's nothing nefarious, just the vagaries of sampling," Ayres said. "This sample ended up with seven points more Democrats than Republicans. In 2008, there were seven points more Democrats than Republicans in the electorate, according to exit polls, But in 2004, there were equal numbers of Democrats and Republicans."

If this year's voters were to split evenly again between the two major parties, Romney would have an advantage. The NPR poll found him a 4-point favorite among independents.

Most observers expect this year's party ratio to be somewhere between the Democratic tilt of 2008 and the even split of 2004 (which recurred in the midterm elections of 2010). Stan Greenberg, the Democratic member of the polling team, said polling this year has generally found fewer people self-identifying with the GOP.

"They're moving into the independent category," Greenberg said, "where also if you look at the brand position of the Republican Party and Democratic Party, the Republican Party favorability has been dropping throughout this whole period."
The former Pollster for the Presidential campaign of former U.S. Senator John Edwards (D-Scumbag) was deposed in a lawsuit, and the transcript give a lot of insight to the way in which pollsters have become integrated with the political press team of some Presidential campaigns.
Under oath, Hickman admitted that in the final weeks of Edwards's 2008 bid, Hickman cherry-picked public polls to make the candidate seem viable, promoted surveys that Hickman considered unreliable, and sent e-mails to campaign aides, Edwards supporters and reporters which argued that the former senator was still in the hunt —even though Hickman had already told Edwards privately that he had no real chance of winning the Democratic nomination.

"They were pounding on me for positive information. You know, where is some good news we can share with people? We were monitoring all these polls and I was sending the ones that were most favorable because [campaign aides] wanted to share them with reporters," Hickman testified on May 14 at the trial in Greensboro, N.C. "We were not finding very much good news and I was trying to give them what I could find."

Hickman testified that when circulating the polls, he didn't much care if they were accurate. "I didn't necessarily take any of these as for—as you would say, for the truth of the matter. I took them more as something that could be used as propaganda for the campaign," the veteran pollster said.
In the wake of recent discussions of whether media polling accurately reflects the partisan makeup of the electorate, the Washington Post one-upped UnskewedPolls.com by offering its' own online calculator the Poll Manipulator, allows you to enter what you wish think the partisan breakdown is, and it automatically skews the polls to reflect the view through your rose-colored glasses. It's pretty fun to play with.
Speaking of rose-colored glasses, the Sierra Club sent out an email claiming that Republican Public Service Commissioner Chuck Eaton, "according to the most recent polls, is running neck and neck with his challenger Steve Oppenheimer." Democrat Nan Orrock also sent out an email claiming,
A recent poll shows that Steve, is in a dead-heat with the incumbent
Commissioner (www.chuckeaton.org) . We have a great
opportunity to make change at the Public Service Commission.
Pure fiction. Since these purported poll results are now being discussed publicly, Oppenheimer's pollster should release the information required under the American Association for Public Opinion Research Code of Professional Ethics and Practice.
Ends & Pieces
I've got my tickets for the October 20th Willie Nelson show at the Southeastern Railway Museum in Duluth. Let me know to look for you if you're going too.
Dave Matthews Band will play Gwinnett Arena in Duluth on December 11th. Tickets go on sale October 19th.
Petit LeMans will run at Road Atlanta in Braselton on October 20th with qualifying taking place the 17th through 19th. Tickets are on sale now.
I am highly unlikely to ever attend a game of the Lingerie Football League team that will play home games in Gwinnett next year. Unless I have an unavoidable client meeting there or something.
On Tuesday, Gainesville set a record for the most rain falling in a 24 hour period.