George is an English Bulldog, and is currently available for adoption at the Cherokee County Humane Society after first doing a stint behind bars at the Cobb County Animal Shelter. He came in as a stray and has neither been claimed nor adopted.
George has had some medical issues, but with good veterinary care, it appears he's getting over his problems. He is six years old, weighs sixty-six pounds, and would like nothing better than to watch football games on television from a comfy dog bed (or sofa) in his new home.
According to his guardians, George is a typical laid back lazy boy. He loves getting his belly rubbed!  He loves loves loves his squeaky toys!  He is crate and housetrained. He seems fine with other dogs and oblivious to the  cats but suspect George would be quite happy as an only child and the center of attention.  He may get a tad fussy about having his face messed with but we suspect that has more to do with discomfort of his eyes.  Since we do not know his history, a home without small children is what he seeks!!  George is neutered, heartworm tested negative ( yay) and microchipped!
George has also racked up about $700 in vet bills, which the Humane Society is asking for help in paying. If you're unable to adopt George, you might wish to donate online in honor of your favorite football team, or your favorite team's nemesis.
All the dogs on this page are listed as "Urgent" at their shelters, which generally means impending euthanasia.

Just look at this cow-looking dog named Boomer.He's a young, random-breddog who is 6-8 months old and weighs 36 pounds. Boomer is on the shy, submissive side, so he should fit in well in a home with other established dogs. He's still a young guy but catching on to the leash thing! Boomer is available for adoption today from Walton County Animal Shelter for the low, low price of $40.
Next up is Bermuda, also at Walton County.
Bermuda is described as a Pit Bull, but in the animal shelter context, that often means nothing more than "he/she has a wide head and we don't know anything else about it's ancestry." She is 7 months, 36 pounds and available Monday.
Pits are highly controversial, but many people believe they're the best dogs, loyal and smart with fantastic temperments. If you're interested in adopting a dog described as a Pit, my advice would be to judge the dog as an individual and speak to people who deal extensively with Pit-types. Get good advice, and train your dog well. As always, it is the dog owner's responsibility to ensure that their best friend is not a menace to society.
But just look at Bermuda's face.

Next up are three puppies, Nat, Geo, and Fluffernutter.

Nat and Geo are male Shepherd-mix puppies who are about three months old and weigh fifteen pounds each. They were found stray and will be available for adoption on Monday. Fluffernutter is a six-month old puppy who weighs about twenty pounds. She's described as a "Retriever mix" and I'm thinking she looks like a Nova Scotia Duck Tolling Retriever. Tollers are an uncommon breed and I'd be surprised if a purebred puppy ended up in a shelter. But if Fluffernutter were my dog, I'd probably be able to get away with calling her one. She is also available for adoption beginning Monday.
Finally, we have Rusty, a male Retriever mix guesstimated to be about a year old, and weighing in at 62 pounds. He is said to be very friendly.
Georgia Politics, Campaigns & Elections
The Charter School Amendment may have to provide much of the campaign excitement this year, as most state offices are not up for reelection.
While both commission incumbents, Republicans Stan Wise and Chuck Eaton, face challengers, the absence of TV advertising tends to leave political editors, reader commenters and the average gadfly uninterested. Besides, the fact that incumbents historically win re-election more than 95 percent of the time suggests that Wise and Eaton are unlikely to be deposed.

So, a lowly ballot question is providing most of the fun for the next two months.

Thank the Georgia Supreme Court and Gov. Nathan Deal. That's because the court struck down as unconstitutional a law that created an appointed commission to grant operating charters to schools started by parents — sometimes acting on behalf of management companies — over the objections of the local board of education. To remedy it, Deal called for putting on the general-election ballot an amendment to make it constitutional.

"Georgia's parents want more options, and it is my duty as governor to see that they have them," he said in May when he signed the legislation. "These schools help students trapped in underperforming schools and aid communities that want to invest in new and imaginative ways of learning for their children."

[T]he committee organized to campaign for the amendment, Families for Better Public Schools, reported to the state ethics commission that it had raised $487,000. More than 95 percent of that money came from out of state, including from companies that have their own financial interests because they operate charter schools here.
We will be releasing poll results on the Charter School Amendment on our website this afternoon, and providing some analysis tomorrow morning.
Former New Jersey Governor Christine Todd Whitman and Democratic State Rep. Calvin Smyre co-authored an op-ed in the Augusta Chronicle about Plant Vogtle's two new nuclear reactors.
Any financial adviser will tell you that the best way to ensure solid long-term returns on your investments is to diversify your investment portfolio. Putting your financial eggs in multiple baskets allows you to capitalize on the higher-yield potential of short-term opportunities, while also taking advantage of the sure growth of longer-term, predictable-yield investments.

Americans would do well to apply this counsel to our energy investments. That's why we're so pleased to see Georgia taking important steps toward helping the U.S. diversify its energy portfolio.

The NRC's decision to grant construction and operating licenses for the new reactors at Plant Vogtle also marks a moment of tremendous opportunity that offers Georgians access to clean, affordable energy; more well-paying jobs; a much-needed economic boost; and a reliable source of energy long into the future.

[N]uclear power is a clean, affordable form of energy. Nuclear power plants operate without producing harmful emissions, making nuclear one of the most prolific sources of clean energy. In fact, nuclear power accounts for 63 percent of the carbon-free energy produced annually in the United States. We believe that the nuclear energy's expansion is critical to our nation's ability to reduce its greenhouse gas emissions in the coming years.

[B]uilding and operating the two plants will provide a strong source of jobs for Georgians now and in the future.

The new reactors also will provide a powerful boost to the state's economy.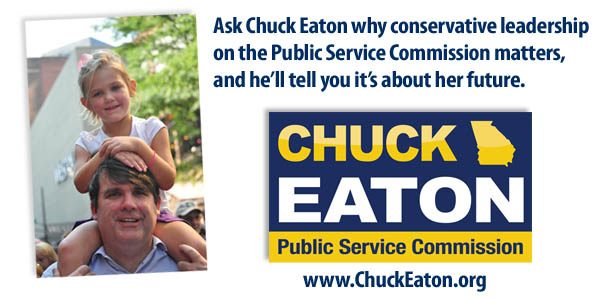 Congressman Tom Graves (R-Ranger) will have to do more with less as his office budget is being cut 6 percent this year.
[Graves] has $1,325,000 to work with this year. According to spokeswoman Jennifer Hazelton, that's 6.4 percent lower than the $1.4 million office budget last year, and the 2011 Members' Representational Allowance is 5 percent down from 2010.

"Tom has been one of the ones leading the charge on that," Hazelton said. "Since he's been on the Appropriations Committee, they've cut the available money by 11.4 percent."

"It's a hard-and-fast allowance, but every district is different," Hazelton said. "Who's in it, the terrain, the distance from Washington D.C. … It all has to be taken into account when you're determining the best way to serve your constituents."
The campaign for the Twelfth Congressional District between Democrat incumbent John Barrow and Republican challenger Lee Anderson may ultimately hinge on whether Barrow successfully distances himself from President Obama, or Anderson's attempt to tie him to the top of his ticket succeeds.
Even before a challenger was named, national GOP groups were focused on painting Barrow and Obama as political soul mates in a race being closely watched as a chance for Republicans to knock off a Democratic congressman.

Anderson has made a habit of saying he's running against both Barrow and Obama.

"Now is the time to work together to stop the Obama-Barrow agenda that's saddling our children and grandchildren with debt and threatening the future of our country," Anderson said in a statement issued after the recount sealed his nomination.

Republican-led Georgia lawmakers redrew his 12th District seat to carve out Savannah, the congressman's home of six years and his biggest Democratic base, and replaced the city with conservative-leaning rural and suburban communities.

Republican leaders in the district admit that beating Barrow won't be easy. As of Aug. 1, the incumbent had $1.3 million in the bank to defend his seat — roughly $10 for every $1 Anderson had on hand.

"I know not to underestimate John Barrow," said Jim Benton, GOP chairman for Bulloch County, a large farming community that the congressman carried in 2008 but lost in 2010. "With that much money in the bank, I know he can turn out a lot of votes."
Kennesaw City Council member Chris Eaton-Welsh may have violated the city's ethics code when she treated public employees without charge in her chiropractic clinic.
First elected in June 2009 and re-elected to a four-year term in 2011, Eaton-Welsh is also a doctor at Eaton Chiropractic on South Main Street in downtown Kennesaw, where she has a private practice with her father, Doc Eaton. As pro bono work, she has often treated police, fire, ambulance and active military personnel at no charge, according to the letter.

But Mayor Mark Mathews has suggested that the longstanding practice may violate the city's current ethics code, said Copeland. Eaton-Welsh in the letter said such pro bono work is an industry-wide practice.

"The mayor has brought it to her attention that this is a conflict of interest and possible violation of the code of ethics, so she wanted to submit a letter acknowledging the fact that this practice goes on and that she is no longer treating anyone personally," Copeland told the five-member ethics board.
Brunswick municipal court Judge Andrew Lakin probably won't be hard for Glynn County Sheriff's Deputies to find after they take out a warrant for his arrest for Aggressive Driving.
Glynn County Police Chief Matt Doering said Friday that Superior Court Judge Stephen Scarlett signed a special order moving the matter to the Savannah-based Eastern Judicial Circuit.

Because Lakin is a judge in the Brunswick Judicial Circuit, judges here cannot consider the warrant application. Lakin also serves at attorney for the Glynn County school board.
Cobb County has seen 8831foreclosures this year, more than five times the number of foreclosures in the entire year 2000. The peak was 15,000 in 2010, and this year's number is expected to rise.
"I still think that banks are sitting on a lot of properties that can certainly be foreclosed on," said Dr. Don Sabbarese, director of Kennesaw State University's Econometric Center. "As we do see some positive increases in housing prices, you will see more banks placing homes on the market so they can get more money out of them than they would have six months ago."
Gas prices may be stabilizing as Gulf production comes back online.
For the past four weeks, oil prices have traded between $96 and $97 a barrel. The stability in oil prices should also contribute to the price drop at the pump. A barrel of oil settled Friday at $96.42 on the New York Mercantile Exchange — 5 cents less than the week prior.
The City of Gainesville will hold a low-key service to observe the anniversary of 9/11 tomorrow at 9:45 a.m. at Public Safety Complex, Fire Station #1, located at 725 Pine Street in Gainesville, with public parking available behind the Gainesville Justice Center off Banks Street.
Gainesville Fire Chief Jon Canada said it's part of the city's committment to never forget that day.
"We will take a moment and give that moment of silence, and we will honor those who lost their lives, honor the families who sacrificed so much through that. Our committment is to never forget that," Canada said.

Canada said the simple and low-key ceremony will include prayer, the timeline of the collapse of the towers in New York and the tolling of the bell for the fallen firefighters and law enforcement.
The ambulance response time in Dunwoody has increased as a result of taking its 911 operations out of DeKalb County and into a cooperative call center.
If you have a heart attack today in Dunwoody, it will probably take an ambulance close to a minute longer to reach you than it did a year ago.

You could also expect about a minute tacked on to the time it would take firefighters to reach the scene of a blaze.

After 11 months and more than $70,000, Dunwoody's move to improve its emergency response system remains mired in a technical jumble that has some residents concerned and city officials working to fix it.

The longer response time follows a decision last year to switch Dunwoody's 911 system from DeKalb County to ChatComm, the Chattahoochee River 911 Authority based in Sandy Springs. A majority on the City Council agreed the switch would provide better service to residents and ensure the safety of emergency personnel.

Dunwoody does not have its own fire or ambulance service. ChatComm must transfer those calls to the DeKalb County 911 center, where a call-taker assumes control, then dispatches emergency crews. That transfer and relay of information adds an average of 1 minute to 1 minute and 30 seconds to the process, Dunwoody officials say, but the travel time has improved slightly.

ChatComm normally processes a call and readies it to be dispatched within one minute of the phone ringing. High-priority calls, such as fires and medical emergencies are handled even faster. But transferring a call to another 911 center adds time.

Once they are dispatched, the time it takes DeKalb fire and EMS to get from the station to an address has actually improved over the past two years. Public Safety records show crews now arrive on scene in 7 minutes, 5 seconds on average, 16 seconds faster than in 2010. That's from the time when the dispatcher alerts crews to roll, to the time it takes them to arrive on scene.