George is an English Bulldog, and is currently available for adoption at the Cherokee County Humane Society after first doing a stint behind bars at the Cobb County Animal Shelter. He came in as a stray and has neither been claimed nor adopted.
George has had some medical issues, but with good veterinary care, it appears he's getting over his problems. He is six years old, weighs sixty-six pounds, and would like nothing better than to watch football games on television from a comfy dog bed (or sofa) in his new home.
According to his guardians, George is a typical laid back lazy boy. He loves getting his belly rubbed!  He loves loves loves his squeaky toys!  He is crate and housetrained. He seems fine with other dogs and oblivious to the  cats but suspect George would be quite happy as an only child and the center of attention.  He may get a tad fussy about having his face messed with but we suspect that has more to do with discomfort of his eyes.  Since we do not know his history, a home without small children is what he seeks!!  George is neutered, heartworm tested negative ( yay) and microchipped!
George has also racked up about $700 in vet bills, which the Humane Society is asking for help in paying. If you're unable to adopt George, you might wish to donate online in honor of your favorite football team, or your favorite team's nemesis.
All the dogs on this page are listed as "Urgent" at their shelters, which generally means impending euthanasia.

Just look at this cow-looking dog named Boomer.He's a young, random-breddog who is 6-8 months old and weighs 36 pounds. Boomer is on the shy, submissive side, so he should fit in well in a home with other established dogs. He's still a young guy but catching on to the leash thing! Boomer is available for adoption today from Walton County Animal Shelter for the low, low price of $40.
Next up is Bermuda, also at Walton County.
Bermuda is described as a Pit Bull, but in the animal shelter context, that often means nothing more than "he/she has a wide head and we don't know anything else about it's ancestry." She is 7 months, 36 pounds and available Monday.
Pits are highly controversial, but many people believe they're the best dogs, loyal and smart with fantastic temperments. If you're interested in adopting a dog described as a Pit, my advice would be to judge the dog as an individual and speak to people who deal extensively with Pit-types. Get good advice, and train your dog well. As always, it is the dog owner's responsibility to ensure that their best friend is not a menace to society.
But just look at Bermuda's face.

Next up are three puppies, Nat, Geo, and Fluffernutter.

Nat and Geo are male Shepherd-mix puppies who are about three months old and weigh fifteen pounds each. They were found stray and will be available for adoption on Monday. Fluffernutter is a six-month old puppy who weighs about twenty pounds. She's described as a "Retriever mix" and I'm thinking she looks like a Nova Scotia Duck Tolling Retriever. Tollers are an uncommon breed and I'd be surprised if a purebred puppy ended up in a shelter. But if Fluffernutter were my dog, I'd probably be able to get away with calling her one. She is also available for adoption beginning Monday.
Finally, we have Rusty, a male Retriever mix guesstimated to be about a year old, and weighing in at 62 pounds. He is said to be very friendly.
Georgia Politics, Campaigns & Elections
The Charter School Amendment may have to provide much of the campaign excitement this year, as most state offices are not up for reelection.
While both commission incumbents, Republicans Stan Wise and Chuck Eaton, face challengers, the absence of TV advertising tends to leave political editors, reader commenters and the average gadfly uninterested. Besides, the fact that incumbents historically win re-election more than 95 percent of the time suggests that Wise and Eaton are unlikely to be deposed.

So, a lowly ballot question is providing most of the fun for the next two months.

Thank the Georgia Supreme Court and Gov. Nathan Deal. That's because the court struck down as unconstitutional a law that created an appointed commission to grant operating charters to schools started by parents — sometimes acting on behalf of management companies — over the objections of the local board of education. To remedy it, Deal called for putting on the general-election ballot an amendment to make it constitutional.

"Georgia's parents want more options, and it is my duty as governor to see that they have them," he said in May when he signed the legislation. "These schools help students trapped in underperforming schools and aid communities that want to invest in new and imaginative ways of learning for their children."

[T]he committee organized to campaign for the amendment, Families for Better Public Schools, reported to the state ethics commission that it had raised $487,000. More than 95 percent of that money came from out of state, including from companies that have their own financial interests because they operate charter schools here.
We will be releasing poll results on the Charter School Amendment on our website this afternoon, and providing some analysis tomorrow morning.
Former New Jersey Governor Christine Todd Whitman and Democratic State Rep. Calvin Smyre co-authored an op-ed in the Augusta Chronicle about Plant Vogtle's two new nuclear reactors.
Any financial adviser will tell you that the best way to ensure solid long-term returns on your investments is to diversify your investment portfolio. Putting your financial eggs in multiple baskets allows you to capitalize on the higher-yield potential of short-term opportunities, while also taking advantage of the sure growth of longer-term, predictable-yield investments.

Americans would do well to apply this counsel to our energy investments. That's why we're so pleased to see Georgia taking important steps toward helping the U.S. diversify its energy portfolio.

The NRC's decision to grant construction and operating licenses for the new reactors at Plant Vogtle also marks a moment of tremendous opportunity that offers Georgians access to clean, affordable energy; more well-paying jobs; a much-needed economic boost; and a reliable source of energy long into the future.

[N]uclear power is a clean, affordable form of energy. Nuclear power plants operate without producing harmful emissions, making nuclear one of the most prolific sources of clean energy. In fact, nuclear power accounts for 63 percent of the carbon-free energy produced annually in the United States. We believe that the nuclear energy's expansion is critical to our nation's ability to reduce its greenhouse gas emissions in the coming years.

[B]uilding and operating the two plants will provide a strong source of jobs for Georgians now and in the future.

The new reactors also will provide a powerful boost to the state's economy.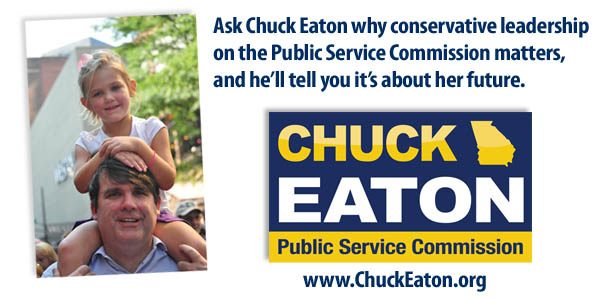 Congressman Tom Graves (R-Ranger) will have to do more with less as his office budget is being cut 6 percent this year.
[Graves] has $1,325,000 to work with this year. According to spokeswoman Jennifer Hazelton, that's 6.4 percent lower than the $1.4 million office budget last year, and the 2011 Members' Representational Allowance is 5 percent down from 2010.

"Tom has been one of the ones leading the charge on that," Hazelton said. "Since he's been on the Appropriations Committee, they've cut the available money by 11.4 percent."

"It's a hard-and-fast allowance, but every district is different," Hazelton said. "Who's in it, the terrain, the distance from Washington D.C. … It all has to be taken into account when you're determining the best way to serve your constituents."
The campaign for the Twelfth Congressional District between Democrat incumbent John Barrow and Republican challenger Lee Anderson may ultimately hinge on whether Barrow successfully distances himself from President Obama, or Anderson's attempt to tie him to the top of his ticket succeeds.
Even before a challenger was named, national GOP groups were focused on painting Barrow and Obama as political soul mates in a race being closely watched as a chance for Republicans to knock off a Democratic congressman.