Cobb County Animal Shelter is facing overcrowding problems, as are most public shelters this time of year. All dogs and cats are urgent, and we believe that dog adoptions are reduced to $40 from their normal $115.
Beaudacious (or "Beau") is a 3-year old, 78-pound Bluetick Coonhound who is available for adoption from Cobb County Animal Shelter. Sadly he has tested positive for heartworms, but with treatment, he should be good as new in no time. Please speak with your veterinarian about treatment options. Bo is 3 years old, his ID is 574743, he is in run 17, and weighs 78 lbs. He can not be left unattended in the yard, he can scale an 8′ fence!
Coonhounds make wonderful family pets, though their behavior is best when they have daily exercise.
Happy is a cute little 6-month old, 30-pound puppy, maybe a Retriever mix, who is available for adoption from Cobb County Animal Shelter, where his ID is 574571 and he is in run 115.
Happy is just a baby and eager to learn. He is happy and playful, and so much cuter and smaller in person. Happy already knows sit.
Here's a video of Happy playing with his buddy Midas.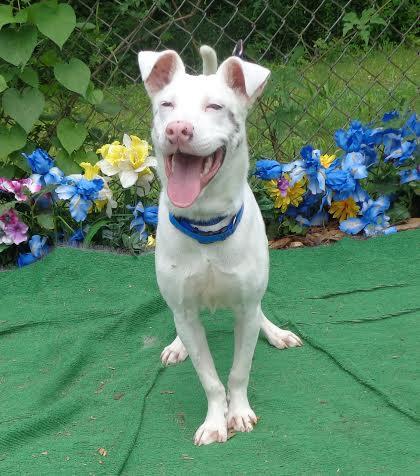 And here is Midas, the little Siberian Husky mix puppy seen in the video above with Happy.
Midas is an awesome pup looking for an awesome adopter to join forces with and conquer the world! He was picked up as a stray on 5/28/15 and is only 6 months old. He is super smart and will be very easy to train. He has a happy and sweet disposition and loves playing with his toys. Midas is deaf, but he certainly doesn't let that slow him down one bit. Midas is ID #574811 and can be found in cage T6 in the puppy/small dog room.
How fun would it be to adopt these two little buddies together?