Timothy is the tan-colored puppy above (the black one is adopted), he is two months old and has spent a month in the Cobb County Animal Shelter, where he lives in cage 332. If you adopt him, he will be vaccinated, chipped, and neutered.
Suri and Kimmi, the black puppies, are his sisters, and are still available from the Cobb County Animal Shelter (the tan girl has been adopted). They are right next door to Timothy in Cage 331 in the puppy are. Adoption also includes vaccinations, micro-chipping, and spaying.
Georgia Politics, Campaigns, and Elections
Today is Primary Runoff Election Day and includes runoffs in nonpartisan elections, such as most judges. You may vote today, even if you didn't vote in the Primary, although if you voted in a partisan primary in July, you may not vote in the other party's runoff. Polls are open from 7 AM to 7 PM. You will need to bring your photo ID and the Secretary of State's office has information on which forms of ID are acceptable. If you do not have your ID when you arrive to vote, you may still cast a provisional ballot, as you may do in case of certain other problems. If you cast a provisional ballot, you will have three days to produce proper ID to election officials to have your ballot counted.
When you vote today, I'd be interested in hearing how it went. Relevant information includes your county and precinct, what time you voted, how crowded it was, your voter number (ask the poll workers), and any impressions you or the poll workers have about the pace of voting. Visit the website and put it in the comments or email me.
Last week, Karl Rove updated his electoral map, moving Georgia from "safe Romney" to "leans Romney" but that may reflect a dearth of publicly-released polling in the state, rather than an actual change in the electorate.
Yesterday, a three-judge panel of the Eleventh Circuit Court of Appeals let stand the "show your papers" provision of Georgia's House Bill 87, an immigration reform bill.
The decision upholds an injunction against Section 7 of the law, which made it illegal to transport or harbor an illegal alien in Georgia. But it reverses an injunction against Section 8 of the law, which authorizes law enforcement officers to investigate the immigration status of criminal suspects who cannot provide particular documents to prove their status.
The opinion of the panel is available here. The next step is a decision by the litigants whether to appeal to have the case heard by the entire Eleventh Circuit.
Georgia Attorney General Sam Olens said, via press release,
"I am pleased that the the 11th Circuit has reversed the lower court's injunction and allowed Section 8 of HB 87 to stand. While I disagree with the Court's decision on Section 7, after over a year of litigation, only one of the 23 sections of HB 87 has been invalidated. We are currently reviewing the 11th Circuit's ruling to determine whether further appeal would be appropriate at this stage of the case."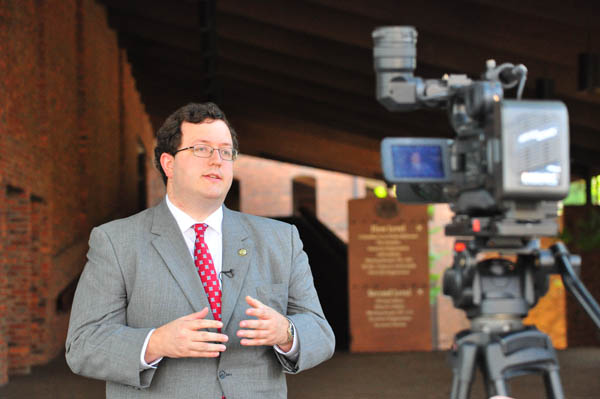 Senator Josh McKoon (R-Columbus) is a member of the Senate Ethics Committee and a leader in the movement to adopt limitations on gifts from lobbyists to lawmakers. He released yesterday his Minority Report in which he dissents from the negotiated settlement of ethics charges against Senator Don Balfour.
The Minority agreed that Respondent had violated Senate Rules by failing to maintain accurate records and submitting false expense reports; however, dissented from the negotiated sanction.

It is clear to the Minority that both the Christian and Dooley complaint meet the jurisdictional threshold of Title 45 and should have been handled under Title 45. Both complaints alleged that the Respondent used his position as State Senator to file false expense reports which provided for a direct, unique, pecuniary and personal benefit, namely the monies wrongfully disbursed to Respondent. The amended Dooley complaint went a step further, alleging that by failing to authorize the Audit Subcommittee as required by O.C.G.A. 28-1-8 that the Respondent was able to insure that the false expense reports would never be reviewed.

Instead of proceeding under Title 45 with the complaints presented which would have necessitated a public hearing of these matters, the Committee chose to proceed under the other route available which did not require a public hearing. The opinion of the Minority is that this decision was made in error and that the public, including the complainants, were entitled to be present for the proceedings held by the Committee.

In addition to the charges of filing false expense reports in this case, the Respondent also admitted to violation of O.C.G.A. 28-1-8 which provides for the Audit Subcommittee to review the expense reports of all Senators.

In the view of the Minority, this compounds the other offense as by the Respondent's failure to appoint the Audit Subcommittee he removed the safeguard against false filings, not just in his case but in the case of any Senator that might have done so over the last decade he has been charged with the responsibility of chairing the Senate Rules Committee.

[I]t is the opinion of the Minority that a recommendation should issue for a Censure Resolution to be introduced with a do pass recommendation regarding the conduct of the Respondent, that the Committee recommend to the Committee on Assignments that Respondent be removed as Chairman of the Senate Rules Committee and that a fine equivalent to the cost of the proceedings of the Senate Ethics Committee be imposed on Respondent.

The Minority is of the opinion that to fully conclude this matter, that an appropriate authority should investigate these matters and determine finally if any violation of these statutes has taken place. The Minority will transmit this report to the Attorney General with its recommendation that his office conduct such an investigation.
I apologize for such a long pull quote, but here's the tl;dr version:
1. McKoon believes that a public process was authorized and appropriate here and that the Ethics Committee erred in proceeding in the manner it did;
2. The failure by Balfour to appoint an audit subcommittee kept improper expenditures from being detected;
3. The negotiated penalty was inadequate and Senator Balfour should be Censured by the Senate as a body;
4. The case should be referred for consideration of possible criminal sanctions.
Also failing to do their job is the Georgia Government Transparency and Campaign Finance Commission.
Runoff candidates are required to file a campaign contributions disclosure six days before the runoff so that voters know where their funding comes from. The Commission's website, while accepting such filings from candidates does not appear to be displaying them when they are searched for. Nor does it appear to be properly displaying two-business day reports in some cases. This is unacceptable.
Georgia's current campaign finance regime is premised on timely disclosure, and the biggest impediment to voters learning how campaigns are financed in a timely manner is the Commission charged with collecting and distributing disclosures.
Ultimately, I believe that this reflects in part a misconception about what the Campaign Finance Commission is. It is no longer primarily an enforcement agency. Its statutory charges makes it primarily an IT agency charged with maintaining a campaign and lobbyist disclosure database. It should be putting most of its resources into IT infrastructure and services, and its most-highly paid staffer should be a database administrator. Its continuing failure to do its job negatively affects public confidence in the Commission and in our elected officials.
In Cobb County, the runoff election for Commission Chairman between incumbent Tim Lee and former Chair Bill Byrne may be a battle between old Cobb and new, if the Marietta Daily Journal is correct.
"In some ways it's a battle of old Cobb versus new Cobb," said Kennesaw State University political science professor Kerwin Swint, who specializes in campaigns and elections.
It's also a battle between old-style campaign tactics and new.
"I know Bill Byrne has friends in Cobb County, and I think he's depending on people he and his wife know getting out the troops, and where Tim Lee is concerned, I think it's a matter of using his financial edge to make phone calls, beat the bushes and get his voters to come back out for him again," [said Swint].
In Gwinnett County, Sheriff Butch Conway has endorsed Tommy Hunter, who is challenging incumbent Mike Beaudreau for Commission District 3 in the GOP runoff.
Conway, who is unopposed for his fifth term, has been involved in county commission races before. He campaigned for challenger Lorraine Green, when the commissioner mounted an unsuccessful challenge to then-Chairman Charles Bannister in 2008.
Conway might be the most popular politician in Gwinnett County, but his endorsement may not be very valuable after today. The Conway-endorsed candidate for one of the open judicial seats will be defeated soundly. Will a Beaudreau win make it 0 for 3?
Republican delegates to the Republican National Convention will be given free copies of  Georgia Tech grad Mark Rogers's self-published fiction book, "Smeared."
"SMEARED" is a political fiction story about a man from the days of America's founding fathers who suddenly appears in modern-day America. The self-published political novel answers the question of what a man from early American history would think, say and do when confronted by today's politicians and shows the fallout of their interactions.
The Savannah Morning News writes about QR codes linking smartphones to campaign videos. Pure BS. Nobody uses QR codes except marketing firms with gullible clients, and then the real use of the QR codes is to extract money from the client for useless gewgaws. If some marketing expert tries to get you to spend money on QR codes, escort them out immediately.
In 2008, said a recent article in Campaigns and Elections magazine, just 10 percent of the population had a smartphone.

Now, it added, more than half do, and a third of them use their phones to scan such codes to access advertising.

"We're going to see a lot more of them in politics," said marketing specialist Rick Monroe, who is helping DeLoach.

Monroe said his candidate's application is an improvement over Gaster's.

Gaster's codes were on his campaign signs, and unless you were within 3 feet, you couldn't scan them with your smartphone, Monroe said.

In contrast, DeLoach's mailer went directly to the addressees.
I'm open to hearing differently about my skepticism about QR codes, but unless you have analytics, don't bother.
Georgia First Lady Sandra Deal reminds you that "Stop means stop" when it comes to school buses with their stop signs and lights deployed.
Georgia's First Lady came to Dougherty County Monday to discuss the importance of the "Stop Means Stop" program. She's teaming up with several state groups to keep children safe.

Thousands of drivers in Georgia illegally pass school buses every day. In fact, a statewide survey showed bus drivers saw more than 4,000 violators in one day.

"We had had several children killed and more in the last two years and probably three years. We're afraid that we may get the record for it again, to have the most children killed in school bus accidents," said Mrs. Deal.

Now the Governor's Office of Highway Safety and the Department of Education are teaming up to educate drivers with the help from Georgia's first lady, Sandra Deal.

"When you see a stop arm on a school bus, unless you're on a highway with a divided median, you have to stop in either direction. That's the law. It will cost you about $1,000 fine and up to six points on your driver's license," said Harris Blackwood, the Director of the Governor's Office of Highway Safety.
Listen to Mrs. Deal and pay attention on the roads, please.
Grayson voters will vote in November on whether to allow Sunday sales of packaged beer, wine and liquor. In a particular brand of goofiness, the city, which already allows beer and wine sales, will vote on adding liquor, but if adding Sunday sales of liquor fails, it will also end beer and wine sales on the Sabbath.