27950 (yellow) and 27951 (black) are little female puppies described as lab mix, who will be available for adoption beginning Wednesday from Gwinnett County Animal Shelter. If you look closely at the photo on the right, it looks like the yellow one is hugging her sister. You should go adopt both of them.
Georgia Politics, Campaigns & Elections
The General Election date is November 6th, 2012. The deadline for voter registration for the General Election is TOMORROW, October 9, 2012. Today would be a good day to email five friends with the following information, so they can make sure they're registered.
To check your voter registration or view a sample ballot, please visit the Georgia Secretary of State's office and use their MVP voter registration tool.
For questions about election dates, always check with the Georgia Secretary of State's website or your local County Elections Office.
Advanced voting in person starts October 15, 2012; here's where and when to vote early in person in your county. More than 10,000 voters are marked as having already voted in the November 6th General Election, according to data from the Georgia Secretary of State's Office.
Statewide Poll of Georgia Voters shows Romney's lead over Obama increasing
What does it mean to say that the lead has changed by 5.8 to 7.6 points? It means that if the demographics of the electorate resemble those of the 2008 General Election, Romney has gained 5.8 points, and if they resemble the 2010 General Election, Romney is up by 7.6 points.
Pundits have been arguing over the question of whether the electorate will be like 2008, and it's an important point, as we can see that it affects the outcome of the election.
The tables above show how this works in a simplified manner. One of the major factors that led to President Obama's election in 2008 was the extraordinarily high turnout of younger voters; the difference between 25% of 2008 voters being 18-34 years old and less than fifteen percent in 2010 was important because Obama was more popular with these voters.
Ultimately, when I look at polls, what I'm looking for is not so much exact numbers separating the candidates, but the direction each is moving. And here in Georgia, Romney is moving up and Obama is slipping.
On Friday, Mitt Romney had his best day in state-level polling since at least the party conventions, something that very probably reflects improvement in his standing following the presidential debate in Denver on Wednesday.

Two automated polling firms, Rasmussen Reports and We Ask America, released polls in Ohio, Florida and Virginia on Friday. All of these polls were conducted on Thursday, the day after the Denver debate.

In the Rasmussen Reports polls, Mr. Romney trailed President Obama by one point in Ohio. But he led him by one point in Virginia and by two points in Florida.

These are very good numbers for Mr. Romney as compared with the ones we were seeing recently, although part of that is because Rasmussen has shown more favorable numbers for him in these states throughout the year. As compared with Rasmussen Reports' previous polls of the same states, the margin in Ohio held steady, but Mr. Romney gained two points in Virginia and four in Florida, for an average gain of two points among the three states.
Georgia College Republicans were in Virginia this past weekend and will be in Florida next weekend. Georgia Young Republicans also are headed to Florida this weekend, where they will go door-to-door on Saturday and Sunday mornings, and phonebank on Saturday evening.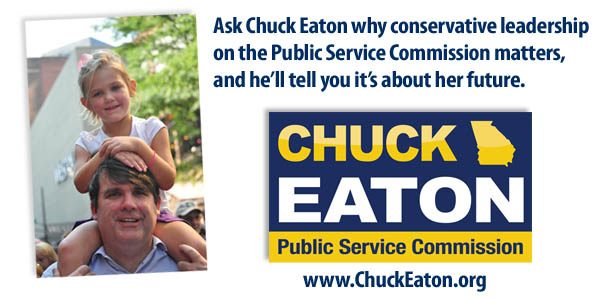 Georgia Political News
Senator John Bulloch (R-Ochlocknee) has been hospitalized for meningitis and appears to be improving.
The qualifications challenge against Democratic state house candidate Ronnie Mabra has been settled, as a Fulton County Superior Court judge denied an appeal to the decision by Secretary of State Brian Kemp that Mabra is a resident of the district.
The AJC reported extensively about the campaign by former Speaker Glenn Richardson (R-Paulding) to return to the Gold Dome.
Political signs are popping up in west Georgia. Campaign mailers are cluttering mailboxes. The race in the special election for the open seat in state Senate District 30 is off and running.

But Glenn Richardson, the once powerful Speaker of the House of Georgia, is still struggling at the starting line. By late-week, the man who once directed a quarter-million-dollar war chest and engineered a historic Republican takeover in the House, was still waiting to get his yard signs back from the printer.

There was a reason for the delay. "I had to have the money before I ordered them," the Paulding County attorney said a bit sheepishly. "I'm not independently wealthy."

In fact, he said, he's pretty close to broke. Most months, he struggles to pay his mortgage. And campaign contributions are not exactly flowing in. What once was an endless stream of $1,000 donations is now drips and drabs of checks with one or two fewer zeroes.
While the bit about waiting until he could afford yard signs is a nice device for framing the hard-luck story, it's no longer true, as Richardson had yardsigns available on Sunday.
The AJC writes further:
The Nov. 6 primary most likely will go to a runoff on Dec. 4, observers say, because there are four candidates, all with built-in geographical constituencies. More than half the nearly 1,000-square-mile, 90,000-voter district is in Carroll County and the other portions are in Douglas and Paulding counties.

Hembree, a Republican state rep with 18 years in office lives near Douglasville and has roots in Carroll. Naughton and Dugan both live in Carroll County.

Hembree has $49,000 in his election fund as a state rep but said he does not know it he can use the funds. In 2009, Richardson contributed $219,000 from his election fund to MMV Alliance PAC, a fund he started to elect Republicans. He said he cannot use the money for his election. Naughton, a successful businessman in his own right, is related by marriage to the Richards family, who owns Southwire, the cable manufacturing giant in Carrollton.

The two-month-long race, Hembree said, is a "100-yard dash at Olympic pace," forcing candidates to eschew a slow, get-to-know-voters campaign and instead try to find them in groups whenever they can. Also, he hits the phones hard for contributions, making 100 calls a day.

"It's a very grueling process," Hembree said.
I think the AJC is wrong. We polled that district and found that Hembree leads with 38.7% to 10.2% for Richardson and both of the Carroll County candidates in single digits. I don't see how Hembree doesn't win outright on November 6th.

State Rep. Buzz Brockway (R-Gwinnett) was appointed to the legislature's Joint Human Trafficking Commission by Speaker David Ralston (R-Blue Ridge).
"I look forward to working with the other members of the Study Committee on this very important issue," Brockway said in a statement. "Human trafficking is a brutal crime and every part of our community can play a role in providing the victims the help they need."
Republican Congressman Rob Woodall (R-7) will meet his longshot Democratic challenger in a debate on October 15th from 6:30 to 8:30 PM at Gwinnett Technical College's Busbee Center, located at 5150 Sugarloaf Parkway in Lawrenceville.
Republican Chatham County Commissioner Helen Stone was reimbursed for mileage to attend political events, including her own reelection announcement.
After being questioned by a reporter, Stone agreed the mileage reimbursements were inappropriate.

"I am not perfect," Stone said. "I will screw up from time to time."

Stone said it was questionable whether the meet and greets she attended were ineligible for mileage reimbursements — since she was meeting her constituents — but she decided to refund the county for those expenses to avoid any possible impropriety.

"I would rather err on the side of caution and get it right," she said. "At this point my integrity as a commissioner far outweighs any monetary expense."

Stone maintained that reimbursements for attending the campaign events of other Republican candidates were legitimate because they gave her a chance to learn about their platforms and she may be working with some of them.
The Macon Telegraph profiles Republican State Rep. Matt Hatchett and his Democratic challenger.
"My platform last time was almost the same as it is now — trying to recruit jobs back to our community," said Hatchett, first elected in 2010.

He proudly points to one tax change he helped pass earlier this year: eliminating the sales tax on energy used in manufacturing.

"That's already helping to attract jobs," Hatchett said. He thinks that proposal is part of why Dinex and Erdrich, a pair of European manufacturers, came to Laurens County in early 2012, both bringing about 250 jobs.

The incumbent supports further changes, including a proposal to shift the state's tax levies, taxing incomes less and sales more.

"I'm definitely a consumption tax person myself. I think that's one of the fairer taxes," Hatchett said.
Redistricting and Voting
Greene County Commission districts will be redrawn by the Legislative Reapportionment Office on a "blind" basis that ignores where incumbents live or the districts they currently represent:
At least two commissioners, however, still believe it's the wrong way to go, contending the latest action still exhibits racism.

A blind map simply means that those drawing up a new district voting map won't be concerned about what districts incumbent commissioners now represent.

"This is the best way to draw up the new map," Channell said, following a 3-2 vote by commissioners to have officials with the Georgia Reapportionment Office draw the map, as opposed to it being drawn, locally, by commissioners and members of the Greene County Board of Education. "It takes away all the arguing that we had in the past."

Two members of the five-member commission panel, Commissioners Marion Rhodes and Titus Andrews Sr. don't like the idea of the state drawing up the new map. And they expressed their views, raising concerns already addressed in a federal lawsuit that was brought against the county earlier this year by members of the Greene County Chapter of the National Association for the Advancement of Colored People (NAACP).

"I totally disagree with the whole process," Andrews said, noting there were two existing maps on the table that already had been drawn up, locally. He said he couldn't understand why commissioners couldn't revisit one of those maps.

"Either one of those maps would be sufficient," Andrews said.

"I feel the same way," Rhodes said.

Commissioner Walter L. "Bud" Sanders said he didn't believe either one of those maps would work, contending that the new map must conform to DOJ guidelines.

"It's understood," Channell replied.

Sanders quickly fired back, saying, "I don't know if it's understood or not by the state."

Commissioner Gerald Torbert also weighed in, saying he favored incumbents not being considered when drawing up a new map.

Maps drawn up earlier by commissioners and school board members later were rejected by the U.S. Department of Justice (DOJ). The lawsuit by the NAACP followed.
Newnan City Council members will vote on new district maps for their own districts.
Newnan City Council is expected to vote Tuesday on new redistricting maps that will change how council members are elected and what districts voters live in.

The decision likely will mean council will have at least two sitting members in the same district and possibly three, meaning they will have to run against each other in the next election.

There are three maps under consideration, although one known as the "Butterfly Option" because of its shape, has little chance because it would dilute minority voting strength. And because the U.S. Department of Justice has to approve the new districts, there's little hope it would pass their approval.

That option is the only one where none of the council members would have to run against each other. It would create six separate districts with voters in each district voting for one council member. The current makeup, which also includes six council members, splits the city into four districts and two super districts — voters select the council member from their district, as well as one super district representative.
When a panel of experts first rated candidates for the job, Westmoreland landed at the bottom of the list. Out of nine qualified applicants, he ranked seventh. But then William Riley, a board member and friend of Westmoreland, intervened and pushed for changes that allowed him to win the $105,000-a-year job.

The original scores were tossed out and board members themselves did another round of interviews. This time, Westmoreland ranked first. The board voted him in, choosing a onetime elections board colleague over competitors with years of election experience. Documents show it disregarded its own written hiring plan and failed to check his background or call his last three employers.

Riley said to blame him for giving Westmoreland an advantage is to give him too much credit.

"I can't pick him," he said. "It takes three votes to do anything."

Westmoreland, a real estate lawyer, would go on to oversee a sloppy job of adjusting precinct lines for redistricting, leading to a bungled July primary where 690 voters in Sandy Springs and southeast Atlanta got assigned to the wrong state Senate and state House races.

Riley, a Republican Party appointee to the elections board, strongly denies friendship was his motive, but acknowledged politics played a role.

While he was friends with Westmoreland and had him to his home for dinner on several occasions, he said he also believed he was the best person for the job. He said he had become concerned that the county's Registration and Elections Department was morphing into an arm of the Democratic Party, and he intervened because he feared the panel's top picks would be too politically biased.

Although Westmoreland is a solid Democrat and a former head of the county Democratic party, Riley said he had worked with him for years and trusted him to keep politics out of the job. "He was my professional friend more than he was any other kind of friend," Riley said. "He was best suited for this job, better than any of the other candidates."
Quote of the Day, from the Savannah Morning News
"I'm an undecided voter and no one has knocked on my door and asked for a vote. All I've gotten is solicitations for money and emails. Until someone knocks on my door I guess I'll waste my vote on a Libertarian."
Ethics

Georgia candidates on the November ballot were required to file Campaign Contribution Disclosures with the State Ethics Campaign Finance Commission last week.
In Arizona, a State Representative pled guilty to accepting bribes in exchange for his actions as a City Councilman in Tempe before he was elected to the legislature.
Phoenix, Arizona – Arizona State Representative Paul Ben Arredondo pled guilty today in Phoenix federal court, admitting that he solicited and took a bribe in exchange for promises of official action both as a city councilmember and a state representative. Arredondo also pleaded guilty to mail fraud, admitting that he defrauded donors to the Ben Arredondo scholarship fund.

Arredondo pleaded guilty to depriving the citizens of the city of Tempe, Ariz., and the state of Arizona of his honest services as an elected official, and to committing mail fraud. He entered his guilty plea before U.S. Magistrate Judge Lawrence Anderson.

Arredondo, 65, of Tempe, was a Tempe city councilmember for approximately 16 years, until July 2010. In November 2010, Arredondo was elected to the House of Representatives of the Arizona State Legislature.

During his plea, Arredondo admitted that from February 2009 to November 2010, he solicited and accepted things of value, collectively a bribe, from representatives of "Company A," a fictitious company operated by FBI undercover agents that was purportedly seeking to develop real estate projects in Tempe.

Arredondo took the bribe with the intent to be influenced in the performance of his official duties, first as a councilmember and later as an elected member of the Arizona House of Representatives. Arredondo admitted that the things he took included tickets to college and professional sporting events, some of which he caused to be mailed to his home, and tables at charity events with his choice of guests. [Emphasis added].

In exchange for the bribe, Arredondo agreed to take a number of official actions, including revealing confidential information to Company A – such as the price Tempe would be willing to accept for property and the best way to present a purchase proposal. He also agreed to use his position as a councilmember to influence the decisions of other Tempe officials in ways that were favorable to Company A; to contact various Tempe officials to facilitate and promote the company's efforts to win support for its real estate project; and, following his election to the Arizona House of Representatives, to assure representatives of Company A that he would continue to support Company A's project. Arredondo did not disclose that he had received anything of value from representatives of the company during any of his interactions with Tempe officials about Company A.

Arredondo pleaded guilty to one count each of honest services mail fraud and mail fraud. Each charge carries a maximum potential penalty of 20 years in prison and a $250,000 fine, or twice the amount gained or lost in the scheme. Sentencing has been scheduled for Jan. 22, 2013.