This is Riley, a black lab who was featured here last week. I met him and took these photos on Friday when I drove him from his old home in Clayton County, where he would otherwise have ended up at Clayton County Animal Shelter, to Forgotten Paws Pet Rescue, where he'll receive medical attention he lacked before going to a private home. It cost me about an hour-and-a-half, but saved Riley's life.
Riley is a big boy, probably weighing in at 80-90 pounds, and he has that large, blocky head that is prized among some lab afficianados, but would probably have gotten him classified as a Pit Bull mix at some shelters, and virtually doomed him to being euthanized.
The bad news is that Riley, who is being neutered today, has heartworms, which puts Forgotten Paws on the hook for about $1000 in treatment and will probably delay his adoption. He is also mostly blind, but when I picked him up, he was getting around like a champ, and you wouldn't know of his blindness except that he bumped into that guardrail behind him a few times.
In addition to needing a foster or permanent home, Riley could use your donations to offset his medical expenses. To apply to foster or adopt Riley or to donate for his medical care, visit Forgotten Paws' website.
While we're talking about Labs, 26724 is a young, lab mix puppy who has a scrape on her head but is healing. She's currently available from the Gwinnett County Animal Shelter, and you can call the shelter at 770-339-3200 for more information. Because there are so many puppies in the puppy pod at Gwinnett, her days are severely numbered and she is likely to be euthanized if she isn't adopted today or tomorrow. Gwinnett also has about seven adult black or chocolate labs if that's what you're looking for.
Georgia Politics, Campaigns & Elections
Walter Jones writes that Congress has banned gifts by lobbyists to legislators, as Speaker David Ralston proposes doing for Georgia.
Polls show that only about 15 percent of the public considers Congress to be doing a good job. Dozens of well-publicized scandals over the years reinforce the idea that politicians are often corrupt.

Generally, public support for members of the Georgia General Assembly has been markedly higher than regard for Congress. But voters still called for a gift ban as at least one of the ethics reforms they want.

Georgia House Speaker David Ralston, R-Blue Ridge, had taken the heat for his colleagues. Ralston's most frequent warning was that the gift-ban proposal amounted to a gimmick that wouldn't stop the practice but merely drive it underground. He has also warned that ever-increasing ethics provisions simultaneously expand the opportunities for honest officials to trip over technicalities and "gotcha" allegations by political opponents.

The federal rules prohibit accepting gifts of any value from registered lobbyists and up to $50 in value from anyone else, even other members of Congress.

"Saxby and I used to give Vidalia onions from Georgia to all of the senators, and they stopped that," he said, referring to the state's senior senator, Saxby Chambliss, who is also a Republican.

Speaking of food, the ban applies to meals, too. The only exception is "anything on a toothpick," according to the rule of thumb.
So you're saying that enacting a ban on gifts from lobbyists to legislators will clean up Georgia politics the way it's done for Congress? And you call that an improvement? Tell me more.

Melanie Crozier is a Georgia delegate to the Republican National Convention, and she's writing about her experience in Tampa on her blog, GaGirlPolitics. It's a good read if you're interested in a delegate-level viewpoint that you might not see elsewhere.
Patch.com has an interview with State Rep. Lynne Riley (R-Johns Creek), before she headed to Tampa for the RNC as a delegate.
Tea party activists held a unity rally in Tampa to celebrate their role in the primary selection process and ensure that we're all on the same page heading toward the General Election in November.
Today's session of the Republican National Convention will be very short, consisting of a motion to adjourn until Tuesday over hurricane concerns. No word yet on whether that will cause a change in time for the speech by Attorney General Sam Olens.
Late this week, Olens still could not disclose precise details on the topic or length of his speech.

"Obviously it will relate to the role of attorneys general and activities we've been involved in, and federalism, the role of the federal government compared to the states," said Olens, who lives in east Cobb.

Translation: The 2010 health care law championed by President Barack Obama that Republicans and other critics call Obamacare.

Olens also chaired the health and education subcommittee for the national party's platform. The Republican national party took input on its proposed platform via a website.

"We received several thousand proposals," he said. "It wasn't even limited to Republicans.

"Some of the bigger differences with this year's platform compared to '04 and '08 relate to the economy. We heard a strong desire that we get our debt and deficit under control. There was a lot of discussion in regard to our fiscal house," he said.

Sue Everhart, the state party chair, said Olens was selected to speak to a national audience for several reasons.

"He's a well-respected attorney general," Everhart said. "He's been with Mitt Romney since Day 1. He was the Georgia state chairman for Romney, honorary chairman for Romney, and of course he's gone after Obama against Obamacare and some of those. We're the sister state, kind of, with Florida, and Florida's attorney general is going to be speaking.
WTVM in Columbus has some numbers on the Republican National Convention, including:
2,286 – Number of delegates represented, plus 2,125 alternate delegates. This is nearly quadruple the 600 voting delegates represented at the first Republican convention.

15,000 – Number of credentialed journalists in attendance. That's 6.56 media outlets per delegate.
Georgia delegates who are wondering where Alec Poitevint is, the AJC tells us that if you don't see him, it's a sign the Convention is on track.
An invisible Poitevint is good news.

It means that buses are moving 2,286 delegates to the convention hall on time, that air conditioning at hundreds of locales has been properly cranked to "high" so another 50,000 hangers-on can party in comfort, and that 15,000 or so journalists on hand to witness the formal anointing of Mitt Romney as the GOP presidential nominee have been cooed into submission.

A visible Poitevint means trouble is afoot.

The 64-year-old Poitevint, is already the ultimate insider in Georgia's Republican Party. For the next six days — festivities begin Monday — he will be the ultimate stage manager. Romney is the unquestioned star of the Republican National Convention, but Poitevint and his crew have spent the past 18 months, and $18 million in federal cash, making sure the nominee will have everything he needs for his close-up: lights, stage, audience, cameras and everything in between.

"It's delegates, it's message, it's press, it's transportation," Poitevint said in a recent and rare interview — before Tropical Storm Isaac made its debut in the Caribbean. But already, hurricane season and the geography of Tampa Bay had made their way into his calculations.
Also kind of a big deal in Tampa is Eric Tanenblatt, co-chair of the Romney campaign in Georgia.
Tanenblatt's selection to represent Georgia on the convention's Credentials Committee is just the latest example of the political influence of Atlanta-based McKenna Long & Aldridge LLP, where he heads the national government affairs practice.

"Everyone in our government affairs group has served in government," Tanenblatt said. "It gives us a unique perspective of understanding from the inside out how government interacts with the world."

Tanenblatt has been the point man in Georgia for presumptive Republican presidential nominee Mitt Romney going back to the former Massachusetts governor's first run for the White House in 2008.

Although Tanenblatt's official role is co-chairman of the Romney campaign's finance committee, he cut his teeth in politics as a political adviser. After launching his career in 1988 working in the George H.W. Bush presidential campaign, Tanenblatt ran both of the late U.S. Sen. Paul Coverdell's Senate races in 1992 and 1998.
Florida will be on Georgia Republicans' minds this fall, as Americans for Prosperity announced this weekend an "Adopt A State" program in which Georgia activists will man the phones to turnout votes in Florida for the General Election. I'll post more details once I get them.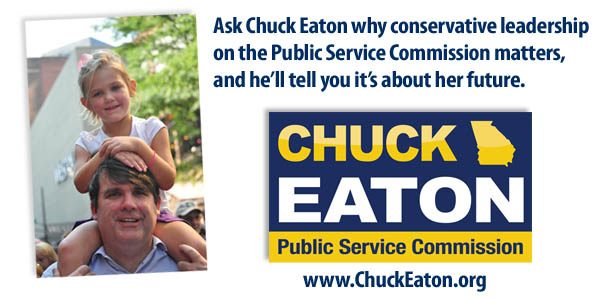 Former President George W. Bush will speak tonight in Columbus, GA at Columbus State University, where he will be introduced by Governor Nathan Deal. Also appearing at the Leadership Forum will be James Carville and Mary Matalin, who speak on Tuesday morning.
On Friday, Governor Deal appointed Senator Bill Hamrick to a seat on the Superior Court for the Coweta Judicial Circuit. Because Hamrick was unopposed in the General Election, his seat will be filled by a nonpartisan Special Election held the same day as the General. Likely candidates include former Speaker Glenn Richardson, State Rep. Bill Hembree (R-Douglas County), who served briefly as House Rules Committee Chairman before being removed, and Libertarian James Camp.
Karen Huppertz wishes politicians would stop calling her. Or at least stop robo-calling her.
we'd been home a good 24 hours before I even looked at the answering machine.

To my utter delight (please note sarcasm here) I discovered 27 political messages on our machine. Granted we had returned home just before the July 31st TSPLOST vote, but seriously? The ratio of calls to actual decisions I needed to make at the polls was grossly disproportionate. On my Gwinnett ballot I only had three decisions to make. Most names on the ballot were incumbent candidates running unopposed.

So I conducted my own tiny survey. Do voters listen to these messages? Or like me, do they either hang up immediately if they happen to answer the phone, or do they delete them within 3.2 seconds as soon as the message is clearly a robocall? Do these calls sway anyone's vote?

Every single person I asked hates them as much or more than I do.

Politicians, please read our lips. We delete them. We don't listen to them. We are annoyed by them.
While voters say they hate them, most political professionals believe they still work, and we'll keep using them until they stop working.
Former Suwanee Mayor Dave Williams, who works as vice president for transportation with the Metro Atlanta Chamber of Commerce, discusses the aftermath of the T-SPLOST failure.
Charles Gregory, who beat State Rep. Judy Manning in the Republican Primary this year, also works as state director for the Ron Paul campaign.
Manning, who has served in the state house since 1997, said she and her husband, Aymar, were ill after the Fourth of July.

"We just couldn't get out in that heat and walk. He (Gregory) had some of his Ron Paul folks that walked neighborhoods and didn't represent me as I would have thought was a fair representation," she said. "He didn't exactly tell the truth. I'm not bad-mouthing him. All's fair in love and war. You can say anything."

Gregory views things differently.

"To be honest, regarding Judy, we didn't even bring her up," Gregory said. "The only time we brought her up was when they said, 'who are you running against?' I wasn't running against Judy. I was running against the system."

When voters asked why they should vote for him instead of Manning, he told them they simply have a different philosophy of government.

"I believe that government should be protecting the life, liberty and property of individuals, and following the Constitution and that's it," Gregory said. "Not managing people's money or their lives or all these other things that the government tends to get into doing. That's it."
Sabrina Smith has filed an ethics complaint alleging that payments by Gwinnett County to the Gwinnett County Chamber of Commerce eventually were used to lobby for passage of the T-SPLOST. The County and Chamber denied it. I have the documents and will post more about it later this morning.
 Ends & Pieces
Surely one of the most important economic development announcements was the unveiling of the 2013 Porsche Carrera 4 and 4S models by Porsche Cars North America, which is headquartered in Atlanta.
The Georgia Trust for Historic Preservation is accepting nominations for its 2013 Preservation awards through September 22d.
Collins Hill High School graduate Maya Moore won a gold medal on the women's basketball team in London's 2012 Olympics.
In slightly more than 10 months, the former Collins Hill High School star won her first WNBA title with the Minnesota Lynx, earned the league's rookie of the year honor, won Spanish and Euroleague titles with Ros Casares and won an Olympic gold medal with the U.S. Women's Basketball National Team. Those victories came after a University of Connecticut career that saw the four-time All-American win more games than any player in college basketball history.

"It's been an amazing year," said Moore, in town Saturday for a nationally televised ESPN game against the Atlanta Dream. "I couldn't have dreamed how awesome it's been, having so many great opportunities within the last year. To do some history-making things, breaking records. It's just been a whirlwind of a year."