29761 (male, top), 29762 (male, second), and 29763 (female, third) are white Lab mix puppies who are available for adoption beginning Friday from the Gwinnett County Animal Shelter.
It's a crisis situation at many animal shelters across the state as new dogs, puppies, cats and kittens are brought it. If you've been considering adopting or fostering, today is the day.
29655 is a black, middle-aged Lab mix. Just old enough to start mellowing, but with his best years ahead, if someone will rescue or foster him. He's available today from the Gwinnett County Animal Shelter.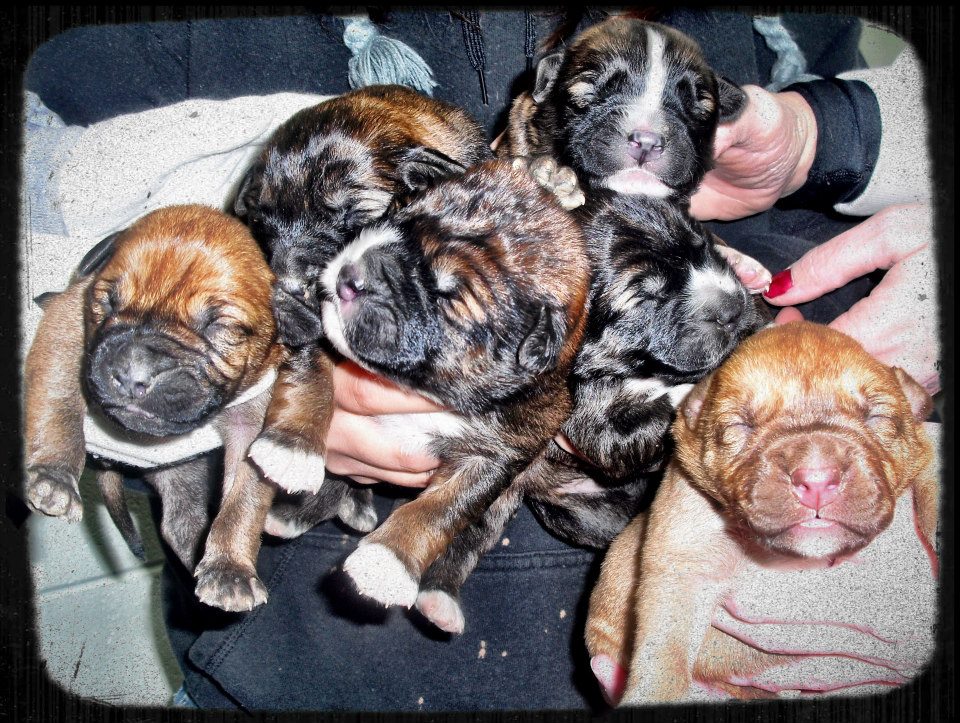 The six puppies above were found outside, alone, in the freezing cold this week. They are at the Murray County Animal Shelter and need immediate foster or rescue, or they will be euthanized on Friday in the pre-dawn hours.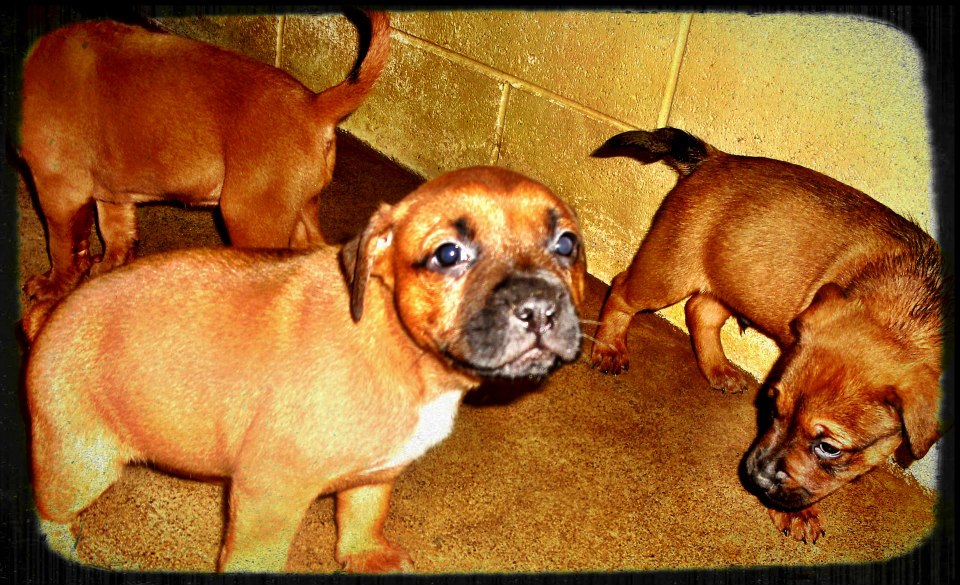 These three boxer-mix puppies are bouncy fun, and are also in need of immediate foster or rescue from Murray County Animal Shelter.
Shane Wilson lost a leg in a motorcycle crash five years ago, and more recently, he lost his service dog, Lucy, when she jumped out of the bed of his pickup truck. Lesson one: dogs don't belong in pickup truck beds when underway. Some folks found her roadside near a Cracker Barrel and returned her. Lesson two: always keep dog treats handy.
The friends were getting breakfast at the Cracker Barrel in Commerce when they saw Lucy. They walked down the exit ramp to get to her.

"We pulled out the treats and she just let me put the leash around her neck," Davis said.

When Scoggins called him to say that she found Lucy, he was leery because he has had so many false hopes over the past six days.

Wilson told Scoggins to hold a dog treat up and say "Lucy, speak." She did and Lucy barked. "I heard her bark and I said I'm on the way and I kind of hung up on her," Wilson said.

"He was so happy, he was hysterical," Davis said. "He immediately knew and said 'stay right there, I'm coming'."
The Exchange Club of Albany will hold its first AKC Southern Heritage Hunt & Show, which is open to all coonhounds and their owners, after a national coonhound event held in Albany for twenty-five years, was moved to Mississippi.
Both the dog show and hunt are "world qualifying," AKC officials state, with winners cleared to move forward to the World Hunt Championship or 2013 World Show.

While secondary to the main attractions, there will be an aspect to the show, Brown said, that was not included for the UKC events: Malaysian Semara chickens. According to Brown, the birds are small — less than 19 ounces — colorful and they "kind of strut" when they walk.
Here's your morning music treat.
Georgia Politics, Campaigns & Elections
The Special Election runoff in Senate District 11 in the lower-left hand corner of Georgia is taking a turn for the nasty. Jim Galloway notes that abortion has become an issue in the contest:
Over the long weekend, Georgia Right to Life dipped into the race with an email that included this:

"Dr. Dean Burke has not been endorsed by the Georgia Right to Life PAC or the National Right to Life Committee PAC. The NRLC PAC does not make state endorsements and its state affiliate – GRTL PAC – has only endorsed Mr. Keown. Any claims to the contrary are false."

Political consultant Mark Rountree, working for Burke, says there's no substantive difference between the two candidates on the issue of abortion. Local conversation, he says, has focused more on the $100 cap on gifts from lobbyists to lawmakers. Burke has pledged support for that limit, Rountree said, while Keown has not.
Meanwhile, elsewhere on the internet, anonymous cowards are suggesting that Burke is an abortionist and appear willing to lie to make the hit stick. It now appears to be the case that in Georgia Republican politics, an OB/GYN will always be labeled an abortionist whether it's true or not. Just ask Dr. Carla Roberts.
Republican Scot Turner, who came in first with more than 48% of votes cast in the Special Election for House District 21, met political consultant Brian Laurens in a debate, and Turner claims victory.
"I feel confident that the voters in HD 21 saw a clear difference between the two candidates for this race tonight. As candidates, we have a very important obligation to present our values, understanding, and plans to fix what is broken in state government. I provided a message to the voters assembled with the clear choice to reform our ethics laws, implement economically-friendly tax reforms, and return the legislature to the citizens of Georgia with term limits. Those who participated in this public debate responded with overwhelming support, and I'm humbled by those responses.

"The serious issues facing our state and county all revolve around a cornerstone issue: fixing our broken government. On the one hand, my opponent gave his view of government, which maintains the status quo. I gave voters a vision for the future; a future where government serves the people and not special interests."
Incidentally, today is Scot Turner's birthday. You can wish him a happy one by donating online to his campaign, as long as you are a Georgia resident or business and not a lobbyist or PAC.
Another way of wishing him a happy birthday, if you live in House District 21, is to go vote early today in the February 5th runoff. As of yesterday morning, only 28 early votes had been cast.
"It's extremely slow," [Election Supervisor Janet] Munda added. "It looks like we may hit five percent this time."

Munda was referring to the projection she originally predicted for the Jan. 8 special election for both the House and the Georgia Senate District 21 seats. The county ended up seeing a 10 percent turnout for that election.

Voters in the run-off will choose between Republican candidates Scot Turner and Brian Laurens, who came in first and second respectively in the January special election for the house seat.

Early voting started last Wednesday and will continue Monday through Friday through Feb. 1.

Voters who reside in the district, which encompasses Holly Springs, portions of BridgeMill, south Canton and parts of southeast Cherokee, can cast ballots between 8:30 a.m. to 5 p.m. at the Albert L. Stone Elections Building at 400 East Main Street in Canton.

No voting will be held on Monday Feb. 4, and voters in the district will cast their ballots at 11 precincts in the district on Feb. 5.
The Bainbridge City Council seat vacated by Dean Burke in order to run for Senate District 11 in the Special Election Runoff on February 5th will remain vacant until November 5th, when it is filled along with two other council seats and the office of Mayor in the Bainbridge general election.
Former State Rep. Sean Jerguson led in campaign contributions in his campaign for Georgia Senate District 21, which opponent Brandon Beach won.
Governor Nathan Deal presented his budget to the Joint Budget Hearing yesterday.
Three percent cuts across the board, and slightly more funding for the state pre-K program, the HOPE scholarship, and juvenile justice reform.

He also continued his push to renew a hospital tax aimed at shoring up the state Medicaid program.

"I think it is critical," said Deal. "We cannot afford to have a $700 million hole in our Medicaid budget," said Deal.

Otherwise, the governor's budget projects 4.8 percent revenue growth in 2014. That's compared to the 3.9 growth seen this year.

If the revenue projection holds true, Georgia in 2014 would be back to where it was at its 2007 peak, before the recession.

House Appropriations Chair Terry England said the numbers are reason for cautious optimism, but warned the state isn't out of the woods yet.

"The problem with that is we're a larger state than we were in 2007 so there's more people needing more services and resources, so even though you have that growth, the demand is still greater than it was in 2007."

Accordingly, the 2014 budget includes increased funding for education and healthcare, but most would be used to simply keep up with population growth.

Senate Appropriations Chair Jack Hill said ultimately the final budget won't veer too far from the governor's recommendations.

"In years where you're spending a lot of new money, there might be more needs and more wants than there are dollars, but we have such a lean budget to begin with, I don't know what we'd have to fight over."
Here's the TL;DR version:
"We have reduced per capita spending of state dollars for our citizens," [Deal] said. "Using 2012 dollars, we are spending money at a rate of 17 percent less than we did a decade ago. And we now have 9,000 fewer state employees than we did five years ago."
The Georgia State Fiscal Economist also presented predictions.
Georgia's economy should see slow but steady growth over the next few years as the job and housing markets continue to improve, the state's main economist told lawmakers Tuesday.

Heaghney said that tax collections — an indication of the state of the economy — will be up 3.9 percent the rest of fiscal 2013, which ends June 30. The economy will pick up during the second half of the year and revenue should increase 4.9 percent next fiscal year, allowing the state to add about $550 million in spending, he said.

Heaghney told legislators that the state's job growth is outpacing the national growth rate, and that "housing appears to have turned the corner, both nationally and in Georgia."

Georgia is seeing an increase in information technology, business services, manufacturing and transportation jobs.

"We'd expect growth to pick up in the middle of 2013 and then accelerate the rest of the year," he said. "In 2014, we should see much more rapid growth than we've seen prior to this year."

Higher taxes, a sluggish global economy and the federal debt crisis will continue to weigh on the economy, he said, dampening consumer spending and adding uncertainty to the equation.

"This all creates an environment where there is still a lot of economic uncertainty," Heaghney said. "We try to plan for that, but there are a lot of different ways the economy could move.
Part of the $19.8 billion dollar budget will be $4.3 million for the State Archives.
Supporters are pushing for an additional $1.5 million to expand public access to the state's important and historical records dating to at least 1733, saying the additional money would reopen the archives from two to five days a week.
Gov. Deal's budget will also allocate funds to implement criminal justice reforms from the last Session, and possible changes to juvenile justice this year.
He's asking for $11 million for so-called accountability courts that offer an alternative for drug abusers, the mentally ill and others.

He also wants $4 million for a regional detention center for young offenders and a new youth development campus.
Today's budget hearings will include the Departments of Correction, Juvenile Justice, Transportation, Behavioral Health and Developmental Disabilities, Natural Resources, Agriculture, Labor and Economic Development. The agenda for the Joint Budget Hearings is available by clicking here. This link should have live video of the Hearings later today.
A local clothing boutique visited Friday by NBC 26 is still ringing up its merchandise the old fashioned way.

"We write up all the tickets by hand and then we add up the totals and the tax with a calculator," Alex, a sales associate told NBC 26. She said the store is still charging seven percent sales tax.

"I didn't know about it until you came in," another associate said. "I didn't know it was in effect starting January first. So, I haven't started using it yet."

We asked the Georgia Department of Revenue how it informed retailers in regions where the T-SPLOST passed.

"In December, we emailed an informational bulletin concerning T-SPLOST, concerning the TSPLOST going into effect to all businesses that e-file as well as other businesses who have signed up for that specific mailing list," said Jud Seymour, communications director for the Georgia Department of Revenue.

Seymour said if stores missed the instructional email, they could've looked up the information online on the Georgia Department of Revenue's website.
On December 27, 2012, my oath of office was administered by our Probate Judge (Keith Wood), with the final sentence stating, ". . . and that I will support the Constitution of the United States and of this State, so help me God."

Therefore, I will fully exercise the power of the Office of Sheriff to protect and defend the Constitutional rights of the citizens of Cherokee County. My position is best stated by fellow Sheriff Tim Muller of Linn County, Oregon in his letter to the President. "We are Americans. We must not allow, nor shall we tolerate, the actions of criminals, no matter how heinous the crimes, to prompt politicians to enact laws that will infringe upon the liberties of responsible citizens who have broken no laws."

Along with Sheriff Muller, other sheriffs throughout the country (including Georgia) and I, will not enforce any laws or regulations that negate the constitutional rights of the citizens of Cherokee County.

Nor shall those laws and regulations be enforced by me or by my deputies, nor will I permit the enforcement of any unconstitutional regulations or orders by federal officers within the borders of Cherokee County, Georgia.
Commissioner Allen insinuated that some school board members may have benefited personally from deals with outside companies."The investigation should examine any companies or firms […] doing any business with the BOE [Board of Education] where funds might have been used to directly or indirectly unlawfully benefit certain members of the BOE," Allen read from prepared remarks.He declined to offer any evidence that would lead federal prosecutors to investigate such a question."These allegations," Allen said without specifying or attributing any allegations directly, "must be investigated immediately by a federal authority, as the facts show a possible misuse of federal funds, not to mention state and local money as well."
The Marietta Daily Journal profiles Jennifer Rippner of Acworth, a member of the new State Charter School Commission.
Georgia Power's evacuation plan for people living near Plant Vogtle was reviewed by federal regulators.
A study has found that Plant Vogtle's emergency evacuation plan for people within 10 miles of the nuclear site is adequate. But the study says traffic control points and better highway infrastructure would improve it.

The updated analysis was filed with the U.S. Nuclear Regulatory Commission and was posted on the agency's website last week.

Depending on the weather, time of day and other factors, Southern Nuclear's consultants' models found evacuations could take between 90 and 205 minutes.
At the Cobb County Commission meeting last night, a citizen was led out in handcuffs because he preferred to speak anonymously about backyard chickens.
During the first of two public hearings on a proposal to allow chickens on property under 2 acres in size, speakers on both sides of the issue provided emotional appeals to the board.

Banks Wise, 25, of Mableton, said he had planned to attend the board meeting just to listen to what others had to say about various code proposals, including the one on chickens.

But then he stepped up to the lectern to address the commissioners during the public comment period, and board chairman Tim Lee asked him to recite his name.

Wise declined. Lee asked several more times for him to give his name before the police officers escorted him out of the board room, handcuffed him and took him to a lobby elevator.

"The gentlemen was not following the rules of the commission," Lee said. "I asked him multiple times. He did not, so the officers removed him."

Wise said two things prompted him to speak to commissioners. One was a comment by a previous public speaker opposed to a code change for chickens. That speaker, Ron Sifen of Vinings, argued that homeowners had certain expectations with the zoning laws in place when they bought their homes. To allow chickens in their neighborhood was, therefore, wrong.

Wise said he wanted to argue that just because a law is on the books, it doesn't make it constitutional.

"I'm saying that being able to have a chicken was always right. There was just at some point a very bad law," Wise said.

Another point that bothered him was that Lee demanded that each speaker give his or her name.
Anonymous political speech is a revered tradition among those of us who love America; perhaps Mr. Lee should take a remedial class in the First Amendment.
Cobb County Chairman Tim Lee has also raised the issue that requiring businesses to use the IMAGE immigration verification program may be too unwieldy.
A documentary on urban chicken keepers, called "Mad City Chickens" will be shown in Rome, Georgia, at the Rome Area History Museum at 305 Broad Street on Saturday at 4, 7 and 9 PM.
McHaggee said the film is relevant locally, with the Rome City Commission currently wrestling with the issue of allowing chickens inside the city limits.

"We hope that this film will illustrate some of the issues our city has been discussing," the couple said in a joint press release. "Furthermore, we hope that this film brings people together for a fun evening of entertainment and camaraderie."

A supporter of small families owning livestock, McHaggee said she usually gets eggs from Morning Glory Farm in Cedartown and is concerned with the state of some of the breeds of chicken that need space to thrive.

"That's part of the reason I feel so strongly about this," she said. "There are some of the American Heritage breeds that are in trouble of becoming extinct."