In honor of the University of Georgia's defeat of Tennessee, surely a precursor to our invading them and taking back our water from the Tennessee river, you might consider adopting this English Bulldog, 27718, from the Gwinnett County Animal Shelter.
Or you might take pity on the vanquished and adopt one of the Volunteer state's symbolic coonhounds. These seven puppies are all available for adoption from the Gwinnett County Animal Shelter beginning Thursday.
Georgia Politics, Campaigns & Elections
In order to vote in the November 6th General Election, you must be registered by October 9th. Advanced voting begins October 15th, and mail-in ballots are on their way to voters who requested them. To date, more than 76,000 absentee ballots have been requested.
Candidates on the November ballot have a campaign contribution disclosure report due between now and October 5th. Plan early in case the Commission's website is having problems yet again as the grace period closes.
After Democratic State Representative Rick Crawford announced that if reeelected, he will switch to the Republican Party, Speaker David Ralston made clear that the GOP will continue to back its nominee, Trey Kelley.
"I am fully committed to making sure Trey Kelley is elected to the House. He is an outstanding candidate who is working hard and is consistent," Ralston said this morning. "While I respect Rick Crawford and appreciate his dilemma, the truth is that the [Democratic] Party didn't just suddenly become liberal. It has been, is, and will continue to be a party that is far to the left of the great majority of Georgians."
Also not impressed with Crawford's claimed change of heart, the Georgia Democratic Party, which will seek Crawford's removal as their nominee. Georgia Dems met via a teleconference of their leadership, who voted to:
a) Accept Crawford's resignation from the party. (Crawford has submitted nothing in writing, but had communicated his change of allegiance in conversations with several Democrats;

b) Withdraw its support from Crawford; and

c) Authorize party Chairman Mike Berlon to seek Crawford's removal from the ballot.

It's the last item that's news – or could be. We don't know that it's ever been done. Look for Berlon to quickly petition Secretary of State Brian Kemp for Crawford's dismissal as the Democratic nominee for House District 16 in west Georgia.

Could Democrats replace Crawford? Good question, for which we don't have an immediate answer. If they can't, Republican Trey Kelley, a 25-year-old manufacturer's rep, would be the automatic winner in the race come Nov. 6.
Georgia Republican Party Chair Sue Everhart told Georgia Tipsheet the Crawford will receive no assistance from the GOP.
"Trey Kelley is the only Republican that will appear on the ballot in HD 16, and the Georgia Republican Party will proceed accordingly," Everhart, through a spokesman, told Tipsheet. "We are excited to work with Trey over the next 40 days, and are looking forward to electing a Republican to represent Georgia's 16th State House District on November 6th."

What's got the incumbent Democrat so worried? Maybe the shellacking that Kelley's about to unload on him. GaPundit's parent company ran a poll of likely voters in HD 16 over the weekend, and it shows that Kelley leads Crawford by a decisive margin of 61 to 31.5 with a margin of error of +/- 5.2 points.
Last week, I told Winston Jones of the (Carrollton) Times-Georgian newspaper that State Rep. Bill Hembree is the hands-on favorite in the Senate District 30 Special Republican Primary Election held the same day as the General Election.
"I think, realistically, you have to consider Hembree and (former House Speaker Glenn) Richardson to be the major candidates," said Rehm, who publishes the GaPundit.com political column. "Hembree has a solid career in the state House and is widely thought of very well. Richardson has his supporters and detractors."

Hembree resigned his House seat this month to campaign for the Senate seat.

"What jumped out at me from the poll was that Hembree has good support," Rehm said. "It's not a majority, but a commanding plurality. He has a lot he can brag about accomplishing and he's not going to have a downside that Richardson has. Unless something shakes up the race in a major way, I'd expect Hembree to win. The question is whether the race has to go through a runoff. There's a good chance of a runoff and then it's really a jump ball. Anything can happen in a runoff."

Rehm noted that 55 percent of the district's electorate live in Carroll County. But, he said, neither of the Carroll candidates are "real politicians."

"One of the candidates from Carrollton could make himself a major candidate, but I haven't seen it yet," he said.
We also ran a poll this weekend on the Senate District 30 race. We'll post full details tomorrow on the website and email, but suffice it to say, nothing has happened to cause me to change my prediction of a Hembree win in November. Media writing for deadline can email me for an early copy.
Walter Jones writes that Librarian Libertarian candidates for Public Service Commission may tap into anti-incumbent sentiment this year.
the party has candidates in the only two statewide races, both for the Public Service Commission. In one, Libertarian David Staples is the only alternative to Republican incumbent Stan Wise. In the other, the Libertarians have nominated an openly gay telecommunications consultant, Brad Ploeger, who is drawing new voters to the fold in his bid to best GOP Commissioner Chuck Eaton and Democrat Steve Oppenheimer. For different reasons, both contests offer hope to the Libertarian Party in Georgia, which normally only claims 2 percent to 4 percent of the vote.

"This year, the anti-incumbent sentiment, even among those most closely associated with the majority party, makes both of our candidates in the Public Service Commission races even stronger," notes Brett Bittner, chairman of the Georgia Libertarian Party. "Ethics issues have dogged both Republican incumbents as primary challengers, the various tea party groups, and ethics watchdogs turned their attention to that area of elected officials' job performance."

For many voters, Staples' main advantage is not being Wise. "While some would prefer to vote for a major-party candidate, there isn't one in this case. The choice is a vote for someone who looks to be bought and paid for by the industries he is supposed to regulate, or someone who is running on principle," wrote The Albany Journal in its endorsement of Staples.

The Libertarians are hoping to break the 33 percent won when their nominee John Monds was the only challenger on the 2008 ballot against GOP incumbent Doug Everett. While that left Everett with a landslide, it still gave the Libertarians their best showing ever.

Also working to the party's advantage, according to [PSC candidate Brad] Ploeger, is the likelihood that GOP nominee Mitt Romney will easily prevail in Georgia's presidential voting. That frees up Republicans and Democrats with libertarian leanings to vote their preference without fear that doing so will help a candidate they don't want to win.
Unfortunately, the national campaign has drawn many local parties and activists into support the Romney-Ryan ticket by ignoring state races, instead making phone calls into Florida, Ohio, and North Carolina. This has the potential to risk local races and even force a runoff for Republican Public Service Commissioner Chuck Eaton, who is seeking reelection, if GOP voters fail to turn out because of perceptions that Georgia is not in play nationally.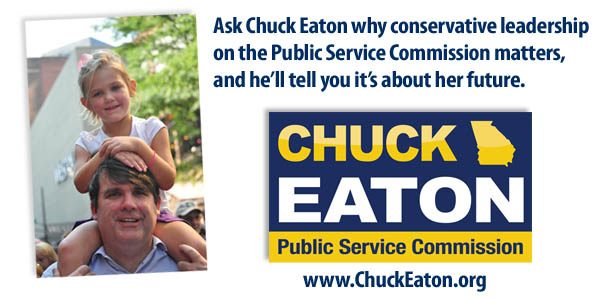 Bibb County Superior Court Judge Howard Simms, who was not arrested despite driving with a .083 blood alcohol level, may face charges and his judicial career may be in peril.
If a Bibb County Sheriff's Office internal investigation confirms the judge's blood alcohol was 0.083 on the night of Sept. 22, deputies will talk with the county solicitor to determine whether criminal charges will be filed.

Set to be complete by Monday, the results of that investigation will be released to the public after Sheriff Jerry Modena has a chance to review the findings, Chief Deputy David Davis said.

Whether Simms is arrested, his career is likely in the hands of the State Judicial Qualifications Commission.

Simms has notified the commission of the traffic stop and his plan to enter an in-patient alcohol treatment facility, according to a statement he issued Tuesday.

The commission is the only agency with the power to remove judges from office, said commission Chairman John Allen, a Superior Court judge from Columbus.

Allen said he can only remember three judges being removed from office in the past 20 years.

"Very rarely is a judge removed," he said.

Commission statistics show that 21 judges with a complaint filed against them have resigned from office since 2005.
In May, Governor Nathan Deal removed the entire Miller County School Board. On Friday, Deal named new members to serve out the terms of the removed members.
Cobb County Solicitor General Barry Morgan, a Republican, has changed his mind and will seek reelection in 2014.
The south side of Augusta is the key to Republican success in the Richmond County Sheriff election, according to GOP nominee Freddie Sanders.
"That's the battleground area of Richmond County," said Sanders, who is running as a Re­publican in a county still dominated by Democratic politics.

"The south side is more integrated than the west side or the east side," he said, explaining that he can likely count on strong support in "more Re­publican, more conservative" west Augusta.

His opponent, Richmond County schools Public Safety Lt. Richard Roundtree, will have distinct advantages in east Augusta and the city's urban center, he said.

Voting in Richmond Coun­ty has a history of falling along racial lines. About 53 percent of registered voters are black and about 37 percent are white, according to Board of Elections statistics. Generally, the majority of blacks tend to support Democratic candidates.

Sanders said he understands that is the pattern, but not necessarily a rule.

"There are some black people who will only vote for a black candidate and there are some white people who will only vote for a white candidate, but those are the fringes," he said. "Everyone else is in the middle."

He thinks a large portion of that "middle" can be found in the neighborhoods south of Gordon Highway – primarily commission districts 5, 6 and 8 – where there is a more diverse mix of voters.
The election for Augusta Commission Super District 9, which represents half the city, will see a head-to-head matchup between two former local elected officials and seasoned politicians in the General election.
the Augusta Com­mission Super District 9 election pits former Richmond Coun­ty State Court Solicitor Harold V. Jones against former two-term Com­missioner Marion Wil­liams, probably one of Augusta's most recognizable politicians.

Williams, 64, got on the commission by beating former Com­missioner Freddie Han­dy by a slim margin in a 1999 runoff for District 2, then beat him again in 2003 for a second term.

Term-limited, Williams set his sights on the Senate Dis­trict 22 seat in 2008 but lost in the Dem­ocratic primary to Ed Tarver, now a U.S. attorney. He lost again in a 2010 effort to unseat District 2 Com­mis­sioner Corey Johnson.

Jones is far from inexperienced in Augusta politics and won nearly 60 percent of votes against Ben "Swain" McElmurray for State Court solicitor in 2004. He had lost an earlier bid for office, a 2002 state House race to Rep. Quincy Murphy..

Now 43 and practicing mostly criminal law with She­pard, Plunkett, Hamilton & Boudreaux, Jones remains active in politics. He had a hand in the voter turnout efforts that led to Richard Round­tree's upset victory over Scott Peebles in the Democratic primary runoff for sheriff.

Unopposed for a second term as solicitor in 2008, Jones resigned the next year to run for state Senate against Hardie Davis. Davis won District 22, boosted by success in many white precincts, but Jones outpolled him in the 71 percent black District 9 portion of the Senate district by 1,132 votes.
The DeKalb County Republican Party invites you to "An Evening with Chris Boedeker," the GOP nominee for State House District 81, currently held by Democrat Scott Holcomb. The reception will be held on Thursday, October 4th from 6 to 7:30 PM at DeKalb GOP HQ, located at 3583 Chamblee-Tucker Road, Atlanta, GA 30341. If you are attending, please R.s.v.p. to Linda Smith at 770-451-4174.
Coastal Georgia can look forward to a new $100 million resort that includes an adventure park, and 800 new jobs, if a developer is successful in plans for 575 acres near Kingsland, Georgia.