Alvin is a 47-pound, 2-year old Golden Retriever mix boy who is available for adoption today from the Cobb County Animal Shelter.
Alvin will be neutered, tested for heart worms and micro-chipped when adopted. He is in run 107 and his ID# is 548132.
When calling the shelter about a cat or dog, please use THE ID NUMBER, the names are oftentimes made up by volunteers. This beautiful pet and many others need a forever, loving home and are available for adoption from the Cobb County Animal Shelter, 1060 Al Bishop Drive Marietta, Georgia 30008, call (770) 499-4136 for more information.
Corky is a black lab mix and the volunteers at Cobb Animal Shelter say he's the sweetest boy, and about 1-year old and 55 pounds. He is in run 25 and his ID# is 548038. Just look at that cute face and big pink tongue.
Nat and his brother Geo are 2-month old, 15# Shepherd mix puppies who are available for adoption today from Walton County Animal Shelter.
Also available from Walton Animal Shelter are Duncan, Davie and Darla, who are three months old and weigh about 7 pounds each.

These three puppies were turned in by their owner, which typically means no mandatory hold time, and they are immediately at risk of euthanasia, especially during this time of the year when shelters are overflowing.
Georgia Politics, Campaigns & Elections
Please take a moment to vote in our online survey on the Charter School Amendment. We ask how you will vote, and give you an opportunity to state why you are voting for or against the Amendment. We'll be running some of the responses when we release the results. If you have any problems with the online vote, email me.
Former Speaker of the Georgia House Glenn Richardson qualified yesterday for the Special Election in Senate District 30, which was vacated when Bill Hamrick was appointed to the Superior Court.
"So why would I want to go into this?" said Richardson, 52, asking the question many are wondering. "I'm at peace. I think I can sympathize with people more than ever. I've struggled."

Richardson, the one-time back bencher who became the first Republican state speaker since Reconstruction, admitted he was a bit nervous as he walked passed his old office for the first time in three years. He will have a tough primary election ahead of him. He faces a field that includes state Rep. Bill Hembree (R-Winston), a popular legislator who has been at the state house for 18 years.

"It's a perfect fit," said Hembree of the west metro Atlanta senate post he is seeking. "I've represented Douglas County and Paulding County, and I'm a native of Carroll County."

Hembree, a self-proclaimed "social conservative," served under Richardson in the House and represented a neighboring district. Hembree, 46, said he hasn't spoken with Richardson since 2009, adding the former speaker's decision to run was "somewhat surprising because it's just three years since all the events that occurred in his life."

Hembree said he would not get into dissecting those events. "I'm going to have a grassroots campaign and contact as many people as we can," he said. "I'm not going to get distracted."

Jim Naughton, a Carroll County businessman, also qualified.
Bill Hembree also qualified yesterday, although you wouldn't know it from the AJC's non-coverage.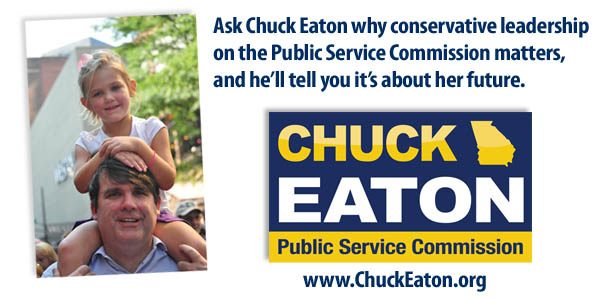 From the Neighbor Newspapers coverage:
Richardson said he wanted to seek the seat because "this just came up and under such rare circumstances."

"It seemed like an opportunity to seek a leadership position. I feel like this was the time to do it," he said.

Richardson said it is "not my job to say if people have forgiven or forgot" the events which led to his 2010 resignation.

"I had to step up when I saw an opportunity," he said. "I may achieve it and I may not."

Hembree, a Winston resident, served a total of nine terms in the House. He resigned his House District 67 seat last week to seek the vacant Senate seat.

In a prepared statement, Hembree said, "We need a leader we can trust to be on our side. Like you, I am tired of the politicians who put the special interests above the interests of the taxpayers they represent. Too many politicians let us down and embarrass us.

"I'm running for Senate with a simple promise: you have my word that I'll be on your side. I've got your back, and I'll represent you. While I won't make promises I can't keep, I'll do everything in my power to slash wasteful government spending, stop tax increases and attract new jobs to get our families back to work," he stated.

Hembree lost a 2010 bid for Speaker of the House to current Speaker David Ralston.
I predict Bill Hembree will be elected. We ran a poll in that district a couple weeks ago with the names of the three candidates who had announced at the time and Hembree had a substantial lead.
Bill Hembree  36.6%
Glenn Richardson  13.1%
James Camp 12.1%
Because the Special Republican Primary Election will take place November 6, at the same day as the General Election, it's likely to have higher turnout, which likely benefits Hembree more than Richardson.
Hamrick ran unopposed for re-election to the District 30 state Senate seat in the July 31 Republican primary. No Democratic candidates ran for the seat in the July 31 primary.

"Since no Democrats qualified during the original primary, the law requires that only a special Republican primary be held on Nov. 6," said Jared Thomas, spokesman for the Georgia Secretary of State's office.

Thomas said the law also requires that a special election for the District 30 seat be held on Jan. 8, with a runoff election on Feb. 5, if needed.
On November 6th, voters within the 30th Senate District who show up at the polls will be offered an opportunity to vote in the General Election and the Republican Primary. According to a spokesperson for the Secretary of State's office:
Poll workers will be instructed to ask eligible voters if they would like to participate in the Special GOP Primary in addition to the General Election, or just the General Election.  The Special and General can be included on the same card.  In addition, sample ballots will be posted.
Qualifying for that election continues today from 8 AM to 5 PM and tomorrow from 8 AM to Noon. To qualify as a Republican, you will go to Qualifying for the Republican Special Primary Election shall be held in Room 341 of the Georgia State Capitol, 214 State Capitol, Atlanta, 30334, and your qualifying fee of $400 must be paid by certified funds. To qualify as an Independent for the Special Election on January 8th, you will go to the Elections Division of The Office of Secretary of State, 2 Martin Luther King, Jr. Drive, SE, Suite 802 Floyd West Tower, Atlanta, 30334 during the same time period.
Here's how that works: the winner of the November 6th Special Republican Primary Election (runoff will be December 4th if necessary) will be on the ballot again on January 8th in the Special Election, even if no independent candidates qualify. If enough candidates qualify as independents to force a runoff in the January election, that runoff will be held February 5th, 2013.
So the best chance at winning that election if your name is not Bill Hembree might be to try and ambush him in January 8th by qualifying as an Independent. Turnout will be much lower on that date, and a candidate with a small but loyal following might have a snowball's chance, but probably not.
Micah Gravley [note spelling], the Republican candidate for House District 67 to succeed Bill Hembree is off to a strong start.
Micah Gravely said he was unsure about seeking a chance to run for a Douglas County legislative seat until he got a call from two people in high places: House Speaker David Ralston and District 68 state Rep. Dusty Hightower.

"I thought, "This could be an opportunity to serve our community," he said. "[Wife Heather] was very quick to say, 'I'll support you 100 percent.'"

Gravely, 38, was named by the State Republican Party Executive Committee last week to replace District 67 State Rep. Bill Hembree, R-Winston, as the Republican nominee for Hembree's House seat. Gravely will face Democratic nominee Leigh McMutry of Winston in the Nov. 6 general election.

[Gravley] served as a staff member for former Georgia U.S. Rep. Bob Barr and former Gov. Sonny Perdue. He also served as the Paulding County coordinator for both the Mike Huckabee and John McCain presidential campaigns in 2008.

He said he was approached by "several folks in the community" to consider the post and counts among his supporters Douglas County District Attorney David McDade and Paulding County District Attorney Dick Donovan.

Gravely recently has worked with the Georgia Trial Lawyers Association as the statewide grassroots director.

He also serves as president of Paulding Public Safety Appreciation Inc., which organizes the annual Paulding Public Safety Appreciation Day in October. He awarded the county's three law enforcement agencies and fire/rescue department $1,000 each to begin their own benevolent funds for survivors of those killed in the line of duty last week, Gravely said.

He said he planned to be an advocate for public safety workers and wanted to work closely with the school boards in Douglas and Paulding counties.
Pro-tip for writers: spellcheck will often suggest a that you change a surname to something else when the surname spelling is close to that of a regular word. Double check last names like "Gravley". In fact, go back and triple-check that one right now.
Former Executive Secretary of the State Ethics Commission Stacey Kalbermann continues to live in a fantasy world in which her firing was the result of a vast right-wing conspiracy against her, rather than because of budget cuts that hit the Commission with the same severity as most of the rest of state government, including the Governor's Office.
In my opinion, Kalbermann is likely responsible for the outages and lack of capacity that plague the Campaign Finance Filing System for failing to recognize that job one of the Commission is receiving and making public campaign disclosure.
In an amended complaint in her whistle-blower suit against the state, former commission director Stacey Kalberman claims that former commission chairman Patrick Millsaps contacted Randy Evans about campaign work while the commission was investigating Evans' client, Gov. Nathan Deal. Evans also served as an attorney for Gingrich.

Kalberman's new complaint was filed Friday in Fulton County Superior Court.

Evans said Kalberman's charges amount to a "fantasy," while Millsaps said it is "absolutely a false allegation, and the more that she amends her complaint, the more frivolous the lawsuit of a disgruntled employee becomes."
The AJC's PolitiFact confirms the obvious that a poll tax and a voter ID requirement are not actually the same thing.
The ACLU newsletter labeled the new voter ID requirements as a "modern day poll tax."

The historical poll tax emerged in parts of the U.S. in the late 1800s as a blatant effort to restrict voting. Primarily aimed at minorities, these laws — along with literacy tests — disenfranchised many black, Native American and poor white citizens. The poll tax was outlawed in federal elections in 1964.

The poll tax portion of the ACLU claim, as a historical comparison, does not hold up.

The claim that the voter ID laws are the functional equivalent of a poll tax is difficult to prove.

"The U.S. Supreme Court has not definitely settled this debate, although its 2008 decision in the Indiana voter ID case suggests that the poll tax claim faces an uphill battle," said Edward Foley, executive director of an election law center at The Ohio State University's Moritz College of Law.

In that case, the high court found that Indiana's requirement that voters present government-issued photo IDs did not violate the Constitution. Justice John Paul Stevens wrote the main opinion in the 6-3 ruling, which said, "The application of the statute to the vast majority of Indiana voters is amply justified by the valid interest in protecting the integrity and reliability of the electoral process."

We rule the ACLU's statement Mostly False.
In Stephens County, Debbie Whitlock emerges as the winner of a County Commission seat after two recounts, including hand recounts of mail-in absentee votes2. The final total shows Whitlock with a two-vote win out of more than 3000 votes cast, though the first recount showed a single-vote margin.
The hand recount of the mail-in absentee ballots took place as the result of a consent order reached this week by the candidates and Stephens County to deal with Willis' challenge in Superior Court of the election results.

In that challenge, Willis requested a manual count of the mail-in absentee ballots.

Willis said he wants to be clear as to why he requested the hand count.

"The electronic scanning machine that is used to count the ballots gave four different sets of numbers when the ballots were scanned," said Willis. "There was never any consistency in the results. Therefore, we had no reliable vote results. As the electronic scan device was not reliable, the only way to obtain an accurate tally of the paper ballot votes was by a hand count. Be sure that this hand recount of the votes had absolutely nothing to do with my opponent, Debbie Whitlock. It had everything to do with making sure that the voting results are as accurate as possible."

He said he thinks the state should look further at the process for counting mail-in paper absentee ballots.

"I think this incident should send a clear message to the Secretary of State's Office that their electronic paper ballot scanners are not reliable," said Willis. "Something should and must be done or else no one who votes using a paper ballot can ever be guaranteed that their vote is counted properly. For the secretary of state to ignore this type of problem in our election system would be a great disservice to myself, Debbie, and every single voter in the state of Georgia."
The Cobb County Board of Education voted 4-3 against moving forward to censure one of its members, David Banks.
Erratum: yesterday, I incorrectly cited the case in which the Supreme Court of Georgia declined to review part of the 2005 Tort Reform that allows attorney's fees to be recovered from a plaintiff. The correct citation is to Great West Casualty Company et al. v. Bloomfield et al., in which the Georgia Supremes denied cert. That's what I get for trying to think too early in the morning. Sorry.m