27005 is your typical suburban yellow labrador retriever, and she is available for adoption from the Gwinnett County Animal Shelter. She was given up by her family, which generally means a dog will be one of the first to be euthanized, as there is no waiting period as there is with a stray brought in.
Georgia Politics, Campaigns & Elections
Georgia Attorney General Sam Olens made his debut on the national political scene last night, sharing a stage with Florida AG Pam Bondi at the Republican National Convention.
Arguably, wearing a pink tie on your national television debut is as courageous as doing it next to a six-foot blonde without the benefit of a step behind the podium. The text of their tag team speech is available here.
Getting fitted for a green jacket is sufficient to give former Secretary of State Condoleeza Rice a connection to Georgia politics, and she also gave a major speech last night at the RNC.
Catherine McDonald a leader with Atlanta 912 wrote the excellent notes from the address of Frank Luntz to the Georgia delegation that we excerpted yesterday. Here's the rest of her write-up, with her permission:
The 5 most powerful sentences you can use to describe what Conservatives/the Republican Party Stand for:

1. We are: Fighting for hardworking taxpayers. (NOT the 'middle class', or any class designation)
2. We are Fighting for Economic Freedom. (Main Street!) (NOT 'defending capitalism'-as most folks connect capitalism with Wall Street)
3. We bring leaders (Romney/Ryan) who will give it you you straight – NO MORE budget tricks, empty promises, or gimmicks.
4. It's all about being REAL, GENUINE, AND AUTHENTIC. Real jobs, genuine committment to the American idea, with an authentic plan for the budget.
5. Our Leaders are getting OFF the Stage-and into the audience, among the citizens. (think Paul Ryan) (R's tend to look too much like lawyers, behind the podium, in suits. We must relate better to the common man, still be 'official' when required-but respectful of all.

The Differences between how the average voter perceives Obama & Romney right now:
Romney: See him as a great "Fixer" who doesn't understand peoples' problems
Obama: See him as understanding peoples' problems, but having NO idea of how to fix anything.

-Mitt Romney is a man of great Substance, not Style-Obama is a man of 'style', with NO substance.

Our challenge & job is to help people understand WHO Mitt Romney is; (below are my personal descriptors:)
-a decent, honest family man,
-a committed problem solver, who cares about YOU,
-a smart, successful business man who knows how to create jobs and wants every American to succeed,
-a man of great faith who loves his country and it's Founding principles.

Finally-We must me HAPPY WARRIORS- don't be angry or get angry when you engage!! Think Ronald Reagan!
Speaking of Sam Olens, he received a letter this week from Senator Josh McKoon (R-Columbus), the only member of the Senate Ethics Committee to dissent from the settlement of ethics charges against Senator Don Balfour (R-Snellville or Atlanta). In his letter, McKoon writes, "I am requesting that your office investigate the allegations made in the Amended Complaint of Deborah Dooley regarding violation of certain criminal statutes by Senator Balfour so that this matter may be concluded."
Out of curiosity, I ran a poll last night in Senate District 30, the district in which State Rep. Bill Hembree is likely to meet former Speaker of the Georgia House Glenn Richardson. The ballot test question included only Hembree, Richardson, and James Camp, omitting candidates who said they are "considering" the race.
Bill Hembree  36.6%
Glenn Richardson  13.1%
James Camp 12.1%
Those results represent several things, in my not-so-humble opinion. First, Hembree has high name recognition, and Richardson probably has high name ID but also high negatives. I didn't test favorable/unfavorable on the candidates, so that's just my opinion. The likely-high negatives make it difficult for Richardson to attack Hembree.
Second, I predict that Bill Hembree will win this election without a runoff unless another top-caliber candidate enters the race. There may yet be a second act in Glenn Richardson's political career, but it is highly unlikely to involve representing the new 30th District in the State Senate next year.
The sample size was 505 respondents for the ballot test, which gives a margin of sampling error of +/- 4.34 points at the 95% confidence level. I'll be releasing more information through the website and tomorrow's email.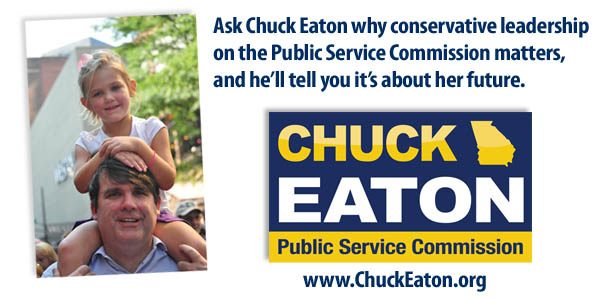 Ellijay's Colonel Oscar Poole continued his moment in the national press with a photo in USA Today. According to the accompanying article:
Oscar Poole — the Georgian in the yellow suit (with red epaulets) — was dressed to promote his business, Colonel Poole's Bar-B-Q. Similarly, Dan Daub, mayor of Tower City, Pa., wore a cowboy hat crafted from a box of his hometown beer, Yuengling.
The Albany Herald spoke with State Rep. Ed Rynders, who is attending the National Convention.
The Georgia delegation was fired up Monday from a surprise visit from Republican National Committee Chairman Reince Priebus on Sunday, one that Rynders said was energizing. "He gave a great speech that got the Georgia delegation going on Sunday," Rynders said, noting that Priebus referred to encouraging children and grandchildren to work to be successful.

"Sometimes we lose sight of earning success," he said. "I think that really struck a chord with folks."
David Oedel, a professor at Mercer Law School, writes his analysis of Miriam Paris's loss of her Senate seat to fellow Democrat David Lucas.
While Paris put up a nice website for her constituents to visit, Lucas was out talking to the district's voters face to face. Lucas also charged Paris with being a Republican pawn. That's an overstatement, but there was enough truth in the charge to stick. Paris's ears seemed tuned to people such as state Sen. Cecil Staton, Rep. Allen Peake and Erick Erickson in north Macon, Lynn Westmoreland in west Georgia, and plenty of Atlanta gold-domers — all outside the 26th District.

Outsiders fronted by a Republican Atlanta lawyer who formerly worked for Westmoreland issued fancy and "funny" fliers trying to paint Lucas as a lazy Negro, asleep at the political switch. That's an odd way to spend PAC money in the 26th District, where people understandably resent racial taunting.

Another interesting angle was that Paris supported Macon-Bibb consolidation, which did prevail in July, while Lucas expressed skepticism about some aspects of the particular consolidation plan. It therefore appears probable that a critical number of Bibb voters who approved consolidation also voted for Lucas. If so, that would mean Bibb's black Democratic voters are more nuanced than some people give them credit for.
The Center for Immigration Studies estimates that Latino voters will comprise 9.8 percent of the November electorate in the states that solidly favor one Presidential candidate, which is the category in which they place Georgia.