This ten-month old black-and-brindle lab mix will be euthanized at 1 AM Friday if no one steps up to foster or rescue him. Volunteers with the Murray County Animal Shelter says that while he has sad eyes, he's a happy, calm, and gentle dog who will make a great pet. Transportation is available for this guy or any other dog at Murray County. The $115 adoption fee covers the cost for vetting, shots, heartworm check, and neutering. If you're interested in fostering, the Shelter has several rescues it works with to facilitate foster homes. Email Lisa Hester or call 770-441-0329 if you can help.
Georgia Politics, Campaigns & Elections
The National Republican Congressional Committee will continue to play Elmer Fudd to Georgia Democratic Congressman John Barrow's Bugs Bunny, announcing yet again that they're hunting wabbits targeting Barrow. Occasional Georgia resident Rob Simms, recently named Political Director for the NRCC, may have a better chance of catching the wascal beating Barrow.
Georgia Secretary of State Brian Kemp has subpoenaed five Fulton County Elections Board officials to appear before a State Elections Board investigation into mishaps in last year's voting and requested production of documents.
He says he had no choice."I felt like we were not getting the type of cooperation we needed in getting documents that we needed to be ready for the hearing."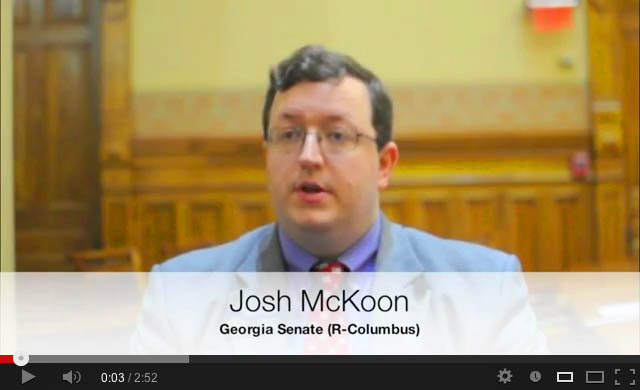 Senator Josh McKoon took a few minutes to discuss the Senate Rules, specifically the limitation on who can file a complaint with the Senate Ethics Committee and what voters who feel shut out from filing a complaint can do. It's worth a couple minutes of your time.
Congratulations to Judge Carla Wong McMillian on her appointment by Governor Nathan Deal to the Georgia Court of Appeals. Judge McMillian, who served on the Fayette County State Court, is the first Asian-American judge on the state's appellate court.
On Wednesday, January 23d, members of the state judiciary will be presenting their budget requests to the General Assembly.
The House Judiciary (Non-Civil) Committee will meet Friday, January 18th from 9:30 to 11 AM in Room 132 of the Capitol.
When the Georgia Senate convenes today for the Fourth Legislative Day, the first and only bill on the calendar will be Senate Bill 24, which delegates to the Department of Community Health the power to levy the so-called hospital bed tax.
Gov. Nathan Deal urged the quick passage of a Medicaid funding plan that would spare legislators from raising taxes and instead allow a state agency to fill the gaping hole in Georgia's budget.

Lt. Gov. Casey Cagle and House Speaker David Ralston on Wednesday also endorsed the governor's plan to extend the 2-year-old funding mechanism, known as the "bed tax," despite criticism from conservatives who oppose tax increases. The plan is expected to reach a Senate vote Thursday, and House lawmakers could debate it later this month.
Yesterday, Governor Nathan Deal presented his legislative agenda to the Georgia Chamber of Commerce Eggs and Issues Breakfast.
We have had one of the best years of economic development in quite some time. A few notable companies that have chosen Georgia include Baxter, General Motors, and Caterpillar, along with numerous others. We did this with your help, with both the private and the public sector doing their parts!

As governor, my goal is to see Georgia become the No. 1 state in the nation in which to do business. I have made that clear from the beginning, because I believe that is the best path to economic growth and the quickest way to get Georgians into jobs.  And we are not all that far off from reaching our target: For two years in a row, we have ranked in the top five for business climate by Site Selection Magazine, and we ranked No. 3 for doing business in 2012 by Area Development Magazine. But we certainly still have some hurdles that we must overcome before we get there.

This morning I will focus my remarks on one of the highest hurdles facing state government, that of healthcare.

Right now, the federal government pays a little under 66 cents for every dollar of Medicaid expenditure, leaving the state with the remaining 34 cents per dollar, which in 2012 amounted to $2.5B as the state share.

For the past three years, hospitals have been contributing their part to help generate funds to pay for medical costs of the Medicaid program. Every dollar they have given has essentially resulted in two additional dollars from the federal government that in part can be used to increase Medicaid payments to the hospitals. But the time has come to determine whether they will continue their contribution through the provider fee. I have been informed that 10 to 14 hospitals will be faced with possible closure if the provider fee does not continue. These are hospitals that serve a large number of Medicaid patients.

I propose giving the Department of Community Health board authority over the hospital provider fee, with the stipulation that reauthorization be required every four years by legislation.

Of course, these fees are not new. In fact, we are one of 47 states that have either a nursing home or hospital provider fee—or both. It makes sense to me that, in Georgia, given the similarity of these two fees, we should house the authority and management of both of them under one roof for maximum efficiency and effectiveness.

Sometimes it feels like when we have nearly conquered all of our hurdles, the federal government begins to place even more hurdles in our path.

Georgians who have already received a paycheck this January have no doubt noticed that their payroll taxes went up and their take-home salary went down. This is the cost of entitlements. If you think your taxes went up a lot this month, just wait till we have to pay for "free health care." Free never cost so much.
Governor Deal also mentioned that he has "a tweeter account" as the staffer in charge of social media cringed in the back.
Deal said he will work to ensure that state agencies are cooperating with and fully performing background checks for gun permits as required under federal law.
Best line of the day goes to Georgia Speaker David Ralston, who referred to the Senate's new gift cap as "more of a sun visor than a cap."
Speaker Ralston responded to the Senate's opening bid on ethics reform by repeating that he favors a complete ban.
Ralston says House lawmakers plan to propose a permanent change regarding lobbyist gifts in the near future. Ralston plans to introduce legislation that would include a complete ban on items given by lobbyists.

One of the largest criticisms of the new Senate rule is that there are a number of exceptions. For instance, the law allows lobbyists to give multiple gifts that are $100 or less. It also allows for lobbyists to pay for travel and a number of other expenses related to Senators' official duties.
We need to start paying a decent salary to these 236 lawmakers sent to Atlanta each year.

The idea was considered and ultimately discarded by the alliance of conservatives, liberals and civic-minded pushing this year's $100 cap on gifts from lobbyists to lawmakers.
Newly-minted State Senator Mike Dugan would like to see term limits for state legislators.
Dugan said repeatedly on the campaign trail that he hopes to introduce term limits in the General Assembly. He hopes to work toward this goal in 2013.

"What I'd like is a maximum of 10 years, which is five terms," Dugan said. "The longest a person can be president is 10 years.

He can assume two years of a predecessor's term and run for two terms on his own. My thought process is this can't be more complicated than being president. If we limit that position then I think we can limit these others. There are also term limits on the Georgia governor."

If 10 years are served, Dugan feels it should be required that a legislator sit out two terms, or four years, before running again.

"The common refrain is that we do have term limits — they are called voters," said Dugan. "The way campaign contributions are set up now it's really not that way. The other side is, if you have 10 years to get something done, instead of worrying about getting reelected in perpetuity you will actually make the tough decisions."
Senator Mike Crane apparently is seeking instead to limit his own effectiveness among his colleagues.
State Sen. Mike Crane, R-Newnan, started the 2013 Georgia General Assembly session off with a bang when he became the most vocal opponent of a set of rules that would restore much of the power that Lt. Gov. Casey Cagle was stripped of two years ago.

"This may be the end of my political aspirations, but I will never stop fighting for liberty," Crane said on the Senate floor.

On Tuesday, the second day of the session, Crane reiterated his position.

Crane addressed his colleagues and told them he would bring up the matter each of the remaining 38 days in the legislative session.

"Do you think freedom is at the helm of this body?" he asked.

After Crane's comments, Sen. John Wilkinson, R-Toccoa, expressed exasperation with his fellow sophomore. Both were elected in special elections to complete terms of men Gov. Nathan Deal appointed to state jobs.

"I think we need to decide if we're more interested in getting things done or in making a point," he said, noting that the rule empowering Cagle had already been voted on and was settled.

Sen. Bill Jackson, R-Appling, stood up to add, "I just wanted to say 'amen' to what Sen. Wilkinson for what he said."
State Representative Dee Dawkins-Haigler (D-Lithonia) was elected Chair of the Georgia Legislative Black Caucus.
"They don't think that anybody is going to buy into it this year," said Kay Godwin, a Republican activist from south Georgia. "It's not the right time, but it's the right thing to do. We've mentioned to everybody that this is the direction that we want to go in. The legislators all agree with us. And the tea party."

If you get what you pay for, then Georgians should have no reason to complain. They've been paying for an army of fry cooks and dishwashers.

The problem is that lawmakers themselves are loathe to raise the pay issue. "I'm not going to vote for an increase in legislative pay when I have school teachers in every district that I represent who are being furloughed," said state Sen. Josh McKoon, R-Columbus, the Capitol's most aggressive proponent of a $100 cap on gifts for lawmakers.

No, livable wages for state lawmakers would have to be an issue taken up by a fellow with plenty of clout and little to lose. A governor in his second term, for instance.
Big wins by the Atlanta Falcons would likely help them make the case for taxpayer funding of a new stadium, according to Governor Deal.
Former Atlanta Mayor Shirley Franklin will serve as a Visiting Professor in Ethics and Political Values at the Lyndon B. Johnson School of Public Affairs at the University of Texas.
House Republicans may begin moving forward on the project of trimming the footprint of Fulton County government, as GOPers now constitute a majority on the Fulton County delegation after redistricting.
Passing legislation that would allow north Fulton to break away to form a new Milton County remains impractical, mainly because the idea's most powerful advocate, House Speaker Pro Tem Jan Jones, R-Milton, has never been able to assemble enough votes.

More doable this year: a reconfiguration of the County Commission that would give north Fulton more input into the distribution of hundreds of millions of dollars in tax funds and services for nearly 1 million people.

The Legislature could also beef up the powers of the commission chairman and protect the county manager from being fired without cause, changes that could lessen the circus atmosphere of public meetings.

Rep. Wendell Willard, R-Sandy Springs, said such structural changes won't end the push for secession.

"Maybe lessen the steam," he said. "Trying to get Milton County has several hurdles that nobody's figured out how to get around. So in the meantime, let's make what we have work better."
The City of Buchanan will put Sunday Sales on the March 19th ballot.
The investigation into possible corruption in DeKalb County is now focussing on six companies that made millions from the County, while CEO Burrell Ellis's former campaign manager Kevin Ross has also been the target of a seach warrant.
Gwinnett County Chair Charlotte Nash made fighting corruption and restoring the county government's reputation cornerstones of her State of the County address.
"I am appalled to hear Gwinnett County and corruption mentioned together," said Nash, who joined the board after a special grand jury's land investigation led to the public disgrace of two commissioners but faced the issue again when a commissioner pleaded guilty in a federal bribery probe last year. "Wrongdoing by leaders hurts the community, breaks the public trust and embarrasses all of those who call Gwinnett home."

Nash pointed to changes in the county's ethics and land purchase laws during her time in office, but said commissioners will keep working to restore trust with citizens.

"We know that we'll have to work hard to overcome this, and we've taken steps to do just that," she said. "Ultimately, it will be our behavior over time that will help us regain the community's trust."

This year, she said, the board will continue to try to restore public trust by hosting town hall meetings. Plus, commissioners approved a new lead investigator for the district attorney's office, added specifically to root out corruption among public officials. She also noted the new non-profit entity created to keep public dollars separate and transparent in the Partnerhips Gwinnett economic development initiative.
An historic reduction in crime statistics in Savannah may be the result of cooked books rather than better enforcement, according to some Aldermen.
Alderman Tony Thomas, saying he had at least six constituent complaints to support his claim, leveled that allegation during Tuesday's annual City Council retreat.

"I do not think the picture is as rosy as has been painted," Thomas said. "We need to paint a real picture of what's going on in this community."

Mayor Pro Tem Van Johnson said he has received similar complaints about officers trying to dissuade citizens from filing reports or complaints about officers who are slow to respond.

"They are under tremendous pressure to bring statistics down," Johnson said.