Pen 236 houses a Lab mix puppy and Pen 221 a Rottie mix, at the Gwinnett County Animal Shelter. The Gwinnett Animal Shelter is offering discounted adoptions through July 28th.
Lawrenceville Pit Bull Terrier (pronounced "pibble") Titan was awarded third place in the Humane Society's national Dog of Valor contest for saving his owner's life twice.
"I think he won because he saved her life, which is just amazing," DuBois said. "There is so much negative press about these dogs and there are incidents where unfortunate circumstances happen, but overall, the breed is an amazing breed. They are made not to be gentle by humans. (HSUS) thinks he deserves all the credit that he gets because he is an example of what the breed really is."

Titan, a 5-year-old pit bull, saved owner Gloria's life last July. Her husband, John, was set to leave for work when Titan got between him and the door and began whining, then running up and down the stairs.

John finally walked upstairs and discovered Gloria lying on the ground bleeding from her head. Doctors later said she had suffered an aneurysm and a fractured skull.

Just recently Titan came to the rescue again when he barked to wake John up at 4:30 a.m. When John went downstairs he found that Gloria had fallen in the bathroom, breaking her hip and another bone.
Georgia Politics, Campaigns, and Elections for July 25, 2012
A complaint has been filed with the Georgia Campaign Finance Commission alleging that mailings by the Georgia Republican Senate Caucus Promotion PAC aimed at reelecting Senator Chip Rogers violates campaign rulesManuel alleges Rogers, along with other incumbent Republican state legislators, benefited from the Georgia Republican Senate Caucus Promotion Political Action Committee.
The PAC has come under scrutiny as it is actually registered as an independent committee, but has been raising money to promote incumbent senate Republicans faced with primary challengers.

Manuel did not return repeated phone calls and emails by press time.

Rogers said he hasn't received any notice from the commission about Manuel's complaint and criticized the complaint as not factual.

[Rogers's opponent Brandon] Beach has also been slapped with an ethics complaint.

Macedonia resident Jeff Whitmire filed the complaint with the state on Monday, alleging Beach has not accounted for advertising he's done on Facebook and in the My Woodstock Monthly magazine.

Whitmire alleges the magazine was printed and distributed before the June 30 campaign disclosure deadline.

He also alleges Beach's Facebook advertising began in May, and those disclosures were not reported for the June 30 reporting deadline.

"To be honest, I'm fed up with Washington and I'm fed up with crony politicians," [Whitmire] said. "And I don't like this Chicago style politics. I'm looking to see if there's something bigger behind this."
But that's not all: apparently, you can't trust political direct mail in that race either.
Both campaigns are also accused of engaging in mudslinging.

Rogers' campaign has been accused of attacking Beach on his role in the Georgia 400 tolls.

A mailer produced by the anti-TSPLOST organization Traffic Truth is utilizing false newspaper headlines, noting the North Fulton Chamber of Commerce CEO has "failed to stop the Georgia 400 tolls" and "Beach sponsors party for largest tax increase in Georgia history."

The first made-up headline refers to the upcoming regional transportation sales tax referendum voters across the state will consider on July 31.

One mailer criticizes Rogers for his involvement in the controversial loan he received to remodel the Oglethorpe Inn in Calhoun.

It also slams Rogers for his alleged connections to John Letcher Edens, the man Rogers and Graves transferred the loan to.

Edens, along with his son Jonathon Edward Edens, were both arrested and charged with theft in Cartersville last July.

Rogers referred to the mailer as "Chicago-style gutter politics" that "shows the desperation of my opponents and the lack of any positive ideas for Georgia."

Rogers also said he believed the flyer contains false accusations and plans to "consider all potential legal action after the conclusion of the political campaign."
Brian Laurens, a political consultant to Senator Rogers, accuses Beach of sending out robocalls and transmitting Laurens's cell phone number as the Caller ID number.
Brian Laurens, owner of Brikel Communications and Consulting, is accusing Beach of using his cell phone number to call voters.

Laurens said he discovered the alleged robo calls were made when he returned home from church on Sunday.

The Holly Springs resident said the calls began to pour in around 2 p.m. and went through 8 p.m. Sunday.

"The call said something about Chip Rogers being for the TSPLOST and voting for it and was portrayed as coming from a registered LLC, (the) Grassroots Conservatives of Cherokee County," he said.

Laurens added that "deductive reasoning" led him to believe the calls were the work of Beach and his campaign.

He noted he believed he received well over 100 phone calls.

"I'm sorry this type of dirty politics and shenanigans have entered into the electoral process of Cherokee County," he added.

Laurens has regularly done campaign consulting work for Rogers.
I read elsewhere that the number of return calls Laurens received was in the range of 700-800. Maybe I'm confused.
In the race for Gwinnett County Superior Court, Republican Senator David Shafer has endorsed Duluth attorney Kathy Schrader, who currently serves as a Municipal Court Judge for Duluth and Sugar Hill, and previously was appointed by both Governor Sonny Perdue and Governor Nathan Deal to the board of the Governor's Office for Children and Families. Shafer said:
"Kathy Schrader will make an outstanding addition to the Gwinnett Superior Court. Her qualifications are second to none, and she is the best choice for protecting our children and families."

"That's why I'm asking you to join me in voting to elect Kathy Schrader as our next Superior Court Judge."
The race for Ninth Congressional District continued to be the other nastiest one out there. Martha Zoller received the endorsement of Sarah Palin.
"If you agree that it's time our elected officials stopped talking at us and started listening to us, then I hope you will join me in supporting Martha Zoller….

"Martha is running against the establishment, which, as we know, is an uphill battle; but with all of our support she can win. In Congress, she'll vote to cut spending, lower taxes, and repeal Obamacare. In addition to being pro-life and a firm defender of our Constitution, including our Second Amendment rights, Martha is a strong fiscal conservative…."
On Facebook, the Collins campaign reacted:
"While we admire and respect Governor Palin, Martha's liberal talk threatens our conservative values. But don't take my word for it, go to www.seemarthasayit.com and you can see and listen to her yourself. Whether it's her pro-abortion, pro-civil unions or other liberal views, Martha Zoller would be wrong in Congress. Better to have a true Georgia conservative like Doug Collins. The endorsements he's received from Governor Zell Miller, Speaker Ralston and the NRA, along with the faith shown in him by Governor Deal show he shares the values of people who know and love North Georgia the most.Æ
The Gwinnett Daily Post profiles the races for Senate District 9, featuring Senator Don Balfour, and the District 47 challenge to Senator Frank Ginn.
Over the past 20 years, Forsyth County has gone from primarily Democratic to strongly Republican, though political leaders disagree on the root cause.
"This county used to be solid blue, blue enough to be purple," said Sharon Gunter, chair of the Forsyth County Democratic Party. "Then the Civil Rights Act passed, and it got a little redder. And then there were some incidents in the county where the few black people who did live here left."

From the 2010 Census, the county's population of 175,511 consisted of 4,510 African Americans, or about 3 percent.

For the Forsyth County Tea Party Chairman, Hal Schneider, it's the county's demographics that have all to do with the Democratic Party's small presence.

"Forsyth County is very rural," Schneider said. "It is historically very white and it is an affluent county. These things add to the fact that you have a lot of Republicans, a lot of conservatives in this county."

However, Ethan Underwood, chair of the Forsyth County Republican Party, said the political shift in Forsyth was due to the liberal stance associated nationally with Democrats.

"I think the Democratic National Party became more liberal," he said. "I don't think that Forsythians agreed with the views on social issues, add to that, the growth of Atlanta. Many self-employed folks who are paying taxes and paying employees are the ones who live in Forsyth County, and those folks tend to vote Republican."

Underwood said that the Republican Party normally ranges between 79 to 86 percent of the vote during an election.
Glen Williams, a candidate who will be defeated by State Rep. Dar'shun Kendrick in the HD 93 Democratic Primary, says he was threatened for speaking at the Gwinnett County Commission hearing about a proposed rezoning.
Williams said the applicant's attorney, Simon Blue, confronted him in the corridor outside the auditorium, threatening to sue him.

"I was accosted and verbally threatened with a lawsuit," Williams told commissioners during a public comment period later in the meeting. Several neighbors also told the board what they witnessed, in an attempt to have a record of the altercation.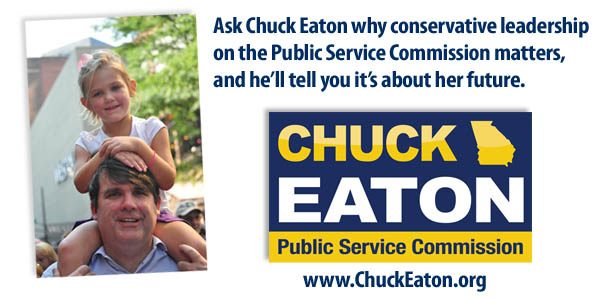 Chuck Eaton's reelection campaign to the Public Service Commission received a boost from Congressman Tom Graves, who recorded a robocall endorsing Eaton, whom Graves has known since they both were members of the Coverdell Leadership Institute.
"Chuck is the strong conservative we need at the state level working to prevent Obama's radical green agenda from driving up our gas and electric bills. Chuck Eaton is the only conservative in the race and just last month he voted to lower our electric rates."
Richie Smith, who was booted from the ballot by Brian Kemp vows to appeal the ruling that tax issues made Smith ineligible to run for State House district 151.
In a statement released Tuesday through the Georgia House Democratic Caucus, the 41-year-old Smith said he would appeal the disqualification to Fulton County Superior Court.

"My opponent switched parties after promising to be a Democratic representative, and that's not right," said Smith, a bus driver from Lake. "I will fight to remain on the ballot and to stand for the citizens of District 151. If they want to defeat me, it will be at the ballot box."

Lamar Brand of Blakely filed paperwork challenging Smith's candidacy over what Brand said were back taxes owed by the candidate. Smith failed to show for a hearing on the matter.
A candidate for Terrell County Magistrate Judge says as part of his campaign that he wants to eliminate the position.
Beth Hilscher was sworn in as the newest member of Suwanee City Council, filling the seat vacated when Jace Brooks resigned to run for County Commission.
A poll shows support for video lottery terminal gambling, according to WXIA 11 Alive.
Because we don't have enough politicians, a summer camp in Washington is training high school girls for future careers in politics.
Running Start, a nonprofit group that encourages women to get involved in politics at an early age, hosted about 50 girls recently in Washington, introducing them to female role models and instructors and teaching them the basics of networking, fundraising, public speaking and other skills essential to political success.

"It's really important for young women to be involved in politics," said Sophie D'Anieri, a 17-year-old high school senior from Troy, N.Y. "I think there is some discrimination against women that makes it difficult to run."

"I'm sort of weird for my age to be this interested in politics," said 17-year-old Rachel Hansen, of Philadelphia, who aspires to run for president. "I think girls my age aren't thinking about the future that much. They're just thinking about what's going on Friday night."
Bless her heart, that Hansen girl sounds just like Josh McKoon must have at that age. I'm voting for Tammy Metzler.
The Albany City Commission passed a property tax increase, also known as "another nail in T-SPLOST's coffin."
A former Minnesota Senate Aide who was fired for having an affair with his female boss is suing because he says women who do the same thing become lobbyists receive different treatment.
Brodkorb filed his lawsuit against the state of Minnesota, the Minnesota Senate and a top Senate administrative official, claiming an invasion of privacy, defamation and gender discrimination, among other things. The lawsuit seeks more than $50,000 – a standard figure in state civil lawsuits – but his attorneys have said they hope to get at least $500,000.

The lawsuit was filed after Brodkorb and his attorneys said they obtained a right-to-sue letter from the U.S. Equal Employment Opportunity Commission. Brodkorb's team declined to make the document available.

The lawsuit said the episode caused him "emotional distress" and "similarly situated female legislative employees, from both parties, were not terminated from their employment positions despite intimate relationships with male legislators." Brodkorb's lawsuit said he should have been afforded the chance to transfer jobs.
Ethics
State House Ethics Commission Chairman Joe Wilkinson (R-Sandy Springs) released a list of 49 candidate for State House who signed the "Gift Cap Pledge" but have failed to abide by existing campaign disclosure laws.
"It is disappointing, ironic and hypocritical that 49 candidates for the Georgia House of Representatives who signed a petition to impose a $100 lobbyist gift cap on lawmakers are themselves in violation of ethics and campaign finance laws.

"These candidates have failed to file, or filed late, their required Declaration of Intent (due when they first qualified to run), their Personal Financial Disclosure (due 15 days after qualifying to run), and their Campaign Contribution Disclosure Report (which was due July 9)," says state Rep. Joe Wilkinson, R- Sandy Springs. "All either have already been fined or expect to be fined shortly as required by Georgia law."

"These are major violations by both Democrats and Republicans. These candidates should pay their fines and file the required reports immediately if they truly believe in full, open and immediate transparency," the chairman of the Georgia House of Representatives Ethics Committee says. "On the one hand they seek to promote so-called 'ethics' by endorsing a meaningless 'gift ban' yet on the other hand are behaving unethically by flouting current laws."

"They should certainly pay the fines mandated by law before the July 31 primaries," Wilkinson continues. "I would remind them that the fines cannot be paid with campaign funds and that the first $25.00 of each fine goes to fund the state's Government Transparency and Campaign Finance Commission."

"These current laws are tough and, unlike the proposed $100 lobbyist expense cap, actually work. Unfortunately, caps lead to non-reporting and underground lobbying. We've seen this in other states. If they worked and were not merely a public relations gimmick, they would have been put in place years ago," Wilkinson says.
Reacting to the AJC story about legislative candidates who face tax issues, the Columbus Ledger-Enquirer opines that candidates should first follow the law before seeking to write new ones.
when more than 50 candidates for Georgia elective offices have had a total of more than $1 million in tax liens filed against them, you have to wonder whether some of the people who want to make and administer Georgia's future laws — especially tax laws — know enough or care enough about the current ones.