Patsy (F) and Parker (M) are 2-3 month old puppies weighing in at about 11 pounds each. The are available for adoption for $40 each from Walton County Animal Services and have been vaccinated and de-wormed and will come with vouchers for discounted spay/neuter.
Gwinnett Urgent Care and Suwanee Station Dentistry in Gwinnett County have a therapy dog named Ruckus.
Ruckus, who will be 7 in July, is a chocolate spaniel who serves as a therapy dog for both sides of the office. The Perrys believe having Ruckus around fosters a more comfortable and family atmosphere that calms the nerves of anxious patients.

"When people come in they don't feel well, that's why they're here, they're sick," Ron said. "If Ruckus will come in the room, their whole face just lightens up. They suddenly just start feeling a bit better."

Gift, and her mother, Ashley, agree.

"He probably helps them feel better because they have somebody to talk to," Myla said. "It makes it more fun that there's an animal friend."

Ashley Gift said Ruckus makes it easier for her daughter to visit the doctor's office.

"She doesn't dread coming here, she knows she gets to see him," Ashley said. "It makes it more fun. She asks for him every time we come."
Georgia Politics, Campaigns, and Elections
Beginning next week, satellite early voting stations open in some jurisdictions, and this Saturday is the only Saturday early voting for the July 31st elections.
The Secretary of State's website has "My Voter Page" where you can sign in and find advanced and early voting information, as well as your new districts for State House, Senate, County Commission and other offices. This page will help you find contact information for your county board of elections if you have questions.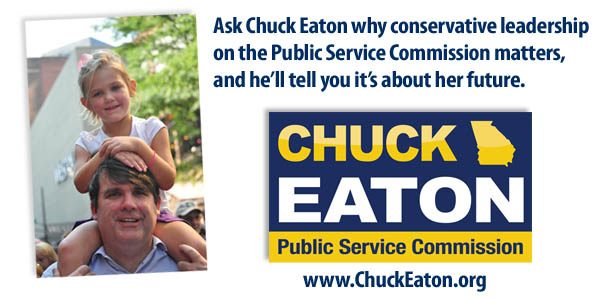 Governor Nathan Deal stated his support for Chuck Eaton in his reelection to the Public Service Commission. Deal said:
"During his tenure on the Public Service Commission, Chuck Eaton has assisted my efforts  for economic development and job creation in Georgia. Chuck Eaton shares my top priority to make Georgia the No. 1 state in which to do business. By working to repeal of the tax on energy used for manufacturing, Chuck's strong, conservative record helps make this goal a reality."
Attorney General Sam Olens and Congressmen Phil Gingrey and Tom Price discussed the aftermath of the US Supreme Court's ObamaCare ruling with the Cobb Chamber of Commerce Chairman's Club.
In Senate District 21, direct mail purportedly paid for by TrafficTruth.net is targeting Brandon Beach, the challenger to Senate Majority Leader Chip Rogers, while signs that say "Boot Chip – Are you better off than you were eight years ago" appear to have been paid for by Neighbors for A Better Cherokee.
Also in Cherokee County, the anonymous robocalls against Janet Read have continued, obviously paid for by a coward.
Pro-tip: putting flyers of any kind on mailboxes is illegal.
A group circulating a flier against Cherokee County District 2 Commissioner Jim Hubbard is in violation of U.S. Postal Service rules, postal officials say.

The flier was found taped onto mailboxes in the communities, which violates U.S. Postal Service rules, according to postal officials.

Postal Service spokesperson Michael Miles said it's against postal policy to place anything on or inside mailboxes.

U.S. Code Section 1725 prohibits the distribution or mailing of items without paying postage.

"Many people are not aware that it is a violation of USPS policy and law to place items on or in a mailbox," Miles said. "When this is brought to their attention, they usually refrain from this behavior and there is no need for further USPS action."

If the violations persist, Miles said the postal service can then collect the mailers and determine how much postage is due to the service.

Once they are able to determine a cost, Miles said they can actually bill the originator for the postage.
Democrat Lesli Messinger, who is running for Congress from the First District issued a press release stating that she is "The only woman running for a national office this election season in Georgia, she's a lone  coastal Democrat amid the state's Congressional candidates." Maria Sheffield (R-12) and Martha Zoller (R-9) might take issue with that, but I can see how the names "Maria" and "Martha" might be confusing on that point.
The Republican candidates in the Twelfth Congressional District met in a debate last night.
UGA Political Scientist Charles Bullock appears to be predicting defeat for the T-SPLOST.
"So although tons of money is being spent to encourage voting for the T-SPLOST and thesupport of the Chamber of Commerce, it looks like it will go down to defeat," Bullock said in an analysis emailed to Patch. "We have the interesting phenomenon of disagreement between many GOP leaders and a group usually closely associated with the GOP (the Chamber)."

Bullock concluded: "With GOP leadership unwilling to step forward and reassure conservative, anti-tax voters that the projects to be funded with the T-SPLOST are meritorious, there is scant prospect for approval."
Gun store owners might start lobbying for elections every year, as gun sales appear to be rising in advance of this year's elections.
Gun sales are soaring nationwide and retailers say that's not unusual to see during a presidential election year. "Basically the situation you have now is 2008 all over again," said Steven B. Drew, Owner of Georgia Gun and Loan.

Analysts say the 2008 spike came from fear that new gun control legislation would make it more difficult to acquire firearms. "People were uncertain what the new President and the new administration was going to do so there tends to be a upsurge in fire arm sales in general," said Drew.
Four seats on the DeKalb County School Board are up for election this year, and all seats will be up in 2014. All twelve candidates for those seats will be at a forum tonight from 6:45 to 8:30 PM in the  Arabia Mountain High School auditorium, at 6610 Browns Mill Road in Lithonia. RSVP to ptsa@arabiaptsa.org or 770-875-0213.
In Cobb County, school board candidate Linda Hanson has accused incumbent David Banks of invading her childrens' privacy.
Banks distributed his e-newsletter, David's Grapevine, in which he wrote: "This week one of my opponents made it known through the Marietta Daily Journal that the Cobb County Associations (sic) of Educators had given their endorsement based on my opponents 'activity' in education. To determine the validity of this claim, I personally contacted the schools where their children had either attended or were presently attending and in no instance could I validate or substantiate any participation in school activities or organizations by either of my opponents."

Hanson said she was "very concerned and most disturbed" by the newsletter.

"For him to go to my children's schools for information for political gain is highly unethical and way beyond the realm of what a board member should be doing," she said. "The parents in Cobb County Schools deserve better than to feel like their information, privacy is being encroached upon, regardless if it's a board member or just someone off the street."

Banks, meanwhile, called her concerns "silly" and insisted he did nothing inappropriate. Banks said he did not receive any records about Hanson's children.
Gwinnett County developer Dan O'Leary still believes the casino gambling ballot question on Republican ballots will fail, and continues trying to distance his proposal for "video lottery terminals" in a casino-gambling style setting.
O'Leary believes the vote is destined to fail because of the ballot's wording, and he's been quietly working business crowds and boardrooms to uncouple his proposal with the outcome of the vote. His plan, he tells them, doesn't involve a casino but video lottery terminals, which resemble a slot machine but would be operated by the lottery board.

"God as my witness, I had nothing to do with that question," he said, arms held aloft, at a recent meeting of Gwinnett County business leaders in a cramped office across the street from the proposed site of the gambling resort.

Republican chairwoman Sue Everhart, who said she put the question on the ballot after years of urging from some GOP heavyweights, said the vote will measure the appetite for expanded gambling among Republicans.

If it passes by a clear margin, she said, it will force lawmakers to "seriously" consider the prospect of video lottery terminals. But if it fails, an outcome she expects, "it would send the message that Georgians don't want gambling."

"At some point the question has to be answered, and I think this will answer it," Everhart said. "This will settle it so we can move forward."
Lieutenant Governor Casey Cagle would like to appoint Clark Howard to the citizen review panel if T-SPLOST passes, but Howard has said he might not have time for the commitment.
Cagle had hoped Howard's membership on the panel would assuage worries about the money being spent properly. The state is divided into 12 regions for the referendum; each has its own project list for voters to consider, and each would have its own citizen review panel.

"Voters should have as much information as possible, and the citizen oversight committee is a key part of this process," Cagle said.
Former Cobb County Commission Chair Bill Byrne picked up the endorsement of D.A. King and the Cobb Taxpayers Association in his quest to unseat incumbent Tim Lee.
D.A. King says he's backing Bill Byrne for county chairman. King said his original intention was to remain neutral in the chairman's race.

"When it became clear to me that the BOC was not going to move forward on saving jobs for American workers on taxpayer funded projects by taking the next logical step with the IMAGE certification, I voted for Bill Byrne for chairman by absentee ballot and proudly support him," King said. "Bill, an old friend, was the only candidate to reach out to me and promise, without condition, to require all public contractors and subcontractors to become IMAGE certified. I believe him when he says that he understands that illegal immigration is not a separate issue from jobs, taxes, health care and education.

"Frankly, I haven't heard anything from the other challengers. The current chairman, who I like very much, has been dealing with the IMAGE certification issue for at least 18 months and pronounced it a great move for Cobb when he signed the IMAGE agreement. The concept that the same requirement for public contractors needs more study time strikes me as absurd and transparent. State legislation, much of which I have worked on myself over the years is written, vetted and signed into law in a three month window."
In House District 66 (Douglas and Paulding counties), Republican Mike Miller has out-raised and out-spent both his opponents.
Bryant Cochran, the third-term incumbent Murray County Chief Magistrate Judge, and challenger Dwayne Hooper, are profiled in the Dalton Daily News.
Dr. Bernice Brooks is back on the ballot, running for reelection to the Carroll County Board of Education.
Coweta Circuit Superior Court Judge Jack Kirby signed the order, saying it would be "unjust" to leave the 12-year school board member off the ballot.

"Clearly this was an error, simply a mistake that was made," Kirby said. "It would be incredibly unjust for Ms. Brooks to be knocked off the ballot."

Kirby called the error a "scrivener's error," a clerical error made in legal documents. The hearing to address Brooks' writ of certiorari, or appeal, was Tuesday afternoon at the Coweta County Justice Center.

Brooks was unanimously disqualified by the Board of Elections and Registration in a special hearing last Tuesday after it was discovered her house is in a different district that the district she is running to represent. While the majority of Brooks' Villa Rica property can be found in District 1, her home and street address are actually in District 3 because of a technical error.
Computer problems aren't the only problem facing the State Campaign Finance Commission and voters seeking to learn where candidates raised money.
whereas statewide candidates are required to file electronically, local candidates are allowed to file paper reports, and a processing backlog means they can be delayed indefinitely.

Kennesaw State University political science professor and former secretary of state advisory board member David Shock said it all spells out a "huge disservice" to voters with many contributing factors.

"The biggest reason is that, a year or so ago, a new state law kicked in that requires candidates to file with the state ethics commission. I think there's still a lot of confusion among local candidates on what they need to do," he said.

Many of the candidates who hadn't filed their PFD as of last week said they thought the report had already been filed.

Before 2011, local candidates filed reports with their local election board. Shock said he believes the change was made to standardize the process, however, the increased workload on the ethics commission has stretched its resources and caused the backlog.

Other causes in the high number of late filers may be a lack of drive in collecting fines. Initial late fees have increased from $25 to $125, but may go uncollected for long periods of time.

"Voters deserve to know who is funding their candidates," Shock said. "I don't know what the solution is. There needs to be more people reviewing the reports. There is probably a need for more education as well for candidates on what needs to be done."

President Obama announced the administration's commitment to completing federal reviews for the Savannah Harbor Deepening Project, intended to increase river access to the Port of Savannah by dredging portions of the Savannah River. In fact, the commitment is that federal review will be finished by November 2012, just in time for Congressman John Barrow to take credit for it.