"Cat" and "Finch" are 12-pound female mixed-breed puppies, thought to be about three months old. $40 saves the lives of both of these pups, as Walton County Animal Services is offering them as a pair at a discount. They will come with their vaccinations, microchips (if you want them), de-wormed, and flea/tick treated.
Georgia Public Broadcasting has a list of some hotels that welcome dogs and cats, including the Ritz-Carlton Buckhead, some of which include alfresco dining and canine cocktail hour.
Georgia Politics, Campaigns, and Elections
Advanced voting continues this week, with some counties offering expanded locations. Check your county's voting information on Secretary of State Brian Kemp's website.
The Georgia Department of Education is freezing some federal funds to the Dougherty County school system because of accounting questions. The funds in question may include up to $10 million of the system's $114.8 million budget.
The Judicial Qualifications Commission has reprimanded Willie Weaver Sr, who is the municipal court judge for Albany, Dawson, and Sylvester.
The JQC opened an ethics investigation following media reports of Weaver's arrest on a charge of aggravated assault. Albany news reports stated that Weaver was charged with hitting his wife in the face with a beer bottle. According to news reports, Dougherty County District Attorney Greg Edwards said the Georgia Bureau of Investigation had been called in after Weaver's wife was taken to a local hospital with facial cuts that required stitches following what the DA described at the time as an alleged incident of domestic violence.

According to the JQC report, a special prosecutor subsequently was appointed to investigate the charge, and Weaver agreed at the time to a suspension without pay pending resolution of the case.

But Weaver's wife, Vester Weaver, last month convened a news conference with her church pastor to deny that her husband had ever struck her, although she acknowledged at the time that a protective order was in place that barred him from contacting her. Weaver told local news media at the time that she did not ask for the protective order and wanted it lifted.

According to the JQC report, Weaver eventually entered a plea deal that dismissed the assault charge. In return, the report said that Weaver agreed to attend marital and stress counseling.

In its report, the JQC said that it had "attempted to balance its responsibility to the public to insure an honorable and independent judiciary with its responsibility to deal fairly with a judge who understands that while the criminal charge was dismissed, the event, and the publicity which followed it, brought discredit upon the judge and the judicial system."

Both Weaver and his Albany attorney, Mark Brimberry, consented to and signed the JQC report.
The National Journal lists Georgia's Twelfth Congressional District as the 14th-most likely for an incumbent defeat in November.
 "Republican state legislators targeted Barrow via redistricting earlier in his career, and he survived. The latest attempt planted the Blue Dog Democrat in a solidly conservative seat, though, and he'll have a major challenge on his hands against whoever emerges from a bruising, contested Republican primary.

Centrist Democratic groups are already on TV in Savannah praising Barrow's moderate record, but Republicans will counter in the fall with clips of Barrow claiming to have worked "hand in hand" with Obama during a tough Democratic primary in 2010.

That could be enough to unseat Barrow in a district where Obama might struggle to top 40 percent of the vote."
Republican candidates in the primary to run against Barrow met in a televised debate last night.
Hall County Commissioner Billy Powell and his opponent in the Republican primary election, Eugene Moon, have different takes on Powell's record.
As a commissioner for two terms, Powell, who is 55, is offering his record of no tax increases, his efforts in the construction of the new county jail and new parks and his role in moving county departments into the old Liberty Mutual Building as evidence of his leadership.

Meanwhile, the 44-year-old Moon is attacking some of those efforts, calling them a record of expanding government during a recession.

"He crows about all of his accomplishments. The things he talks about when he's out stumping are all of the things he's built in Hall County," said Moon, with a sarcastic edge to the word "built."

"What he is talking about is how he has grown government."
For many, this issue is at the core of what it means to be a Republican in state and local government.
This past Saturday saw the state's first Saturday voting, which appears to be a success for some voters.
Doug Collins and Martha Zoller have opened the money spigots in their race for the Republican nomination for Congress in the new Ninth District.
Collins … led the race to raise money, pulling in some $81,685 in contributions.

Collins also had the most cash left over at the end of the quarter.

Following behind him in the fundraising race, Zoller, a former conservative radio talk show host, raised more than $73,510; Fitzpatrick, a former White County school principal, pulled in some $11,811.

But Collins, a former member of the Georgia House of Representatives, also spent more than double the campaign cash he's spent in each of the last two reporting periods.

According to his filing with the elections commission, Collins' campaign spending last quarter neared $142,000.

In contrast, Collins spent less than $60,000 in the first three months of this year; and in the final quarter of 2011, the campaign reported spending $70,957.

Zoller's campaign spending, reported at $72,062, was also the highest it's been since she joined the race last fall.

Fitzpatrick, who filed his first campaign disclosure report with the FEC on Monday, reported some $6,200 in campaign expenses.

Spokespeople for both Zoller and Collins attribute the higher spending to last-minute efforts to garner voters' attention.

If this race goes to a runoff, as appears likely, the first task for each candidate will be to top up their campaign accounts. If you've donated to one of them, brace yourself.
In Cherokee County, several weeks ago, anonymous robocalls attacking Janet Read went out using her cell phone number as the Caller Id.
While the usual election sign wars have many candidates up in arms, robo-calls seem to be causing even more concern as many local races heat up in the last weeks before the July 31 primary.

For School Board chair candidate and current School Board Vice Chair Janet Read, a couple of robo-calls that went out to voters have her calling for answers.

The first, which is said to have gone out from a phone number identified as one belonging to Grassroots Conservatives of Cherokee leader Bill Dewrell, told those receiving the call to contact Read at the Cherokee County School District offices.

The latest, though, not only gave Read's home phone number for those who might want to contact her, but also appeared to originate from Read's home phone. The call was so inflammatory that Read called for extra patrols at her home.
Then yesterday, karma some tricksters struck back when anonymous robocalls targeting Senate Majority Leader Chip Rogers transmitted the cell phone number of a political operative associated with Rogers..
If morale within the Hall County Sheriff's Department kept coming up in a forum for the five candidates running to replace Sheriff Steve Cronic, maybe that means it's currently an issue.
Fifty-six state legislative candidates either owe or have owed back taxes to the government. State Senate candidate David Doss responded to his inclusion on the list.
The factual part of the AJC article is that the taxes in question have been paid. In fact, the only taxes that David Doss had any liability for were paid some 8 years ago.

Unfortunately, this AJC article will now become new fodder for the Chuck Hufstetler campaign to distort and use in his negative smear campaign against me. Just like the attack mail piece from last week that was so slanderous, that Hufstetler campaign refused to put their name on it. The citizens of the 52nd District deserve more than this type of gutter politics from Chuck Hufstetler.
Among Savannah's Democratic state representatives, it's a split decision on T-SPLOST.
Four Democratic state lawmakers that represent the area took turns Saturday morning arguing for and against a proposed sales tax going before voters on July 31.

State Rep. Mickey Stephens and State Sen. Lester Jackson, of Savannah, voiced their opposition to the 1-percent sales tax, while Representatives Bob Bryant, of Garden City, and Craig Gordon, of Savannah, tried to convince about 30 residents of the proposal's merits during a forum at the Savannah Arts Academy.
The Savannah Morning News endorses Bill Hitches in the Republican primary for house district 161, an open seat.
Mr. Hitchens, 65, has spent a lifetime in the military and in law enforcement, mostly with the Georgia State Patrol, where he rose to the rank of colonel. Prior to his retirement, he served as commissioner of the Georgia Department of Public Safety and director of the Georgia Department of Homeland Security.

If elected, he immediately will become one of the go-to guys in the House on public safety, crime and security issues. Such expertise will come in handy. The legislature has limited tax dollars to spend, and crime and punishment can get expensive.
Jace Brooks, running for Gwinnett County Commission district 1, has received the endorsements of the Mayors and city council members in the district.
Ethics is an issue in Gwinnett County Commissioner Mike Beaudreau's reelection campaign, not because of specific allegations against the longest-serving Commissioner, but because of problems he helped bring to the public's attention.
"Any incumbent has got to defend himself. That's OK," Beaudreau said of the race, where he has fired back against robo-calls, mailers and other public accusations, trying to focus on his accomplishments and record. "The difficult decisions are not over. I've got plenty of experience in dealing with them."

While his opponents have cast him in the same negative role as the commissioners who left the job in disgrace, Beaudreau said many of his constituents remember that he was the one who called attention to the land deals and asked for ethics reform before the problems came to light.

But Beaudreau was deposed as part of the scandal, pointed out Mike Korom, a Dacula man who emerged on the political scene to fight against the now-defunct proposal to add commercial flights at the county airport.
The election for DeKalb County Clerk of Courts is a lively race this year with five candidates. Even more lively is the Clayton County Sheriff's election, as indicted former Sheriff Victor Hill is among the eight candidates.
The eight people running for Clayton County Sheriff include the incumbent and the man he unseated and six people who have worked for one or both of them…four of whom were fired.

There is little that is simple or uneventful about the office of Sheriff in Clayton County.

The residents of Clayton hope this election will bring some sanity and respect to the office that some believe has contributed to the "black eye" on the county for the past several years. A special grand jury is investigating local officials, including the travel of some of the county commissioners. The county school system is still smarting from Southern Association of Colleges and School decision to revoke its accreditation because of dysfunction on the school board.

"There is just a climate of corruption in the county," said resident Dave Clark. "The whole thing is absolutely embarrassing."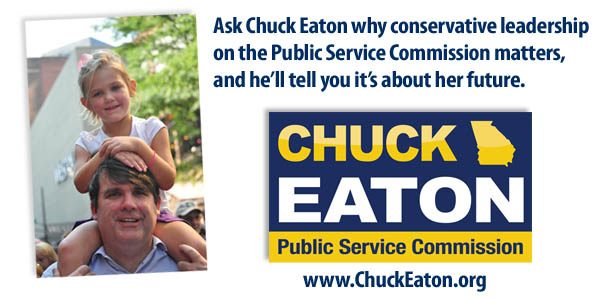 Surprisingly no one, Fulton County Elections is having trouble with redistricting and assigning voters to new districts.
Inaccuracies on precinct cards in Fulton appeared to affect more than 300 voters who had already cast their votes. The problem involved wrong precinct information printed on cards. "Due to database entry mistakes within the Fulton County Department of Registration and Elections, voters on some streets were placed in the wrong districts," the department said in a statement Friday to The Atlanta Journal-Constitution.

As a result, some Fulton voters received incorrect absentee or advance-voting ballots that omitted a race they should have voted in. The department said new "corrected" precinct cards have been printed and mailed.

Officials were also sending new ballots to voters who cast absentee ballots and have asked those who voted in-person to come back and vote in the additional race.
The Columbus Ledger-Enquirer profiles the contested primary for Muscogee County school board district 1.
Local governments whose budgets exceed $1 million must now post online information, but only one-third of those required have done so.
"It's a toothless law that probably needs to be adjusted," said Jack Starver, chairman for the Northwest Georgia 9-12 project, an organization with roots in the tea party. "If these guys are lighting cigars with $5 bills, we should probably know that."

Rep. Edward Lindsey, R-Atlanta, who backed the law, said the goal was to make it easier for taxpayers to find budgets. He said he would consider trying to add penalties to the law if local governments do not comply.

"We went out of our way to make this not hard," he said. "These cities, counties and school districts are doing a disservice to their own constituents. In the interest of open government, they need to step forward."

DeKalb County, the cities of Buford, College Park, East Point and Lawrenceville and the Clayton County school district are among the local governments that still have not submitted their budgets for electronic publication.

"We erred," said Burke Brennan, a DeKalb County spokesman. "We're disappointed that we missed this one but we're going to make it right."
Maybe DeKalb County's highly-paid lobbyist could have spent more time letting the county know which laws passed, and less time opposing residents seeking to incorporate the City of Brookhaven.
Economic Development
The Savannah Morning News lauds the decision to fast track the federal approval process for the deepening of the Port of Savannah.
The president may wrongly see government as the overriding force in making all businesses successful. But government does have a primary role in providing essential infrastructure, like ship channels for U.S. seaports. He deserves credit for putting Savannah's port deepening project near the top of the list.
Here's a thought for you all. If transportation infrastructure improvements are meant to increase economic development, moving freight is more important than moving people. Look back at all the economic development announcements made by Governor Deal this year and see how many of them mention access to Georgia's privately-owned freight railroad network and to the ports, and see how many mentioned transit. The answers are (1) all of them; and (2) none of them. That's your economic development lesson for the day.
Disney parks merchandise will now flow through the Port of Jacksonville, rather than Savannah,
Walt Disney Parks and Resorts is diverting 75 percent of its inbound cargo that used to go through the Port of Savannah to the TraPac Container Terminal at Dames Point.

The switch reduces transportation costs for the Walt Disney Co. (NYSE: DIS) division, while the new business at the Asian terminal is expected to add about 1,300 40-foot containers in volume annually. Top public- and private-sector leaders said the move is a win for the city, the Jacksonville Port Authority, the state of Florida and the company.

"It was about optimizing our supply chain and being able to minimize the cost associated with bringing freight here," said Anthony Connelly, senior vice president and chief financial officer of the U.S. Walt Disney Parks and Resorts. "So to us, it was about saving money and certainly we're excited to be able to participate in growing Florida's economy as well as Jacksonville's economy."

[Florida Governor Rick] Scott said Florida has a big economic opportunity with the state's 15 seaports. More shipping will create jobs in related industries, such as manufacturing. The seaports will create a lot of jobs, but the state has to continue to build its infrastructure.

"We've put Florida on the map with regard to our seaports," Scott said. "We have a big opportunity right here in Jaxport."
Ends & Pieces
Jim Galloway has a great piece on the "late life conversion" of former Governor and US Senator Zell Miller. It's worth reading in its entirety.
Sea turtles are beginning to hatch on Georgia's coast.
A nest at North Beach began hatching Wednesday. Another nest, near 11th Street, hatched last night. It's a record-breaking nesting season on the island, with at least 17 nests.
A restored Civil War flag originally issued to the 65th Georgia Infantry will go on display tomorrow at the Kennesaw Southern Museum of Civil War and Locomotive History.
The flag is the only known surviving example of an Army of Tennessee flag that has both the unit and state designations sewn onto both sides. Following its donation in February 2010, the Museum sent the flag to a West Virginia company that specializes in the restoration of historic artifacts.

The bloodstained flag is riddled with 41 bullet holes that it received during the Atlanta and Tennessee campaigns. By the War's end, the flag saw action during a number of battles, including Resaca, New Hope Church/Dallas/Pickett's Mill, Kennesaw Mountain, Peachtree Creek and Atlanta.