Great Pyrenees are prized dogs for their temperment and their guarding abilities as well as their beautiful white coats. These GP puppies are part of a litter of five that was found alone outside and they are available for adoption from Murray County Animal Shelter. Adoption costs $115 and includes vetting, spay/neuter, heartworm, and rabies treatments. If they are not adopted by pre-dawn Friday they will be euthanized.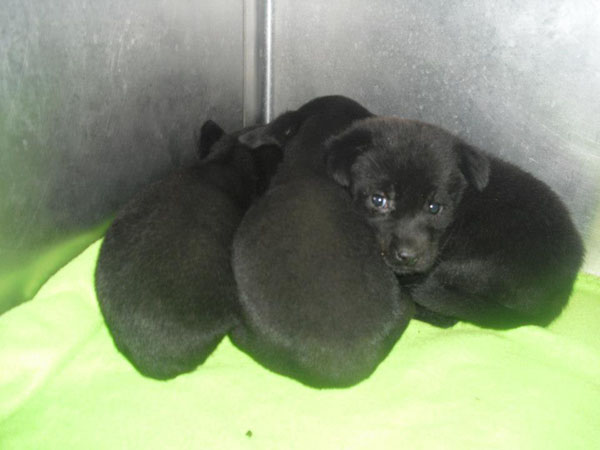 Also on the euthanasia list for early Friday morning are these three black lab puppy littermates, who are about seven weeks old and were found abandoned at the side of the road.

This great mama and her three puppies are also available for adoption from Murray County Animal Shelter and will be euthanized before dawn on Friday if not adopted. They like people and other dogs.

This 4.5 year old female hound is also a mom, and she and her puppy (below) are said to be sweet dogs who get along with people or other dogs. Like the others here, they are available for adoption from Murray County and will be euthanized on Friday pre-dawn if not rescued.

This eight-month old puppy came in with her mama (above) and is available for adoption from Murray County Animal Shelter with a literal deadline of pre-dawn Friday.
These dogs and fourteen others are on the list for euthanasia on Friday morning. Unfortunately, this situation is the norm at shelters across Georgia. If you cannot adopt a dog, you might be able to help by transporting a dog from a shelter to a foster home or rescue organization, or by donating to a reputable rescue group. Transportation for each of the above dogs can be arranged to the Atlanta area. If you're outside Atlanta but not close to Murray County, email me and we'll try to put you in touch with some folks to help transport them to you.
Georgia Politics, Campaigns & Elections
Public Service Commissioner Chuck Eaton debated his two challengers, Democrat Steve Oppenheimer and Libertarian Brad Ploeger, who both tried to out-maneuver the other on the left.
GOP incumbent Chuck Eaton denied opponents' accusations that he is too cozy with the companies he regulates.

"I've never granted Georgia Power Co. any of the rate increases they've requested," he said, adding that he voted only for pared-down rate hikes.

Democrat Steve Oppenheimer said electricity rates had risen 24 percent during Eaton's six-year term and that residential rates for natural gas were among the highest in the continental United States.

Eaton blamed federal regulations for half the expense of the latest electric rate increase….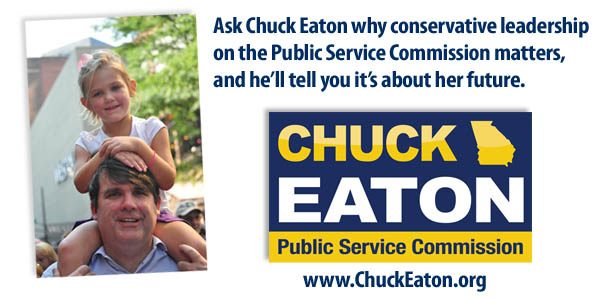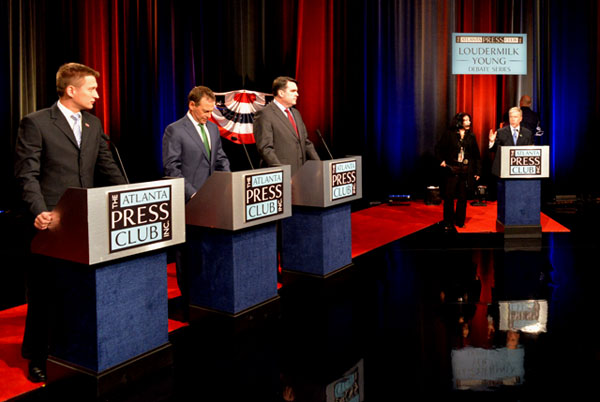 What's that behind the center podium?
Tonight is the final debate between Mitt Romney and President Obama. Read below to see where to watch it in Athens, or visit the GAGOP website Events Calendar for a list of venues across the state where you can join fellow Republicans for the debate tonight.
The Augusta Chronicle editorial staff notes in its endorsement that Republican Congressional candidate Lee Anderson's headquarters was formerly a shop called "Strictly Country."
His campaign signs feature a tractor. He was born and raised on the three-generation family farm in Columbia County he still operates. He went to Abraham Baldwin Agricultural College and Brewton-Parker Christian college. He's served the Columbia County Farm Bureau for over 27 years, as a past president and current board member. He's a member of the Georgia Cattlemen's Association.

Lee Anderson is homegrown, down to Earth and as real and unassuming and reliable as the land he has worked all his life.

Our modern sensibilities wonder how candidates will look and sound on television and such. Our modern sensibilities, of course, are way out of alignment with the vision of our founders – who no doubt envisioned a Capitol bristling with genuine sleeves-rolled-up Americans with a bit of soil under their fingernails and homespun wisdom under their hats.

So the concern is that Anderson isn't slick and city-polished like so many of today's entrenched politicians, including the incumbent he's challenging in the 12th Congressional District, John Barrow.

Then again, what's all the polish in Washington done for us except give us a big fat shiner? The collection of careerists in Congress have sweet-talked their way completely through our wallets and into the Chinese's, bankrupting America along the way. They're chewing through America's foundation as surely as a colony of termites. But we're supposed to be afraid how an ordinary person might sound in this den of thieves? Good grief.

The unvarnished truth is, Lee Anderson represents everything that's right with America. Hard work and self-reliance. Faith and family. Simple dignity and wholesomeness. Restraint and humility. And, above all, the common sense not to eat one's own seed corn.

In contrast, his opponent [Democratic Congressman John Barrow] represents everything that's wrong with Washington.

It's time to get real in Washington. It's time to send a reliable conservative there – not to pose pretty, but to vote steady.

Elect Lee Anderson to Congress.
NPR has coverage of the Anderson challenge to John Barrow and the Macon Telegraph adds up the contributions to candidates and expenditures by independent committees in the Twelfth District and reports that it has topped $5 million.
candidates' own House races pale in comparison to the amounts of outside money flooding in through what are called independent expenditures. Though there are 435 members of the House of Representatives and all seats are up for election next month, the Barrow-Anderson fight is the 25th most costly House race in the nation in terms of independent expenditures.

And that money seems to be buying lots and lots of negative advertising, especially in Georgia's 12th Congressional District.

Federal Election Commission figures show Anderson drew about $170,000 in support from independent expenditures, almost identical to Barrow's roughly $171,000 in support. But Anderson endured $1.5 million in opposition money while Barrow has faced nearly $1.8 million so far.

All told, the race has drawn about $3.6 million in independent expenditures. The biggest names are the National Republican Congressional Committee, spending about $1.2 million, and about $890,000 from Center Forward, a pro-centrist organization that has ties to Blue Dog Democrats.

The Federal Election Commission reports no independent expenditures in Georgia's 2nd or 8th congressional districts.
Carter Kessler is the Republican nominee for State House against Democrat Spencer Frye in House District 118. He will be having a fundraiser headlined by Republican Caucus Chair Rep. Donna Sheldon (R-Dacula) and House Appropriations Chair Rep. Terry England (R-Auburn). The event will be held Monday, October 22 from 5:30 to 7:00 PM at The Foundry Park Inn, 295 East Dougherty Street in Athens, Georgia 30601.
The governor's Judicial Nominating Commission is accepting nominations until Monday for four bench  vacancies.

Three of the vacancies were created by legislation passed earlier this year by the Georgia General Assembly. They are for the Bell-Forsyth Judicial Circuit Superior Court, Piedmont Circuit Superior Court and  Georgia Tax Tribunal.

The fourth, in Putnam County State Court, was created by the appointment of Judge E. Trenton Brown III to the Ocmulgee Judicial Circuit Superior Court in August.

Lawyers and members of the public may submit names to the JNC through Oct. 22 via mail (Judicial Nominating Commission, c/o Dana McGuire, 600 Peachtree St. N.E., Suite 5200, Atlanta, GA 30308-2216), fax (404-962-6919) or email.
She's accused of violating nine counts.Those include making a county employee submit false invoices, accepting bribes, for
Public corruption cases in Metro Atlanta have grown in recent years, according to the AJC.
A county commissioner swaps her vote for $30,000 in casino chips. A public works supervisor demands $18,000 from a construction contractor looking for county work. A detention officer pockets more than $26,000 to help distribute drugs at the jail.

These former metro Atlanta officials are now convicts. And their cases are part of a growing number of public corruption cases pursued by federal authorities in the metro area.

An analysis of federal crime statistics by The Atlanta Journal-Constitution shows the number of public corruption convictions here has spiked in recent years. The federal judicial district that includes metro Atlanta now ranks among the top districts in the country in corruption convictions, the newspaper found.

Law enforcement officials say an increased emphasis on nabbing corrupt officials — not necessarily an increase in corruption — accounts for the rise in convictions.

The AJC analyzed a decade of public corruption convictions in 93 federal judicial districts across the country. Among the newspaper's findings:

*The number of convictions in the Northern District of Georgia, which includes metro Atlanta, rose sharply from just 6 in 2006 to 32 in both 2010 and 2011.

*The district ranked 51st in the country in corruption convictions in 2006. But in 2010 and 2011 it ranked 6th out of 93 districts.

*For the 10-year period from 2002 to 2011, the Northern District of Georgia saw 181 public corruption convictions, 22nd among the 93 districts. It trailed such famed corruption capitals as New Jersey (429 convictions), Chicago (370) and South Florida (284).

The statistics don't provide a definitive answer to the question of which regions are the most corrupt. They include only federal convictions, not local prosecutions. The statistics also might reflect variations in population and the different priorities of federal prosecutors in different districts.

Mark Giuliano, special agent in charge of the FBI's Atlanta field office, said public corruption investigations are the agency's No. 1 priority. Several years ago the bureau established the Atlanta Public Corruption Task Force so the FBI would work with local and state law enforcement agencies and maximize investigative efforts.

Giuliano said the increase in convictions is at least partly the result of this realignment of resources. He also cited frequent calls for the public to report corruption and the dedication of the FBI's staff, who "truly understand the importance of these investigations."
Gary Smith, who once broke down a door to open a voting precinct as a Forsyth County elections supervisor, has been hired as a consultant by the Fulton County Board of Elections.
More than once, Smith's no-nonsense approach to elections operations has put him at odds with Fulton. Now elections board members, under heavy scrutiny in the lead-up to Nov. 6, have turned to Smith for help. On Thursday they hired him as a consultant on a temporary basis at a rate of $42 per hour, the maximum allowed by the county manager's office. Board Chairman Roderick Edmond said they'll try to get Smith more money.

"It was an obvious choice," elections board member William Riley said, "because he had done a critical analysis of what we're doing."

Earlier this month, Smith was lined up to testify against the Fulton elections department in a case alleging that the July primary was so badly mishandled, results couldn't be trusted. Last year he was part of a panel that recommended against hiring Sam Westmoreland to be Fulton's elections director — advice that the board threw out with disastrous results.

Smith is now the only employee in the Fulton office who has ever previously run an elections department.

"It's tough to parachute in, the way he's doing," said elections law expert Heather Gerken, a Yale Law School professor who cited Smith's data analysis work in her book "The Democracy Index." "But if there's anyone who can make a difference in such a short turnaround, it's Gary Smith."

County Commissioner Liz Hausmann, one of several officials monitoring the elections board, said she wishes an expert had been brought in sooner, but she's encouraged that they picked Smith.

"It tells me that they're not trying to let politics play a role in the selection," she said, "and that's a good thing."
The dismissal of five felony counts in the indictment against former and likely-future Clayton County Sheriff Victor Hill brings the tally to 32 remaining counts.
A Superior Court judge has dropped theft and racketeering charges against former Clayton County Sheriff Victor Hill, reducing the number of criminal counts Hill is facing to 32.

Hill, who is set to go to trial Nov. 26, is under criminal indictment on charges that he enriched himself with sheriff's department resources and money donated to his failed 2008 re-election campaign.

The outside prosecutor handling the case, Layla Zon, the prosecutor in Walton and Newton counties, could not be reached for comment Friday.

One of Hill's attorneys, Drew Findling, considers the dropped charges a victory in Hill's fight to get all of the charges dismissed.

"This was a tremendous blow to the prosecution," Findling said.

Late Thursday, [Judge] Collier dismissed two racketeering counts and three theft-by-taking charges because, he wrote, it was unclear who actually "owned" the campaign money. The theft-by-taking charges were the basis for the two racketeering counts.

"Georgia statutes do not establish the ownership of those funds," Collier wrote.

The indictment accuses Hill of depositing $24,000 in checks to the Committee to Reelect Victor Hill Sheriff and eventually diverting the money to him.

Misuse of campaign funds is a misdemeanor, the judge noted; the two-year statue of limitations on that crime has passed. A racketeering charge requires at least two felony charges as a basis.

If convicted, Hill would be prohibited from taking the office on Jan. 1. And if he is acquitted, Hill will still have to persuade the Peace Officers Standards and Training Council to reinstate his suspended state law enforcement certification.
In Baker County, southwest of Albany, the election for Sheriff is struck from the November ballot and will be contested on January 8, 2013 due to possible corruption in the August 29th runoff. According to WALB,
Attorney Tommy Coleman tells WALB that citizens will vote on that date after Dougherty County Judge Loring Gray blocked the November election, after serious allegations of voter irregularities in the July Primary.

Incumbent Sheriff Dana Meade won the August runoff by 39 votes over challenger Tim Williamson.

After Williamson sued, the court found evidence of votes bought for $20 and free liquor.

There was also evidence of absentee ballots changed from votes for Williamson to votes for Meade.
An earlier ruling had placed a re-do of the August runoff on the November ballot.
Judge Gray ordered a new election held at the same time as the general election November 6th.

However, that creates problems for the election board, since early voting has already started.

Sheriff Dana Meade won the August runoff by 39 votes over challenger Tim Williamson. After Williamson sued, the court found evidence of votes bought for $20 and free liquor. There was also evidence of absentee ballots changed from votes for Williamson to votes for Meade.

Baker County Attorney Tommy Coleman is handing the case for the county elections board.

"That whole line, 14 of them was stricken through with one kind of ink, and remarked for another candidate. So it was clear that there was some sort of concerted organized activity," Coleman said.
Floyd County Sheriff Tim Burkhalter (D) will meet challenger Cary Cooper (R), a veteran Floyd County police officer in the General Election.
Columbia County School officials will try to walk the line between education and advocacy in a forum at 6:30 PM today at The Sanctuary, located at 4584 Cox Road in Evans, Georgia,  next to Evans High School.
Both school Superintendent Charles Nagle and board Chairwoman Regina Buccafusco will speak at the forum….

Buccafusco is against the amendment because she believes another system for approving charter schools in Georgia is unnecessary.

If a local school board rejects the creation of a charter school under the current law, the decision can be appealed at the state level.

"This would set up another powerless school system and more bureaucracy up in Atlanta," Buccafusco said. "It obviously takes away some of the money, but I think what they're selling people is a bill of goods that they really can't come up and produce on."

Another problem with the proposed resolution, Buccafusco said, is that charter schools would lack accountability and wouldn't have to answer to the local school system.

"If a parent gets upset about something, they can call me, they can call any of the board members," she said. "Have them try calling one of the six people in Atlanta."

An hour-long debate focused on the charter school amendment will take place at 7 p.m. Oct. 29 at the Jabez Sanford Hardin Performing Arts Center inside the Columbia County Library. Admission is free.
The Chronicle has profiled the candidates for Richmond County Board of Education, District Eight, including two-term incumbent Jimmy Atkins and challenger Robert Cheek.
Senator Jack Murphy (R) was appointed Chairman of the Horse Racing Study Committee by Lt. Gov. Casey Cagle.
"Our state has significant amounts of pastureland and facilities that would allow for the breeding, raising, training, and stabling of horses," said Sen. Murphy.  "By more thoroughly researching the equine industry, we are potentially creating numerous jobs and providing Georgia with yet another economic boost."

The committee was created by Senate Resolution 1242 earlier this year and designates the Senate Study Committee on the Horse Racing Industry to have six members: three Senators, two citizens, and one member whom are involved in the horse racing industry.

"Senator Murphy is one of the Senate's most thoughtful and respected members," said Lt. Governor Casey Cagle.  "I have great confidence in his ability to chair this study committee and appreciate his willingness to exam this complicated issue with his trademark diligence."