Great Pyrenees are prized dogs for their temperment and their guarding abilities as well as their beautiful white coats. These GP puppies are part of a litter of five that was found alone outside and they are available for adoption from Murray County Animal Shelter. Adoption costs $115 and includes vetting, spay/neuter, heartworm, and rabies treatments. If they are not adopted by pre-dawn Friday they will be euthanized.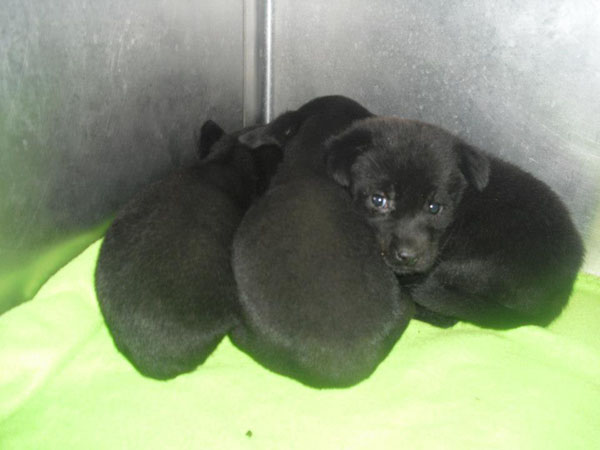 Also on the euthanasia list for early Friday morning are these three black lab puppy littermates, who are about seven weeks old and were found abandoned at the side of the road.

This great mama and her three puppies are also available for adoption from Murray County Animal Shelter and will be euthanized before dawn on Friday if not adopted. They like people and other dogs.

This 4.5 year old female hound is also a mom, and she and her puppy (below) are said to be sweet dogs who get along with people or other dogs. Like the others here, they are available for adoption from Murray County and will be euthanized on Friday pre-dawn if not rescued.

This eight-month old puppy came in with her mama (above) and is available for adoption from Murray County Animal Shelter with a literal deadline of pre-dawn Friday.
These dogs and fourteen others are on the list for euthanasia on Friday morning. Unfortunately, this situation is the norm at shelters across Georgia. If you cannot adopt a dog, you might be able to help by transporting a dog from a shelter to a foster home or rescue organization, or by donating to a reputable rescue group. Transportation for each of the above dogs can be arranged to the Atlanta area. If you're outside Atlanta but not close to Murray County, email me and we'll try to put you in touch with some folks to help transport them to you.
Georgia Politics, Campaigns & Elections
Public Service Commissioner Chuck Eaton debated his two challengers, Democrat Steve Oppenheimer and Libertarian Brad Ploeger, who both tried to out-maneuver the other on the left.
GOP incumbent Chuck Eaton denied opponents' accusations that he is too cozy with the companies he regulates.

"I've never granted Georgia Power Co. any of the rate increases they've requested," he said, adding that he voted only for pared-down rate hikes.

Democrat Steve Oppenheimer said electricity rates had risen 24 percent during Eaton's six-year term and that residential rates for natural gas were among the highest in the continental United States.

Eaton blamed federal regulations for half the expense of the latest electric rate increase….Continue Reading..