Gwinnett County Animal Shelter runs a "Black Friday Sale" with adoptions of dogs and cats with black or majority-black coats costing only $30, a significant discount over the normal cost of $90 and a probably less expensive than the first set of vaccinations, which all of these dogs have received.

27904 above is described as "a treasure" by volunteers at the shelter, and "likes to retrieve a ball & lets you take it from his mouth. He doesn't look to have been stray for long – appears well-kept, also he is non-reactive to other dogs. He's small-statured and an absolute ball of fun! Would make a great companion all-around." Unfortunately, he's also listed as "urgent," which means in danger of euthanasia. If someone adopts him today, a sponsor will cover the difference between the normal price and the "sale" price.
27978 is a black-and-white lab mix, who is a young, friendly female who is available for adoption today from the Gwinnett County Shelter and should be eligible for a discount tomorrow.
27851 is a majority-black German Shepherd male, who is friendly and is available today from Gwinnett County Animal Shelter.
27733 is a friendly lab mix female who is available for adoption today from Gwinnett.
27904 is a friendly black lab mix male who is available today for adoption from Gwinnett.

Grace is a 3-4 month old Chihuahua who is not eligible for a discount because she's at Walton County Animal Services, but their adoption fee is only $40 to begin with. We ran her photo yesterday, but are featuring her again because this is such a great photo.
Georgia Politics, Campaigns & Elections
If you don't get enough of GOP Vice Presidential candidate Paul Ryan by watching tonight's debate, you might want to attend a pair of fundraisers featuring Ryan on October 24th at the Cobb Energy Centre.
Admission to a reception at which the Wisconsin congressman is due is relatively low-priced, just $500 per guest, but the cost for a grip-and-grip and roundtable discussion are considerably higher.

Donors have been asked to contribute or raise at least $10,000 for a photo opportunity with Ryan and $25,000 for a roundtable discussion.

The Romney campaign said Friday it was not immediately apparent if Ryan would hold any public events while in Georgia.
The Gwinnett County GOP will hold a barbecue on Saturday, October 13 beginning at 11 AM. I'll be in Bainbridge, so will miss it, but if their recent events are any sign, it'll be a great event.
The much-ballyhooed lawsuit by Glenn Delk against 180 school districts asking a Fulton County Judge to enjoin school officials cratered yesterday, probably under the weight of its ambition.
Five plaintiffs filed the case against every Georgia school district over some officials' actions regarding a Nov. 6 referendum that would grant the state more power to select private operators for independent public schools. But in an initial hearing, attorney Glenn Delk rolled back his arguments to Fulton and Gwinnett counties.

Superior Court Judge Wendy Shoob declined to issue a preliminary injunction blocking the Fulton system from publishing an online Q&A about the referendum. She declined to rule on anything concerning Gwinnett, telling the plaintiffs to take up their complaint in a Gwinnett Court.
WABE writes about the lawsuit:
Superior Court Judge Wendy Shoob also questioned Delk about whether or not placing information on a website actually qualifies as using taxpayer resources, because she says it doesn't cost anything.

"It's one thing to say we're going to take $100,000 and we're going to hire a PR firm and we're going to print bumper stickers and yard signs and we're going to campaign as opposed to registering an opinion on a website."

But Delk argued when school district employees prepare documents to be placed online they are being paid by taxpayers. Ultimately, Shoob decided that the taxpayers filing the lawsuit didn't make a good enough case against the school district. That decision disappoints those filing the lawsuit like Rae Anne Harkness.  Harkness has two children in Ivy Preparatory Academy, a charter school in Gwinnett County.

"I feel the school resources are clearly being used. It doesn't matter whether it's $10 or $1,000. It's against the law."
[Shoob] asked Delk what he thought school board members were permitted to say.

"Are they allowed to answer questions from parents?" she asked.

Delk said school board members should say they would offer a full answer when they are not on taxpayer time, a response that seemed unsatisfactory to Shoob.

"They can take the time to respond, but they can't answer the question?" Shoob asked.

Later, the judge said she did not agree with the contention that the information on the district websites amounted to advocacy.

"They didn't say we are for or against it," she said. "They just posted the Q-and-A. I have a hard time seeing how that was for or against it."

"Obviously, I disagreed with her opinion that the Q-and-A was purely factual and not opinion," Delk said after Shoob's ruling.
With Judge Shoob's transfer of part of the Delk lawsuit to Gwinnett County, it may be joined with another similar lawsuit already filed in Gwinnett.
Both suits charge that the school district and superintendent illegally used their offices to publicly oppose the amendment, disseminate anti-amendment material, and facilitate school board training on how to campaign against the amendment. But the suit filed initially in Gwinnett further argues that the enumerated powers assigned to local school districts in the state Constitution do not allow them to participate in political campaigns.

"There is nothing that authorizes a school district to pass a resolution urging voters to vote one way or another," said plaintiffs' lawyer Josh Belinfante. "Their enumerated powers focus on educating students."

The complaint written by Belinfante also names as a defendant the Georgia School Boards Association, which was mentioned in Delk's lawsuit as providing instruction to school boards to campaign against the amendment but not named as a defendant. Belinfante's suit charges that GSBA receives public money through the local school districts and has been actively campaigning against the amendment as a party in Vote Smart Georgia, an organized opposition group.

"Here we're dealing with a third party entity that is funded by public entities. There is no break in the chain from taxpayer dollars to the school board association," Belinfante said. "In fact, the school board association website says its mission is advocating for Georgia school boards. … The state Supreme Court says that [it] is perfectly fine to advocate before the General Assembly, but a referendum is a different thing."
The Roman Catholic Archdiocese of Atlanta has filed suit, seeking to overturn the Obamacare mandate that private institutions provide birth control via health insurance plans. Here is coverage from Cleveland, Ohio's Fox 8, where the lawfirm handling the suit is located.
Lawyers for Georgia Secretary of State Brian Kemp have been busy handling 16 challenges to candidate qualifications to run for office, an unusually high number.
They also had to deal with a challenge to President Barack Obama's placement on the Democratic primary ballot based on allegations that he faked his birth certificate.

A dispute also arose with the U.S. Department of Justice this summer over whether Georgia complied with absentee voting requirements pertaining to overseas troops, which resulted in a lawsuit now pending before a federal judge.
Democratic Party of Georgia Chairman Mike Berlon will be adding to that workload, as he announced yesterday yet another lawsuit over the state's Voter ID law.
Berlon says he is weighing options on where to file, but says it's likely he will file it at the federal court in Macon as early as next week.

Berlon spoke during a visit in Macon to Bibb County Democratic Party campaign headquarters.

He said a lawsuit was unlikely to affect the 2012 election "because it's just too close." He hopes to have the law modified for elections in 2013 or 2014.

Bibb County State Senator Cecil Staton, the Republican who championed Georgia's voter ID law, said the courts have already upheld the law. He accused Berlon of playing "election-year politics."

Also on Wednesday, a three-judge Federal panel upheld South Carolina's new voter ID law but delayed its implementation until 2013.
Kemp announced that the Georgia Democratic Party cannot remove State Rick Crawford from the ballot after Crawford qualified for reelection as a Democrat and later announced that he will switch parties if reelected.
Kemp says the Democrats could have disqualified Crawford during the primary.

But he says once Crawford was certified by his party and nominated by voters during the July 31st primary election, no political party can strike him from the ballot.

The Democrats have argued that Crawford should be disqualified because he's declared himself as Republican and hence is no longer the party's candidate.
Crawford is opposed by actual Republican Trey Kelley.

The Washington Post writes about the South Carolina Voter ID decision.
"South Carolina's new voter ID law is significantly more friendly to voters without qualifying photo IDs than several other contemporary state laws that have passed legal muster," wrote Brett M. Kavanaugh, a judge on the U.S. Court of Appeals for the D.C. Circuit. He was joined in his opinion by U.S. District Court judges Colleen Kollar-Kotelly and John D. Bates.

The South Carolina law, passed last year, requires voters to present one of five forms of photo identification to cast a ballot: a South Carolina driver's license, a state photo ID, a passport, a military ID, or a new form of free photo card obtained from a county election office. The law provides a caveat, known as the "reasonable impediment" provision, that allows voters to cast a ballot after signing an affidavit that explains why they did not obtain an ID.

Rick Hasen, an election-law specialist at the law school of the University of California at Irvine, said the judges' ruling turned on how South Carolina officials have modified their interpretation of the law in a way that is less onerous to voters. For example, state officials said they would err on the side of voters who raise a "reasonable impediment" objection to obtaining photo ID.
In Murray County, Georgia, incumbent Democratic Sheriff Howard Ensley is asking voters for a seventh term.
The [Sheriff's] department has come under fire recently, with the resignation of Chief Magistrate Judge Bryant Cochran under suspicion of presigning warrants and misconduct in office. A woman, Angela Garmley, filed complaints against Cochran, after he resigned she was arrested in a traffic stop and charged with drug possession. the charges were later dropped and the GBI has turned the investigation over to federal authorities. Two deputies, including a cousin of Cochran's, lost their jobs after it was discovered they lied to investigators about the traffic stop.
Republican Gary Langford is running against Ensley.
"The public has told me many times that they think it is time for a change at the sheriff's office," Langford said. "When elected, it will be my responsibility to put the right kind of changes in motion. We have a really good core group of officers at the department and I want to be a more involved sheriff."

Langford said he would be more involved with officer training and in the day-to-day activities of the officers. "As sheriff, how the officers act with the cmmunity will be my responsibility," Langford said. "They will be trained to treat everyone equally and with respect."

Langford said during his campaign, many residents have expressed about the drug problem in Murray County.

"This will be a priority for me," Langford said. "Fighting drugs is a challenge and I will do everything in my power to get the training and equipment that deputies need to combat drugs. Along those lines, one of the first steps would be to create a drug task force."
Candidate for Augusta City Commission District One met in a debate.
State Rep. Bill Hembree is interviewed about the election for Senate District 30 by Paulding.com.
Three members of the Brooks County School Board who were removed by Gov. Nathan Deal after being indicted for alleged vote fraud have returned to the Board.
I noted yesterday that "Dawgs for Romney Ryan" stickers that were not authorized by the Romney campaign also appear not to be authorized by the University of Georgia. Interestingly, as it appears that no "Paid for by" disclaimer is on the stickers, they may also violate federal elections laws.
According to the Federal Elections Commission website:
Public communications financed by individuals or other organizations must include a disclaimer if the communication expressly advocates a candidate's election or defeat or solicits funds. The disclaimers must indicate who paid for the communication and whether or not it was authorized by a candidate. Unauthorized ads must also include contact information for the sponsoring organization.
Georgia Energy News
Governor Nathan Deal reiterated his support of the construction of two new nuclear reactors at Plant Vogtle.
"I'm pleased we're moving forward with it," said Deal in a recent interview with WABE. "Energy is going to continue to be an issue for states like ours that continue to grow. We have to have good, affordable energy."

"I am told that extra expenditures have been offset in part at least," said Deal. "There's a balancing act going on in the overall structure of funding."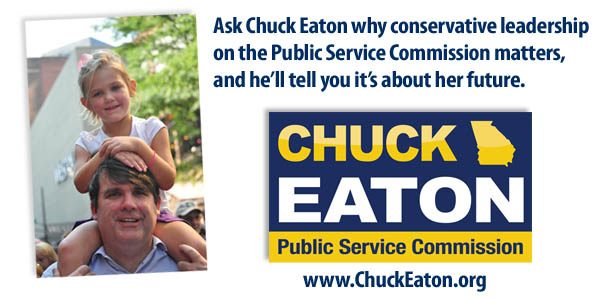 Meanwhile, the liberal Atlanta media showed their renewed commitment to showing only one side of an issue, as they insist that cost overruns of $950 million will be paid by ratepayer, even though there is considerable question and litigation over whether those costs will be passed on or absorbed by the construction consortium.
Not at all committed to the construction of the new reactors is Libertarian candidate for Public Service Commission, David Staples, who t
old AtlantaProgressiveNews.com
Staples said that had he been on on the PSC at the time, he would have opposed Vogtle units 3 and 4, although he says he may have considered them down the road depending on demand.
That puts Staples considerably to the left of even the Democratic candidate for the other PSC seat, along with the Sierra Club, which has endorsed him.
Company officials say the solar energy system will produce nearly 2 million kilowatt hours of electricity annually. According to EPA estimates, that's equivalent to carbon dioxide emissions from 170 homes a year.
Polling
Terri Gross of NPR's Fresh Air has an extended interview with Nate Silver, a leading analyst of political polling at the FiveThirtyEight blog on the New York Times website.
No one has a crystal ball, but Nate Silver has perfected the art of prediction. In 2008, he accurately predicted the presidential winner of 49 of the 50 states, and the winners of all 35 Senate races. Before he focused on elections, Silver developed a sophisticated system for analyzing baseball players' potential and became a skilled poker player — which is how he made his living for a while.

In an election year, with numerous polls being taken on a daily basis, it's impossible to avoid predictions. That's why Silver finds it's necessary to look at all the data, but also consider it in the larger context of election history. "Sometimes, there's a tendency to take the result, the poll that is most out of line with the consensus because it tells the most dramatic headline," he says. "So I do urge caution about becoming attached or overly despondent about any one polling result."
That last piece may be the most cogent advice I've read for consumers of polls.
Ends & Pieces