This young lab mix puppy is about 12 weeks old and the volunteers at Murray County Animal Shelter says he's sweet, friendly, gets along with other dogs and loves people. He needs to be rescued ASAP or he will be euthanized on Friday morning. Transportation to Atlanta is available.
Angels Among Us Rescue has foster care lined up for these Golden mix puppies, and is trying to raise $1000 for their vetting to ensure they can save them. Please consider making a donation to Angels Among Us Rescue today and put "GaPundit – Golden Puppies" in the online donation form.
Flash here (28341) is a young, friendly male Basset Hound who is available for adoption today from Gwinnett County Animal Shelter.
28301 is an adult male lemon Beagle mix who is available for adoption today from Gwinnett County Animal Shelter.
Villa Rica veterinarian Stuart "Doc Win" Burnett  is doing his part to reduce euthanasia of dogs and cats.
His passion for animals and his willingness to serve the community has led to the formation of two new endeavors meant to keep dogs and cats from being put to sleep and providing affordable veterinarian services for those who can't afford it.

The American Veterinary Animal Welfare Foundation was launched last year as a way to rescue animals in local shelters that would otherwise be euthanized, and to help offset some of the free veterinary care he and his staff often provide.

"We are rescuing dogs off death row at the shelters," said Deborah York, president of the Animal Welfare Foundation. "We're bringing them in, vetting them and finding them homes."

The non-profit foundation relies entirely on donations. Since receiving its rescue license in May, nearly 100 pets have been rescued by the foundation. Though the foundation rescues animals it is not a drop-off location for people who simply don't want their animals.

Once a month, the foundation has a booth at PetSmart in Douglasville where it offers animals for adoption, and all the animals are on display at Petfinder.com. The cost of adoption is $150 for males and $200 for females, which covers an animal being fully vetted, microchipped and spayed/neutered.

Besides donated funds, the foundation has set up a thrift store at its previous clinic building across from its current location on Thomas Dorsey Drive — once a month items are sold and the money goes to pet rescue. Items to be sold can be donated by contacting Atlanta West Veterinary Hospital.

Burnett and his staff provide about 15 to 20 hours a week of what they refer to as "community service," which is veterinary care for those who can't afford to pay. Donations to the foundation also will go toward helping fund some of these pro bono services.

"We're trying to serve the community and make a living too," Burnett said.

Burnett and fellow veterinarian Steve Hathcock will launch the Bay Springs Clinic on Nov. 13, which will provide affordable spay/neuter procedures and other smaller veterinary services. The clinic will be located behind Vaughn Tile on Highway 61 North.

Anyone seeking more information about the clinic or wanting to donate to the foundation can contact Atlanta West at 770-459-2253, email debsavesdogs@yahoo.com or visit the website at www.americanveterinarywelfarefoundation.com.
Georgia Politics, Campaigns & Elections
Over the weekend, Early and Advance voting surpassed the one million mark, with 99,979 votes being cast according to the latest absentee voter file from the Secretary of State's office. Of the early/advance voters on Saturday for whom the SOS reported a "Last Party Primary," 54% had last voted in a Republican Primary and 46% in a Democratic Primary.
WSB reported Friday that Gwinnett County had its longest waits of the election.
Lines were up to two-and-a-half hours long between 8:30am and noon at the main elections office in Lawrenceville.

"I didn't think there would be a line, quite honestly," says voter Mike Ball. "Absentee ballots are a hassle so I figured I'd come out here while everybody was at work, and that was a fail."

Gwinnett Elections Supervisor Lynn Ledford says she expects the crowds to continue even with the addition of four satellite locations beginning Saturday: Centerville Community Center in Snellville, George Pierce Park Community Recreation Center in Suwanee, Dacula Park Activity Building in Dacula, and Lucky Shoals Park Community Recreation Center in Norcross.

All five locations will be open for Saturday voting from 9am to 4pm.  The satellite locations will then be open 9am to 7pm Monday through Friday next week, with the main elections office open from 8am to 5pm.

Absentee ballots are still available through noon on Friday, November 2.
WSB-TV released a poll they commissioned on the Charter School Amendment that showed  the Charter School Amendment with 47% supporting it, 37% opposed, and 16% undecided. We released a poll September 10th showing nearly identical support at 48.3%, and at that time, 26.2% opposed and 25.5% undecided. The sample in the WSB poll was 500.
Other results from that same poll shows Mitt Romney with a 53% share over President Obama with 42% in Georgia. I find that plausible, but have a problem with the 22% support reported among African-American voters in that survey. Obama is widely thought to have carried around 95-98% of African-American voters in 2008. One issue with that finding is that it's based on at most 155 respondents, so the margin of error for that questions is +/-7.87 points, rather than the 4.3 points reported for the poll overall, which number is based on the entire 500 sample.
We performed a private poll on October 23d, the night after the Presidential debate on foreign policy.  We'll release the full results later, but among African-American voters we found Romney with 13.2% support based on a sample of 494 respondents and a margin of error of +/- 4.41 points. I think that's a lot more plausible, it has a lower margin of error, and is consistent with what we're hearing about Romney's support among African-American voters from other polls in Georgia.
On Friday, Jim Galloway wrote that African-American voters were advance and early voting at a higher rate than in 2008.
As of today, 780,545 Georgia voters have cast their ballots for the Nov. 6 election. Of those, 33 percent have been African-American.

In 2008, when drawn to the polls by the prospect of electing the nation's first black president, African-Americans cast 30 percent of 3.9 million votes in Georgia.

The question is whether this year's participation statistic will shrink between now and Tuesday week. Even if it drops slightly, it could be taken as a sign that President Barack Obama's political base remains enthusiastic, and hasn't been discouraged by the ups and downs of October.

You also have to wonder what heavy black turnout would mean for Georgia's charter school measure.
The way the math works out is that if African-American voters sustain that pace and account for 33% of votes in the General Election, but Romney gets 13.2% instead of 2% that McCain is thought to have received, President Obama loses a half-point of the total vote, even if Romney's support among non-African American voters remains the same as McCain's.
Congressman John Lewis (D-5) told MSNBC that the Voter ID requirements actually bumped up African-American voting levels.
[The Voter ID requirement] has had an unbelievable counter-effect. It just said to people, 'we're not going to let anybody or anything block us from going to the polls.'
That statement and others like it may affect the final ruling if the United State Supreme Court decides to revisit challenges to the pre-clearance requiements of the Voting Rights Act.
The Supreme Court could say as early as Monday whether it will consider ending the Voting Rights Act's advance approval requirement that has been held up as a crown jewel of the civil rights era.

The justices sidestepped this very issue in a case from Texas in 2009. In an opinion joined by eight justices, Chief Justice John Roberts wrote then that the issue of advance approval "is a difficult constitutional question we do not answer today."

Since then, Congress has not addressed potential problems identified by the court. Meanwhile, the law's opponents sensed its vulnerability and filed several new lawsuits.

The advance approval, or preclearance requirement, was adopted in the Voting Rights Act in 1965 to give federal officials a potent tool to defeat persistent efforts to keep blacks from voting.

Before these locations can change their voting rules, they must get approval either from the U.S. Justice Department's civil rights division or from the federal district court in Washington that the new rules won't discriminate.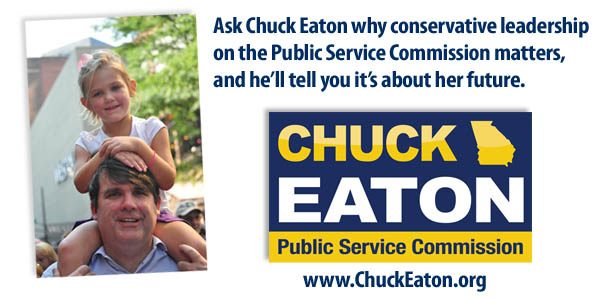 Georgia's most prominent role this year in the Presidential election is that of a donor state, giving up our money and our volunteers to the Romney campaign in other states.
"There is a lot more enthusiasm for Governor Romney than there was for Senator McCain," said Romney's Georgia Finance Chairman Eric Tanenblatt, who also serves on Romney's national fundraising team. "We will deliver our electoral votes for the governor, and we're helping him win elsewhere, too."

State Democratic Party Chairman Mike Berlon refused to dismiss the possibility of an upset, though he conceded it would come only with "everything lining up" for an overwhelming Democratic turnout.

Democrats haven't won the state in a presidential election since 1992, when then-Arkansas Gov. Bill Clinton topped President George H.W. Bush and Texas billionaire Ross Perot.

That landscape aside, Romney and Obama each have tapped Georgia for a load of campaign cash.

According to the latest Federal Elections Commission tallies, Romney has raised at least $8.8 million for his principal campaign account. The president has collected at least $7.1 million. For those accounts, contributors are capped at $5,000 limits: $2,500 each for the primary and general election.

Tanenblatt said the Republican total grows to more than $16.5 million, including contributions over the individual minimum that go to the Romney Victory Fund shared by the Romney campaign, the Republican National Committee and other party accounts. Berlon said he did not have up-to-date totals for the Obama-Democratic joint effort.

Romney's individual campaign total almost doubles McCain's 2008 haul, though McCain was limited by accepting public financing for the general election. Neither Romney nor Obama opted into public financing. Obama raised $8.7 million in 2008, though that was fueled in part by his protracted primary fight against Hillary Clinton.

Atlanta Mayor Kasim Reed said he is particularly pleased with fundraising for the president in the Atlanta metropolitan area. "Georgia and certainly Atlanta have stepped up every time the president needs us," he said.

Reed is one of Obama's top surrogates, making multiple cable television appearances and helping raise money. He said he will spend Election Day in Washington, D.C., doing several interviews, then fly to Chicago for the president's election night party.

Hundreds of rank-and-file activists from both sides, meanwhile, have been or will be deployed to Florida, North Carolina, Virginia and Ohio. Obama won all four in 2008. Romney likely needs them all to reach the required 270 electoral votes. For Obama, Ohio is the most important for a majority.

Each side also has a "call-from-home" program that allows volunteers who don't want to travel to call targeted voters in swing states.
I had never heard of gossip site LipstickAlley.com and I didn't know it contained allegedly defamatory statements about Atlanta Mayor Kasim Reed (D) until his lawyers got out the nastygrams and vaulted the website to the front page of the AJC. According to ATLawblog,
Lipstick Alley has, in the past, removed some content in response to "reasonable requests from representatives of criticized individuals who recognized that Lipstick Alley is not legally liable but provided sensible arguments about why particular messages ought to be removed," wrote Levy. "But Lipstick Alley does not negotiate with bullies. You may advise your client that he can expect the messages about which you previously complained to remain on the site in perpetuity."
You might also advise Mayor Reed that the nastygrams likely turned his name into the #1 search term on that website. The pro-tip here is that when you're weighing what, if anything to do about something a political opponent has said about you or your campaign, consider whether your actions will simply result in giving their allegations greater publicity than they would otherwise get.
State Senator Renee Unterman (R-Buford) is heading up the Lake Lanier Legislative Caucus.
"We have a women's caucus, a black caucus, a rural caucus … I just thought, 'Why not convene a new caucus surrounding the issues of Lake Lanier?'" Unterman told the Daily Post this week.

"Everyone has their own special interest," she added, "and that's why it's really a regional concern and why it needs a caucus."

Spurred on by a number of high-profile deaths this summer, the hottest-button issue surrounding Lanier lately has been safety.
The Senate District from which Unterman was first elected in 2002 included part of Hall County.
Georgia Speaker of the House, David Ralston (R-Blue Ridge), will appear at a fundraiser with Micah Gravley (R), candidate for State House, on Monday, October 29th from 6:30 to 8 PM at the Rock Inn, located at 7981 Highway 78 in Winston, GA 30187. Click here to view the invitation. To R.s.v.p., email Leigh Ann Gillis.
Georgia Conservatives in Action are sponsoring a Take Back America Rally on Saturday, November 3d from 4-6 PM at the Waycross Motor Speedway. Every event I've been to with GCIA has been outstanding, and if you're in the area, it's sure to be a great family-friendly event.
Bibb County Commissioner Joe Allen and his Republican challenger, Robert Abbott, are having a downright nice campaign against each other.
Allen, who has served 18 years on the County Commission and describes himself as a conservative Democrat, doesn't mind looking up and seeing his opponent in the crowd. In fact, he encourages it.

"He's running for this seat. If something happens and I get defeated, he knows what's going on there," Allen said. "He's a friend, and I'm glad he comes to all the meetings. It's not my seat. It's not his seat. It's all the people's seat."

The race is proving to be one of the more amiable ones in recent memory. Abbott echoes Allen's sentiments about the race being for the seat and not against each other.

"We're friends. We're not enemies," Abbott said. "I don't believe in dirty politics. We both agreed not to talk negatively about each other."
In Murray County, 24-year incumbent Sheriff Howard Ensley (D) faces Republican Gary Langford, a retired law officer who has worked for the sheriff's office, Georgia State Patrol and Chatsworth Police Department, but the more serious threat to Ensley's reelection may come from actions of his own deputies earlier this year.
The sheriff's office suffered some damage to its reputation earlier this year when two employees were fired for, according to Ensley, giving false statements in an investigation being conducted by the Georgia Bureau of Investigation.

GBI officials were called in after a woman who claimed former chief magistrate Bryant Cochran solicited her for sexual favors was arrested by the two deputies on a drug charge. Officials later said the drugs were planted on her vehicle.

Ensley said an investigation into Cochran and other issues associated with the case — including Cochran's own admission that he pre-signed, though never issued, a handful of warrants — is almost complete.

He said none of his employees ever issued a pre-signed warrant, and he doesn't expect the proceedings in a federal grand jury to reveal anything that would cause him to need to dismiss another officer.