"Jeremy" (left) is a 5-year old Black Lab who has been neutered, microchipped and fully vaccinated who is available for adoption today from Walton County Animal Services. A Georgia licensed rescue that pulls him from the shelter is eligible for $310 in donations that have been pledged.
"Dora" (right) is about 5 weeks old and weighs six pounds. She's an Australian Shepherd mix with a docked tail and full vaccines. She's also available for adoption from Walton County.
In Macon, two puppies were rescued from being tied outside without shelter, food, or clean water in 100+ degree temperatures.
Georgia Politics, Campaigns, and Elections
Governor Nathan Deal is leading a trade mission to Canada through July 10th.
The mission will include Georgia First Lady Sandra Deal, Chris Cummiskey, commissioner of the Georgia Department of Economic Development, and Steve Brereton, Consul General of Canada in Atlanta.

Deal will meet with prospective businesses and with companies that have existing Georgia operations, including Bombardier and CAE. In Toronto he will address a business investment luncheon hosted by PNC Bank and the Canadian-American Business Council. Later that day Deal will throw out the first pitch of the Toronto Blue Jays v. Kansas City Royals baseball game at Rogers Centre.

The governor and delegation will also attend, as honored guests, celebrations of the U.S. Independence Day hosted by the U.S. consulates in Montreal and Toronto. Georgia-grown products will be showcased during the Independence Day celebration in Montreal.
Congratulations to Canadia. It's not every day that a minor US state gets an official visit from Georgia's Governor.
Congratulations to Fayette County's Sheila Studdard, who was reappointed by Gov. Deal to the Board of Commissioners of the Superior Court Clerks Retirement Fund of Georgia. Condolences to Gwinnett County Chair Charlotte Nash, Henry County Chair B.J. Mathis, and Douglas County Chair Tom Worthan, whom Deal appointed to the GRTA Board.
Fulton County became the state's largest charter school system on July 1st, which will allow the system to apply for waivers to some state regulations.
The State Board of Education has set a hearing on July 18 to review the Board's recommendation that the Governor remove members of the Sumter County Board of Education following the loss of its accreditation from SACS.
Gwinnett County's would-me casino magnate Dan O'Leary is predicting that the Republican ballot question on whether to allow casino gambling will fail.
O'Leary said the question on the GOP ballot is flawed. It reads: "Should Georgia have casino gambling with funds going to education?" The Democratic ballot does not contain the question.

"To truly gauge public sentiment on the issue of gaming, the real question is: Are voters in favor of the Georgia Lottery expanding with (video lottery terminals) games in a single controlled environment to save the HOPE scholarship? This question gets to the heart of the issue. It's not about casinos; it's about saving HOPE," O'Leary said in a statement, referring to the HOPE Scholarship, where lottery funds are used to fund college scholarships and Pre-K programs.

While video lottery terminals look like video slot machines, O'Leary said they are more similar to scratch-off lottery tickets and funds would go solely to the Georgia Lottery.

O'Leary said he did not lobby for the question to be on ballots.

"Given that this ballot question does not accurately portray our project, we fully anticipate that the voters will vote against it," O'Leary said.
I disagree that the casino gambling question is doomed. We wrote yesterday that casino gambling scored a narrow victory in Hall County GOP straw poll, and have seen other signs that Republicans may not disapprove overwhelmingly of casino gambling. Of course, the Personhood Amendment may bring out culturally-conservative Pro-Life voters, who appear to strongly oppose casino gambling. Over-under for approval of casino gambling is set at 48.
House Democratic Leader Stacey Abrams spoke with Dennis O'Hayer and responded to Majority Leader Ed Lindsey's statement on MARTA's leadership and the 50-50 funding split, saying that she's open to discussing the issues, but that Lindsey's proposal is unworkable.
The Transportation Leadership Coalition is considering a legal challenge to the preamble language for the T-SPLOST on the July 31st ballot [pdf].
On behalf of TLC, Atlanta attorney Pitts Carr has taken the necessary initial action to protect the Georgia state ballot from political interference.

Today's formal inquiry from attorney Carr directs Secretary of State Brian Kemp to cite the legal authority for adding the language "Provides for local transportation projects to create jobs and reduce traffic congestion with citizen oversight."

Carr's letter in part reads:

"Secretary of State Kemp concluded that the preamble "is referenced in the original legislation".  Nowhere does that language appear in O.C.G.A. 48-8-240 et seq."

Jack Staver, TLC chairman [said,] "The chaotic and contradictory statements made by Kemp and his office are characteristic of someone getting caught with their hand in the cookie jar, or in this case in the taxpayers' pocket. I understand why Kemp is running around like a chicken with his head cut off.  There is a real possibility that the secretary of state could be held personally liable for the cost of reprinting the ballot."

Ten days ago TLC issued a public call for Governor Nathan Deal to intervene and protect the integrity of the ballot.  Governor Deal, one of the biggest supporters of the Referendum 1 tax increase, has not responded to these requests.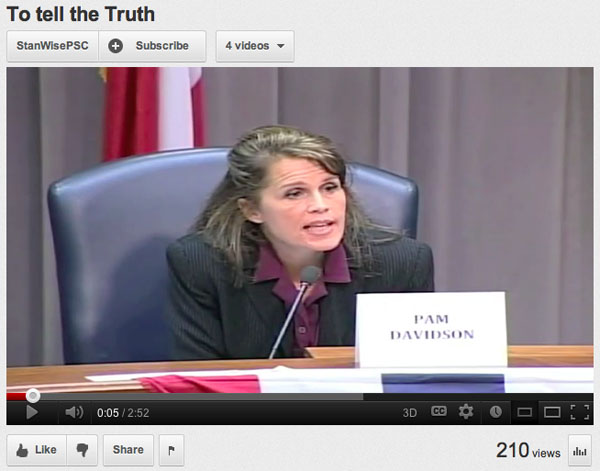 Yesterday, Republican Public Service Commissioner Stan Wise released a YouTube video raising the issue of his opponent's truthiness, ethics, and adherence to Republican principles.
Davidson, running on an ethics platform, is taken to task for claiming education degrees she has not earned, lobbying for green energy subsidies at the expense of higher electricity rates, endorsing a Democrat after she lost the PSC Republican Primary in 2008 (despite signing the GOP Loyalty Oath), and a series of ethics lapses….
On July 31, voters in Bibb County will vote on whether to consolidate Bibb County and the City of Macon. State Rep. Allen Peake supports consolidation and writes,
Folks, the bottom line on this consolidation vote is this: If you are happy with where you are now, and content with our county losing population and jobs, then vote NO.

But if you believe we can have a brighter future; if you believe that we can turn this sinking ship around, and if you want economic opportunities for your family, your children, and your grandchildren, then this is your chance. Vote YES on July 31! We have so many positives in our community, and if we can just get past the gridlock and stagnation that has been our pattern for the last 40 years, there are no limits to how prosperous we can be.

So, please join me by voting YES, and let's start moving the community we love in the right direction.
Incumbent Republican State Representative Jimmy Pruett faces challenger John Clements in the Primary for District 149.

Incumbent Javors Lucas has served 31 years on the Macon Water Authority Board and faces challenger Regina Lucas in the Democratic Primary. Surprisingly, Lucas's tenure is the second-longest on the Board to Chairman Frank Amerson.
Houston County will elect two school board members.
Stockbridge Mayor Lee Stuart admits to reading the emails of five city employees:
Stuart said he suspected his own city e-mail account was being monitored, as well, but he did not say by whom.

"I wanted to see if they [those he wanted to monitor] are the ones monitoring my e-mails," said Stuart. "I had complaints from city employees that their e-mails are being monitored. In any e-mails that I sent to city employees, they would get questioned by Gibson [when he was employed earlier this year] about e-mails I would send them."

Stuart, as Stockbridge's chief executive officer, has the right to view e-mail accounts for employees in the city. However, Milliron said Stuart, in May, made a request to monitor employee e-mails, without the knowledge of employees.

"Quite frankly, unless there is an exemption in the state's public access laws, we presume that all of our e-mails are open to inspection by the public," said Milliron. "But I would not expect the mayor, or any other elected official, to have secret access to my, or any other employee's e-mails, unless there was a city policy that informed employees that they had no expectation of privacy with respect to their e-mail communications. There is no such policy in place.

"The mayor always makes broad, sweeping statements that he has received complaints," Milliron continued. "Everyone, with respect to the mayor, is always nameless and faceless. His request to secretly monitor employee e-mails does nothing but undermine the working relationship that we have here at City Hall."
The ongoing feud in Snellville took a turn stayed nasty as Democrat Mayor Kellie Kautz criticized the council's action:
A 4-2 vote pushed through an amended budget proposed by Mayor Pro Tem Tom Witts, one that does not include a $426,022 budget line for road projects through the Livable Centers Initiative. The LCI project… was the crux of debate among the mayor and council and the primary difference between Witts' $9.61 million budget and that proposed by Kautz.

Kautz called the project's non-inclusion, and the budget in general, "sloppy," "a mess" and "unprofessional."

Witts said it was not included in the budget because he didn't believe it should be factored into tax calculations. He said it should be handled with money received following the service delivery dispute with the county.

"I don't feel that's something we should be taxing our people for," Witts said. Councilmen Bobby Howard and Dave Emanuel voiced their support.

Jan Burke, the city's controller, did not support Witts' budget. She called the omission of the LCI project — as well as $16,900 for gazebo repairs at Briscoe Park — a "material misstatement."

"Those are material expenses," she said. "They have to be budgeted. We obviously are going forward with those projects."
Because nothing screams "professional" like name-calling.
The Lamar County Republian Debate Committee will host a debate among the three candidates for Third Congressional District, namely, Congressman Lynn Westmoreland and two other guys. The event begins at 7 PM tonight at Lamar County School's Fine Arts Center, at 126 Burnette Road in Barnesville. Doors will open to the public at 6 p.m. For more information, contact Julia Heidbrink at 678-588-1619 or by email at midgatp@gmail.com.
The Towns County Republican Party will celebrate the Fourth of July on the Seventh of July with a barbecue and forum for Ninth Congressional District candidates at the Georgia Mountain Fairgrounds.
On July 10th, the Cobb County Civic Coalition will hold a forum for candidates for County Chair.
The Council for Quality Growth will host Congressman John Mica, Chairman of the House Transportation and Infrastructure Committee at lunch on July 13th for a Regional Transportation Referendum countdown.
Republican Women of Muscogee and Harris Counties will host a primary candidate dinner on July 17th featuring Q&A and opportunities for candidates to speak.
You can register today for Grilling with the Governor in Gainesville on July 21st.
On August 4th, the Eighth District Republican Party will host the annual Fish Fry in Perry at the Georgia National Fairgrounds.
Ends & Pieces
Atlanta Tim Hornsby qualified for the 2012 Olympics in sprint kayak. WABE has a story on Hornsby.
The Georgia Aquarium has applied for a permit to bring 18 Beluga whales to the United States, but they wouldn't necessarily be housed in Atlanta.