Thelma and Louise are pit-type sisters who were terrified, emaciated, and abandoned across the street from a dog rescue group, where they are now living, waiting for a permanent home.
The girls have quickly learned their routine and are very obedient. Louise enjoys training, learning good manners and tricks while Thelma prefers to receive love. The girls require a special home with people who understand their breed and have no other pets. They will be the most grateful, loyal and loving companions!
Louise is white with brown spots and Thelma is brown with white spots. In the first picture, the girls are demonstrating their polite "sit." The second picture is of Louise "praying" which is a complex trick one of our camp counselors taught Louise.
Many folks are apprehensive about Pit-type dogs, and an equal number think they're the best breed around. I don't know that there is a truth about these dogs other than to suggest you consider each one as an individual, and with any breed, it can be helpful to adopt from an experienced rescue organization that has spent time with your prospective dogs, and is able to advise you about their individual temperment and behavior.

Yesterday I received two emails from readers wondering how many of the dogs we feature get adopted. I don't know, but here are a couple of things I do know. The yellow lab featured yesterday got rescued. The daughter of a reader was prepared to pick up Monday's lab mix but the shelter was closed; the dog was rescued but I'm not sure by whom. Riley received ten inquiries to the rescue group from the mailing list and three completed adoption applications.
So I believe that including these dogs makes a difference in some of their lives, and I believe that seeing so many beautiful dogs will encourage some others to rescue rather than buy when they are ready for their next dog. But the scale of the problem is huge, with an estimated 300,000 dogs and cats euthanized each year in Georgia. That's not acceptable. Next week, we'll highlight some folks who are working to reduce the number of abandoned dogs and cats by raising money to fund low-cost spay and neuter in Georgia.
As a bonus, here's Louie, a 17 pound 3-4 month old lab/border collie mix who is available for adoption from Walton County Animal Services. He and his brother Huey were turned in as strays, and Huey's been adopted, but Louie here is still waiting to find his home.
Georgia Politics, Campaigns & Elections
Texas has had a rough week in the federal court system. First, a three-judge panel in Washington rejected their redistricting maps for Congress and the state legislature. Now, the state's voter ID requirement has been struck down.
A three-judge panel in Washington unanimously ruled that the law imposes "strict, unforgiving burdens on the poor" and noted that racial minorities in Texas are more likely to live in poverty.

Thursday's ruling almost certainly prevents the Texas law from going into effect for the November election, but state Attorney General Greg Abbott said he will appeal to the U.S. Supreme Court "where we are confident we will prevail."

In the Texas case, the Justice Department called several lawmakers, all of them Democrats, who said they detected a clear racial motive in the push for the voter ID law. Lawyers for Texas argued that the state was simply tightening its laws. Texas called experts who demonstrated that voter ID laws had a minimal effect on turnout. Republican lawmakers testified that the legislation was the result of a popular demand for more election protections.

[Judge David] Tatel, writing for the panel, called the Texas law "the most stringent in the nation." He said it would impose a heavier burden on voters than a similar law in Indiana, previously upheld by the Supreme Court, and one in Georgia, which the Justice Department allowed to take effect without objection.

The decision comes the same week that South Carolina's strict photo ID law is on trial in front of another three-judge panel in the same federal courthouse. A court ruling in the South Carolina case is expected before the November election.
The ruling comes two days after a separate federal three-judge panel ruled that Texas' Republican dominated state Legislature did not draw new congressional and state Senate district maps "without discriminatory purposes."
Secretary of State Brian Kemp has certified all the primary and primary runoff results for state races, but certification of federal races remains open until August 31st because of federal requirements for overseas absentee voting.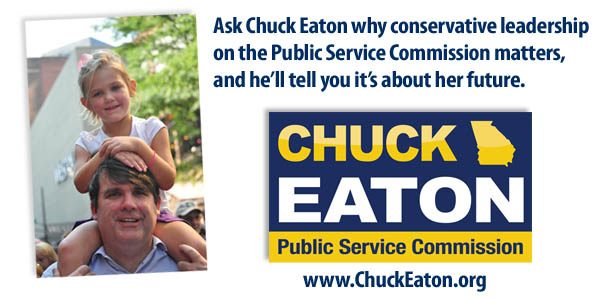 Congressman Tom Price, who represents my part of Brookhaven in DeKalb County, believes that North Carolina has great potential for Republican Congressional pickups this year.
Price, chairman of the House Policy Committee, thinks Republicans will pick up four seats in the Tar Heel state in November – enough to help keep the House in Republican hands. Although he didn't name the seats, he was referring to George Holding in the 13th, David Rouzer in the 7th, Richard Hudson in the 8th and Mark Meadows in the 11th – all now held by Democrats.

Price told the North Carolina delegation breakfast that he anticipates North Carolina's delegation after November will include 10 Republicans and three Democrats. The big change is largely because the state GOP redrew congressional redistricting lines last year.

Democrats need only to pick up 25 seats to win back the House, so the North Carolina pick up is critical.

Like many previous speakers, Price also stressed the importance of North Carolina in the presidential contest

"We don't get a President Romney without North Carolina," Price said.
Local elections
The National Republican Congressional Committee's new ad against John Barrow takes Barrow's own ad as a starting point and connects Barrow's statement that he votes with President Obama when Obama is right to draw the conclusion that Barrow must agree with Obama 85% of the time.
Floyd County Sheriff candidate Cary Cooper is being criticized for offering a shotgun as a raffle prize door prize at a campaign event. You gotta love Extreme Northwest Georgia, because the hullabaloo is not over the fact that they were giving away a shotgun, but because only registered nonprofits are allowed to conduct raffles. Incumbent Sheriff Tim Burkhalter would normally be in charge of permitting raffles, but Cooper is running against Burkhalter, creating a potential conflict of interest.
Nancy Baeder is running against incumbent Carl Pennamon for Jasper County Commission District One.
Darrell Black is the Democratic candidate in Senate District 25 against Republican Burt Jones, who defeated incumbent Johnny Grant in the Republican Primary. The story's opening line made me spit coffee all over my laptop, it's so over-the-top optimistic.
State Senate District 25 candidate Darrell Black is poised to help Georgia Democrats take back the State Senate in January 2013, but will have to defeat a political newcomer —Republican Burt Jones on November 6.
In support of candidates like Black, whose district includes Milledgeville, the Baldwin County Democratic Party will hold a voter registration drive in Milledgeville.
Three candidates are doing it the hard way in Putnam county, having filed as write-in candidates.
Bob Landau has said he will run for county commission chairman; Daniel Brown is seeking the District 2 county commission seat; and Cooper Rainey is running for District 1 county commission.

Landau and Brown also filed to run as independent candidates, but their petitions were rejected by the Board of Elections & Registration. They both have filed challenges in Superior Court.

To run as a "certified" write-in candidate, state law requires that a person file a form with BER, print an ad in the paper, and file an affidavit and copy of the ad with BER.

BER rejected petitions from Landau and Brown because it said too many of the signatures on their petitions did not meet the legal qualifications.

When those signatures were disallowed, neither man had the required number of voters' signatures to qualify. Both challenged that decision.
Ends & Pieces
The Tennessee Valley Railroad Museum hosts its annual Railfest this weekend in Chattanooga. The rail museum also runs regular steam and diesel-powered excursions into Georgia.