Squiggy (left) is a 15 pound Shih-tzu who is only available for adoption to experienced rescue organizations because he may bite.
Grace (center) is a 6-pound, five-month old female Chihuahua, who is very nice according to the volunteers and is available for adoption beginning Friday from Walton County Animal Shelter.
Artie (right) is a neutered male Pomeranian estimated at 2 years of age. He will be available for adoption beginning Saturday from Walton County Animal Shelter.
28020 is a strikingly attractive Golden Retriever mix with blue eyes and stand-uppy ears. If you adopt her, I promise you that people will stop you on the streets walking her to tell you how pretty she is. She is available for adoption beginning Saturday at the Gwinnett County Animal Shelter.
Georgia Politics, Campaigns & Elections
RealClearPolitics, which aggregates polling data in an attempt to gain greater accuracy, shows Governor Mitt Romney leading President Obama for the first time this year.
With 27 days until the election, Romney's lead at present is fragile — but significant in that the trend is going toward him, not Obama.

RealClearPolitics rolling daily average of national polls put Romney in the lead for the first time on this week, with the spread 0.7 in Romney's favor.

GALLUP: Gallup's poll out Tuesday of likely voters — Gallup's first snapshot of likely voters this election cycle — puts Romney at 49 percent to 47 percent for Obama.

Romney's lead in the survey, taken Oct. 2-8 (the Denver debate was Oct. 3) is not statistically significant, but it does highlight the "competitive nature of the election," according to Gallup.

Gallup at this stage is focusing more on likely voters — rather than the bigger universe of registered voters — because the point now is to focus on voters who will actually cast a ballot.

In the same poll, registered voters preferred Obama 49 percent to Romney at 46 percent.

PEW RESEARCH: The Pew Research Center likely voter survey, released Monday, put Romney at 49 percent to Obama's 45 percent. What a reversal.

Last month, Obama was ahead at 51 percent to 45 percent for Romney. Now more voters see themselves as Republicans — a switch.

Among registered voters, Romney and Obama were tied at 46 percent each.

SWING STATES: RealClearPolitics tracking averages show Romney gaining in the crucial battleground states.

Before the debate, almost every swing state survey gave the lead to Obama.

RCP tracking of the latest polls by non-campaign sources puts Romney ahead in Florida, 0.7; North Carolina, 3; Colorado, 0.5.

Obama takes the lead in Virginia, 0.3; Ohio, 0.7; Iowa, 3.2.

Romney campaign spokesman Eric Fehrnstrom was cautiously gleeful in an MSNBC interview.
I have said previously that the numbers in any single poll are not necessarily the most important thing, but the trends seen in repeat polls are what I look for.
If you're interested in becoming a discriminating reader of polling data, note the differences in the "likely voters" and "registered voters" numbers in both the Gallup and Pew polls, where it is enough to change the outcome of the election ballot question. We'll be discussing this at length on the website.
A University of Georgia Journalism professor wrote in comments at the Athens Banner-Herald that "[m]ost professionals do not put a lot of stock in these [robo-polls]." The professor is wrong, and robo-polls have been shown to be every bit as accurate as traditional polls using live agents. And bad polls can be conducted, or good polls made inaccurate through statistical techniques no matter what technology is used for data collection.
Mike Hassinger, of InsiderAdvantage, notes the passing of his colleague Dick Pettys.
Pettys had a reputation for treating everybody with a level of fairness and respect that was exactly the same -which felt good if you didn't deserve it.

The chairman of Georgia's State Board of Education was once trying to explain why the State's SAT scores hadn't risen as much as officials had wanted. The problem with the rankings, explained the chairman, was that Georgia tested nearly all our high-schoolers, while other states didn't test nearly as many of their students. Pettys raised his hand. "Johnny, are you saying that the reason Georgia is ranked as low as we are is because we have more dumb kids than the other states, or that Georgia's kids are dumber than the kids in other states?" The chairman, now a United States Senator, was in fact not saying such a thing, and clarified his statement for Dick Pettys, who nodded, and took notes, and wrote it up in a story.

Pettys lived and worked in an era before "fact-checking" became a media necessity. He was the fact-check. He will be sorely missed by many, and our prayers tonight are with his family.
Hassinger is the only reason to visit that site and he really hits his stride in mocking Maria Saporta's $10,000 contract with MARTA for "thought leadership."
Walter Jones of Morris News Service writes about fundraising in the election for Public Service Commission, noting that "One-quarter of what the incumbent got came from lawyers for or executives of industries connected with those the commission regulates." This conflicts with a July story in the AJC in which they wrote that "Eaton received 85.9 percent of his donations from companies and individuals identified in The Atlanta Journal-Constitution's analysis." Eaton's opponent Steve Oppenheimer rounds up and says it was 86 percent.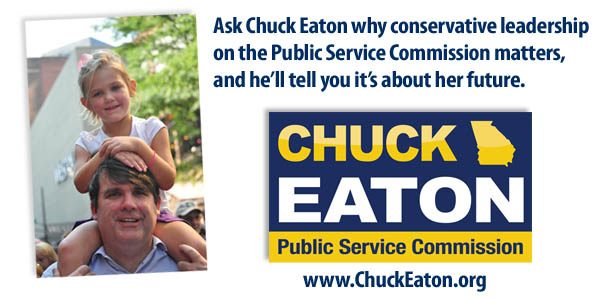 The truth is that the AJC counted contributions made by Chuck Eaton's father and a number of businesses that have no connection to the utility industry other than the fact that they use electricity to keep the lights on. I know this because the reporter who wrote that story sent me the list of what they considered "utility interests," and their list included "Charles Eaton Sr." Did the AJC purposely cook the books to smear an incumbent Republican officeholder?
Georgia Democratic Party Chairman Mike Berlon is charging that Governor Nathan Deal should be muzzled by the same Attorney General's opinion in which Sam Olens wrote that local school boards do not have authority to take positions on the Charter School Amendment or other electoral matters. On their website, the DPG writes:
"The rules should be applied equally to everyone.  If the attorney general believes that public funds can't be used to advocate for political issues, it's not fair or reasonable to silence one's position while the Governor advocates his own.  Let's hope that the rules and the sanctions are the same for everyone."
The full ten page letter sent by the DPG to Olens can be viewed here if you really have nothing better to do with your time.
Sesame Workshop, the organization behind Sesame Street, has asked President Obama's campaign to pull its ads featuring Big Bird.
"Sesame Workshop is a nonpartisan, nonprofit organization and we do not endorse candidates or participate in political campaigns," the organization said in a terse, two-sentence statement. "We have approved no campaign ads and, as is our general practice, have requested that the ad be taken down."

Obama campaign spokesman Ben LaBolt said the campaign was reviewing Sesame Workshop's concerns.

Romney's campaign countered that the ad shows Obama is focusing on inconsequential matters rather than the urgent issues voters care about, like the economy and unemployment.

"Right now you've got 23 million Americans struggling to find work," spokesman Kevin Madden told reporters Tuesday. "I just find it troubling that the president's message, the president's focus 28 days from Election Day, is Big Bird."
The University of Georgia System can probably sympathize with Sesame Street. After asking Senator Chip Rogers to cease his campaign's unauthorized use of intellectual property owned by the University of Georgia and Georgia Tech there's now a rogue political consultant selling Romney-Ryan bumper stickers featuring a UGA logo.
According to UGA, "the oval 'G' mark" is protected intellectual property and "[l]icenses must be obtained for the use of any UGA mark, image, photograph or logo in a commercial product." And according to their use policy, "Individuals or organizations may not utilize UGA's trademarks in conjunction with a candidate for political office or for policy/legislative initiatives."
A Romney campaign spokesperson emailed me that this is not affiliated with the campaign, so it might just be trademark infringement solely for the sake of making money off Republican activists.
They're starting to spend real money in Macon-area elections, with races for Bibb County Sheriff, District Attorney, and State Senate District 26 all hitting the $100,000 mark after recent filings.
The election for Lowndes County Solicitor General pits two first-time candidates. Incumbent Justin Cabral was appointed this year by Gov. Nathan Deal.

The Rome News-Tribune covers campaign disclosure reports for candidates in Extreme Northwest Georgia, noting
Former Floyd County commissioner Chuck Hufstetler won the Senate District 52 seat outright, netting 10,156 votes at a cost of $55,900 — essentially $5.50 per vote.

Among his major donors were the campaign committees of state Sens. Barry Loudermilk of Cassville, David Shafer of Duluth, Lindsey Tippens of Marietta and Chip Pearson of Dawsonville. Lt. Gov. Casey Cagel's campaign also donated $2,500 in September.

There is no Democrat on the Nov. 6 general election ballot. Hufstetler's opponents in the primary were David Doss and Hayden Collins Jr.

Doss reported spending $90,000 through the report's cut-off date of Sept. 30, which translates into about $16.30 for each of his 5,520 votes.

Collins spent $928 and netted 2,867 votes for a cost of 32 cents per vote.

State House District 12 covers all of Chattooga and the western half of Floyd County.

Democrat Barbara Massey Reece, the incumbent, reported spending $10,000 on her campaign and $41,300 cash on hand as of the Sept. 30 cut-off date.

Eddie Lumsden, her Republican challenger, had spent $10,700 and had $29,000 remaining in his war chest.

If your morning commute includes getting on I-85 from State Route 20 (Exit 115) in Buford or State Route 400 at McFarland Road (Exit 12) in Forsyth County keep your eyes out for new on-ramp traffic lights designed to infuriate drivers control the flow of traffic onto the interstate.
Ramp meters are turned on before rush hour, and operate at different times of day depending on traffic patterns. Every 3-5 seconds, a cycle from red to green allows one vehicle at a time to merge onto the freeway. On two-lane ramps, the left and right lanes have alternating lights, so the left lane goes while the right is stopped, and vice versa.

"We'll monitor these new ramp meters very carefully," Georgia DOT Traffic Engineer Scott Zehngraff said. "If traffic starts to back up on the ramp, sensors will speed up the meters to allow more vehicles to move through. If our cameras show traffic spilling out onto the surface streets, we can turn them off completely."