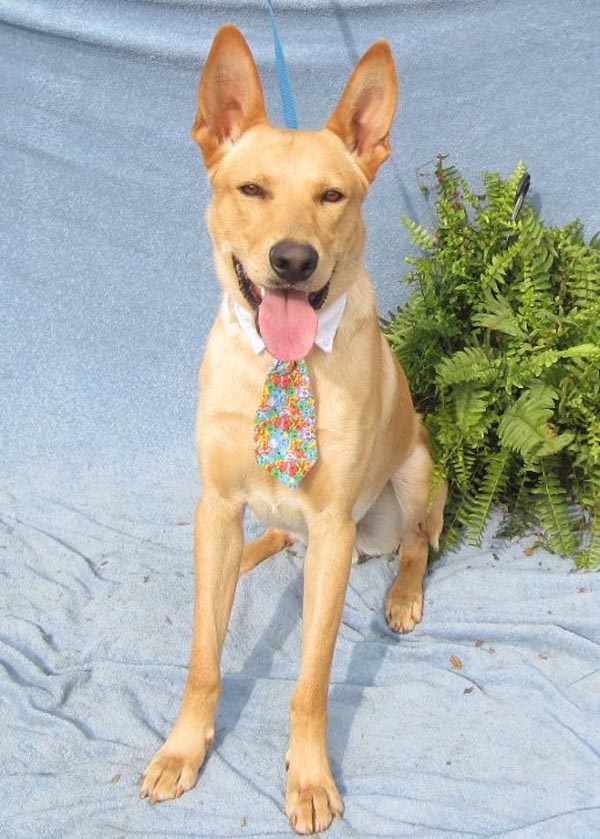 "54312" is a one-year old, 57# male dog who is said to be good with children and other dogs. He has been in the Cobb County Animal Shelter since being dropped off by his former family on Friday and is available for adoption now. Dog and puppy adoptions cost $110 and include vaccinations, heartworm testing and treatment and spay/neuter/
To adopt him or any other animal from Cobb County, call Cobb County Animal Shelter, at (770) 499-4136 for more information or visit at 1060 Al Bishop Drive Marietta, Georgia 30008, and be sure to have the animal's number available.
We will be featuring animals from Cobb County all week as they prepare for their adopt-a-thon on Saturday, May 19th from 10 AM to 4 PM. Visit Friends of Shelter Animals for Cobb County on Facebook for more adoptable dogs.
Georgia Politics, Campaigns, and Elections
Senator George Hooks (D-Americus), one of the longest-serving members of the State Senate, will not run for reelection. In 22 years in the Senate, after being first elected to that body in 1990, Hooks served ten years as Chairman of the Appropriations Committee as Georgia achieved a AAA Bond Rating, the highest in the nation. The Americus Times-Recorder has a good local perspective on what his service has meant to his district through the years.
President Obama returns to Atlanta on June 26th to hoover up all the Democratic campaign cash for a series of fundraisers. No word on whether Democratic Party of Georgia Political Director Rashad Richey will receive security clearance for the visit.
Republican blogger Andre Walker has filed a response to Richey's lawsuit that alleges Walker libeled him when he published true facts about Richey's criminal background. The main defense asserted by Walker is that the assertions were either true, or were protected political opinions.
R.J. Morris is running against incumbent Arthur Ferdinand for Fulton County Tax Commissioner, the highest-paid state office, which earned the incumbent $347,000 last year. Cherokee County Tax Commissioner Sonya Little faces challenges from Kenny Phelps and Wade Wilkie.
Raymond Gunnin, who has served as Cherokee County Fire Chief will run for County Commission Post 2 against incumbent Jim Hubbard in the Republican Primary.
Former State Rep. Clint Smith, who is running for State House District 9, held a successful fundraiser with special guest Georgia Insurance Commissioner Ralph Hudgens, who gave an interesting talk on their service together in a Republican minority under former Speaker Tom Murphy. You can watch a biographical video of Clint Smith here.
On Friday, May 18th, Govenror Nathan Deal will speak at the kickoff for the Special Olympics on the Washington Street steps of the Georgia State Capitol.
Rumor has it that State Rep. Debbie Buckner (D-Junction City) has two potential primary opponents.
Whitfield County Coroner Bobbie Dixon is running for reelection as a Democrat.
Common Cause of Georgia and Jim Walls of AtlantaUnfiltered are hosting an event on the Georgia Transparency Project on Monday, May 14, 2012 at PeopleTV, located at 190 14th Street in Atlanta. A reception runs from 6 to 6:45 PM, followed by taping.
The Paulding County Republican Women's Club will sponsor a debate among the Georgia District 31 Senate Candidates on June 5, 2012 at 7:00 PM in the Becky and Hal Echols Room at the Paulding County Chamber of Commerce Building located at 455 Jimmy Campbell Parkway, Dallas, Georgia. AJC Political Insider, Jim Galloway, will moderate. The announced candidates are Senator Bill Heath (I), Bill Carruth, former Paulding County Commission Chair, and Jason Rogers, chief investigator for the Cobb County Solicitor General. The debate is open to the public and everyone is welcome to attend.
Forsyth County Sheriff Ted Paxton will debate challengers Lauren McDonald and Duane Piper at 7 PM tonight in the county administration building, in an event sponsored by the Forsyth County Tea Party Patriots Alliance. The next debate on May 24th will feature candidates in the Ninth Congressional District.
The Greater Columbia County Republican Women and the Columbia County Republican Party are holding a forum for candidates in the Twelfth Congressional District on June 30th at 10 AM at the library in Evans, with Phil Kent moderating. That's the first time "Phil Kent" and any form of the word "moderate" have appeared in the same sentence.
The Augusta Chronicle has a review of the history of the Twelfth Congressional District.
Most of our other congressional districts date back more than a century and a half. The 2nd and 3rd, like the 1st, were present at the creation of the Republic.

Others got added — according to the constitutional formula — as Georgia's population grew.

Not until 1913 did that growth spawn the 12th, which then elected Hughes, a Twiggs County farmer. Only the 13th, created in 2002, and the 14th, born in 2010, have shorter histories.

[A]fter the 1930 census, we lost the 12th — and the 11th, too.

Renewed Peach State population growth led to the resurrection of the 11th — which used to include part of Savannah — in 1993. Anyone remember Cynthia McKinney? Oh, well; forget I asked.

It took until the 2000 census for the numbers to revive the 12th.
The Forsyth News has more on the challenge of Sen. Jack Murphy in District 27 by local businessman and tea party activist Steve Voshall in the Republican Primary.
Voshall said his disappointment with Murphy is what inspired him to run for office.

"He was in the position on the Banking and Financial Institutions Committee to have helped the [bank failure] situation and instead that didn't happen," he said. "I think the people in this county are seeing through that now," he said.

"I've had a great deal of interested people who contacted me and asked me to consider running … I looked into it, put a lot of thought into it, did a lot of research on Jack and I didn't like the things I saw and I heard."

Murphy said he will be running on his experience in the state legislature, adding he will "look forward to any debates that we may have and will be glad to put my record up for what I've done for the county and the state over the past 10 years."
Tommy Hunter will campaign as a Republican for Gwinnett County Commission District Three against incumbent Mike Beaudreau, in what is shaping up to be a "clown car primary."
"This is a wonderful district that I have loved my entire life, it deserves a County Commissioner who has an open-door policy toward constituents," the Republican said in a press release. "I will offer that open door if I am fortunate enough to serve you in this office. I will not forget who my boss is when elected, which are the residents of District 3."
State Rep. Rick Jasperse has announced his campaign for reelection in the Republican Primary to continue representing Pickens County and parts of Bartow and Gordon counties.
State Rep. Ben Watson (R-Savannah) also will seek reelection.
Carrollton businessman Marty Smith will challenge incumbent Carroll County Chairman Bill Chappell in the Republican primary.
The Macon Telegraph editorial board writes that race-based redistricting, and a failure to communicate combine to make redistricting an explosive mixture.
There is a dirty little process called reapportionment that occurs every decade when the latest census statistics are released. The process is a raw display of power politics. While the framers of our Constitution invented this exercise to insure adequate representation for every American, it has been bastardized to decide which party will do the representing. When Democrats hold the wheels of power it is their prime directive to draw district lines to make sure they win and Republicans lose. Same thing happens if Republicans hold power.
The Savannah Morning News editorial board is declaring war on four South Carolina legislators whose actions allegedly threatened the future development of Port Jasper.
Here are the names of four area lawmakers who recently supported a bill that would have killed the proposed Jasper port on South Carolina's side of the river.

Voters should make note of this gang of four:

• State Rep. Bill Herbkersman, R-Bluffton.

• State Rep. Andy Patrick, R-Hilton Head Island.

• State Rep. Shannon Erickson, R-Beaufort.

• State Rep. Curtis Brantley, D-Ridgeland.

Last week, these port killers voted for a bill that would have essentially shut down the Jasper Ocean Terminal Board. That's the board of appointees from South Carolina and Georgia that has been diligently working for several years to make the Jasper port a reality and bring much-needed jobs to one of the poorest areas of the Palmetto State.

Instead, this quartet supported a bill that would have put South Carolina's Jasper appointees under the thumb of the Savannah River Maritime Commission. That's a separate S.C. panel that's trying to kill Savannah's port deepening project, at the behest of backers of Charleston's port.

With four "friends" like these, the Jasper port doesn't need enemies.
Dueling editorials
This weekend's AJC brought dueling editorials on ethics and T-SPLOST.
Jet Toney, a long-time professional lobbyist and President of the Georgia Professional Lobbyists Association traces Georgia's establishment to lobbying by James Edward Oglethorpe of England's King James II, and argues that professional lobbyists play an important role in the running of the state legislature.
Georgia state lawmakers depend on a limited number of research staff and committee aides. Professional lobbyists educate officials and staff with information, expertise and perspective that is not always readily available.

Lobbyists also serve as filters of new ideas, pointing to flaws and unintended consequences.

The Founding Fathers made quite clear in the U.S. Constitution that freedom of speech and the right to seek redress from the government are protected.

All citizens should embrace these rights to advocate for his/her beliefs and values. If they do, the role and impact of professional lobbyists will diminish.

Until then, lobbyists will continue to serve as primary participants in public policy discussions, whether it is over a plate of barbecue in the legislator's hometown or in the starkly clinical setting of a government building.
Toney questions whether a gift ban or limit will improve the results of the legislative process.
Before this is seriously considered, one should look to states where legislators are prohibited from receiving any gift or entertainment, even a cup of coffee.

Are the laws passed in those states more effective than in Georgia? Do the legislators there make better decisions because they've interacted less socially with professional policy advocates?
An opposing viewpoint is presented by Don McAdam, who argues that lobbyist gifts to legislators create a perception of conflicts of interest that are damaging to our state government, even in the absence of actual wrongdoing.
This mere perception of a conflict is doing great damage to the integrity of our legislative process. It is maddening to endure the denials of our state's political leaders. This is why we must toughen lobbying and campaign finance laws. We should have every confidence that laws are considered based on our best interest.

As it is, there are substantial questions regarding the priorities and policies considered by theLegislature, but its leaders refuse to acknowledge that anything is wrong. Unfortunately, their corruption may be correctable only through removal from office.
McAdam points to tax reform that does away with the yearly ad valorem in favor of a sales tax that is called a title transfer fee as an example of what goes wrong when lobbyists wield influence.
[D]id citizens in mass contact their legislators to petition for a tax that would include private car sales? No legislators said that was the case. Although many Georgians cheered the end of the ad valorem tax, questions remain about the influence of lobbyist gifts on the swap that replaced that tax with a broader-based fee.

The fact that auto dealers lobbied for a tax on car sales between individuals and greased the axle of passage with $24,000 in campaign contributions should have prompted lawmakers to pull the emergency brake.

Legislators should have rejected the gifts and campaign contributions. But the "relationship" between auto dealers and our legislators has been cultivated over many years. Legislators and dealers both benefit. The former receive meals, sporting event tickets and election funds, and the latter get favorable treatment.

Of course, that's not how our legislators see it. Said Senate Majority Leader Chip Rogers: "Overall, I know of no impact that any donations had on the tax reform measure." Most of us don't believe that, and for good reason. We were not clamoring for this new fee; only auto dealers were.
Kari Storla is a student at Georgia State who writes at the Common Cause Georgia blog, and raises an insightful point.
Think of it this way: Let's say you're a college student and you go to the same meeting every week for free food. Eventually, odds are you're going to start talking to somebody. Maybe you'll go to a volunteer event or help out with something else because people are starting to recognize you as a regular. If you don't help them out, you're not getting any more food and it's back to ramen. You make a few friends. You agree to pass out flyers and you go to social events because there's even more free food and free tickets to a concert and what kind of idiot is going to pass that up? And then all of a sudden you're standing in front of your class, making an announcement promoting the group or organizing a campus rally.

That's sort of what it would be like to be a legislator dealing with lobbyists. It's not that you're the Big Bad Legislator who's morally corrupt, like a two-dimensional villain in a kid's cartoon; it's that you've formed relationships. It's not the one lunch here or there that's a problem, it's the months or years worth of lunches that we're concerned about.

Maybe we shouldn't even say that legislators are being "bought." Legislators aren't commodities to be bought and sold at auction to the highest bidder. They're people who can make their own decisions. But like all people, they can be influenced. So can legislators be influenced for a lunch? I'd have to see some research on that, but my guess would be it depends on a whole bunch of different factors.
PeachTEAParty suggests that citizens' failure to actually read up on lobbyist expenditures  is part of the reason lobbyists wield the influence many think they do.
Ever wondered why things never quite go the way you EXPECT at the capitol? Its because the public rarely INSPECTS what actually moves legislation. WHO PAID YOUR LOCAL LAWMAKER"S LUNCH? Find out!!
The Georgia Chapter of the Sierra Club's director argues that T-SPLOST does not include enough transit and remains mired in an outmoded vision for transportation.
There is good reason for cities to embrace transit. It's increasingly clear that the workforce of the 21st century desires walkable urban living instead of being forced to drive everywhere. One recent study found that from 2001 to 2009, the number of miles driven by young Americans (age 16-31) fell 23 percent, while miles traveled on transit increased 40 percent and bicycle trips increased 24 percent. Georgia needs to attract these workers in order to attract their 21st century jobs.

Meanwhile, Atlanta's proposed response to this national trend — the July 31 T-SPLOST — remains stuck in the past. While the tax would fund initial segments of some popular transit projects like the Beltline, every new track-mile of light rail built would be matched by 16 lane-miles of road expansion — enough asphalt to cover Turner Field more than 200 times. Despite talk of the tax "transforming" metro Atlanta, in reality this plan is largely a business-as-usual approach.
The campaign manager for Citizens for Transportation Mobility writes
Of course, we can't fix our transportation woes for free. But as opposed to a punitive "parking tax" or a brand new "multimodal gas tax," a one-penny sales levy actually helps offset the fuel we waste and valuable time we lose stuck in traffic. That "congestion tax" costs the average metro commuter $924 a year. The one-penny sales levy can reduce the congestion tax over time — and most consumers won't come close to spending $924 in additional sales tax (that would require annually buying $92,400 worth of stuff).

As for the Sierra Club's criticism that the project list is a "hodge-podge of conflicting priorities," we're proud that it doesn't reflect the priorities of one group with one agenda. Instead, it reflects the voices of more than 200,000 people who participated in compiling the project list — some of whom wanted more roads and others who wanted greater mobility through transit. The project list reflects the needs of the people of metro Atlanta.
Tea Party Patriots oppose T-SPLOST because they believe it will create a large new bureaucracy that takes local control from counties and invests in transit projects that will have a low return on investment.
T-SPLOST… will be the largest tax increase in Georgia history if it passes all regions. The T-SPLOST also creates a regional mass transit entity that will oversee mass transit in each region, instead of leaving that to the counties.  The T-SPLOST will take local control over transportation projects from counties and give it to a region.

The Metro Atlanta T-SPLOST is just an expansion of MARTA in counties that have already voted it down years ago.  85% of the tax dollars will go in a regional "pot" that is distributed to projects for the good of the region..

We don't have an issue with mass transit itself. We have an issue with its funding mechanism. Mass transit is very heavily subsidized by the tax payer and further expansion of an entity that is hemorrhaging red ink is fiscally irresponsible. Only 5 – 10 % of the taxpayers in the Metro-Atlanta area ride mass transit, yet the other 90-95% of the taxpayers are being asked to pay for it.
Ends & Pieces
Cherokee County foreclosures are up for May, after a decline in April.
Dalton has a thriving railfan community and celebrated National Train Day on Saturday.
Charlie Daniels and Travis Tritt will play July 19 at the Lady Antebellum Pavilion inside Evans Towne Center Park, with tickets on sale now.
Harold's Barbecue has fans as far as Athens.
But y'all! Harold's can't be allowed to close. They do barbecue right.

They offer succulent pork, slow-cooked for hours, along with ribs and Brunswick stew that I easily deem fit to eat — and I don't endorse many folks' Brunswick stew.

The atmosphere at Harold's is what the atmosphere should be at an authentic barbecue place — especially one in a big city.

By that I mean that it is unpretentious. They don't put on airs.

They serve white bread with their pork, and blue-collar workers and men in $500 suits sit elbow to elbow.