Tiffany (F) and Trouble (M) are six-week old puppies and weigh about eight pounds each. The $40 adoption fee for each includes vaccinations, deworming, and a voucher for a discount spay or neuter. Their owner turned them in to Walton County Animal Services, where they are available for adoption today.

These puppies are among the dogs and cats available for adoption from the Gwinnett County Animal Shelter. It would be nice if I could tell you that the $30 special Gwinnett County Animal Shelter is running on adoptions is because their services are no longer needed and they're going out of business. But the sad truth is that like countless shelters across the state, they're receiving more animals than they can care for.
Georgia Ethics
The Senate Ethics Committee meets today at 11 AM in Room 328 of the Coverdell Legislative Office Building without a publicly-announced agenda. The last time the Committee met with an announced agenda, they issued a statement that:
The Committee found that substantial cause exists to believe that Senator Balfour violated Senate Resolution 5 as it is further defined in the Senate Administrative Affairs Per Diem Policy and will seek to negotiate a settlement of the matter with Senator Balfour.
The next day, Senator Balfour wrote in a statement printed in the Gwinnett Daily Post,
"I still have not been allowed to go before the committee and defend myself."

"When I do, I am confident the committee will understand that a senator who gave up thousands of dollars in taxpayer-funded pension benefits had no intention of doing anything wrong in a matter of a few hundred dollars," the statement read.
In my opinion, the bigger problem is the continuing failure of the Senate to abide by state law that require the Senate Rules Committee to appoint a subcommittee to examine reimbursements periodically.
state law says that the Senate Rules Committee must have an audits subcommittee "to examine and review, not less than once every two months, legislative expenditures, including all vouchers submitted by members of the Senate, as provided for in this Code section, for which the members have received payment. The subcommittee is authorized to issue reports of its examination and review."
That Atlanta Journal-Constitution report is nearly two years old and it doesn't appear that any progress has been made. This is about more than alleged improprieties by a single member. A continuing failure to act on reviewing per diem and reimbursements is either an organizational dysfunction or part of an internal culture that allowed alleged improprieties to occur without any threat of discovery.
The Senate has an opportunity to ensure that the review process at least begins before the next Session. Appointing a retiring Senator as Rules Chairman with the specific task of beginning to review these expenditures would be a significant step in restoring public trust to the Senate and might remove politics from this important process. A retiring Senator also won't have any pressure to campaign for reelection, but could devote himself to the task. And collect a per diem too.

At 10 AM, Senator Josh McKoon (R-Columbus), who is a member of the Senate Ethics Committee, will hold a press conference in front of the Sloppy Floyd Building across from the Capitol. McKoon will join the Gift Cap Pledge Alliance, which comprises Georgia Tea Party Patriots, Georgia Conservatives in Action, and Common Cause Georgia in a bus tour beginning July 24th.
The tour will begin Tuesday, July 24 with a kick-off in Atlanta and end on Friday, July 27 in Athens. Tour stops will include Gainesville, Blue Ridge, Dalton, Macon, Columbus, Albany, Valdosta, Waycross, Brunswick, Savannah and Augusta.

The Ethics Express bus tour is open to all Georgia citizens and those in joining the tour should contact William Perry at 404-524-4598 or wperry@commoncause.org. Further details will be released at the press conference.
Georgia Politics, Campaigns, and Elections
Governor Nathan Deal announced on Tuesday that Academy Sports + Outdoors will bring 250 new jobs to its existing distribution center in Jeffersonville, Twiggs County.
Imagine my surprise last night to read on the front page of the AJC's website the headline  "Electric rates not falling along with fuel costs." But I thought that Public Service Commissioner Chuck Eaton was touting his vote to lower electric rates just as our air conditioners have switched into 24-7 mode. What's really going on? The AJC ran a goofy headline that would lead you to believe that we'll be paying a higher rate, even though the AP story never mentions Georgia but discusses rates in other state, and though electric rates are going down in Georgia.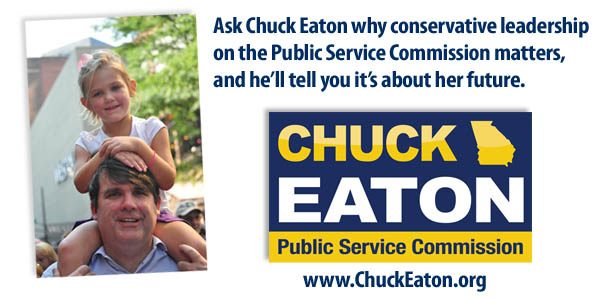 Democratic State Representative Scott Holcomb has $51k cash on hand to defend himself in what is likely the highest-targeted state house race for the Republican Caucus. Republican challenger Dr. Carla Roberts has $27.5k cash on hand, but I suspect a portion of that is spoken for; Roberts hired an attorney to defend against a residency challenge. The filer of that challenge to Roberts's residency, Chris Boedeker, reported $4372 cash-on-hand. The winner of the Boedeker-Roberts Republican Primary will start at a fundraising disadvantage to Holcomb, but will likely receive air support from the GOP House Caucus in the general election.
Angela Spencer of Neighbor Newspapers writes more extensively about North Fulton Tea Party debate between Senate Majority Leader Chip Rogers and challenger Brandon Beach, including their positions on T-SPLOST, charter schools, vouchers, Milton County, and toll roads.
The T-SPLOST campaign is acknowledging for the first time that their pet feeding trough project is on the ropes:
Metro Atlanta Chamber of Commerce President Sam Williams acknowledges he and other supporters face an uphill battle with voters.

"It's going to be a tight election, because I think the economy is such right now that people are very concerned about any kind of financing," Williams said. "They want it proven to them that the traffic relief and the jobs are going to come out of this."
Local lawmakers in Savannah are managing expectations in advance of the looming T-SPLOST defeat:
Some local lawmakers are concerned that these projects could be the last for a while if voters reject a proposed penny sales tax for transportation.

The state has funded the projects to the tune of about a $290 million in recent years.

Savannah State Representative Ron Stephens says, that's led some high-ranking state officials to tell him that Savannah's "had its turn" and not to expect much in road funds in coming years.

"Keep in mind that we've had a lot of coastal leadership for quite some time," Stephens say. "So there has been mention that Savannah has had it's major projects."

He says, the area has lost political influence because of redistricting and the election of North Georgians to top leadership positions.
Todd Long, Deputy GDOT Commissioner, warns that federal road funds may become scarce if Congress learns to live within its means:
"If Congress lives within its means — and you know that most people running for Congress, around here at least, are saying (that) — there's this general attitude that eventually they're going to say, 'Whatever the gas tax brings in is what we're going to spend on transportation,'" he said.

If that happens, in 2015, Georgia "will probably see a 25 to 30 percent decrease" in transportation funding.
In a bright spot for advocates of raising taxes, the Augusta-Richmond County Committee for Good Government endorsed passage of T-SPLOST.
Jim Galloway has an interesting story about State Rep. Charlice Byrd and her Republican Primary opponent Michael Caldwell. It seems that Byrd has changed her vote after casting it 24 times, more than any other legislator.
The effort that Caldwell put into his research — as a salesman for a small safety equipment company, he describes himself as meticulous — went far beyond your normal opposition research. A team of six friends combed through thousands of pages of House journals.

According to their count, about one-third of 180 House members have never changed a vote once it was cast. Most others "dabble in it a little bit, but no more than two or three times on average," Caldwell said.

He recorded every changed vote by every House member over the past six years on a spreadsheet and has begun passing the document around. "I wanted to make clear that I wasn't just going after the one that was politically convenient to me," Caldwell said.

Many of his statistics are stories begging to be told. For instance, in the opening days of 2008, during a furious feud between Gov. Sonny Perdue and the volatile Speaker Glenn Richardson, House members lined up behind their leader and overrode six of the governor's vetoes. But state Rep. Gene Maddox, R-Cairo, sided with the governor. He voted against each override. And then decided he'd picked the wrong side. Maddox changed his vote six times that day, by Caldwell's count.

But Caldwell also found that Byrd, his primary opponent, had come down with voter's remorse 24 times in the past six years, registering more changed votes than any other member of the House. Her closest rival was state Rep. Ralph Long, D-Atlanta, who recorded 13 changed votes.
The effort Caldwell put into the research may tell you more about Caldwell than about Byrd.
Republican candidates for the 12th Congressional District will meet in a forum called "Getting Kids into the Conversation," and sponsored by the Junior League of Augusta on Monday from 6 to 7:30 PM at Augusta-Richmond County Public Library.
The Richmond County Republican Party will co-host a televised debate next Wednesday for 12th District candidates  in the River Room at St. Paul's Church, 605 Reynolds St.; doors open at 6 PM and the public should be seated by 6:30 PM. The debate will be broadcast live on WRDW News 12 from 7 to 8 PM.
Most of the candidates for Cherokee County School Board have filed their disclosures for the period ending June 30th.
Bernice Brooks was disqualified from the election for Carroll County Board of Education.
Brooks, the incumbent who had represented the area for more than a decade, was disqualified Tuesday.

"We will not throw out the ballots because there were several other candidate races and issues on the ballot," said Carroll County Elections Supervisor Becky Deese. "Ms. Brooks does have a recourse she can take, but if the decision remains, votes for her will not be counted."
The Gwinnett Chamber of Commerce has released its survey of candidates for state and county offices.
National Rifle Association Political Victory Fund endorsements are out and you can expect to hear your local candidates touting their ratings.
Georgia Equality has released their endorsements. Interestingly, they make no pick in the State House race between State Rep. Rashad Taylor, who is gay, and State Rep. Pat Gardner, who has long supported gay issues. Also interesting, they have endorsed Ron Paul supporter Robert McClure, who is challenging State Rep. Brooks Coleman in the Republican Primary.
Matt Reeves, immediate Past President of the Gwinnett County Bar Association, endorsed Kathy Schrader for Gwinnett County Superior Court in the July 31st election.
"I am supporting Kathy Schrader because of her stellar reputation and her commitment to the our community.  I understand personally the time and energy it takes to balance family, practice law and hold the office of President of the Gwinnett County Bar Association. Under Kathy's leadership, the GCBA won every possible award from the State Bar, including the President's Award. Her tenure as President laid the groundwork for the strong organization we are today, and I am confident that Kathy will bring that same leadership to the Superior Court. I am pround to endorse my fellow Past President of the Gwinnett County Bar Association and fellow Duluth resident, Kathy Schrader for Gwinnett County Superior Court Judge."
Reeves served as Counsel to Representative Wendell Willard, Chairman of the House Judiciary Committee, during the 2008 Georgia General Assembly. Last week, Schrader was endorsed by Sherriann Hicks, who served as President of the Gwinnett County Bar Association from 2003-2004