Top Stories
1. An important day in Georgia history
2. Poll: Deal leads Carter by 2-1 margin
3. Campaign announcements
4. Two events with Allen West
Announcing GaPunditPro
In the coming days, we'll be releasing GaPunditPro, a tool for professionals and citizen-lobbyists at the Capitol that will include an electronic version of the White Book, as well as constantly updated information from both chambers and headlines from GaPundit.com.
As a preview, here's the new State House of Representatives Committee Assignments and Chairmanships.
History
On January 10, 2011, Nathan Deal was sworn in as Governor of Georgia for his first term. The celebratory inauguration was cancelled because of snow and ice, but Deal took the oath of office before a joint session of the Georgia General Assembly. Deal became the second Republican Governor of Georgia during the modern era, taking over from Gov. Sonny Perdue.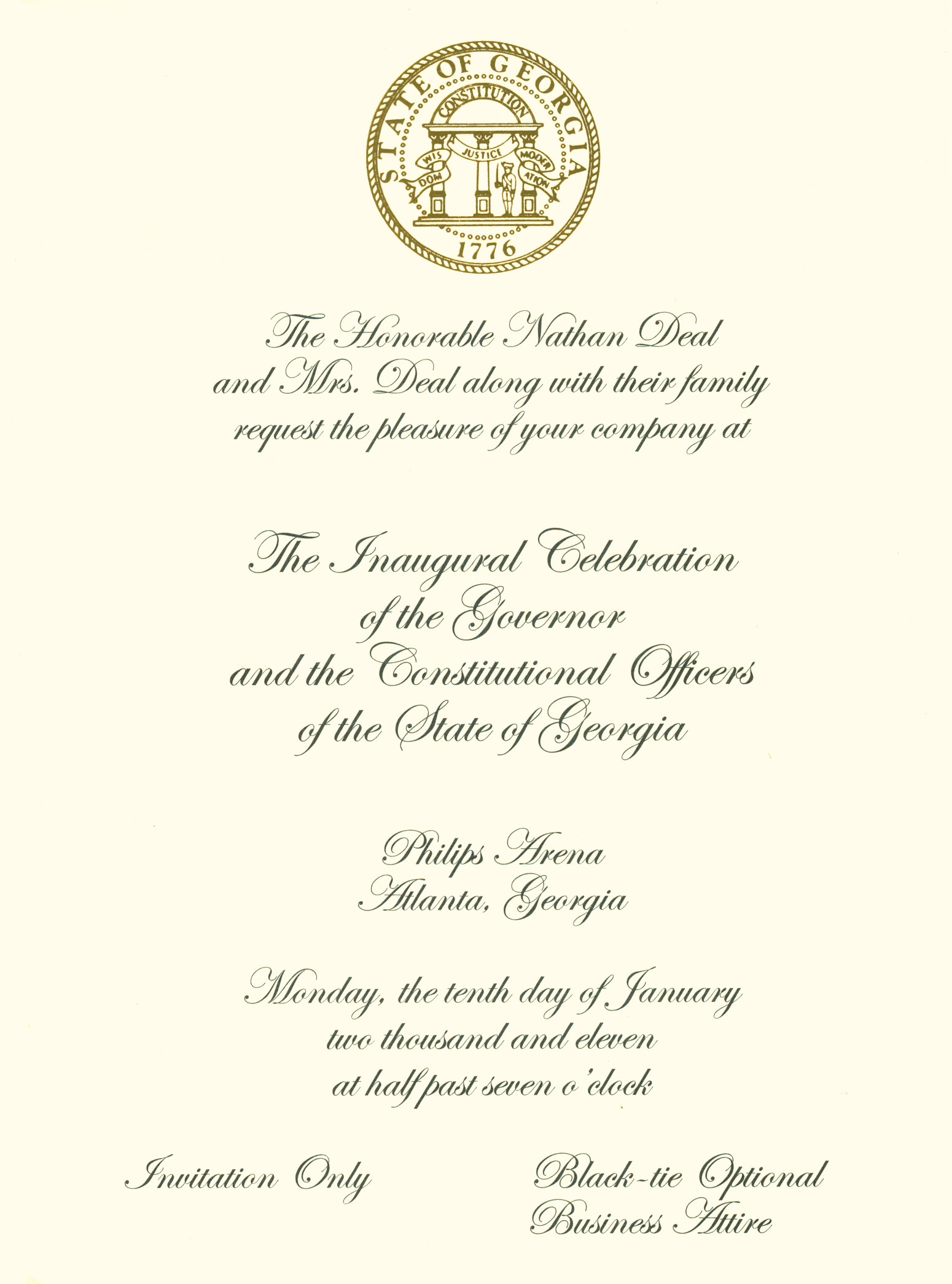 Other Gubernatorial inaugurations
January 10, 1788 John Housetoun
January 10, 1933 Eugene Talmadge
January 11, 1983 Joe Frank Harris
January 12, 1872 James Milton Smith was inaugurated, having served previously as Speaker of the Georgia House. Smith's inauguration is considered to be the end of Reconstruction in Georgia.
When the "Redeemer" legislature was seated in November 1871 in the wake of Governor Bullock's resignation, Smith was elected house speaker. Later that same month the assembly called an immediate special election for governor (over the veto of interim Republican governor Benjamin Conley). On December 6 a party caucus chose Smith to be the Democratic candidate. Republicans called a boycott of the election, and in what was virtually ano-contest election on December 19, Smith was elected governor with a mere 39,000 votes out of the state's more than 200,000 eligible voters.

In the regular quadrennial general election of 1872, Smith overwhelmed Republican Dawson Walker with a landslide victory of more than 60,000 votes. The campaign was characterized less by issues than by political maneuvering, and the election was conveniently rescheduled to avoid the complicating presence of federal marshals. All of this took place amid numerous reports of Democratic electoral manipulation, vote fraud, intimidation, and Ku Klux Klan violence.
On January 10, 1967, Democrat Lester Maddox was elected Governor of Georgia by the Georgia Legislature, as was then the Constitutional method. Maddox had beaten former Governor Ellis Arnall in the Primary but lost the popular vote to Republican Bo Callaway but a write-in candidate prevented Callaway from receiving a majority of the votes and threw the contest into the General Assembly.
On January 12, 1798, the Georgia legislature elected James Jackson as Governor of Georgia. Jackson had served in the first Congress of the United States as well as the state legislature and as a judge. It was Jackson who overturned the Yazoo Land Act.
 Nineteen Sixty-One
On January 10, 1961, Hamilton Holmes and Charlayne Hunter were the first black students to enroll at the University of Georgia, desegregating the state's flagship institution. The next day, they attended their first classes. The evening of January 11, 1961, a racist mob formed after a Georgia-Georgia Tech basketball in Athens, including members of the KKK. University officials temporarily withdrew Holmes and Hunter citing concerns for their safety and the two students were taken back to Atlanta by state troopers. On January 12, 1961, a group of professors at the University called a meeting to protest the suspension of Holmes and Hunter and 340 members of the faculty signed a petition for their reinstatement.
Charlayne Hunter-Gault would later write for the New York Times and work for the MacNeil/Lehrer Report, National Public Radio and CNN. Hamilton Holmes became the first black student at Emory University Medical School, later serving aschief of orthopedics at the Atlanta VA hospital and as medical director of Grady Memorial Hospital, head of orthopedic surgery at Grady, and associate dean at Emory
InsiderAdvantage Poll: 2-1 support for Governor Deal
InsiderAdvantage and Fox 5 Atlanta News released a poll yesterday on the 2014 Gubernatorial race that shows Governor Nathan Deal with a 2:1 advantage over presumed Democratic nominee state Senator Jason Carter. From InsiderAdvantage:
An InsiderAdvantage/ FOX 5 News survey of 529 registered voters in Georgia conducted the evening of January 6 (registered voters, weighted for all demographics and political affiliation, margin of error plusor minus 4.6%), indicates that incumbent Nathan Deal leads his likely Democratic opponent, Sen. Jason Carter by a huge margin. But the internals in the poll suggest that the race could likely tighten considerably by next November.

Results: Deal: 44%
Carter: 22%
Undecided: 34%

Analysis from InsiderAdvantage CEO/Fox5 Political Analyst Matt Towery: "Deal has a considerable lead as one would expect. Polls showing this race close at this point would be more wishful thinking than reality. In all of my years polling for news affiliates, I have never seen a race this far out without a healthy 30% or so who state they are undecided. That is the case in this race as well.

Carter has yet to put an ad on television, thus having little statewide name identification. Deal is actively on TV and holds the incumbent's advantage. That said there are reasons, based on the poll, to believe this race could tighten considerably. They include:

As is almost always the case, about 25% of African-Americans polled say they will vote for the Republican. In my experience this number almost always shifts to the Democrat.
 Independent voters are far less likely to support Deal at this time, with nearly half undecided.
As expected female voters support Deal at about 10 points under the level of support by men. Deal and the entire GOP will have to seriously address the female vote in Georgia as we have indicated from prior polls
The fact that in some five polls conducted by IA and in numerous others by broadcast/print media pollsters, Deal has yet to crack 45% among voters.

The good news for Deal is that Carter is nowhere near the level published by Democrat-affiliated pollsters late last year.
As a disclaimer, I edit the InsiderAdvantage.com website, but I had no involvement in this poll, and frankly heard about it when it was posted on the website.
We have a new website over at IA, and while most of the content is normally behind a paywall, we will be making it free for a brief introductory period. Subscriptions include a morning email and full access to the site and first looks at publicly-released polling and run $17.50 per month or $200 per year.
Capitol Power Players
Unsurprisingly, Governor Deal leads the list of Gold Dome power players as compiled by the AJC. One notable omission absence from the list for House members is State Rep. Matt Ramsey, elected during 2013 as Republican Majority Whip.
Collin Martin announces for Mayor of Columbus
Colin Martin announced yesterday that he is running for Mayor of Columbus against liberal incumbent Teresa Tomlinson. WRBL has video of Colin discussing his announcement. More interesting perhaps is the who's who of attendees at his announcement. From the Columbus Ledger-Enquirer:
Former Columbus Chamber of Commerce vice president Colin Martin officially launched his candidacy for mayor to the theme of, "Hold on. Help is on the way" with seven elected city officials attending.

Among the 50 or so people attending Martin's campaign kickoff at the City Services Center were Columbus Councilors Glenn Davis, Bruce Huff and Gary Allen, Sheriff John Darr, Marshal Greg Countryman, Municipal Court Clerk Vivian Creighton Bishop and Tax Commissioner Lula Huff.

Martin repeated his "Help is on the way" mantra specifically to city employees, law enforcement, south Columbus residents, crime victims, taxpayers and local elected officials.

"As public safety director, the mayor should listen to the fears of the citizens and work to relieve those fears," Martin said. "I will honor Mayor Jim Wetherington's promise to appropriate 70 percent of the 2009 Local Option Sales Tax to fund public safety."

Asked after the speech if they were endorsing Martin's candidacy, Councilors Allen and Huff would only say that their presence there "speaks for itself."

Countryman said he is supporting Martin because his "vision for public safety lines up with mine."

Creighton Bishop said she will hear what all the candidates have to say before making up her mind on whom to support.
It's worth noting that Vivian Creighton Bishop is the wife of Democratic Congressman Sanford Bishop.
If you're on Facebook, I hope you'll take a minute to "Like" Colin's campaign page and follow their progress toward the May 20th election. For my friends who are current members or alumni of Coverdell Leadership Institute or Republican Leadership for Georgia, note that Colin is a graduate as well.
Mark Pettitt for Hall County School Board
Our friend, Mark Pettitt, a long-time Republican activist, has announced his campaign for Hall County School Board, challenging Post 2 member Brian Sloan. You can learn more about his campaign at his website and find Mark's campaign on Facebook. From his campaign announcement:
"After learning more about the dire financial situation the Hall County School System is in, I could no longer sit on the bench as our property taxes skyrocket year after year within a point of the state constitutional limit," said Mark Pettitt. "Through much prayer and thoughtful discussion with family members and campaign supporters I have decided to offer all of my talents and resources to the children of Hall County so that they may receive an even better education than my generation was fortunate enough to receive."

Pettitt plans to focus on restoring trust and accountability between the community and Central Office by promoting transparency in the SPLOST and general operating budgets. His experience serving on the Georgia Republican Party Executive and State Committees and the Hall County Library Board of Trustees has prepared him to be a conservative watchdog for the taxpayers of Hall County.
 Two events with Allen West
We mentioned the other day that the Lee County Republican Party is holding a Lincoln Day Dinner on February 27, 2014, with proceeds benefiting the Bridging the Gap Foundation. The featured speaker will be LTC Allen West, who served in Congress from Florida.
Bridging The Gap of Georgia is a 501(c)(3) non-profit charitable organization created to assist veterans with their transition home.  Many of the veterans we serve suffer from Post-Traumatic Stress Disorder (PTSD), Traumatic Brain Injury (TBI), Combat Stress and are homeless. We utilize a mentorship program to enable veterans to function as productive members of our society by addressing their housing, job placement, and health needs.

For the 1st Annual Lincoln Day Dinner, our featured speaker is LTC. Allen West who will share with the audience his extensive knowledge and experience, as well as provide insight on the support systems needed to enhance services to veterans. Attendees will get valuable information about Bridging The Gap of Georgia and initiatives that can address the needs and issues of veterans in their local community.

Please find detailed information about the event below.

1st Annual Lincoln Day Dinner
February 27, 2014  Time to be announced
Featured Speaker: LTC. Allen West
The Bindery at Oakland Library & Event Center
445 Oakland Parkway, West
Leesburg, GA 31763
$50.00 per person (includes dinner)
Proceeds to benefit Bridging The Gap of Georgia
Sponsored by the Lee County Republican Party

LTC. Allen West is a Georgia native, former member of the U.S. House of Representatives, Fox News contributor and served in both Operation Desert Storm and Operation Desert Shield.  His book, "Guardian of the Republic" is due to be released in April 2014.  Throughout his years leading troops, raising a loving family, serving as Congressman in Florida's 22nd district, and emerging as one of the most authentic voices in conservative politics, LTC. West has never compromised the core values on which he was raised: family, faith, tradition, service, honor, fiscal responsibility, courage, and freedom.
We had an opportunity to speak with West at the Georgia Republican Convention this year and he has a interesting prescription for effective outreach to black voters.
We have been told that the Muscogee County Republican Party will host an event with Colonel West on February 28th, the next evening, in Columbus. We'll follow up with more information as it becomes available, but consider this your "Save the Date" announcement.
On Monday, January 13th, Nancy Jester, Republican for State School Superintendent will speak to the Walton County Republican Party, along with Attorney General Sam Olens and Tenth Congressional District Candidate Mike Collins.
Bro ranks Senate Candidates
Greg Williams, host of GregsListLive on American Webradio, has his newest rankings of the Senate candidates.
We will provide the proverbial "Educated Guess"…or, "Enlightened Prediction" as we grassroot melo-dramatists prefer..
So, without further adieu, we present our Week Two rankings of 2014:

1. Florida State Seminoles–A perfect 14-0 season is pretty darn impressive even if built upon a weak ACC schedule. Big wins against Miami and Clemson during the regular season plus a thrilling comeback against Auburn gives Florida State the #1 BCS Ranking this week. Ok, on to the Senate rankings

1. Jack Kingston–Kingston has moved on from his verbal fumble regarding childhood cafeteria sweeping aka Work Ethic in public schools though he did tweet and post a picture of him vacuuming his newly opened Senate Campaign office in Gwinnett County. We get it Jack, you're a fan of work ethic. There was a big crowd of supporters at the opening event, no verbal gaffes and no reason to knock Kingston out of the number one spot this week. Kingston is the Senior member of Congress out of the three announced House of Representative candidates and has significant support from Coastal and Southern Georgia. Appearances on Bill Maher's show and other national networks has enhanced his name ID in Metro Atlanta and he leads the pack in fundraising. All eyes will be on the next round of fundraising reports, due out anytime now.

2. Karen Handel–Handel spoke to a big crowd at the Gwinnett County GOP Breakfast on Saturday and opened up some new campaign themes. She also held a mini-press conference as she starred in several of her opponents "Tracking" videos. If her opponents are tracking her with such zeal, its a sure sign of her competitiveness. With her grassroots apparatus from previous state wide races intact, Handel is a formidable competitor in the Senate race. On a purely subjective basis, Handel has the luxury of combining passionate and articulate volunteers that show up en masse for every state-wide grassroot event (they were there on Saturday).

3. David Perdue–Money, money, money. And lack of a voting record. I heard some folks at Kingston's grand opening dismiss Perdue because he hasn't been as active on the campaign trail. This dismissal is a mistake as everyone's vote only counts once, regardless of how many GOP events you attend and Perdue is certain to appeal to the passive Republican crowd that that can be swayed by catchy advertising and effective TV spots. Perdue will have the money for both avenues. His outsider persona and business background will likely appeal to the moderate/fiscal side of the base and could win over whatever remains of Conservative Democrats in GA.
Head on over to Greg'sList for the rest of the rankings.