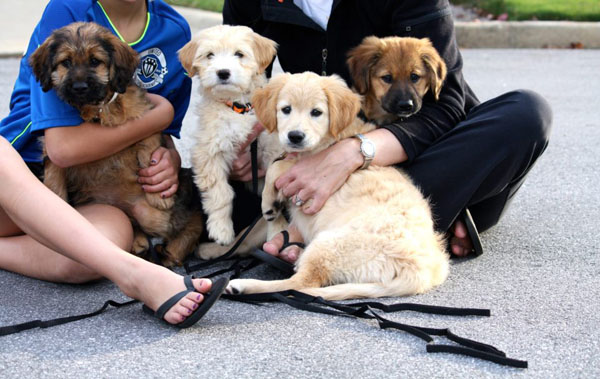 Y'all helped save these four puppies this week, with more than $400 in contributions to Angels Among Us Rescue earmarked for them.
Braelynn, Bria, Brisa and Briley are Golden Doodle/Shepherd mix puppies who are now safe out of the shelter, but seeking foster and permanent homes through Angels Among Us. Foster applications and adoption applications are available on Angels' website.
Duff is a tan-and-white mix of hound dog and whippet, who is about 6 months old, quick to learn, loves to please his humans and gets along with other dogs. He is listed as "URGENT" at Chatham County Animal Shelter.

Nyko is also listed as "URGENT" at Chatham County and is a lab mix less than a year old, who is very friendly, smart, and eager to please his humans. He loves to play and is a fast learner.
Georgia Politics, Campaigns & Elections
Advance voting is still open the rest of this week for next week's General Election.
Patch.com brings us some stats on Early and Advance voting in Gwinnett County.
995,493 – Number of early votes cast in Georgia as of Saturday.
40,558 – Number of votes cast in Gwinnett County as of Saturday.
22,400 –Total votes cast at the Gwinnett County Elections Office in Lawrenceville in the first week of early voting according to Gwinnett County Communications Director Joe Sorenson.
7,600 – Total number of voters who went through the satellite voting locations throughout Gwinnett County.
4 – The number of satellite locations across Gwinnett County. They are Centerville Community Church in Snellville,  Dacula Activity Building in Dacula, George Pierce Community Center in Suwanee and Lucky Shoals Community Center in Norcross.
45 minutes – Average wait time for voters standing in line outside the Elections Office Monday.
1 hour 30 minutes – The longest wait time of the day early Monday morning. Sorenson says he expects the wait times to grow as the week goes on.
This weekend, we will be "falling back" and resetting our clocks for the end of Daylight Saving Time, and Georgia Insurance and Fire Safety Commissioner Ralph Hudgens reminds you to change the batteries in your home and office smoke and carbon dioxide detectors.
"Last year in Georgia there were 72 fatal house fires and 67 of them didn't have a working smoke alarms," Hudgens said.  "If you have a smoke alarm, make sure it's in working order.  Changing the battery at least once every year and cleaning dust from the device are easy ways to ensure continued protection of your family and your property.  Having a working smoke alarm doubles the chances you will survive a fire in your home."
Daylight saving time ends Sunday, November 4th at 2:00 a.m., when clocks are set back one hour.
We were about to change all the batteries in our smoke and CO2 detectors because somewhere in the house, one of the blamed things is chirping just often enough to drive me insane while I work from home, but not often enough to figure out which one it is.
Commissioner Hudgens is a great public servant for Georgia and we don't get to say that often enough here because he seems to keep a pretty low profile in the media.  Not what we've come to expect from that office.
Twenty members of the Georgia National Guard were sent with their CH-47F Chinook helicopters to assist in storm relief.
The two helicopters are to be used primarily to move groups of people in and out of areas. They each can carry at least 33 seated passengers, as well as heavy equipment such as bulldozers. Additionally, they each left Savannah with a 2,500-gallon water bucket for firefighting and a vehicle.

Leading the two crews are Chief Warrant Officers Timothy Ladson, 47, and Lance Brennan, 38, full-time pilots who said they are well-trained and prepared for whatever they may encounter. The unit served twice in Afghanistan and fought fires in the Okefenokee Swamp.

"Everybody is excited; everybody wants to go and help out," said Ladson, a Groves High School and Savannah State University graduate, before deploying.

"Sometimes people hesitate a little bit to go to Afghanistan. But on a mission like this, when you're going to help people on our home soil, there's no hesitation whatsoever."

Like many of the crew members, Brennan, a Liberty County native, has seen the around-the-clock news coverage of communities devastated by the large storm that made landfall in the northeast on Monday, leaving flooding, power failures and death in its wake.

"I'm expecting to see a lot of debris and a lot of water," Brennan said.

"I expect the worst but hope for the best. If they send us on up, I hope to see a lot of people already coming back in and taking it upon themselves to not wait for us, but to start the clean-up process and then when we get there, to further assist them in the clean-up and rebuilding."

By Monday night, U.S. Coast Guard aircrews and helicopters from Savannah and Jacksonville, Fla., had already arrived in Elizabeth City, N.C., to allow for faster response times following the storm's landfall, the U.S. Coast Guard announced Tuesday.

The Coast Guard Helicopter Interdiction Tactical Squadron, based at Cecil Field in Jacksonville, sent two MH-65 Dolphin helicopters and two pilots. Air Station Savannah deployed a third Dolphin helicopter, four pilots and six crew members.

Air Station Savannah executive officer, Cmdr. David Cooper, headed north as well to coordinate the Coast Guard's aviation response for the storm.
South Carolina Congressman Joe Wilson joined Republican Lee Anderson in Georgia's Twelfth District.
Speaking at a press conference at his campaign headquarters following a visit to the Columbia County American Legion, Anderson said that any cuts he approved in Congress would not include the defense budget.

"The main thing we can do is get Mitt Romney in the White House," Anderson said. "Then, with Joe Wilson's leadership, we can make sure that our defence is the strongest Defense Department ever. We are totally opposite to what Obama and John Barrow want to do. We want to make the Defense Department stronger."

When pressed on his opponent Congressman John Barrow's stand against the looming economic sequestration and the effect it would have on defense spending, Anderson responded that to support the President was, in fact, supporting sequestration.

"He's right," Wilson said, "He (Barrow) supports Obama, the leader in the White House, the man who wants to cut our defense department. That's the difference right there."
Joe Wilson must be an honorable man, as he is a graduate of Washington & Lee University, one of the finest institutions of higher learning in our nation.
I received word that a bus of volunteers will head to Virginia this weekend to campaign for Mitt Romney and Paul Ryan in that swing state Commonwealth. Maybe they'll stop briefly in Lexington.
Another FREE trip to a swing state-VIRGINIA.  Jack Smith "the Lion of N. GA" I call him,  is heading up a bus to Virginia to walk neighborhoods for freedom.   I told Jack, a herd of wild horses could not keep me from going on this trip.  Like Mary, Jack has fun trips.

For this side of Atlanta our bus will leave from the Home Depot on Hwy 92, 200 feet off exit 7 off 575.  Park on the far side of the parking lot were the plants are.   (Home Depot is 200 West of exit 7)

Briefly,  it will be  four days, Thursday November 1 to Sunday, November 4. ALL-expenses paid, (transportation, lodging for 3 nights, and ALL meals)

Would you like to go? Would you like to make a difference? Contact Jack Smith,jackjoy1151@gmail.com or 706-635-3831
Jim Galloway brings us the news that white voters now constitute less than 60% of all registered voters in Georgia for the first time.
White voter registration, which stood at 63 percent in 2008, has dropped to 59 percent of the 5.3 million signed up to cast ballots in this year's presidential contest. African-American registration stands at 30 percent, just as it did in 2008.

The difference comes from the growing pool of voters who decline to identify themselves by race, or describe themselves as something other than white, black, Asian-Pacific, Hispanic-Latino, or Native American. That group grew from 3.6 percent in 2008 to 8 percent today.

The decline of the white vote in Georgia has been slow but steady. In January 2001, whites made up 72 percent of registered voters; in January 2007, they were 67 percent. Blacks in 2001 made up 26 percent of the electorate, and 27 percent in 2007.
Statistics and political geeks are encouraged to check out the rest of the article, where Jim trots out some additional statistics that will be part of the forces driving Georgia politics in the coming years.
Also yesterday, Galloway noted that Erick Erickson has endorsed the reelection of Democratic State Representative Scott Holcomb (81) on the basis of severe bad judgment by Republican Chris Boedeker.
As the weekend began, Holcomb received this Tweeted endorsement from Erick Erickson of Redstate.com:

"I'm proud to support Democrat Scott Holcomb for re-election in the Georgia State House. Better an honest Democrat than a lying fool."
Noting the statement by Boedeker's Republican Primary opponent Carla Roberts, which we published yesterday, Galloway followed up with Roberts on whether that constituted an endorsement of Holcomb. Dr. Roberts replied, "I am not endorsing Rep Scott Holcomb. It would be hard for me to vote for Mr. Boedeker to represent my district and my state. I may have to leave that ballot choice blank on Nov 6, 2012."
Pro-tip for politics: if the Marietta Daily Journal calls your candidate, you tempt the wrath of Dick Yarbrough if you don't take the call. Just ask Doug Stoner.
My colleagues Joe Kirby and Bill Kinney reported in Tuesday's Around Town that current State Sen. Doug Stoner (D-Smyrna) will not return calls from the media.

Let's let that one soak in a moment. Stoner is fighting for his political life, having been redistricted into a new Sixth District that is heavily Republican and against a formidable opponent, Hunter Hill, of Vinings, who has all the right credentials: Graduate of the U.S. Military Academy, three tours of duty in Afghanistan, two Bronze Stars, bright, articulate and a family man. In my opinion, Stoner would have a tough time with Hill even without all the gerrymandering.

When AT asked why Stoner won't return calls to the media, Melissa Pike, chair of the Cobb Democratic Party, informed them that the Senate Democratic Caucus is "very, very, very firm that they are going to be united, they're going to give a consistent response and that consistent response is going to come through Liz Flowers." Flowers is with the caucus and will return media calls to Stoner by asking what questions will be asked him.

Pike says she wishes the House would do the same thing so "we wouldn't have 800 answers to the same question, which makes it so easy to pick off our legislators."

Having been around politics before Pike and Flowers were potty-trained, I will say that is about as dumb a thing as I have ever seen or heard.

If Democrats are so simple-minded they can't be trusted to answer a question properly from the media — which, by the way, is a pass-through to voters and constituents — then they are not qualified to hold public office.

Assuming Hunter Hill is going to roll Stoner like a cheap cigarette on Nov. 6, Republicans will have a super majority and Democrats will become even more irrelevant. Liz Flowers won't need to worry about screening calls. Georgia Democrats will be full of sound and fury, signify nothing.

Power can do strange things to good people.

If someone from the Republican Caucus suggests screening your calls and blocking the media from talking to you, tell them to go microchip their body parts. You work for the constituents. Stay in touch with them.
In defense of screening calls for candidates, I note that it's not unheard of for reporters to call just hours before deadline on a story that nowhere includes the words "breaking news" and a candidate who is, say, preparing for a televised debate, may not feel the same sense of urgency the writer wishes to impart.  It also allows staff to ensure that the candidates has any facts, legislation, etc. available if he or she is going to be asked about it, rather than have to call back after shuffling papers or reviewing the subject of the story. Finally, in down-ballot races, ninety percent of the questions asked by reporters will be the same as have been asked and answered a dozen times. Allow us to send you written answers to these, and the candidate will have more time to answer fully and thoughtfully the specific and unique questions that may be specific to your media outlet.
The Cherokee Board of Elections will address today a complaint that presumptive District Three Commissioner-elect Brian Poole is not qualified to hold the seat.
After meeting in a called, closed-door session for two hours Oct. 24, the Cherokee County Board of Elections emerged to vote to authorize a motion for county Superintendent of Elections Janet Munda to challenge Poole's qualifications and eligibility to seek and hold office and set a hearing on the matter. The controversy centers around whether Poole can legally hold office under the Georgia Constitution while owing unpaid taxes.
Another complaint issues out of Cherokee County, this one under the Open Meetings Act, alleging that Georgia Charter Educational Foundation, which runs Cherokee Charter Academy, failed to abide by notice requirements for two meetings and entered executive session improperly.
The AJC notes that enforcement of the state's law against texting while driving appears to be low.
In the two years after a ban on texting while driving in Georgia took effect on July 1, 2010, state records reveal that fewer than 50 people a month have been convicted of the offense, for a total of 1,281 convictions as of Sept. 17. That's a small fraction of the 22,500 people convicted of driving under the influence of alcohol or drugs during the same time frame. The Department of Driver Services (DDS) only tracks convictions, not the number of citations issued, DDS spokeswoman Susan Sports said.

Many law enforcement officers say the law is difficult to enforce. State troopers have only issued an average of 11 citations a month since the law took effect.

Lt. Les Wilburn, assistant troop commander for the Georgia State Patrol, said troopers have to prove beyond a reasonable doubt that someone was texting at the wheel, and not merely dialing a number or talking. Most drivers simply stash their phone when a cop is in sight, he said.
To effectively prevent texting while driving, I recommend installation of something called a "spouse" in the passenger seat of your car. An alternative to that device is a "parent" or "tattletale sibling who receive money for reporting older brother/sister."
Governor Nathan Deal will recommend that the state pony up another $40-50 million dollars toward the Savannah Harbor Expansion Project in next year's budget.
Last week the federal government gave final regulatory approval to deepen the river to 47 feet, from its current 42 feet, at a cost of $652 million.

Georgia has already put up $181 million for its cost-share portion of the deepening tab, including $47 million last year. Deal, during a brief interview following the annual State of the Ports luncheon at the Marriott Marquis in downtown Atlanta, said he'll probably request a similar amount from the General Assembly come January.

"We haven't finalized our figure yet," the governor said, "but it's safe to say we'll be in keeping with what we've given in years past."

Savannah is the nation's fourth busiest container port and moved a record 3 million containers the last fiscal year. Nearly 100,000 jobs in metro Atlanta alone are directly tied to the distribution of goods that come through Savannah and the port at Brunswick.

The U.S. Army Corps of Engineers issued a final "record of decision" last Friday allowing 32 miles of Savannah river and harbor to be deepened so ever-larger container ships can ply the waterway. Foltz called the decision "really great news for Georgia and anyone in the Southeast who uses our port for commerce."
Storm-related port closures on the East Coast are affecting the Port of Savannah.
With Hurricane Sandy closing major deepwater ports from Virginia to New York, a domino effect has delays stretching up and down the coast and into the nation's heartland.

"This storm has definitely disrupted shipping along the Eastern Seaboard," said Curtis Foltz, executive director of the Georgia Ports Authority.

"Already, we've had a number of vessels that were scheduled to be in port by today either delayed or rerouted," he said. "Ultimately, this is going to affect trade — unfortunately in the middle of peak retail season."

The northeastern U.S. ports supply 170 million U.S. and Canadian customers with cargo goods. Disruption to these ports is also expected to have a significant impact on supplies like food and oil to the region.

CSX Corp. and Norfolk Southern Corp., the two main Eastern railroads, are telling customers to expect at least three days of traffic delays in the affected areas. For truckers, travel in the region will remain difficult, though some road restrictions are being eased as the storm passes through.
I'll be in Savannah in December and would like to hear any recommendations for good bird-watching or train-watching in the area. Also, nominations for best seafood will be accepted, and a couple places may be reviewed.
Speaking of birds, Alfred Hitchcock's The Birds plays at the Strand Theater on the Marietta Square on Friday night, November 2d at 8 PM. Vertigo plays tonight at 9 PM and I may sneak out for the showing. Psycho and North by Northwest play next month. November is also Hitchcock month at the Plaza Theater in midtown Atlanta, with showings of Rope, Strangers on a Train, Vertigo and The Birds. I'm going to try to see as many as I can.