Pen 107 at the Gwinnett County Animal Shelter houses this young, male Shepherd mix. Shepherd mix is what the shelter calls him, I'd say he looks like the other parent was a Golden Retriever. He'll be available for adoption beginning Sunday.
On Saturday, a fundraiser will be held for the Society of Humane Friends, who run the spay/neuter clinic at the Gwinnett Animal Shelter and support the Gwinnett County Sheriff's Operation Second Chance Jail Dogs Program. The event is Saturday, July 28th from 10 AM to 3 PM at Gwinnett County Animal Control, located at 884 Winder Highway in Lawrenceville, and will feature a raffle, bouncy house for kids, hot dogs, hamburgers, and soft drinks. Saturday is also the last day for discounted adoptions at the Gwinnett Shelter.
Georgia Politics, Campaigns, and Elections
Today, we start with congratulations to Gwinnett County Superior Court Judge Billy Ray and Atlanta lawyer Lisa Branch, who have been named to the Georgia Court of Appeals by Governor Nathan Deal.
Judge Ray will join the Court on July 30th and Branch on September 1st. Judge Ray previously served as a Republican member of the State Senate and was the founder and presiding judge of the Gwinnett County Drug Treatment Court.
Speaking of Gwinnett County Superior Court, two of the candidates out there have gotten involved in a knife fight involving mail, robocalls, and allegations of ongoing corruption.
Harsh to be sure, but the assertions of fact appear to be true. Then there's the robocall, which states:
"This is an important alert for Gwinnett voters."

"Superior Court Judge candidate Tracey Mason Blasi was appointed to be a zoning judge by Shirley Lasseter, who has pled guilty to bribery charges."

"Today it was announced that Lasseter's sentencing for bribery has been delayed to allow the investigation to continue into corrupt public officials."

"It would be irresponsible to elect a candidate such as Tracey Mason Blasi to a judgeship in Gwinnett, especially considering the connection to corrupt public officials"

"We don't know where this investigation will go, and we don't need to risk letting Miss Mason Blasi be elected as a judge."
Please remember to vote No to Gwinnett corruption and vote No to Tracey Mason Blasi on July 31st."
That call may just violate Canon 7 of the Code of Judicial Conduct promulgated by the Judicial Qualifications Commission if it was paid for by a candidate for Superior Court. I'd give 50/50 odds that a complaint is filed.
Canon 7(c) states that candidates for judicial office
"shall not use or participate in the publication of a false statement of fact concerning themselves or their candidacies, or concerning any opposing candidate of candidacy, with knowledge of the statement's falsity or with reckless disregard for the statement's truth or falsity."
Tracey Mason Blasi fired back with her own Robocall, using the voice of Gerald Davidson,
"Chris McClurg chose to mail false statements about one of the most reputable attorneys in this county, Tracey Mason Blasi."

"Mr. McClurg knows his comments are untrue and misleading but sent them anyway."
Here's where it gets interesting: I think that robocall by Gerald Davidson might also violate Canon 7 if it was done by the Blasi campaign, unless she can point to a statement of fact on Chris McClurg's mailer that is untrue. Odds on a JQC complaint being filed concerning this call are also 50/50.
Blasi also sent out an email blast in which she writes:
Some of my opponents have stooped to unfounded personal attacks on me but they cannot attack my proven record of service in Gwinnett County.
Seriously, Tracey, you shouldn't be slinging mud at all of your opponents, when you know (a) that Chris McClurg or his candidates did the mail and robocall; (b) that one of those other candidates will be the next Superior Court Judge in Gwinnett County; and (c) that Governor Deal will soon be appointing another Superior Court Judge in Gwinnett and the Judicial Nominating Commission is unlikely to look kindly upon this.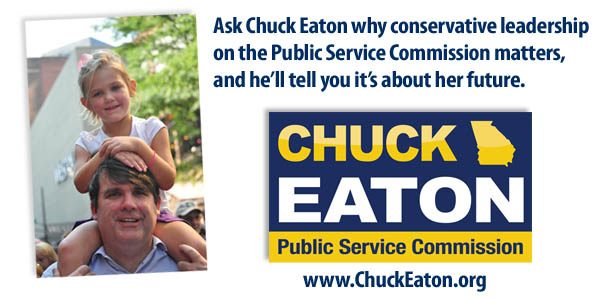 DeKalb County Commissioner Stan Watson has apologized for an alcohol-and-grief induced tirade at the Tanqueray Lounge.
"I was a little despondent and upset over my wallet," Watson said in a phone interview with the AJC. "I have apologized to the constituents and I will apologize to the officer."

Watson admitted he was in no shape to drive.

"I had a moment where I was trying to console myself and I had a few drinks. I at least had enough sense not to drive myself home," he said. "Hopefully voters will forgive me that."

Before leaving the club, the incident report states, Watson engaged in a profanity-laced tirade directed at two women he believed had pilfered his wallet, which contained $200. He acknowledged he did not witness them steal it.

"I'm going to act a [expletive deleted] fool in the morning," said Watson, as quoted in the report. "One of those two [expletive deleted] stole my wallet."

Parker wrote that he encouraged Watson to "behave like a public official," but the commissioner continued to direct slurs toward the two women.

One of them, Sheneeka Latessa Bradsher, of Hampton, Va., was briefly arrested for disorderly conduct after ignoring Parker's warnings to calm down, according to the report.

But the officer chose to give her a warning because, "I did not feel I would be justified in arresting Ms. Bradsher for disorderly conduct and not arrest Mr. Watson."
In Forsyth County, a supporter of Sheriff Ted Paxton is being investigated for a roadside beautification program sign-stealing spree.
Channel 2 News reports that one of Forsyth County Sheriff Ted Paxton's campaign workers is being investigated for stealing more than 30 campaign signs belonging to Paxton's opponents.

Authorities said they responded to a domestic dispute at Joni Owens' home and saw a stack of signs outside her garage. Paxton's campaign manager said Owens has since been fired from the campaign.
This is the same person who had earlier been accused of stealing signs for Senator Jack Murphy's opponent. Senator Murphy emailed me to say he had no idea about the sign-stealing and I believe him. The fact that the person accused of sign-stealing was found with the signs of ten different candidates looks more like a crazy person and less like a campaign tactic.
Some of the specific allegations in the ethics Campaign Finance Commission complaint against Senator Chip Rogers include:
that Rogers "masterminded a scheme to violate the Georgia Government Transparency and Campaign Finance Act by causing the transfer of $140,000 from the Georgia Republican Senatorial Trust to a political action committee (PAC) he caused to be created." Manuel claims those funds were then used "primarily for his own benefit in the form of in-kind contributions to his campaign."

[Complainant Colleen] Manuel also alleges that Rogers violated an additional campaign finance rule by soliciting a vendor, "instructing that vendor to mail on behalf of candidates including himself, suggested specific messaging and then funded this vendor's operation." She said the value of the mailing is alleged to exceed $2,500, violating the Section 21-5-41 of the state Campaign Finance Act, which limits maximum allowable contributions. "The Rogers PAC filed disclosures showing that $72,552 was spent to benefit Rogers," she said, referring to the Georgia Republican Senate Caucus Promotion (GRSCP) PAC.

Manuel said in the complaint that Rogers hired Michael Luethy, who registered the GRSCP PAC (an independent committee) on May 18. The Senate Caucus trust then transferred a total of $140,000 to the GRSCP, she said.

Manuel said the GRSCP PAC then paid for at least six mailings expressly advocating the re-election of Rogers.

Rogers' only response was to say the complaint was not newsworthy.

"Surely a last-minute bogus ethics complaint from a member of my opponent's campaign is not worthy of news coverage," he said.
Senator Cecil Staton has also drawn a complaint.
The complaint has been filed by State Senate candidate Dr. Spencer Price.

Price says the senator got an illegal campaign donation in the form of mailed campaign material. Price reported the alleged violation to Georgia Government Transparency and Campaign Finance Commission.

The complaint says that Staton received a contribution from the a group allegedly funded by the Georgia Republican Senatorial Trust, which wasn't reported on his campaign disclosure. Staton says his campaign wasn't responsible for the mailings, it was not from the trust, and that he properly reported campaign contributions.

"The Supreme Court ruled a long time ago that third party organizations can spend what they want to that's their first amendment right, the only problem would be if there had been any cooperation between our campaign and that organization and their has been none, absolutely none," says Staton.

Staton called the complaint frivolous, and a distraction from the real issues surrounding the senate race. The senator maintains there's no merit to Price's allegations.

Obama for America must not like gay people or they wouldn't have spent $62 at an Atlanta Chick-fil-A, right?
Jane Morrison is running for Fulton County State Court, hoping to become one of the first openly-lesbian judges in Georgia.
Morrison has her own civil practice where she works full-time, but she is also a part-time solicitor for the cities of Sandy Springs and Johns Creek. She's also served as a judge on a part time basis for Atlanta Municipal Court as well as a part-time Fulton Magistrate judge.

Morrison said she also has experience with criminal defense when early in her career she represented defendants in Atlanta Traffic Court.

"What I bring is a broad base of experience," said Morrison, who is endorsed by Georgia Equality and the Atlanta Stonewall Democrats.
Wait, I guess she actually is an openly-lesbian judge already.
Michael Caldwell drew 45% of the vote against State Rep. Charlice Byrd in 2010 and is back for a second bite at the apple. The winner of the Republican primary faces Lillian Burnaman, the only Democrat running against an incumbent in Cherokee County.
Secretary of State Brian Kemp ruled that Ronald Mabra is a resident of House District 63 and can stay on the ballot, rejecting the findings of an Administrative Law Judge that Mabra was not a resident and therefore not qualified to run for State House.
Ends & Pieces
Willie Nelson will headline a concert at the Southeastern Railway Museum in Duluth on October 20th, 2012 as part of the Railroad Revival Tour.
Performers will arrive in a vintage train for the Oct. 20 concert at the museum located at 3595 Buford Hwy. About 8,000 to 10,000 fans are expected to attend the Saturday concert.

"The Railroad Revival Tour is a concert tour which seeks to focus attention on the importance of railroads to our nation's past, present and future by holding concerts at railroad-affiliated locations and touring by train rather than by the more familiar bus," acording to Jeffrey Hildebrand, marketing manager for the museum. "The Southeastern Railway Museum is pleased to have been selected as the kickoff location for the 2012 concert series."

Concert attendees will be able to tour the museum and see the special train assembled for the tour, Hildebrand said. "The museum will gain considerable publicity, and we hope to be able to turn many of the music fans into repeat visitors to the museum," he said.

The Duluth City Council in a called meeting Monday (July 23) approved a special-use permit request by David Conway representing the Dripping Springs, TX-based tour to allow loudspeakers to operate within 1,000 feet of residential areas near the railroad museum from 2 to 11 p.m. for the one-day concert.
There is no way I'm missing this show. Hope to see you there. Early bird discount $55 tickets go on sale at 11 today.
Canon has announced a great new camera called the EOS M, which takes the innards of an 18 Megapixel DSLR and puts them in what is essentially a point-and-shoot body with interchangeable lenses.

The EOS M is expected to be available in October and will sell for $800 in a kit that includes a 22mm f2 lens. It will also mount existing Canon EOS lenses with an available adapter. When yours arrives, let me know, because I'd like to see and play with one of these.