27637 is one of the black or majority-black dogs and cats who are available for adoption for only $30 tomorrow at Gwinnett County Animal Shelter during their weekly "Black Friday Sale." 
Georgia Politics, Campaigns & Elections
Savannah Mayor Edna Jackson asked City Manager Rochelle Small-Toney to submit her resignation and the City Council will discuss the issue on October 4th.
Council members met in a specially called work session [September 26th] to discuss numerous performance issues, including problems with Purchasing Department operations.

Because this afternoon's session was advertised as a work session, not a meeting, council chose to exercise an abundance of caution and not take any formal vote that might violate state Open Meetings law. A special meeting will be scheduled and duly noticed for the vote, which would be to either accept her resignation or terminate.
Issues between Small-Toney and the Board have included her hiring of an administrator who lacked qualifications his resume claimed, questionable expense reports, and problems in the purchasing department with paying the City's bills. The Savannah Morning News opines that Small-Toney should go, as the Board and Mayor have lost confidence.
[T]his system requires the mayor and council to have full confidence in their city manager, who's the most powerful person in city government. It's the foundation on which council-manager form of government rests. But once that faith and trust is gone, so is the foundation. Then, it's only a matter of time before public services suffer and citizens become the victims.
A billboard on I-85 in Gwinnett County urges Asian-Americans to vote in seven languages.
According to AALAC Executive Director Helen Ho, "Most first generation immigrants say, well you know, I came here for my children and their future. They will be leaders in America; they will be full Americans, and they will vote," said Ho.  "And what we're trying to get everyone to understand is that, just like in every other thing, children model the behavior of their parents. The parents need to model civic leadership for their children and vote."

That's why the billboard features children's faces.  Ho says placing the sign in Gwinnett County was another obvious choice.

"Gwinnett County is, beyond our city and our state, in terms of our region, it really is the flashpoint of immigrant growth.  So we knew that we had to put the billboard there," said Ho.
Lee Anderson's campaign for Congress is asking Democrat incumbent John Barrow whether taxpayer funds were used in the filming of Barrow's new political ad.
"It's time for Barrow to fess up and let us know where he got the cars and how much did it cost the taxpayers to film his commercial? We are all waiting," [Anderson spokesperson Ryan] Mahoney wrote in an e-mail….

Barrow spokesman Richard Carbo had a quick response: The cars were airport rental cars that merely resembled a Government Services Administration fleet.

"We rented 20 cars from Enterprise at Augusta airport," Carbo said. "We'll call them 'props' for the commercial."

"No taxpayer funds were used for anything," he said.

Carbo provided The Augusta Chronicle a copy of an expense document showing that Friends of John Barrow paid $3,499.33 for 18 rental cars on Aug. 13. He said the logos were sign magnets the campaign used to make the cars appear to be government vehicles.
Candidates in the Special Election for Senate District 30 appeared together at a forum sponsored by the Carroll County Tea Party.
The candidates were quick to demonstrate their support for a "personhood" amendment to give legal protection "from womb to tomb" and to voice their opposition to abortion.

"We had some tough battles in the General Assembly this year, trying to determine when abortions take place," said [State Representative Bill] Hembree, who resigned his House seat earlier this month to campaign for the Senate. "I will always stand up for right to life. Every human deserves the right to live, and to take away a child and not give them a chance, that's unimaginable to me, as a father, a son and as a dad and husband. They don't get to enjoy the freedom we have because they are taken. All I can say is, as your senator, I will vote every day for life."

"When I became speaker, together with Rep. Hembree, we voted on a bill for women's right to know," said Richardson. "It had been out there for 15 years and never voted on. We've made great strides in this state and I feel there's more to do. We can only do as much as allowed by the federal government. I think the Constitution already protects life, and if we can do more to protect it, I want to do more."

Richardson said he doesn't want to see the courts use the personhood amendment to throw out death penalty cases. He said such unintended consequences sometime happen.

"The bottom line is that we should be pro-life and protect babies who can't protect themselves," he said.

Richardson said he backed an adoption bill which gives tax credits for people to adopt babies out of foster care.

Hembree said Georgia is losing jobs in general, not only on the farms and he has sponsored legislation to help.

"House Bill 1023 says if you know someone unemployed and getting unemployment benefits, your company can hire these folks and you get tax benefits," he said.

He said the foundation of the country's economy is small businesses creating jobs.

"The government needs to get out of the way and let small business do what they do best," Hembree said. "I'm a small business owner and I employ five people. I make the payroll every two weeks. I know how difficult it is to balance a budget and to employ people. I'm on your side to make sure we get people back to work."
Republican State Senator Frank Ginn is being criticized by gay blog Project Q Atlanta for saying of his gay opponent,
Ginn, a good old boy with a freshman term under his belt who engaged in a not-so-thinly veiled attempt at gay-baiting – the old "gay and gay-friendly are bad, so vote for me" argument – on Monday.

[A]fter mutual campaign appearances in 2010, he personally does not feel comfortable appearing with Riley.

"I really don't like being on the stage with this guy," Ginn said. "He's just not my cup of tea."
Republicans will pick up a State House seat even before election results are in, as Atlanta Unfiltered writes that Rick Crawford will switch parties if he's elected as a Democrat in November.
Rick Crawford was just nominated to serve another two-year term as a Democrat, but he says he's switching to the Republican Party if he wins re-election in November.

Crawford, who had been pondering his party affiliation for a while, said Democrats' endorsement of same-sex marriage pushed him over the edge. "I thought, 'My time here is done,'" he said.

But his conversion is "not just a one-issue thing," Crawford said. "My profile and my thinking of the way things ought to go was just not something that [Democrats] would ever entertain again."
Cobb County Chairman Tim Lee will be doing a dog-and-pony show about his HOST Homestead Option Sales Tax Proposal for much of 2013
In general, a HOST is intended to roll back a portion of property taxes charged on primary residences and offset that with a new sales tax. Lee said the average Cobb County household has the potential to save several hundred dollars a year on their property tax under the plan. However, if a HOST were put in place today, the sales tax would increase to 7 percent.

"It's supposed to be a dollar-for-dollar offset, substituting a dollar of sales tax for a dollar of property-tax relief on your homesteaded property," said Clint Mueller, legislative director for the Association of County Commissioners of Georgia.

Lee hopes that after presenting more detailed plans to residents next year, commissioners will vote next fall to request local legislation in the 2014 General Assembly. If both of those are approved, county voters would decide the issue in November 2014.

The HOST proposal was a campaign pledge Lee made in his re-election bid this summer.
The Richmond County Board of Education will hold public sessions to inform voters about the Charter School Amendment on November's ballot.
Richmond County school officials have come out against the amendment, saying state-run charters will divert money away from an already underfunded public system.

Board members have said they are not against the concept of charter schools but are against having a state-run school within a district without having control of the operation.

"If it's something that's taking away from public education, we can't be for it," Pulliam said. "We're already hurting. It's like a poor man that's got no food and clothes sharing all his food and clothes with the neighbor. You're not going to have anything left."
Unemployment in North Georgia is down from 8.6% to 8.1% according to preliminary numbers from the Georgia Department of Labor.
The rate decreased because there were 910 fewer layoffs in manufacturing, construction, transportation and warehousing, administrative and support services, educational services, health care and social assistance, and accommodations and food services. Also, the area's labor force declined by 1,221, partially because some students left summer jobs to return to school.

Metro Athens continued to have the lowest area jobless rate at 6.7 percent, while the Heart of Georgia-Altamaha Regional Commission had the highest at 12.2 percent.

Metro Gainesville declined to 7.2 percent in August, down five-tenths of a percentage point from 7.7 percent in July. The rate was 8.1 percent in August 2011.
The DeKalb Republican Party is hosting a private screening of the film 2016: Obama's America tonight at 7 PM, with remarks at 6:30. Buy your tickets online here.
In Loganville and some other cities, voters in November will face voting two separate times:
David Dempsey runs a fruit stand in Loganville. He is among the legions of Americans who grew up with the concept of one man, one vote.

But because Dempsey lives in the city of Loganville, he will have to vote twice on November 6th in order to take advantage of his full electoral rights.

"Did not know we had to vote twice on election day. This is all new to me," Dempsey said. "I have never, ever heard of having to vote twice on election day."

Loganville will essentially have two elections November 6th. One will be for the candidates ranging from president to county offices. The other will be for Sunday liquor sales inside the city of Loganville.

11Alive News has uncovered similar dual elections, with different precincts, in the following cities:

In Gwinnett County: Grayson, Dacula, Loganville

In Bartow County: Taylorsville, Emerson

In Fayette County: Fayetteville

In Douglas County: Douglasville

Lynn Ledford, the Gwinnett County election director, says Loganville didn't submit its election in time to get on the county's election ballot.

"Ours had already been programmed at that point," Ledford said. "And once you get your ballot programmed, if you add anything to it, it changes the data base, it changes everything you had done at that point. You would have to retest all of your equipment, you would have issues with the paper absentee ballots and with other things like that."

Ledford agrees that it makes no sense to hold separate elections on the same day.
Power Transmissions
Georgia Power filed a proposal to buy up to 210 megawatts of solar energy from private producers via competitive bids.
The utility said Wednesday it will buy more than 10 times the amount of solar electricity it currently gets from solar farms and rooftop array by 2017. If added today, the additional electricity would catapult the state to No. 4 in use of solar power, according to the most recent data from the National Renewable Energy Laboratory.

The plan calls for Georgia Power to buy an additional 210 megawatts from solar sources. One megawatt can power about 450 homes or one SuperTarget store. The utility generates 16,000 megawatts in total, with coal, natural gas and nuclear the dominant generation sources.

Georgia Power, the state and the Southeast have been criticized by alternative energy advocates for lackluster use of renewables such as solar and wind power.
Dropping solar costs are the main driver, company executives said, while pressure from customers, the solar industry and some utility regulators also figured in.

"Solar now is a lot more economic than it used to be," said Greg Roberts, Georgia Power's vice president of pricing and planning. "And we've really done a lot of talking and listening to our customers and developers and are working with the [PSC].

The average cost of a rooftop solar array has dropped more than 46 percent since 2010, according to the Solar Energy Industries Association.

Some PSC members have pushed Georgia Power to boost alternative sources. Commissioner Chuck Eaton, running for a second term, said he has changed his stance on solar now that the cost has decreased.

"Solar has now entered the realm of competitive energy," he said. "There have been folks that have been critical that we haven't gotten in earlier, but really what they are saying is, 'You should have paid three times for the solar what you are paying today.'"

Kim Kooles, a policy analyst with the Raleigh-based North Carolina Solar Center and the Database of State Incentives for Renewable Energy, noted that Georgia will remain among states without a mandated percentage of power from renewables.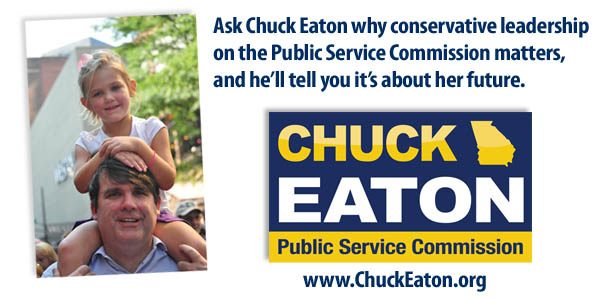 Chuck Eaton's opponent in the November General Election, Democrat Steve Oppenheimer, is one of those liberals saying that Georgia should have paid more for solar before it became cost-competitive and criticizes Eaton for what he calls a "flip-flop" and a "battlefield conversion" on solar power.
Eaton has consistently stated for more than a year that he would look at adding solar if and when it became affordable, but why would liberal activist Steve Oppenheimer let the truth get in the way of his radical green agenda?
Earlier this week, in an Op-Ed published in the Savannah Morning News, Eaton laid out the criteria for conservative analysis of solar proposals:
In discussing this initiative, I laid out a three parameters: it shouldn't cause higher rates; it must be a good strategic fit; and bids to provide utility scale solar power should be subject to a competitive bidding process to ensure the best value to ratepayers.
Republican Chuck Eaton, and his opponents, liberal Democrat Steve Oppenheimer and Librarian Libertarian Brad Ploeger will meet in a GPB debate to be televised October 21st.
Commissioner Chuck Eaton, who's running for re-election, said he's looking forward to the opportunity to talk about the commission's efforts to minimize utility rates for families and as an attraction to employers.

"This year we've reduced electric rates for homeowners by 6 percent, eliminated the job-killing sales tax on energy used in manufacturing, and maintained the reliability and affordability that make Georgia a great place to live and an attractive location for companies," said Eaton, a Republican.
Georgia Power is listing for sale its Plant Riverside on Savannah's West River Street.
"It could be utilized as retail, residential, office, hotel or a combination of those uses," Georgia Power spokeswoman Swann Seiler said. "The hope of Georgia Power is that it becomes an asset not only for downtown but the entire city of Savannah."

Plant Riverside long was an invaluable asset for the community in providing electricity. The property first became home to a power facility in 1882 when electric lights first came to Savannah.

Savannah Electric brought the current plant building online in 1913, and it was Savannah's sole source of power until the mid 1950s.

The commissioning of Plant McIntosh in Effingham County in 2005 led to Plant Riverside's closing.

The River Street facility, expanded six times and powered by coal, oil and natural gas over the course of its life, had a capacity of 100 megawatts. Five of its eight steam units still worked at the time of its closing.
Atlanta Gas Light opened a new pipeline to Helen, Georgia yesterday.
"We were here to dedicate the new gas line in Cleveland just over a year ago, so this expansion to Helen is allowing us to reach more and more customers in White County," said David Weaver, vice president of regulatory and government affairs with Atlanta Gas Light.

The project was projected to cost $6 million and was part of the Integrated Strategic Corridor project designed to extend natural gas service to unserved areas of the state.

Helen Mayor Judy Holloway said the project has helped put Helen into the 21st Century, and she said a number of potentials customers have already expressed interest in hooking up to the new pipeline.
Ends & Pieces
The Gwinnett Historic Courthouse opened 127 years ago this month and oversaw the growth of Gwinnett County from new settlements to a major metropolitan community. Hustler publisher Larry Flynt was on trial in the Courthouse for obscenity when he was shot by a sniper.
MUST Ministries is asking for donations to its food banks in Cobb and Cherokee County, as shelves are becoming bare.
The nonprofit organization, which helps families in emergency need, is also gearing up for the Thanksgiving holiday, one of MUST's busiest times of the year.

"We literally were down to just three days of food at one point last week," said Kaye Cagle, director of marketing and public relations, of the empty shelves at the agency.

"We have had such a huge demand over the summer, and we received less donations, demand was up and supply was down," she said.

The agency distributes about 2,500 cans of food a week, a total of about 2,000 pounds. Last year MUST served 22,000 people who turned to the agency for food.

Right now the agency is in dire need of canned meats such as tuna and chicken, boxed dinners, canned beef stew, canned beans, powdered milk and canned fruits.

The organization also needs dried beans and dried potatoes, spaghetti sauce and noodles, and breakfast items such as oatmeal and grits.

Another need is peanut butter and especially jelly, Cagle said.

"We are always out of jelly. We give bread away every day and we like to give anyone who needs it the peanut butter and jelly so they can have a meal," she said.

For 15 years, MUST Ministries in Cherokee County has been distributing boxes of Thanksgiving dinner items to around 1,000 families annually.

Non-perishable items can be brought to the MUST office at 141-B Marietta Road in Canton Monday to Friday from 9 a.m. to 3 p.m.

Frozen items for Thanksgiving will be accepted Nov. 19-21, from 8 to 9 a.m.

With the help of the Air Force ROTC, baskets will be distributed Nov. 19-21 to families who preregister through MUST.

The MUST Donation Center is located at 1210-B Kennestone Circle in Marietta and is open Tuesday to Saturday from 9 a.m. to 5 p.m.