In honor of "Black Friday" at the Gwinnett County Animal Shelter, where all black or majority-black dogs and cats can be adopted for $30, a saving of $60, here's your song of the day.  27459, a female lab, is one of the dogs who is eligible for the discount.
Rally is a Shepherd puppy from Walton County Animal Shelter whom we featured for several days. He was rescued by Pound Puppies 'n Kitties, and we encourage you to consider donating to support their work saving dogs.
Georgia Politics, Campaigns & Elections
Rasmussen released a poll that indicates that 64% of Americans believe that too many people rely on government aid.
The latest Rasmussen Reports national telephone survey finds that 64% of Adults think there are too many Americans dependent on the government for financial aid. Just 10% think not enough Americans are dependent on the government, while 16% say the level of dependency is about right.

Even most of those who say they are currently living in poverty (56%) feel there are too many Americans dependent on government financial help.

There are sharp partisan differences over this question, however. Eighty-nine percent (89%) of Republicans and 61% of those not affiliated with either of the major parties believe too many Americans are dependent on the government for financial help. But just 40% of Democrats agree. One-in-three adults (33%) in President Obama's party believe the level of dependency in America today is about right.

Among all Americans, 34% rate government programs designed to help people get out of poverty as effective, while 59% say those programs are not effective. This includes just four percent (4%) who think government anti-poverty programs are Very Effective and 20% who feel they are Not At All Effective.

Only 13% of those currently in poverty consider the government programs effective, compared to 36% of those who are not poor.

Forty-nine percent (49%) of all Americans believe current government anti-poverty programs actually increase the level of poverty in the country. Only 20% think the programs reduce poverty, while just as many (20%) feel they have no impact.
So maybe it's the mainstream media who are out of touch with Americans, not Mitt Romney. Who would have thought?
The Marietta Daily Journal opines that Romney should continue his discussion of taxes and entitlements.
Romney was 100 percent right to point out that a significant portion of today's Americans — and especially those who typically support liberal candidates — are voters who see government as the answer to all problems. Too many such Americans have turned John F. Kennedy's Inaugural Speech admonition inside out. "Ask not what your country can do for you: Ask what you can do for your country!" has been dumbed down into "Ask not what I can do for my country: Ask what my country can do for me!"

It's the difference between the "hand up" philosophy of conservatives and the "hand out" philosophy espoused by many liberals.

To his credit, Romney, as of this writing, has not backed off his remarks. Yes, it surfaced at an unfortunate (for him) time, as he and others were sharply criticizing the incumbent for his incompetent, bungled Middle East policy. But successful candidates play the hand that is dealt them and find ways to trump unfavorable circumstances. And that is what Romney must now do.

The candidate must keep hammering home the fact that Obama has driven the country off the fiscal cliff. He must remind people at every opportunity of Obama's redistributionist policies and efforts to transform the United States from a free-people, free-market capitalist country into a government-centered entitlement society — an effort that probably has a tax-cutter like JFK spinning in his grave.

Romney is on the right track, as his comments Tuesday on Fox News showed.
Last night, Governor Nathan Deal took to the stage at a Gwinnett County Republican Party rally and spoke about Romney's comments.
Deal said Romney's recent comments about a growing percentage of Americans relying on government programs, with a shrinking group of those paying taxes, echoed concerns of political philosophers when this country was created.

"We're getting outnumbered by people who don't pay … The truth is the truth," Deal said to a group of more than 100 GOP leaders. "It is something we ought to wake up and realize because it jeopardizes the country on many levels."
Senate Majority Leader Chip Rogers defended his acceptance of reimbursements for expenses paid by his campaign through his lawyer, Doug Chalmers.
"They were not campaign mailings, they were constituent mailings and had nothing to do with his election or re-election," Chalmers said, who was hired by Rogers last week.

"It was proper for him to be reimbursed because he had loaned his campaign tens of thousands of dollars which were used to make these expenses in first place. There will be no double dipping—it's perfectly legal," Chalmers said.

Chalmers said Rogers has already taken steps to correct the matter.

"Even to avoid an appearance of impropriety, when the issue was brought to his attention, he cut a personal check to his campaign for $8,500," Chalmers said.

Chalmers said that $8,500 check will be on Roger's Sept. 30 campaign disclosure

But William Perry, executive director of Common Cause Georgia, said in an interview with the Tribune that Rogers could still face possible consequences.

"I think it could potentially be a problem because the senator notarized a document certifying that everything in the report is true," Perry said. "I think it would raise a red flag that the campaign, if it was paying for the expenses, is against the law and swearing he paid for himself would potentially be a problem."

Georgia law prohibits using taxpayer money to pay for campaign costs. Lawmakers can use state funding for newsletters and other printed materials intended to keep constituents informed about issues, which Chalmers said the funds were used for.

Perry said he did not think anyone was out to steal money, but because of lack of oversight, politicians become careless.
It is permissible for a campaign to pay for expenses incurred in the elected official's performance of his or her duties. (OCGA §21-5-33(a)).

Speaking of political direct mail, NPR has a story this morning about the barrage of direct mail that will start filling your mailboxes any day.
In the coming weeks, candidates will bombard your mailboxes with ads. It may seem old-fashioned, but the consultants who devise direct-mail campaigns have become sophisticated about knowing whom to reach and what to say.

"It's almost because of the changing media landscape that direct mail remains relevant," says Anil Mammen, who runs a small direct-mail shop in Washington, D.C.

"Direct mail is one of the few mediums left where you can go reach a voter and convince your voter to consume your information, without them having to choose to do it," says Mammen, who works for Democratic candidates and campaigns. "It's forced upon them."

Mammen says direct mail is an ideal medium for negative ads. People are more inclined to believe what they read.

"You can show the citation. You can show the proof if there's a court document. You can show the court document maybe not in its entirety but enough of it," he says. "You can deliver negative messages that require a hurdle of believability. That's what direct mail is really good at."

Campaigns are spending about 15 percent of their ad budgets on direct mail, says Kantar Media/CMAG, a campaign-ad tracking firm.

Costas Panagopoulos, who teaches political science at Fordham University in New York, says direct mail — unlike broadcast media, TV and radio — is a great way to reach very specific targeted groups of voters

"Political campaigns can use the mountains of available data, demographic, psychographic data about, you know, who people are, what their gender is, what their occupations are, as well as things like what magazines they subscribe to or whether they have children or a pet at home or whether they have a gold [credit] card," Panagopoulos says.

Like taxes, direct mail isn't going away anytime soon. This year, campaigns are expected, Panagopoulos says, to spend more than $1 billion to get their messages delivered to your door.
I received the first mailpiece of the General Election two days ago from J. Max Davis, the first Mayor of Brookhaven, who will be elected in the November 6th General Election, though some city council posts will have to be filled in runoff elections.
Professor Alan Abramowitz (D-Emory) says that increasing polarization of the electorate decreases the advantage of incumbency, leading him to tweak his presidential prediction model, which tightens his predicted margin in favor of Barack Obama.
A Georgia business is making national news with its signs in opposition to President Obama's reelection.
Businesses take a big chance by outing their politics, says Costas Panagopoulos, a political science professor at New York's Fordham University.

"They need to weigh the risks against the potential benefits of making such a visible expression of their preferences," he says.

But the owner of one Georgia business says response to his political missives has been mostly supportive.

At Premier Platforms Inc., which sells, rents and services various kinds of aerial platforms and forklifts, David Cooper uses his giant highway marquee to broadcast his politics.

He's no fan of President Obama, as anyone driving along Interstate 75 near Byron, Ga., could tell: "Things could be worse. Re-elect Obama — he'll prove it," one recent message read, according to Macon newspaper The Telegraph. Cooper told the newspaper he could "count on two hands the number of complaints" he's gotten; one person threatened to picket the business, but the threat never materialized.
Real Housewives of Campaign 2012? Sounds like a blockbuster reality show.
See, just like our casts, these characters are hyper-competitive and more than willing to have it out in front of a worldwide audience. It's like, "Who cares what they're saying about us — as long as they're talking about us! Consequences, be damned!" I mean, have you SEEN Romney's secret video where he badmouths 47 percent of Americans? With those loose lips, it's no wonder his ship is sinking!

Each has questioned the other's credentials (along with jokes and jabs of birtherism and felony tax fraud) so often, that if you take out Wolf Blitzer and a debate stage and insert Andy Cohen and a "Watch What Happens Live" set, the drama is not as different, as you'd think. By the way, Andy, I can't wait for the post-election reunion special. The ratings will be HUGE!

The race even has incredibly powerful women that are loved by their fans and feared by their opponents: Ann Romney and Michelle Obama. Each was cheered for having one of the best speeches at her convention. Each possesses a wardrobe many would love to call their own. And each can win over swing voters who may think that the Housewife's husband is more "Desperate" than "Real."
Former Speaker of the House Glenn Richardson was interviewed on a local Paulding County website, in which he suggests moving away from Georgia's antiquated and uncivilized system of foreclosure sales literally on the steps of county courthouses, and into a process that allows homeowners being foreclosed upon a day in court. Given what we know about systematic fraud by foreclosing banks, wrongful foreclosures, robo-signing, and the impact of a foreclosure on families, I might support such a measure, and certainly think we should consider moving away from the status quo.
Samuel Westmoreland, the director of the Fulton County elections and voter registration office was jailed for ten days after his probation was revoked for failure to complete DUI school and community service, which were conditions of his probation for a 2009 DUI.
State Court Judge Wesley B. Taylor, in a July 16 probation revocation hearing, handed down an order postponing Westmoreland's 10-day sentence until after the county primary elections in July "in order to prevent a potential hardship upon the voters of Fulton County."

The elections board is scheduled to take up the matter at a specially called meeting that Matarazzo said is scheduled for noon Monday.

Westmoreland already was under fire from voters and election board members for an array of errors that occurred during the July primaries.

The missteps included the elections department assigning 690 voters in Sandy Springs and southeast Atlanta to the wrong state Senate and state House races. It also missed the deadline to certify election results by an hour and a half, leaving the county subject to fines by the state Election Board.

"He needs to be gone," Commissioner Bill Edwards told The Atlanta Journal-Constitution on Wednesday. "It just goes to your character."
Former Governor Sonny Perdue joined the Governors' Council at the Bipartisan Policy Center, which seeks to bring a state perspective to national issues.
In Augusta, Lori Davis, a former candidate for Mayor, has endorsed Stanley Hawes for City Commission District One.
Former State Rep. Burke Day (R) has applied for an appointment to the Tybee Island City Council to fill the term of council member Frank Schuman who died in office.
Dockworkers unions have agreed to extend the deadline for negotiating a new contract with employers at East coast ports.
"I am pleased to announce that at the close of today's productive negotiation session, in which progress was made on several important subjects, the parties have agreed to extend the collective bargaining agreement due to expire on September 30 for a 90-day period, (taking it) through Dec. 29," said George H. Cohen, director of the Federal Mediation and Conciliation Service.

After talks broke down last month between the ILA and the alliance, which represents management at 14 deepwater ports between New York and Texas, Cohen coaxed both sides back to the table in hopes of averting an imminent work stoppage
Power Station
Environmentalists think that Georgia should deploy more wind turbines for power generation off the Georgia coast, but Governor Deal disagrees.
"Georgia has a little over 60 gigawatts (of wind resource)," said Jennette Gayer, advocate for Environment Georgia, which helped launch the report. "That's like 75 average-sized power plants."

Unlike 11 of the other coastal states, Georgia hasn't joined the Atlantic States Offshore Wind Consortium, a federal program designed to coordinate and streamline wind development off the Atlantic coast. South Carolina and Florida are the only other hold outs.

But Georgia Gov. Nathan Deal's spokesman Brian Robinson indicated via email that the governor is not inclined to support wind energy development now.

"When the markets and the technology advance further, we believe there will be a day when wind energy is a viable option for our state," he wrote. "Georgia will start using wind energy when the prices are right and the technology is right for the unique nature of our wind energy off the coast.

"Studies show the current technologies available won't work in Georgia's environment. There is in fact wind energy potential in Georgia and we have every hope that improvements in technology will one day allow us to use this clean, renewable resource."
Gov. Deal is correct. As we have seen with solar power, states that adopted utility scale solar power generation paid 3-4 times the current cost for photovoltaic cells, which generate electricity. Today, states considering implementing solar will benefit from dramatic cost reductions brought about through market forces, not goverment subsidies.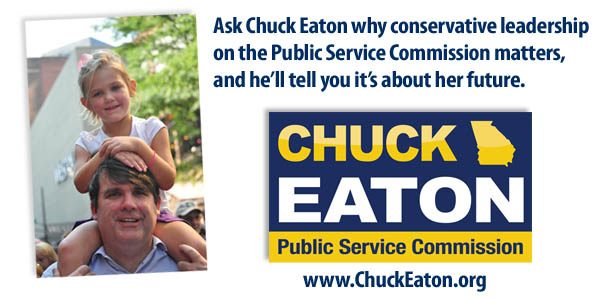 Plant Vogtle's Unit 1 nuclear reactor is offline this week as it's being refueled, a process that occurs roughly every 18 months.
Steel plates that reinforce concrete construction at the new reactors being built at Vogtle failed safety testing by the Nuclear Regulatory Commission and have not been installed.
A more detailed investigation to determine the extent of the problem – and any potential effect on the project – will be completed by Nov. 6, the report said.

The inspectors and officials from Shaw Group, the company hired to build the $14 billion project, identified the issues before any plates had been installed, an NRC spokesman said.

In an Aug. 31 interview, Buzz Miller, the executive vice president of nuclear development for Georgia Power and Southern Nuclear, told The Augusta Chronicle that as many as 150 additional workers could be needed to bolster oversight programs that ensure materials meet strict nuclear standards.

In its most recent report to the Georgia Public Service Commission, the company said final projected costs for quality assurance, oversight, operational readiness and regulatory compliance rose from a projected $621 million in 2009 to $755 million in 2012.
Ends & Pieces
A World War 2-era B-17 bomber called "Memphis Belle" is receiving maintenance at Cherokee County Regional Airport until it continues its tour on Monday, but you can visit the plane until then and it will remain based at Cherokee for the next year.