On Thursdays, we feature black or majority black dogs that are eligible for the "Black Friday Sale" at Gwinnett County Animal Shelter, when they're available for adoption for $30 total. Inmate #28431 is a senior black lab, and if you've never kept the company of an older retriever, you don't know what you're missing. These older dogs are a blessing to their families and deserve to be blesses with comfortable homes.
Inmate #28424 may not be the "right kind" of bulldog to get hired by the University of Georgia as their mascot, but he would happily climb on the couch to watch the game on TV with you.
Today, I'm asking you to consider helping another dog, a Yellow Dog Democrat named Daniel Fullerton. Daniel is a friend of mine who happens to not share my political views, but who never lets ideological differences become personal. Today he receives a kidney transplant and begins a life free of the need to receive dialysis, but full of huge bills.
So join me in praying for Daniel, his wife and family, his donor, and the doctors, nurses and others who are helping give him the gift of life this morning. I will ask you to consider making a donation to defray his surgery costs and the ongoing expenses of living with an organ transplant, but the donation link doesn't seem to be working. Hopefully it'll work tomorrow and we can help out.
Georgia Politics, Campaigns & Elections
Today and tomorrow are the last days for Advance voting in person for Tuesday's election.
Voters in Cobb County may check wait times at satellite voting offices online and Gwinnett County Board of Elections can do the same via the County website. The Gwinnett Daily Post tells us:
On Wednesday at 10:30 a.m., the longest wait times were in Suwanee at 75 minutes, while Lawrenceville and Snellville locations posted 50-minute wait times. But like most days at lunch time, wait times increased around the county at 12:30 p.m. Snellville reported a 75-minute wait, while Suwanee was 66 minutes and every other location was at least 40.

Registered voters may cast a ballot in person through Friday between 8 a.m. and 5 p.m. at the Elections Office on Grayson Highway in Lawrenceville, or between 9 a.m. and 7 p.m. at one of the following satellite polling locations: Centerville Community Center in Snellville, George Pierce Park Community Recreation Center in Suwanee, Dacula Park Activity Building in Dacula and Lucky Shoals Park Community Recreation Center in Norcross.
So, if you're going to early vote, you might want to take a folding chair, bottle of water, and something to read. Or pick up your lunch on the way to vote and kill two birds with one stone.
Secretary of State Brian Kemp encourages any voter who has problems at the polls to call his office.
This comes after recent allegations two Hispanic voters were not allowed to vote after initially presenting what they said were acceptable forms of identification.

Secretary Kemp admits the allegations were news to him, "I was not aware of any of it before it hit the press."

Now Brian Kemp wants voters to know there's a process if they experience any complications while trying to vote.

"They should notify the poll manager and if they don't get a satisfactory answer there, they should notify the election superintendent for the county or contact our office."
That story doesn't include information on how to actually contact Kemp's office, but the main number for the Elections Division is 404-656-2871. I'll see if I can find out the best number to call to report problems. If you think you're witnessing vote fraud, you can call the Voter Fraud Hotline at 877-725-9797.
Hundreds of new Georgia voters are either missing from voting rolls or have been required to prove they are citizens before their vote will be counted, according to a legal advocacy group that asked Wednesday for state intervention.

The call for help came less than a week before Election Day, when many of these voters — newly naturalized American citizens — wanted to cast their first ballots in a U.S. election.

A spokesman for Georgia Secretary of State Brian Kemp verified the secretary received the request for intervention from the group, the Atlanta-based Asian American Legal Advocacy Center. An inquiry has begun. "Any allegations like this we take very seriously," Kemp spokesman Jared Thomas said.
An interesting story for my fellow polling geeks is on NPR, where they recount the 1952 election between Republican Dwight Eisenhower and Democrat Adlai Stevenson, in which a computer first predicted election results.
Before election night 60 years ago, the race between Stevenson and Eisenhower looked close. But early in the night, with just over 3 million votes counted, UNIVAC predicted the odds were 100 to 1 in favor of Eisenhower.

Even early returns, without the aid of a computer, were indicating an Eisenhower landslide. But the odds still seemed inconceivable. The computer printout, revealed hours later, read: "It's awfully early, but I'll go out on a limb … The chances are now 00 to 1 in favor of the election of Eisenhower." The printout read 00 instead of 100 because the programmers never imagined needing an odd greater than two digits.

It wasn't until after midnight that a Remington Rand representative, Art Draper in Philadelphia, came on the air with an explanation.

"As more votes came in, the odds came back and it was obviously evident that we should have had the nerve enough to believe the machine in the first place," he said. "It was right. We were wrong. Next year we'll believe it."

Back in 1952, NBC also used a computer on election night: the Monrobot. It was much smaller than UNIVAC and less powerful, but it didn't falter on its prediction of an Eisenhower landslide. Still, says Chinoy, ambivalence about using a computer on election night continued for much of the decade.

"The way we think about technology, if we look in the rearview mirror," he says. "They march in, they became a fixture on election night and that's it. NBC actually backed away from using a computer in 1954 and decided a good reporter is better than any kind of statistical device."

Yet, all three networks were using computers by the next presidential election in 1956. ABC, however, staged a challenge: "Man vs. Machine."

The network invited pollster Lou Harris and a team of 100 reporters in the field to compete against a computer, Underwood's Elecom, to see who could call the election first. Again, it was a matchup between Eisenhower and Stevenson.

When it came to crunching numbers, the computer was untouchable, but the predictive models used in its programming were simplistic. UNIVAC was taking the early raw vote count and making comparisons with some past presidential elections.

Harris, who based his prediction on specific voting districts that he thought would mirror the overall outcome, tallied results with slide rules. His team won. And incumbent Eisenhower won by an even bigger landslide than in '52.

"Basically patterns emerge from data," says Harris, now 91. "If you can't read them right, then you can't tell the story."
Perhaps the best part of that story is when it discusses the 1962 midterm elections.
Cronkite was calling race after race before anyone else, including the Michigan governor seat for George Romney. It was quite a coup because the returns, two hours after the polls closed, had Romney behind Democratic incumbent John Swainson.
On Monday, the Georgia Supreme Court will hear arguments over immigration enforcement under state law and the federal 287(g) program.
a case out of Gwinnett County in which a Mexican citizen claims the state law requiring driver's licenses discriminates against illegal immigrants.

Fernando Castillo-Solis also argues that the 287(g) program, which is used in Gwinnett's jail as well as others, including Cobb's, allows law-enforcement officers to racially profile.

The state statute at issue regarding driver's licenses, section 40-5-20, indicates that those charged with driving without a license may not be prosecuted if they get a valid license before their court date.

The Cobb Sheriff's Office has been trying to get the General Assembly to clarify that statute in recent years. Not surprisingly, the case has drawn ire and praise from Cobb citizens on opposing sides of the illegal-immigration debate.

At a hearing on the motion, the parties agreed that Castillo-Solis is a citizen of Mexico who had been living in Georgia for 10 years.

The state called as a witness an attorney who testified that undocumented immigrants who encounter U.S. Immigration and Customs Enforcement through the 287(g) program are subject to deportation. She also testified that an undocumented immigrant can be deported for driving without a driver's license.

The 287(g) program is a joint federal and state program that allows local law enforcement agencies to partner with ICE to receive delegated authority for immigration enforcement within their jurisdictions.

The Gwinnett court denied Castillo-Solis's motion, and his appeal is now what the Georgia Supreme Court is considering. The high court has until the end of March to issue its decision in the case.

His lawyer, Arturo Corso, has argued in court documents that as the no-license statute is written, if a license is obtained before a driver charged with that offense goes to trial, "he or she shall not be guilty."

But as an illegal immigrant, Castillo-Solis is ineligible to get such a license and is thus denied the right to defend his case, Corso argues.
If drama sells newspapers and brings website hits, what do you do if you're a large suburban newspaper where all most of the elections in your area are foregone conclusions? That's the dilemma facing the Gwinnett Daily Post. If you don't have breaking Karashians or Honey Boo-Boo news, you might pretend that there's some actual drama in those elections.
You do that by saying things like what Congressman Rob Woodall (R-7) will do if reelected, rather than acknowledging that he will without a doubt continue to serve in Congress.
You could also suggest that Congressman Hank Johnson (D-4) is threatened with being tipped over toppled by a long-shot Republican.
Finally, you could suggest that Senator Don Balfour's reign of terror as Rules Chairman is more likely to be ended by his Democratic opponent than by his fellow Republican Senators. Maybe that is the more likely outcome, but that doesn't mean the Democrat has a snowball's chance.
The Neighbor Newspapers also get in the act, suggesting that Senator John Albers (R-56) might not be re-elected despite an overwhelming GOP advantage in the district. One of the advantages of writing about politics is that you don't have to practice saying things like that with a straight face.
Also under "Why did they file this story" are accounts that campaign signs are shockingly being stolen. Rather than covering the PSC election between Chuck Eaton and two lefties, WSB-TV brings us this non-story:
Betsy Kramer told Channel 2's Mike Petchenik someone stole a Romney/Ryan campaign sign from in front yard of her Johns Creek home last week.

"I just felt violated," she said.  "They're infringing on my freedom of speech."

Kramer said she soon noticed all of the signs that had been put out along Buice Road were also gone.

"It was unnerving that someone would take the signs," she said.  "It shows how desperate they are."

Fulton County Republican Party Chairman Roger Bonds said he's hearing from hundreds of homeowners who've had similar thefts across the metro area.
CBS Atlanta also jumped on the stolen sign bandwagon:
Bonds said he does not believe Democratic leaders are behind the effort to remove signs of Republican presidential candidate Mitt Romney.

"I absolutely do not believe the Democratic Party is behind this," said Bonds. "But I'll guarantee that you have street fighters out there, community organizers, that are telling people to do this."

Georgia Democratic Party spokesman Eric Gray agreed thieves are on a rampage as the election nears.

"I don't think it's the Republicans so much as it people who are very, very politically fervent in their beliefs," Gray told CBS Atlanta News. "And I think they're doing things against people's property and it should absolutely stop."

Betsy Kramer of Johns Creek said she and all her neighbors had their signs stolen recently.

"I definitely do not think it's kids," said Kramer. "I've had people give me the finger because my car has stickers on it. I've seen people give me these dirty looks."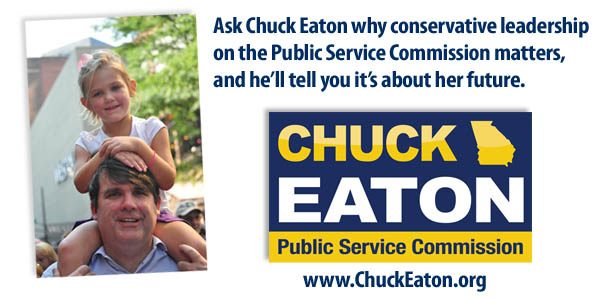 Also in Gwinnett County, Elliot Brack has put out his endorsements in races ranging from Congress to Clerk of Superior Court and School Board. Out of fourteen races in which a pick is made, Brack chooses three Republicans, each of them in slam-dunk districts.
I can't say I like this Headline: "Todd recall awaits Attorney General's ruling" on the story about Fayette County Board of Education member Bob Todd, who some are trying to recall over allegations of ethics violations. The story contains a good primer on the law governing recall elections.
Hill previously obtained the 100 signatures required for the recall application, though some of the signatures were called into question by the Fayette County Elections Office. A technical question subsequently arose over some of the signatories on the application and whether they could be accepted to move the petition process forward.

The bottom line is that elections supervisor Tom Sawyer is checking with the Ga. Attorney General to determine if Hill's signatures pass muster. Sawyer said the Fayette County Board of Elections will meet on Nov. 6 to take up the issue.

From Hill's perspective, she said Tuesday that regardless of the outcome of the election board's decision, she will either continue with the petition process or, if needed, will start over on the application process.

The recall of an elected official in Georgia is a three-step process, the first of which is to apply for a recall petition, to name a chairperson, cite a reason for the recall efforts and provide the signatures of 100 people who were registered to vote in the preceding election.

If or when an application is found sufficient by the elections office, the recall petition can go forward and will require the signatures of 30 percent of the active voters registered and eligible to vote in the preceding election.

In Fayette County, that number will require more than 21,000 signatures. Those signatures must be obtained within 45 days of the time the petition was issued. If found sufficient, it will trigger a recall election.

Recall efforts in Georgia must fall under at least one of five categories. Hill cited misconduct in office — an unlawful act committed willfully or a willful violation of the state's code of ethics for government service. State law gives elected officials the right to state their case in Superior Court. To date, Todd has not utilized that option.
The furor over Republican Chris Bodeker's commercial criticizing Democratic State Rep. Scott Holcomb continues at the Fulton County Daily Report letters section:
The article began with mention of an ad produced by the Boedeker campaign, but failed to provide the readership with an accurate picture of what the campaign did. Through intentionally misleading editing of a Holcomb speech given at the General Assembly, the campaign twisted Holcomb's words to suggest he was admitting to committing a crime during his Army service. When called out for this particularly bald-faced lie, the campaign retreated from the ad, but not from the campaign tactics it represents.

Unreported in the article was information that the Boedeker campaign followed this noisome ad with a string of mailers and robocalls which falsely charge Mr. Holcomb with additional acts of moral turpitude or outright illegal activity. It is a campaign of character assassination, not ideas.

Other news outlets have had the courage to declare the video false and misleading and the candidate cowardly. The Daily Report, in what appears to be a misguided attempt at being even-handed in covering a political race, hedged. That mistaken urge produced an article that is itself misleading. One and only one candidate is throwing mud in this race. Mr. Holcomb's response to these attacks was to take legal action, not to publish lies or smears of his own. There is no moral equivalence in the behavior of the two men.

Unfortunately the Daily Report failed to make this clear. Only one candidate is rolling around in the mud. Sadly, the article published here may help the mud stick to an honorable public servant.
The Albany Herald profiles Republican Lee County Commissioner Rick Muggridge and his independent opponent in the General Election, Tim Nelson.