The Continental Congress renamed their new nation the United States of America, from the previously used "United Colonies" on September 9, 1776.
An American fleet of nine ships under the command of Captain Oliver Hazard Perry routed a British fleet in the Battle of Lake Erie on September 10, 1813.
After the battle, Perry sent a famous dispatch to U.S. General William Henry Harrison that read, "We have met the enemy, and they are ours." The Battle of Lake Erie forced the British to abandon Detroit, ensuring U.S. control over Lake Erie and the territorial northwest.
Years later, Pogo, Georgia's Official State Possum, would paraphrase Perry's dispatch.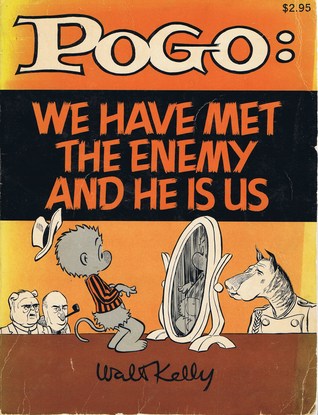 And eventually, Pogo's statement that, "We have met the enemy and he is us" would become the official slogan of the Georgia Republican Party.
On September 7, 1864, General William T. Sherman sent a letter to his Confederate counterpart, General John Bell Hood, offering to transport civilians out of Atlanta for their safety.
The Georgia General Assembly appropriated $1 million for construction of a new State Capitol on September 8, 1883.
The Fulton County Courthouse was dedicated on September 8, 1914.
On September 9, 1933, WSB Radio in Atlanta was upgraded to broadcasting via 50,000 watt transmitter. The first broadcast included Will Rogers and a letter from President Roosevelt.
On September 9, 1939, an audience at the Fox Theater in Riverside, California watched a preview of Gone With the Wind.
The first actual computer bug was identified on September 9, 1947, when Grace Hopper removed a moth from an electrical relay in the Harvard Mark II computer. Hopper received her Ph.D. in Mathematics from Yale in 1934 and attained the rank of Rear Admiral, Lower Half in the United Stated Navy. USS Hopper (DDG-70) was named after her.
On September 9, 1954, Marvin Griffin won the Democratic Primary election over Melvin Thompson.
Elvis Presley first appeared on The Ed Sullivan Show on September 9, 1956.
On September 8, 1966, viewers of the Star Trek debut first heard the monologue opening, "Space, the final frontier…"
On Sept. 8, one of the most enduring franchises in TV and movie history celebrates its 50th birthday. Star Trek debuted on NBC in 1966, developed by Roddenberry, a former Los Angeles cop who wanted to make a TV series which could sneak past the rampant escapism of most programs back then.

At a time when scripted TV rarely dealt directly with the turbulence of the times, Star Trek set its social messages against a space opera backdrop. Swashbuckling Captain Kirk ran the Enterprise, backed by cerebral first officer Mr. Spock and emotional Southern medical officer Dr. Leonard McCoy.

On the surface, the show's plots dealt with exotic alien worlds in a future where space travel was commonplace. But Roddenberry and his writers slipped in subtle messages.

One classic story pointed out the absurdity of racism by depicting a war among members of an alien race, where one faction was colored black on the left side of their face and body and white on the right. The other faction had the colors reversed.

And as the end of state-sanctioned segregation rattled America, Roddenberry featured TV's first interracial kiss: Aliens forced Captain Kirk to smooch his African American communications officer Lt. Uhura.
President Gerald Ford pardoned former President Richard Nixon on September 8, 1974 for"all offenses against the United States which he, Richard Nixon, has committed or may have committed or taken part in during the period from January 20, 1969 through August 9, 1974."
On September 10, 1991, Senate confirmation hearings began for Georgia-born Clarence Thomas, who was appointed by President George H.W. Bush (41) to the United States Supreme Court.
Nirvana's Smells Like Teen Spirit was released as a single on September 10, 1991.
On September 10, 2002, the Atlanta Braves clinched an eleventh straight division title without playing, as a loss by the Philadelphia Phillies assured the Braves the title.
Tomorrow, we wish a happy 75th birthday to former Congressman John Linder. Linder served in the State House from 1974-1980 and 1982-90. In 1990 he ran unsuccessfully for Congress against incumbent Democrat Ben Jones; in 1992, after redistricting, Linder was elected to Congress from the 7th District and served until his retirement after the 2010 election.
Georgia Politics, Campaigns, and Elections
Tybee Island City Council member Brian West has come to the notice of local media after qualifying for Mayor of Tybee Island. From the Savannah Morning News:
He said he was always interested in politics, but first became involved in 2019, when he ran for city council and got fifth out of eight people. In 2021, however, he ran again and got the most votes out of everyone, he said.

West said he thinks he got the opportunity to be a councilmember during that second run, because he spent more time meeting and talking with people about his vision of Tybee. He also thinks the short-term vacation rental debate was a factor, too.

According to West, there are two camps when it comes to the short-term vacation rental divide on the island. Some think there should be no short-term vacation rentals, and others want lots of them. He thinks they are necessary.

"We need tourists here," West said. "That's our economy, people come in, spend money, support the businesses. We need tourists, and they need somewhere to stay."

"It's more appropriate to have vacation homes on the section of the island, across from City Hall on that side of Butler, less appropriate to have them in quiet areas a bit further from the beach," West said. "But the way our zoning is set up, we can't section off that area without making new ordinances. I think the rules the council has come up with in the past couple of years are good and workable, but it would be better if we could loosen the restrictions in some areas and maybe add them in others."

"We need leadership, we have a city manager that runs everything, but that manager needs leadership, needs to know what direction to head in," West said. "We need to organize our goals and talk about which direction to head in. That takes leadership. I can do that."
Governor Brian Kemp spoke to the Greater Columbus Chamber of Commerce, according to WTVM.
Kemp delivered a speech to elected officials and others in Columbus about Georgia's financial state, crime in the peach state, new developments, and the unemployment rate.

"We had the most people ever working in the history of our state right now. We have an unemployment rate that continues to remain near historic lows," he said.

Kemp also said his office has been laser focused on ensuring the safety of Georgians. He told the crowd, Columbus Mayor Skip Henderson and he are working together to curb crime in the valley.

"And I know that we've been in that fight mayor, here in Columbus. We've done several operations working with local law enforcement to deal with street racers and other things that were going on in Columbus, and just in those few days that we've worked down here with state patrol and other state resources, we did 19,111 criminal arrest,'' he said.

"I would put the state of Georgia up against any other state in the country. I don't care what anybody's business rankings say depending on what publication it is I mean we tout our own being number one in the country for business, and I know other people do too," Kemp said during his speech.

Georgia state representative, Vance Smith is excited about what the new addition in Harris County will bring to residents.

''It means more work opportunities. Of course we need more workforce housing. We need to work on that, but it just brings better business to Harris County, and we're appreciative of the department of economic development," said Smith.

Kemp also spoke about how they are putting more money towards education than ever before. He said K-12 is being fully funded with all teachers receiving pay raises.
McIntosh County is considering a zoning ordinance that would affect the Hog Hammock community on Sapelo Island, according to WTOC.
The proposed changes would impact a Gullah-Geechee community on Sapelo Island by allowing more of the area to be developed.

The Gullah-Geechee community known as Hog Hammock has called Sapelo Island home for generations and members of that community say they'd be the most impacted if these changes pass.

"I'm concerned about the Hog Hammock community and the sizes of the houses that would be permitted under their recommendations," said Dr. Lloyd Dunn, who lives in Hog Hammock.

Previously, zoning had stated that structures should not increase the cost of living so that the indigenous population is not forced off the island.

Residents at Thursday night's meeting say the new zoning would allow for larger buildings on the island which is a concern for people who have lived there for generations.

"If you build a 6,000 square foot house right next to my 1100 square foot or my 900 square foot house, my taxes go up too, because of your house," said JR Grovner, who lives on Sapelo Island.

The initial proposal included the potential for golf courses and marinas on the island. After Thursday night's hearing, the zoning board removed that from the proposal.
The Federal Emergency Management Agency (FEMA) announced that it will provide disaster relief after an emergency declaration, according to Valdosta Today.
FEMA announced that federal disaster assistance has been made available to the state of Georgia to supplement recovery efforts in the areas affected by Hurricane Idalia on Aug. 30, 2023.

The President's action makes federal funding available to affected individuals in Cook, Glynn and Lowndes counties. Assistance can include grants for temporary housing and home repairs, low-cost loans to cover uninsured property losses and other programs to help individuals and business owners recover from the effects of the disaster.

Federal funding is also available to state and eligible local governments and certain private nonprofit organizations on a cost-sharing basis for debris removal and emergency work, including direct federal assistance for public assistance, damaged by Hurricane Idalia in Cook, Glynn and Lowndes counties.
From the Capitol Beat News Service:
Gov. Brian Kemp formally submitted a request Wednesday for a disaster declaration covering 30 counties across south-central, southeastern and coastal Georgia. However, the declaration the president issued will apply to only three counties: Cook, Glynn, and Lowndes.

Lowndes County sustained the most damage when Idalia tore through South Georgia last week, with losses estimated at more than $12.8 million, the Valdosta Daily Times reported Thursday.
Georgia Lottery President and CEO Gretchen Corbin spoke to local Rotarians, according to the Rome News Tribune.
Since the state lottery's inception around 30 years ago, 25,441 students in Floyd County have benefited from the HOPE scholarship to the tune of over $116 million; 20,873 Rome and Floyd County Pre-K students have begun their education; and over $79 million Pre-K funding dollars have come to this community through the lottery.

For the past eight years, the lottery has earned and contributed over $1 billion in returns to help fund educational programs in Georgia, she said.

"I have to give credit to every governor between Zell Miller and Brian Kemp," she said. "They have really held true to the mission of the Georgia Lottery. And to the legislature — they have really supported us, held true to this and really supported education. They haven't changed it."
Fulton County District Attorney Fani Willis criticized Congressional interest in the Trump case, according to Atlanta News First via WRDW.
Fulton County District Attorney Fani Willis accused one of the nation's most influential congressional representatives on Thursday of unlawfully and unconstitutionally attempting to interfere in her prosecution of former President Donald Trump and 18 of his GOP allies for their alleged attempts to overturn Georgia's 2020 election results.

In a letter dated Sept. 7, 2023, Willis replied to an inquiry last month from U.S. Rep. Jim Jordan (R-Ohio), who also chairs the powerful House Judiciary Committee. Jordan's August 24 letter to Willis asked her if she coordinated her investigation into Trump with the U.S. Justice Department. He also asked if Willis used any federal money in conducting her more-than-two-year investigation into the nation's 45th president.

Citing numerous court cases, Willis wrote, "As you know, Chairman Jordan, the congressional power of inquiry 'is not unlimited,'" Willis wrote. "Congress is not 'a law enforcement agency. That function is reserved only for 'the executive and judicial departments of government.'"

"Moreover, investigations conducted solely for the personal aggrandizement of the investigators or to punish those investigated are indefensible. More fundamentally, a congressional subpoena is valid only furtherance of a legitimate task of the Congress."

"Your letter offends each and every one of these settled principles. Its obvious purposes is to obstruct a Georgia criminal proceeding and to advance outrageous partisan misrepresentations … There is no justification in the Constitutions for Congress to interfere with a state criminal matter, as you attempt to do."

Willis is also facing attacks from lawmakers inside Georgia's borders. On Thursday, State Senator Colton Moore, (R) – Trenton, renewed his request for a special legislative session to consider defunding and possibly impeaching Willis, even though most of her funding comes from the county.

"Let me be more clear, when I say defund Fani Willis I mean defund all of her Georgia state tax dollars besides the one dollar that we are constitutionally required to give her," Moore said to raucous applause from a crowd of several dozen supporters. "What is happening right now with District Attorney Fani Willis is politicization. That's what it is."

Moore has garnered little support from fellow lawmakers — even GOP lawmakers — in the Georgia General Assembly. But he's drawn plenty of criticism from them. Last week, Gov. Brian Kemp called Moore's idea for a special session a "grifter scam" to raise campaign dollars. Indeed, much of Moore's correspondence to constituents and on social media includes a donation link.

"We, as a legislature, have no power to do anything until we are in session, and that's why we must have a session now because we must investigate Fani Willis now," he said. "I'm going to continue to call, and I'm sure other colleagues are as well, to call for this special session up until we are in session."
From the Capitol Beat News Service via the Gwinnett Daily Post:
"I represent 200,000 hardworking Georgians in Northwest Georgia," Colton, R-Trenton, said during a news conference inside a legislative committee meeting room packed with sign-waving, T-shirt wearing supporters. "They don't want their tax dollars funding this type of corruption in Georgia."
In a gaggle with reporters, Moore indicated that he had not met with the Senate Budget Office or legal counsel to see if his plan is legally possible.

"What do you mean legally possible?" he asked. "I'm a member of the Legislature. I'm a member of the Republic. I don't ask permission from the Office of Planning and Budgets as to how my constituents' tax dollars can be spent."

"Fulton County will have to pay for it," he added. "The Fulton County Commission will have to tax their citizens more, or they will have to reallocate their tax dollars and fund Fani Willis, but my citizens that I represent do not want their tax dollars going to Fani Willis."

Some Republicans appear fed up with Moore's goals and tactics – which include posting legislative colleague's phone numbers to social media and publicly disparaging those who disagree with him and using language some fear could incite violence against legislators, prosecutors or grand jurors.

The unhappy atmosphere has led some to speculate he may face punishment, including being kicked out of the caucus, but Moore struck a defiant tone Thursday.

"We do go into caucus behind closed doors starting on Monday for three days. It'll be the first time that the Senate Republican caucus has met officially as a caucus since this has went down. My answer to your question and my answer to my fellow Republicans is make my day. Vote me out of the caucus."
Savannah-Chatham County public schools continue to experience a driver shortage, according to WTOC.
Leaders with Savannah-Chatham County Schools have set a goal this year – of having an on-time rate of 75% among pick-ups and drop-offs. So far this year, they say they haven't been able to meet that.

"So when we look at some of the reasons or causes for us to be a little below where we should be at this point, it's because of our driver shortages," said Tammy Perkins, the lead director of SCCPSS Transportation.

Tammy Perkins, a lead director with the school district's transportation department, says so far in 2023, only 52% of bus arrivals and drop-offs are on time – more than 20% lower than they want to be.

"As we see our number of students increasing, you'll see as we look closer at our driver data – that our number of drivers continues to decrease," said Perkins.

According to data from the school district, they have 193 active drivers this school year – that's down from 214 last year.

"We do a lot of things really well. So, my comment now, is more for us as a board, and less for the transportation team. We need to pay people more. That's what it comes down to," said Shawn Kachmar, District 4 school board member.
Former Burke County Sheriff's Chief Deputy Lewis Blanchard will run against incumbent Sheriff Alonzo Williams, according to WRDW.
On Tuesday, Blanchard stated he would confirm his campaign platform and plans for the future if elected, on Thursday, during a campaign announcement dinner for invited media only.

During his campaign announcement, Blanchard says he believes Burke County can keep young people involved through the sheriff's office, and that he would work to bring a Boys' and Girls' Club to the county if he is elected.

"On Thursday, Lewis Blanchard will announce his vision for Burke County and his promise to lead with Consistency, Sincerity, and Integrity. Blanchard's campaign platform is built on the pillars of Consistency, Sincerity, and Integrity. He believes that holding himself accountable is the first step to holding others accountable to the law. His commitment to an open-door policy aims to keep Burke County citizens well-informed, foster critical dialogue, and build stronger relationships within the community."

To learn more about the Blanchard campaign, go to the website.
"The vision is to make sure we have one of the safest counties around. We can do that efficiently with proper budgets, and making sure we're not spending money in wasteful areas–but make sure we're taking care of people. And it basically comes down to C-S-I: Consistency, Sincerity, and Integrity," said Blanchard.

During his campaign dinner at the First Liberty Market, he specifically addressed the need to reach young people–especially seeing the fights at Burke County High School to begin the school year.

Blanchard says that if he were to take the position as Sheriff, he would prioritize helping the next generation, and also bringing back a boys and girls club for kids in the city of Waynesboro.

Burke County's Republican Party says Blanchard won't qualify until next March.
Glynn County Commissioners tabled a vote on whether to hire a lobbyist, according to The Brunswick News.
Commissioner Sammy Tostensen made the motion to table a vote until a public meeting can be held to get input about whether the county even needs to hire a lobbyist.

Tostensen said some old projects funded with Special Purpose Local Option Sales Tax revenue were delayed so long with red tape from regulatory agencies at the state and federal level that the costs escalated greatly by the time work actually started.

"We can't start these projects until we get approval from the state," he said. "I see we need somebody at the top working its way down."

Tostensen has asked commissioners to consider hiring Atlanta-based lobbyists Joe Tanner & Associates at $5,000 a month to represent the county in the state capital.

"I come from the business world where delays cost time and money," he said. "We are a small county, but we have some big problems."

Commission Chairman Wayne Neal said the suggestion for the county to hire a lobbyist is not a reflection on the performance of the county's representation in Atlanta or from the chamber of commerce and development authority.

Neal predicted a lobbyist could save the county hundreds of thousands of dollars a year.

"There are times we need more help in Atlanta," Neal said. "We need advocates to help us expand our tax base in Glynn County. This is just one more aid in being efficient with taxpayer dollars."

Commissioner Cap Fendig said Tostensen's proposal was "right on the mark."
Baldwin County public schools have banned tailgating for football games, according to 13WMAZ.
The change comes due to safety concerns regarding managing large crowds at athletic events and social media challenges promoting dangerous pranks.

Here is the full statement from Eric Jones, Baldwin County Schools Coordinator of School and Community Relations.

"The safety concerns relate to the large crowd sizes at select sporting events, and the increasing demands on local law enforcement to expand their reach beyond the stadium premises. Baldwin High School is joining a growing list of counties and school districts that are discontinuing tailgating and loitering activities within the parking lots of football games. Recent social media 'challenges' promoting crowd disturbances and dangerous 'pranks' have exacerbated these concerns, posing tangible risks to public safety. As a result, the Baldwin County School District will no longer permit loitering or large gatherings outside the stadium. The priority is to foster safe, enjoyable, and family-oriented sporting experiences at our athletic and academic events for our student-athletes, band members, clubs, and their families."
Chatham County may develop its own Fire Department, according to WSAV.
Right now, a private company called Chatham Emergency Services handles calls in the unincorporated areas of the county.

The services they are providing now aren't working, according to Chairman Chester Ellis. The reason they want to break away from Chatham Emergency Services' debt from unpaid fire fees.

"We can't continue to dig the financial hole that it is in. Before the county even got involved, [Chatham Emergency Services] was operating in a deficit. Now, the deficit has grown," Ellis says.

"When Chatham Emergency first came to us, they were $3 million dollars in debt. This was like a year and a half ago, maybe two. They were $3 million in the hole. That hole has only gotten deeper and wider, so we partnered with them to help them collect subscription fees," Ellis says.

Chatham Emergency Services is a private company used to respond to fire calls in unincorporated Chatham County. The debt comes from residents not paying their "fire protection service fee," which has been a controversial topic for some time.
The Floyd County Board of Elections approved a plan to consolidate and relocate some voting locations, according to the Rome News Tribune.
"I am pleased with the board for going above and beyond legal requirements," Floyd County Election Supervisor Akyn Trudnak said. "The lengthy public review was important and we're excited to see these new changes during the November election."

Traditionally, the Town Rome and North Rome voting site has been set up at the Rome Civic Center on Jackson Hill.

Trudnak said the reason for moving the Town Rome voting location is that the state requires a justification to keep two precincts voting in the same place and there really isn't one.

In the upcoming election, the city precincts will have the Ward 1 and Ward 3 Rome City Commission races on the ballot, and all precincts will see the countywide SPLOST referendum. Early voting will begin on Oct. 16 and Election Day is Nov. 7
The City of Dalton will host a podcast, according to the Dalton Daily Citizen News.
The city of Dalton has launched a podcast called Live, Work, Play: The City of Dalton Podcast. The show is intended to highlight all of the things that local government is doing to make Dalton the best place to live, work and play in Georgia.

The first episode of the podcast is available now and features an in-depth interview with City Administrator Andrew Parker. Parker shares the story of his career with the city, a career that started as a member of the summer mowing crew and has taken him all the way to being the chief executive of the city government. Parker discusses his work with the city government and highlights a number of projects that are in the works.

The podcast is available on Spotify, Amazon, iHeartRadio and Apple Podcasts by searching for "Live, Work, Play Dalton."
Should I start a podcast? Maybe another Zoom lunch?
The Whitfield County Republican Party will expand their Hispanic outreach, according to the Dalton Daily Citizen News.
The Whitfield County Republican Party announces its Hispanic Republican Forum was successfully held recently. After welcoming remarks from party Chairman Eddie Caldwell, opening prayer was offered by Pastor Ernesto Molina and a flag salute was led by members of the San Pablito soccer team.

The scheduled speakers, Zeucis Martinez, Carli Eli and Riquet Caballero, discussed how the values evident in the Latino community, such as Christianity, traditional family, right to life, entrepreneurship and strong work ethic, align with the platform and policies of the Republican Party. Eli is the Georgia chairwoman of the Republican National Hispanic Association.

At the meeting it was also announced that the Whitfield County Republican Party is now officially sponsoring Dalton's San Pablito youth soccer team under head coach Hector Hernandez. Hernandez has a been a longtime leader in developing the local youth soccer programs that have led to Dalton's success in the sport and nickname Soccertown USA.

It was further announced that the Whitfield County Republican Party will, for the second consecutive year, sponsor a booth at the Hispanic Heritage Rodeo at the North Georgia Fairgrounds in Dalton on Sunday, Sept. 17, beginning at noon.
I'll admit that I'm pleasantly surprised at what sounds like well-thought-out and continuing efforts to attract voters.