Pen 231 at the Gwinnett County Animal Shelter holds this cute Lab mix, who has been misclassified as a "Pibble." She's accurately described as playful and friendly.
Tomorrow, a fundraiser will be held for the Society of Humane Friends, who run the spay/neuter clinic at the Gwinnett Animal Shelter and support the Gwinnett County Sheriff's Operation Second Chance Jail Dogs Program. The event is Saturday, July 28th from 10 AM to 3 PM at Gwinnett County Animal Control, located at 884 Winder Highway in Lawrenceville, and will feature a raffle, bouncy house for kids, hot dogs, hamburgers, and soft drinks. Saturday is also the last day for discounted adoptions at the Gwinnett Shelter.
Georgia Politics, Campaigns, and Elections
Owners of convenience stores tied to illegal gambling have contributed thousands of dollars to the campaigns of Muscogee County District Attorney Julia Slater, Muscogee County Sheriff John T. Darr, Marshal Greg Countryman and Municipal Court Judge Steven D. Smith among other candidates.
The contributions have raised questions as employees and relatives of campaign supporters — and at least one contributor himself — have been ensnared in a broadening Columbus police crackdown on illegal cash payouts from electronic gaming machines.

Businesses raided for alleged gambling since 2008 have given at least $28,000 to local candidates over the past four years, including nearly $10,000 to Slater and about $6,000 to Darr, according to an analysis by the Ledger-Enquirer.

The officeholders said they had not considered returning any contributions after the gambling raids, noting the defendants haven't been convicted. They insisted they have never given or been asked for preferential treatment in exchange for the contributions.
Atlanta Unfiltered writes that Senate Majority Leader Chip Rogers is accused of working on mailings for casinos and phone-handicapping services after he was elected to the General Assembly.
Chris McClurg, soon to be unsuccessful candidate for Gwinnett County Superior Court Judge has been named as the biggest offender for political campaign signs in the rights-of-way.
Gwinnett code enforcement officers said the "biggest offender award" goes to Chris McClurg who is running for superior court judge.

Police said of the 150 illegal signs they picked up, 90 belonged to McClurg.
McClurg also has a voting record that includes 2004 Democratic Primary and Primary Runoff elections, and the 2008 Democratic Presidential Preference Primary.
Secretary of State Brian Kemp ruled that Augusta Juvenile Court Judge Willie Saunders is eligible to run for Superior Court.
A formal challenge to Saunders' candidacy was filed in May by Augusta attorney Jack Long. Long claimed that Saunders should not be allowed to challenge Chief Superior Court Judge J. Carlisle Overstreet for his seat in the Augusta Circuit because state law bars anyone who has defaulted on tax obligations from holding office.

Kemp, who has the final say in such election challenges, decided to adopt Judge Michael M. Malihi's July 16 ruling, which said although Saunders owes federal taxes, his plan to pay the IRS under a Chapter 13 bankruptcy settlement meets the standard for a payment plan required by state law.
SOS Kemp also announced that his agency's website will feature a new elections return tool for the primary elections.
"Our Agency's new ENR system is a great resource for Georgia voters," said Kemp.  "Information will be distributed efficiently, be interactive, and be able to be broken down to the precinct level."
Would-be state Senate candidate Garry Guan has dropped out of the race after his residency challenge. Senator Curt Thompson is now unopposed.
Kemp rejected residency challenges against Republican Carla Roberts in HD 81 and Brooke Siskin in HD 95, in both cases adopting the recommendations of the Administrative Law Judge who took evidence.
Ashley Fielding of the Gainesville Times writes about the Republican Primary in the Ninth Congressional District.
One calls herself a "firebrand." Another repeats that he's the only "consistent conservative." And the third rarely sits down without mentioning the U.S. Constitution.

A seven-month campaign for the Republican nomination to run for the newest U.S. House seat in Georgia, which once drew five Republicans from three counties, culminates Tuesday with just three candidates on the Republican ballot.

Those left are a former state representative from Hall County, a retired principal from White County and a former conservative radio talk show host, also from Hall.

If neither Doug Collins, Roger Fitzpatrick nor Martha Zoller is able to garner more than 50 percent of the votes cast, the two with the most support will face off in an Aug. 21 runoff.

The winner of the election will face Democrat Jody Cooley of Gainesville in November's general election to represent all or parts of 20 counties in Northeast Georgia in Congress.
Former Governor Zell Miller has endorsed the reelection of state Senator Cecil Staton, according to a website owned by Cecil Staton
Senator Miller said, "Shirley and I have known Catherine and Cecil Staton for many years. I don't do this frequently, but I feel so strongly about this race that I wanted to let you know that I'm supporting Cecil Staton for re-­‐election. I know a conservative champion when I see one.

Don't let anyone fool you. Senator Staton is pro-­‐life, pro-­‐family, and pro-­‐business. He is a tax-­‐cutter, a budget-­‐balancer, and a job-­‐creator. We need him to keep fighting for our conservative values under the gold dome. I encourage everyone in the six counties of the 18th district to join me in supporting your Senator-­‐-­‐Cecil Staton.
An ethics campaign finance complaint has been filed against Fulton Magistrate Judge Melynee Leftridge over campaign expenditures. According to the filer of the complain,
"The most troubling of these allegations is an apparent elaborate scheme to funnel campaign contributions to a company responsible for maintaining a website www.pirouettesexy.com … the Pirouette Dance Company, whose name was changed to Pirouette Company with the Secretary of State in February 2012, currently maintains a website featuring pictures of scantly clad women and a current schedule of dates and fees," [complainant Charlie] Statdlander said in a statement.
Other clients of Pirouette include DeKalb CEO Burrell Ellis, Democratic State Rep. Pat Gardner, State House candidate Ronnie Mabra, Gail Davenport, DeKalb County State Court Judge Dax Lopez, and Citizens for Transportation Mobility. Sound like a legitimate political consulting practice to me, but that does give me some ideas for my website.
Chuck Eaton, running for reelection to the Public Service Commission, is supported by Charlie Harper, editor of Peach Pundit.
Much of the decisions that the PSC makes are handcuffed by Georgia law and an increasing appetite for  the General Assembly to regulate utilities via every more friendly regulations codified as state law.  Senate Bill 31 continues to resonate as an example, with the legislature, not the PSC, deciding to pre-fund Georgia Power's return on investment for two new nuclear reactors at plant Vogtle.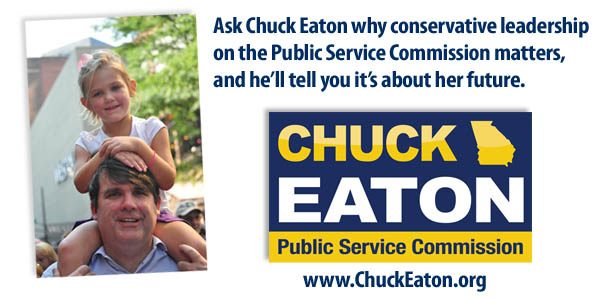 One of Chuck Eaton's strong points is that he is intellectually curious.  He is a person who is willing to admit he doesn't have all of the answers, and solicits opinions regularly on topics that interest him.

He has a keen grasp on the various risks associated with coal as the EPA continues to push coal powered electric plants toward extinction.  He understands that while natural gas prices are at historic lows right now, the history of the fuel is one of price volatility which could lead to wide variances in power costs.  He understands that nuclear is cheap once the power plants are operational, but getting a plant built after 30 years since the last plant was built will present unique challenges.

Eaton prefers a balanced approach, with Georgia not putting all eggs in one basket.  He's generally pragmatic about the needs of the state, and balances the needs of Georgians with the requirements that those the PSC regulates are entitled to earn a profit as defined in state law.

While not someone I always agree with, Eaton is someone who can explain and is willing to defend his positions based on fact and underlying law.  That's a rarity in politics.

In short, I trust him.  That's also rare.  He's an incumbent that gets my vote.  That's getting more rare.
Eaton is also supported by Governor Nathan Deal, Congressman Tom Graves, Attorney General Sam Olens, and numerous other Republicans.
T-SPLOST opponents outnumbered supporters at a debate over the sales tax hike last night at the Gwinnett Justice and Administration Center.
Sen. Renee Unterman, R-Buford, said her displeasure with the proposal came last year when the toll lanes were activated along Interstate 85. She said her inquiries into the issue, which actually increased congestion, caused her to realize the problem with the bureaucracy.

And, as far as the project list is concerned, she added that a proposal to convert Gravel Springs Road to an interchange angered her Buford constituents.

While debates in the Legislature lingered for years before the current Transportation Investment Act was adopted, Unterman said leaders would be anxious to take on the issue again in January if voters say no to the proposal.

"That's the risk," she said of politics intervening in the Legislature, "but I still say that risk is better than dumping billions of dollars into a system that is not working."
Also in Gwinnett, T-SPLOST opponents are questioning whether county funds are being used to support the T-SPLOST.
Partnership Gwinnett, funded by businesses and government agencies, has won national acclaim for efforts to attract jobs to metro Atlanta. But on Thursday citizens groups questioned whether taxpayers are getting their money's worth.

They also were skeptical of claims the Chamber of Commerce hasn't used public money to support the transportation sales tax measure on Tuesday's ballot.
Some Hispanic leaders joined Mayor Kasim Reed in supporting the T-SPLOST; a group called "Georgia Hispanic Republicans" are unanimously opposed to T-SPLOST. Make of it what you will.
The American Communist Lawyers Civil Liberties Union seeks to intervene in a lawsuit over Sumter County Board of Education district lines.
The Georgia Ports Authority is seeking to intervene in the federal lawsuit challenging the dredging of the Savannah River to improve access to the Port of Savannah.
The Georgia Ports Authority wants to intervene in a federal lawsuit challenging the $650 million deepening of the Savannah River shipping channel saying its contractual and economic interests are at risk.

The authority also asked a judge to block South Carolina's Savannah River Maritime Commission from entering the suit, saying that would expand the action and simply bring in extraneous issues.

The authority wants the river shipping channel deepened to handle larger ships that will be routinely calling when the Panama Canal is deepened in 2014. It filed the motions on Wednesday and U.S. District Judge Richard Gergel on Thursday gave the other parties in the case until Aug. 6 to respond.

The lawsuit filed by environmental groups contends the U.S. Army Corps of Engineers needs a South Carolina pollution permit before the deepening work can begin. The suit alleges toxic cadmium from river silt will be dumped in a dredge spoils area on the South Carolina side of the river.

The suit was brought by the Southern Environmental Law Center on behalf of the Savannah Riverkeeper, based in Augusta, Ga., as well as the South Carolina Coastal Conservation League and the South Carolina Wildlife Federation.
Forsyth County Elections
Senate district 27 pits Republican Senator Jack Murphy against Forsyth County Tea Party  founder Steve Voshall.
House district 26 is a contest between formers: former State Rep. Tom Knox and former Florida Marlins pitcher Geoff Duncan.
Walker Bramblett, the incumbent Chief Magistrate Judge meets former Chief Magistrate Barbara Cole. In 2008, Cole stepped down as she did not meet then-new requirements for years as a member of the State bar, but she now has enough time as a lawyer to mount a comeback.
The race for County Coroner features a retired medical examiner, a funeral director and a nurse, seeking to succeed Lauren McDonald, who is running for Sheriff.
The Republican primary for County Commission District 2 will decide whether incumbent Brian Tam or one of his challengers, Dennis Brown and Scott Padis, take a seat on the Commission, as no Democrat is running.
County Commission District 4 will also be decided in the Republican primary between incumbent Patrick Bell, and challengers Tim Hubbard, Charles Meagher, Cindy J. Mills and Bill Mulrooney.
One of those candidates for District 4, Cindy Mills, had an ethics complaint filed against her because she failed to list her role as an officer in the Forsyth County Parks Foundation on her Personal Financial Disclosure. She amended her PFD that day.
Holly LaBerge, spokeswoman for the Georgia Government Transparency and Campaign Finance Commission, said the complaint will not be pursued until after the July 31 election.

"If it was filed within 30 days of an election, we can't do anything with it until the election is over by law," LaBerge said.

State Rep. Mark Hamilton (R-Forsyth) was appointed chair of the Jekyll Island State Park Oversight Committee, on which he currently serves as a member. Tough duty.
A former Forsyth County deputy who was terminated during his probationary period claims his firing was because he posted on Facebook that he supports Duane Piper, who is challenging Sheriff Ted Paxton in the Republican Primary.
Ends & Pieces
Rocky Creek Solar Farm in Upson County is the first facility of its type in Georgia, and is now producing up to 1 megawatt, enough to power 300 homes. Georgia Power purchases electricity produced at the facility, with an additional 18 megawatts under development.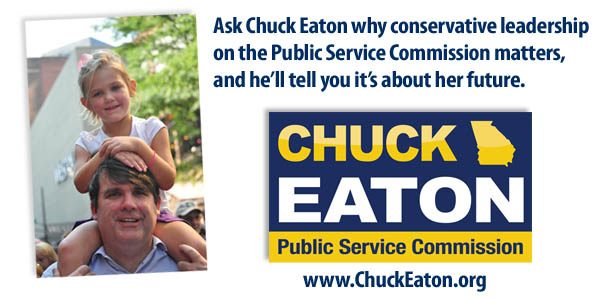 Effingham County Sheriff's Office took second place in its division in a national law enforcement highway safety challenge.
Rome-based Bubba will compete in dock diving at the Summer at the Rocks event in Stone Mountain this weekend. The event runs today through Sunday. Bubba is a four-year old chocolate Lab who enjoys food, licking himself, and belly rubs.
Model High School in Rome is holding it's annual band camp. This is not a one time occurence, but annual.