The British ship Mayflower landed at what is now Plymouth, Massachusetts on December 18, 1620.
Charles Wesley, brother of John Wesley who founded Methodism, and one of the great hymn-writers, was born on December 18, 1707. Wesley accompanied James Oglethorpe to Georgia in 1736.
France formally recognized the United States as an independent nation on December 17, 1777.
The first national day of thanksgiving was observed on December 18, 1777 commemorating the American victory over the British at Saratoga the previous month.
Congress wrote, "It is therefore recommended to the Legislative or executive Powers of these UNITED STATES, to set apart THURSDAY, the eighteenth Day of December next, for solemn THANKSGIVING and PRAISE; That at one Time and with one Voice the good People may express the grateful Feelings of their Hearts, and consecrate themselves to the Service of their Divine Benefactor."
George Washington's Continental Army entered winter quarters at Valley Forge, Pennsylvania on December 19, 1777.
During 1777, Patriot forces under General Washington suffered major defeats against the British at the battles of Brandywine and Germantown; Philadelphia, the capital of the United States, fell into British hands. The particularly severe winter of 1777-1778 proved to be a great trial for the American army, and of the 11,000 soldiers stationed at Valley Forge, hundreds died from disease. However, the suffering troops were held together by loyalty to the Patriot cause and to General Washington, who stayed with his men.

When Washington's army marched out of Valley Forge on June 19, 1778, the men were better disciplined and stronger in spirit than when they had entered.
In her youth, Mrs. GaPundit continually reminded her parents that the area in which she grew up, literally down the street from Valley Forge National Historic Park, was well known for causing frostbite.
On December 18, 1834, Governor William Lumpkin signed legislation chartering the Georgia Methodists Conference Manual Labor School at Oxford, Georgia, which would later become Emory College in 1836 and Emory University in 1915.
On December 19, 1860, the Georgia General Assembly adopted Resolution 14, which read in part,
Resolved 4th. That, should any or all of the Southern States determine in the present emergency to withdraw from the Union and resume their sovereignty, it is the sense of this General Assembly that such seceding States should form a confederacy under a republican form of government; and to that end they should adopt the Constitution of the United States, so altered and amended as to suit the new state of affairs.
General Ulysses S. Grant expelled all Jews from his military district, which covered parts of Tennessee, Mississippi, and Kentucky on December 17, 1862. President Lincoln ordered Grant to rescind the order.
On December 20, 1864, Confederate forces in Savannah retreated ahead of Sherman's army, crossing over into South Carolina, four years to the day after South Carolina's secession.
On December 18, 1865, U.S. Secretary of State William Seward issued a statement verifying the 13th Amendment to the Constitution, which outlawed slavery in the United States.
The office of Superintendent of Public Education and Georgia Schools was created on December 18, 1866 when Gov. Charles Jenkins signed legislation passed by the General Assembly; on December 18, 1894, Gov. William Atkinson approved a resolution for a Constitutional Amendment to make the State School Commissioner elected statewide.
On December 19, 1868, Congress opened hearings into barriers African-Americans faced to voting in Georgia, which included threats, violence, and death.
President William McKinley visited Savannah, Georgia on December 17, 1898. While there, McKinley attended church at Wesley Monumental Methodist Church and visited Georgia Agricultural and Medical College (now Savannah State University) and the Seventh Army.
On December 17, 1902, legislation changed Georgia's state flag changed to include the coat of arms on the blue band.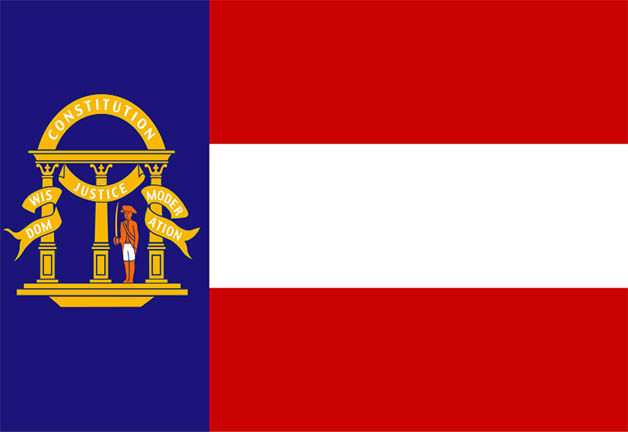 On December 17, 1944, Major General Henry C. Pratt ordered the end of the imprisonment of American citizens of Japanese descent in prison camps.
WTBS began broadcasting under new call letters on December 17, 1976 and uplinked its programming to satellite to become "America's Super Station."
On December 19, 1998, the United States House of Representatives voted to approve two of four Articles of Impeachment against President Bill Clinton.
Article I was approved 228-206. Voting in favor were 223 Republicans and 5 Democrats. Voting against were 200 Democrats, 5 Republicans, and one Independent.

Article II was defeated 229-205. Voting in favor were 200 Republicans and 5 Democrats. Voting against were 200 Democrats, 28 Republicans, and one Independent.

Article III was approved 221-212. Voting in favor were 216 Republicans and 5 Democrats. Voting against were 199 Democrats, 12 Republicans, and one Independent.

Article IV was defeated 285-148. Voting in favor were 147 Republicans and one Democrat. Voting against were 203 Democrats, 81 Republicans, and one Independent.

On all four impeachment articles, Georgia's congressional delegation voted exclusively along party lines. Republican congressmen Jack Kingston (1st district), Mac Collins (3rd district), Newt Gingrich (6th district), Bob Barr (7th district), Saxby Chambliss (8th district), Nathan Deal (9th district), Charlie Norwood (10th district), and John Linder (11th district) voted in favor of all four articles. Democratic congressmen Sanford Bishop (2nd district) and John Lewis (5th district) and congresswoman Cynthia McKinney (4th district) voted against all four articles.
Georgia Politics, Campaigns, and Elections
Two Special Elections have been scheduled for Tuesday, February 9, 2021, according to AccessWDUN.Continue Reading..