The General Election date is November 6th, 2012. The deadline for voter registration for the General Election is October 9, 2012, you have THREE DAYS TO ENSURE YOU ARE REGISTERED TO VOTE. Today would be a good day to email five friends with the following information, so they can make sure they're registered.
To check your voter registration or view a sample ballot, please visit the Georgia Secretary of State's office and use their MVP voter registration tool.
For questions about election dates, always check with the Georgia Secretary of State's website or your local County Elections Office.
Advanced voting in person starts October 15, 2012; here's where and when to vote early in person in your county. More than 10,000 voters are marked as having already voted in the November 6th General Election, according to data from the Georgia Secretary of State's Office.
Dog Rescue
2210, 2238, and 2095 are black lab mixes who are available for adoption from the Floyd County Animal Shelter in Rome, Georgia.
27851 is a beautiful male German Shepherd, and is one of the dogs who is eligible for Gwinnett County Animal Shelter's "Black Friday Sale," where all black or majority black dogs and cats may be adopted for $30.
Georgia Politics, Campaigns & Elections
Governor Nathan Deal announced a sales tax holiday for this weekend, October 5-7th for Energy Star and WaterSense appliances and fixtures:
"I encourage everyone to play their part in maintaining our environment by participating in the tax-free holiday to save money and, ultimately, conserve Georgia's resources," Deal said.

The sales tax holiday will take place Oct. 5-7 and will apply to:

Dishwashers, clothes washers, air conditioners, ceiling fans, fluorescent light bulbs, dehumidifiers, programmable thermostats, refrigerators, doors and windows that have the ENERGY STAR label and a purchase price of $1,500 or less.
Bathroom sink faucets, high-efficiency toilets and urinals, showerheads, faucet accessories (such as aerators), and weather- or sensor-based irrigation controllers that have the WaterSense label and a purchase price of $1,500 or less.

The state and local sales tax exemption will not apply to items purchased for trade or business use, or items rented or leased.
Attorney General Sam Olens followed-up on his legal advice to his client, Dr. John Barge, Georgia State School Superintendent, in which Olens said that elected school board members cannot advocate for approval or rejection of election measures using public resources.
"We're currently working on advice to the state school superintendent on what enforcement mechanisms may be appropriate or necessary," Olens told journalists in a conference call Thursday afternoon. "Because that's active, I'm not going to get into those details right now."

Georgia Attorney General Sam Olens said Thursday that he will have more to say, in the next couple of weeks, about whether local school boards violated state law when they approved resolutions opposing the charter schools amendment.

"We're currently working on advice to the state school superintendent on what enforcement mechanisms may be appropriate or necessary," Olens told journalists in a conference call Thursday afternoon. "Because that's active, I'm not going to get into those details right now."

Some supporters of the charter schools amendment have complained that Georgia Schools Superintendent John Barge and several school boards violated state law by using taxpayer resources to oppose the amendment. Barge wrote Olens seeking guidance, and on Wednesday the attorney general responded with a three-page letter citing the law against using taxpayer resources to participate in a political campaign.

Olens' letter only addressed only school boards, not the actions by supporters of the amendment, which he said he was not asked to address. Some legislators have been active in supporting the amendment, and Gov. Nathan Deal has endorsed it in public speeches.

"Some questions, like whether certain groups have broken the law, I can't answer because they are fact-intensive questions, and I don't have the facts," Olens said. "I'm not going to get into answering hypothetical questions about what does and doesn't violate the law when I have an active matter on the issue."
Board Chairman Fred Daniels said the board would be negotiating a contract with Keith Parker, who is currently the chief of VIA Metropolitan Transit in San Antonio.

Daniels noted that Parker was coming from a politically conservative area. He hoped that would serve Parker well in negotiations with Georgia's GOP-dominated Legislature, which provides no funding for MARTA, if the Legislature "gives him a chance."

"He has worked well with both the business community and the political community," Daniels said. "He has a track record in San Antonio of working with both Republicans and Democrats. Same thing in Charlotte."
Not having such a good relationship with Republicans is the MARTA Board itself, who rejected the advice of State Rep. Mike Jacobs (R-City of Brookhaven), Chairs of the legislature's MARTA Oversight Committee.
In choosing Parker, MARTA's board of directors rejected an internal candidate who had been favored by state Rep. Mike Jacobs.

"The decision the MARTA Board makes … may well determine in the very near term the direction of its relationship with the General Assembly. An internal candidate who is committed to doing the work that needs to be done to get MARTA's fiscal ship righted could go a long way to shoring up and bolstering the relationship with the General Assembly."

Parker was selected by a unanimous vote of 9-0, with one abstention – board member Wendy Butler. Butler served as Jacobs' campaign manager in his 2010 bid for reelection to the state House, according to her vita on linkedin.com.
And then the MARTA Board poked the legislature with a stick by allegedly violating the state's Open Meetings law.
In a complaint filed with the state attorney general, Republican State Representative Mike Jacobs of Atlanta is alleging MARTA's search chair requested final decisions from each board member via emails dating back to September 13th.

Hollie Manheimer of the Georgia First Amendment Foundation says the email correspondence appears to meet the definition of a vote.

"When you go from one person to the next looking for some kind of consensus, that gets awfully close to the definition of a vote," said Manheimer.

"Historically the AG [attorney general] has always said things like a rolling or walking quorum are violations of the law and I would very much expect Mr. Olens to keep on with that interpretation."

But Holland & Knight attorney Robert Highsmith, who is representing the MARTA board, says the emails don't break state law.

"If members want to inquire with each other how they intend to vote in a future meeting, that's perfectly permissible and if the public wants to review those emails they are permitted to do so under the Open Records Act."
If you've always wondered what Robert Highsmith sounds like, you can hear him in the WABE piece online yet again insisting his client did no wrong, or covering CCR's "Around the Bend."

The Georgia Lottery Board appears to be doing better in its search for a new Lottery President:
Debbie Dlugolenski Alford, who heads the governor's Office of Planning and Budget and serves on the Lottery Board, is expected to replace Margaret DeFrancisco as president of one of the country's most successful lotteries.
Fulton County Commissioners may want to work on their "people skills" as they may have to deal directly with state legislators after rejecting contracts for state and federal lobbyists.
In past sessions of the General Assembly, Fulton has spent tens of thousands of dollars on lobbyists to push back against Republican efforts to restructure the county's government or to allow the northern cities to break off into a new Milton County.

For the session that opens in January, state Rep. Lynne Riley, R-Johns Creek, is expected to push for a tax cap that could see county taxes go down. House Majority Whip Edward Lindsey, who represents Buckhead, wants city governments to take over some county services — possibly libraries and senior centers — which could strain city governments that have their own tax caps and can't raise taxes without referendums.

The lobbyist proposals ran into trouble Wednesday when Commissioner Robb Pitts accused county staffers of manipulating the bid process so that the spouse of the county's current hired lobbyist would get the $160,0000 state-level contract. He called the proposed $85,000 federal contract "wasteful and useless," and Vice Chairwoman Emma Darnell questioned why the county should pay a firm to communicate with members of Congress whom she bumps into in the grocery store.

Questions were raised about why the county should pay for outside lobbying firms when it also has an in-house Intergovernmental Affairs Division that's spending more than $600,000 this year. It's also part of the Association County Commissioners of Georgia, which lobbies for the state's counties.

Marietta Daily Journal interviewed Cobb County legislators about the renewal of the hospital bed tax. Here's the MDJ's tally so far:
Senator Judson Hill (R) No
State Rep. Ed Setzler (R) No
State Rep. Don Parsons (R) Probable Yes
State Rep. Rich Golick (R) Undecided
State Rep. Earl Ehrhart (R) leaning No
State Rep. Sam Teasley (R) leaning No
State Rep. Elect Charles Gregory (R) leaning No
State Rep. Matt Dollar (R) Undecided
Cobb County Superior Court Judge Dorothy Robinson retires at the end of December after 40 years on the bench.
Georgia Polling Report
At noon today, we'll release results of a poll of Georgia voters taken last night on the Presidential election. Stay tuned to the website. Media members working on deadline can email me for advance copies.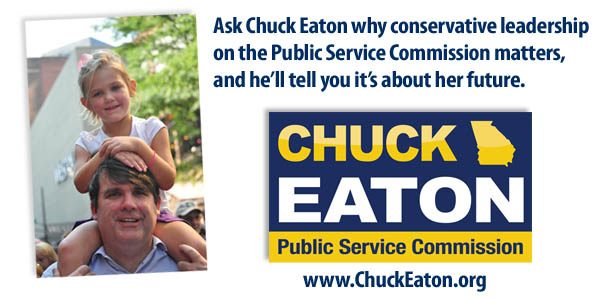 Mitt Romney was the clear winner of Wednesday night's Presidential debate, according to polls of debate watchers. Also according to Mitt Romney.
CBS News, which as in past elections and presidential addresses used the GfK's KnowledgePanel representative Internet panel to interview 523 uncommitted voters who watched the debate (with a reported margin of error of +/- 4 percent). Its sample included voters who were either totally undecided before the debate or who were leaning to a candidate, but said they may still change their minds.

Respondents were unambiguous about who won. By a 46 percent to 22 percent margin, the poll's uncommitted voters said they thought Romney won. After the debate, 56 percent said they had a better opinion of Romney, 11 percent had a worse opinion and 32 percent reported their opinion was unchanged.

CNN, which polled 430 adults who watched the debate and who had agreed to be interviewed after participating in an earlier CNN poll, also found clear evidence of a Romney victory. The survey found that 67 percent thought Romney won the debate, while only 25 percent said they thought Obama won. Thirty-five percent of respondents said they were more likely to vote for Romney after watching the debate, 18 percent for Obama and 47 percent said neither.

Democracy Corps, a Democratic firm, conducted a debate group with Women's Voices Women Vote Action Fund, with 45 independent voters in Denver. Among the group, 42 percent said Romney won, while 20 percent thought Obama won, and 38 percent said neither candidate did. One-third said they were likely to vote for Obama, compared with 31 percent before the debate. Forty-four percent said they backed Romney, up from 27 percent pre-debate.
Nate Silver says the real impact of the debate won't be seen in polls yet.
It's just too soon answer the question of what impact Wednesday night's debate in Denver, which instant-reaction polls judged to be a clear win for Mitt Romney, will have on the head-to-head polls.

For the time being, a better approach to estimate Mr. Romney's post-debate bounce may be to compare the historical relationshipbetween instant-reaction polls of the debate with their eventual effect on the horse-race numbers. That technique would estimate Mr. Romney gaining a net of 2.2 percentage points on Mr. Obama. But this calculation has a margin of error as well — about 3.5 percentage points in estimating the change in the margin between the candidates.

The most likely range of outcomes, however, is Mr. Romney gaining from one and four points on Mr. Obama once the effects of the debate are fully accounted for.

Of course, there is a huge difference depending on where Mr. Romney might fall within that range. If he adds four points, the race will be very nearly tied.

If he gains just one point, conversely, the situation will look rather poor for him: he'll have had what was almost certainly the best night of his campaign, and not gotten very much out of it.
The National Election Pool, which does exit polling for the AP and major television networks will not survey Georgia voters on November 6th. Georgia is one of 19 states that are excluded.
Voters in the excluded states will still be interviewed as part of a national exit poll, but state-level estimates of the partisan, age or racial makeups of electorates won't be available as they have been since 1992. The lack of data may hamper election night analyses in some states, and it will almost certainly limit post-election research for years to come.

A growing number of voters casting early ballots has added to the complexity of carrying out surveys in 50 states, the District of Columbia and nationally. In more and more states it has become crucial to supplement in-person precinct polling with relatively costly telephone interviews in order to achieve representative samples.

This year, exit pollsters are set to carry out phone polls in 15 states, about half of all states covered, and increase the sample sizes of those polls by 32 percent, according to Merkle. Moreover, the continued rise in the number of voters using cellphones also bumps up the price of phone surveys, another challenge motivating the changes for 2012.

Here is a list of the states that will be excluded from coverage: Alaska, Arkansas, Delaware, District of Columbia, Georgia, Hawaii, Idaho, Kentucky, Louisiana, Nebraska, North Dakota, Oklahoma, Rhode Island, South Carolina, South Dakota, Tennessee, Texas, Utah, West Virginia and Wyoming.

Comparing this list with the election map, reveals how carefully the exit poll planners allocated resources. All 19 of the states with no exit polls are classified as either "solid Obama" or "solid Romney," and there is only one "toss-up" gubernatorial or U.S. Senate race not on the list: the competitive North Dakota match-up of Heidi Heitkamp and Rick Berg.
The National Election Pool still plans to use phone polling in those states in which it will not be exit polling.
If you're completely obsessed with interested in polling, you might be interested in my thoughts on weighting, a statistical practice that has come under fire as a source of perceived bias against Republicans by mainstream media polls.