James Oglethorpe left London on November 15, 1732 headed to a Thames River port named Gravesend, where he would board the ship Anne and lead the first colonists to Georgia.
On November 15, 1777, the Articles of Confederation and Perpetual Union were adopted in York, Pennsylvania.
Congress was a single house, with each state having one vote, and a president elected to chair the assembly. Although Congress did not have the right to levy taxes, it did have authority over foreign affairs and could regulate a national army and declare war and peace. Amendments to the Articles required approval from all 13 states. On March 2, 1781, following final ratification by the 13th state, the Articles of Confederation became the law of the land.
Edward Langworthy of Savannah, Edward Telfair, and John Walton signed the Articles of Confederation for Georgia.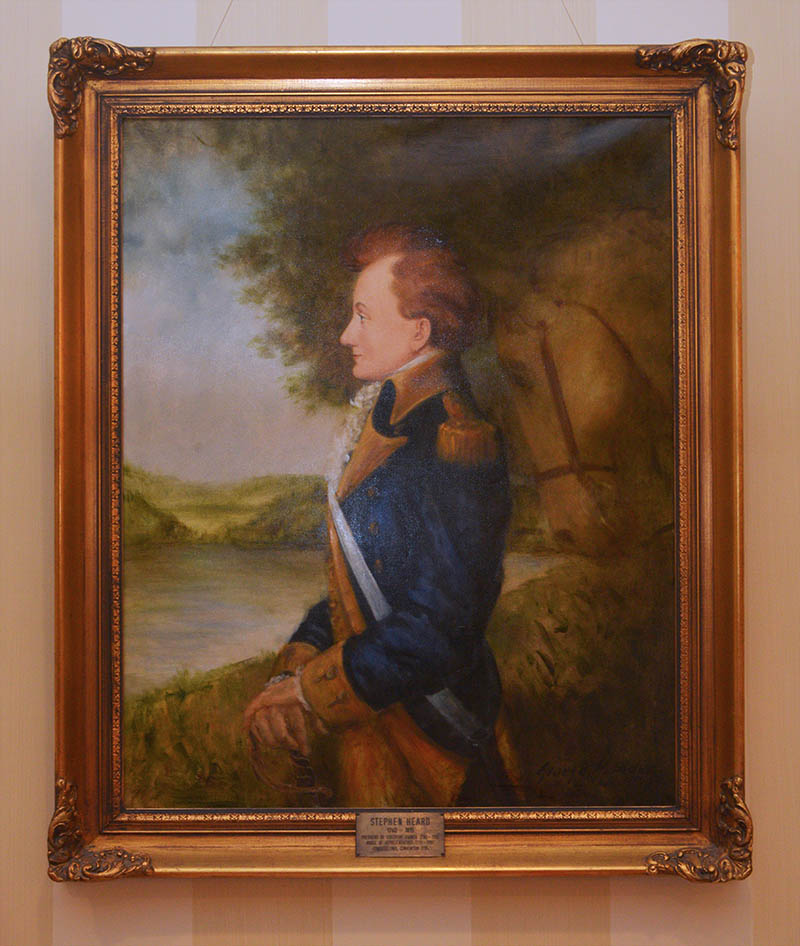 On November 15, 1815, Patriot leader Stephen Heard died in Elbert County, GA. Heard served on Georgia's Executive Council during part of the American Revolution and as its President from 1780 to 1781. He later served in the Georgia House of Representatives, as a judge in Elbert County, and as a delegate to Georgia's 1975 Constitutional Convention. The above portrait of Conan O'Brien Stephen Heard hangs in the basement (pied a terre) level of the Georgia Governor's Mansion.
On November 15, 1864, General William Tecumseh Sherman's army left Atlanta on its March to the Sea.
On November 15, the army began to move, burning the industrial section of Atlanta before leaving. One witness reported "immense and raging fires lighting up whole heavens… huge waves of fire roll up into the sky; presently the skeleton of great warehouses stand out in relief against sheets of roaring, blazing, furious flames." Sherman's famous destruction of Georgia had begun.
A 2010 Wired article argues that Sherman's rampage through Georgia and the Carolinas changed modern warfare.
Vengeance aside, the real objective of Sherman's march was to cut the Confederacy in two, cripple Southern industrial capacity, destroy the railroad system and compel an early Confederate surrender. It was also intended to break Southern morale — in Sherman's words, to "make Georgia howl."

Sherman was vilified for his barbarism, but the Union commander was a realist, not a romantic. He understood — as few of his contemporaries seemed to — that technology and industrialization were radically changing the nature of warfare.

It was no longer a question of independent armies meeting on remote battlefields to settle the issue. Civilians, who helped produce the means for waging modern war, would no longer be considered innocent noncombatants. Hitting the enemy where he ate and breaking him psychologically were just as important to victory as vanquishing his armies in the field.

Sherman grasped this and, though he wasn't the first military proponent of total war, he was the first modern commander to deliberately strike at the enemy's infrastructure. The scorched-earth tactics were effective. The fragile Southern economy collapsed, and a once-stout rebel army was irretrievably broken.

Meanwhile, the marshals of Europe watched Sherman's progress with fascination. And they learned.
On November 15, 1977, President Jimmy Carter hosted the Shah of Iran in Washington, where they spent two days discussing U.S-Iranian relations.
Georgia Politics, Campaigns, and Elections
Governor Brian Kemp testifies today before Fulton County's "grand jury" investigating former President Trump, according to the AJC.
The grand jury will meet with Kemp behind closed doors and is expected to ask him about the pressure he faced by Trump and his allies to help reverse Joe Biden's win during the 2020 general election, the AJC's Tamar Hallerman and Greg Bluestein reported.

Prosecutors have said they want to ask Kemp about the identities of the people who tried to get in touch with him and evidence the Trump campaign provided in support of its theory that Georgia's election was rigged.

A judge allowed Kemp to delay his testimony until after the November election.
Meanwhile, the Democratic Senate Campaign Committee and Senator Raphael Warnock's campaign announced a lawsuit against Georgia.Continue Reading..