James Oglethorpe left London on November 15, 1732 headed to a Thames River port named Gravesend, where he would board the ship Anne and lead the first colonists to Georgia.
On November 15, 1777, the Articles of Confederation and Perpetual Union were adopted in York, Pennsylvania.
Congress was a single house, with each state having one vote, and a president elected to chair the assembly. Although Congress did not have the right to levy taxes, it did have authority over foreign affairs and could regulate a national army and declare war and peace. Amendments to the Articles required approval from all 13 states. On March 2, 1781, following final ratification by the 13th state, the Articles of Confederation became the law of the land.
Edward Langworthy of Savannah, Edward Telfair, and John Walton signed the Articles of Confederation for Georgia.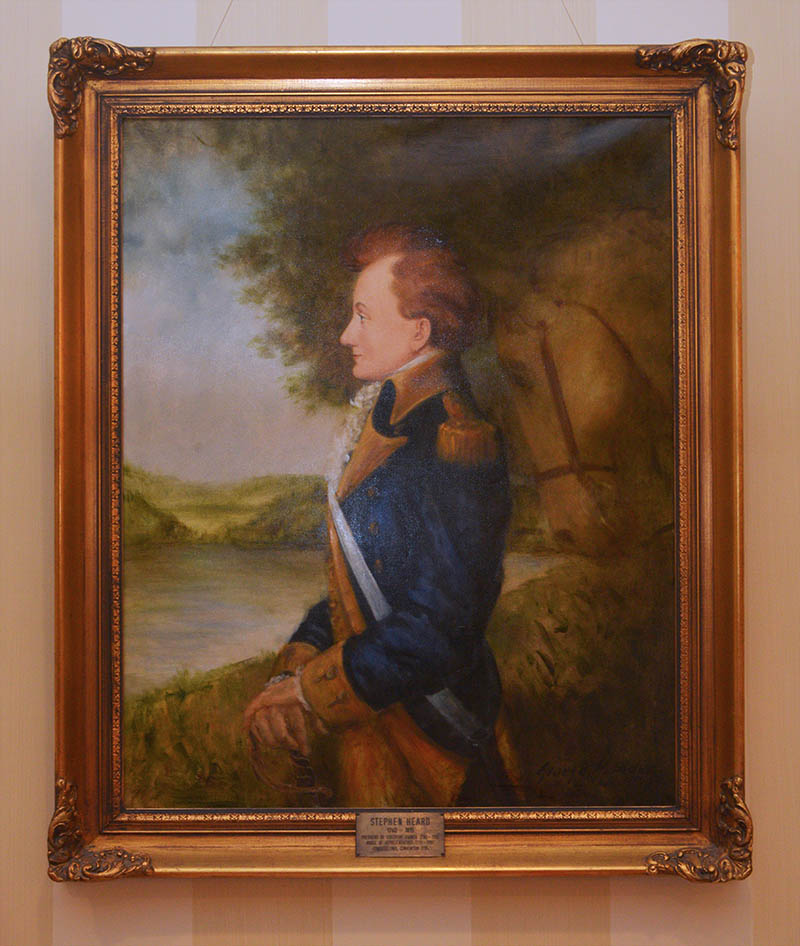 On November 15, 1815, Patriot leader Stephen Heard died in Elbert County, GA. Heard served on Georgia's Executive Council during part of the American Revolution and as its President from 1780 to 1781. He later served in the Georgia House of Representatives, as a judge in Elbert County, and as a delegate to Georgia's 1975 Constitutional Convention. The above portrait of Conan O'Brien Stephen Heard hangs in the basement (pied a terre) level of the Georgia Governor's Mansion.
On November 15, 1864, General William Tecumseh Sherman's army left Atlanta on its March to the Sea.
On November 15, the army began to move, burning the industrial section of Atlanta before leaving. One witness reported "immense and raging fires lighting up whole heavens… huge waves of fire roll up into the sky; presently the skeleton of great warehouses stand out in relief against sheets of roaring, blazing, furious flames." Sherman's famous destruction of Georgia had begun.
A 2010 Wired article argues that Sherman's rampage through Georgia and the Carolinas changed modern warfare.
Vengeance aside, the real objective of Sherman's march was to cut the Confederacy in two, cripple Southern industrial capacity, destroy the railroad system and compel an early Confederate surrender. It was also intended to break Southern morale — in Sherman's words, to "make Georgia howl."

Sherman was vilified for his barbarism, but the Union commander was a realist, not a romantic. He understood — as few of his contemporaries seemed to — that technology and industrialization were radically changing the nature of warfare.

It was no longer a question of independent armies meeting on remote battlefields to settle the issue. Civilians, who helped produce the means for waging modern war, would no longer be considered innocent noncombatants. Hitting the enemy where he ate and breaking him psychologically were just as important to victory as vanquishing his armies in the field.

Sherman grasped this and, though he wasn't the first military proponent of total war, he was the first modern commander to deliberately strike at the enemy's infrastructure. The scorched-earth tactics were effective. The fragile Southern economy collapsed, and a once-stout rebel army was irretrievably broken.

Meanwhile, the marshals of Europe watched Sherman's progress with fascination. And they learned.
On November 15, 1977, President Jimmy Carter hosted the Shah of Iran in Washington, where they spent two days discussing U.S-Iranian relations.
Georgia Politics, Campaigns, and Elections
Governor Brian Kemp testifies today before Fulton County's "grand jury" investigating former President Trump, according to the AJC.
The grand jury will meet with Kemp behind closed doors and is expected to ask him about the pressure he faced by Trump and his allies to help reverse Joe Biden's win during the 2020 general election, the AJC's Tamar Hallerman and Greg Bluestein reported.

Prosecutors have said they want to ask Kemp about the identities of the people who tried to get in touch with him and evidence the Trump campaign provided in support of its theory that Georgia's election was rigged.

A judge allowed Kemp to delay his testimony until after the November election.
Meanwhile, the Democratic Senate Campaign Committee and Senator Raphael Warnock's campaign announced a lawsuit against Georgia.
The Democratic Senatorial Campaign Committee (DSCC), the Warnock for Georgia campaign, and the Democratic Party of Georgia (DPG) have filed a lawsuit in the Superior Court of Fulton County to protect Georgians' access to Saturday early voting.

Key points from the motion:

The Secretary's interpretation misreads and cherry-picks provisions that have no application to runoffs. Section § 21-2-385(d)(1)'s restrictions on Saturday voting… do not apply to runoffs.

The Legislature expressly distinguished between three different categories of elections: (1) a primary election (referred to as a "primary"); (2) a general election (referred to as an "election," see id. § 21-2-2(5) (defining "election" as a "general or special election and not . . . a primary or special primary")); and (3) a runoff.

As the emphasized portions of the language provided above make clear, § 21-2-385(d)(1)'s exception for advance voting on Saturdays falling on or after a holiday applies only to primary and general elections, not runoffs. If the legislature desired otherwise, it "knew how" to say so and its decision not to refer to runoffs—which it references elsewhere throughout the provision—should be respected as a "matter of considered choice."

From Christie Roberts, DSCC Executive Director: "Republicans are once again attempting to rig the system to disenfranchise voters' right to participate in our democracy. Democrats are committed to fighting back against the Republican campaign of voter suppression and protecting the right of Georgians to early vote on Saturday."

From Quentin Fulks, Warnock for Georgia Campaign Manager: "Illegal attempts to block Saturday voting are another desperate attempt by career politicians to squeeze the people out of their own democracy and to silence the voices of Georgians. We're aggressively fighting to protect Georgia voters' ability to vote on Saturday."

From Rebecca DeHart, Democratic Party of Georgia Executive Director: "The Secretary of State's guidance regarding Saturday runoff voting is deeply concerning for anyone who believes in the right to vote, and it clearly contradicts Georgia law. We will use every legal tool at our disposal to ensure that Georgia counties can offer voters ample opportunity to cast their ballot as laid out in state law."

This week Elias Law Group sent a letter to multiple counties in Georgia outlining why Saturday voting in the U.S. Senate runoff election is legal in accordance with Georgia law and encouraging counties to ensure voters have every opportunity to vote in the runoff.

The DSCC previously announced its "Defend The Vote" program, a multi-million dollar commitment to fight back against GOP voter suppression efforts in the U.S. Senate campaigns across the country.
Local elections boards are accepting applications for absentee ballots for the December 5, 2022 runoff election, according to The Brunswick News.
Incumbent Democrat Raphael Warnock and Republican Herschel Walker will face off in the runoff for one of Georgia's two U.S. Senate seats. It is the only race on the ballot in Glynn County. Warnock held a narrow lead in the Nov. 8 general election with 49.4% of the vote to 48.5% for Walker. Libertarian Chase Oliver garnered just less than 2.1% of the vote, enough to force a runoff between the two frontrunners as neither reached the 50%-plus-one threshold to win.

To request an absentee ballot, go to glynncounty.org/elections, www.mvp.sos.ga.gov or visit the elections office at 1815 Gloucester St. in Brunswick.

According to Assistant Elections and Registration Director Christina Redden, early voting will begin no later than Nov. 28, but every effort will be made to start sooner. Notification of the start date will be published at glynncounty.org/elections and in The News.
If you live outside Glynn County, visit the Secretary of State's MVP site and sign in. Click to go to the Absentee Ballot Portal where you can download the application.
No Saturday early voting will occur during the Runoff Election, according to the Savannah Morning News.
Georgia's Secretary of State's office recently notified county-level officials that early voting in the U.S. Senate runoff will not include Saturday voting.

The notice, addressed to county election officials from Elections Division Director Blake Evans on Saturday, says that a state law prevents voting on the second Saturday before an election if there is a holiday on a Thursday or Friday. Thursday is Thanksgiving and Friday is a generically named State Holiday.

The State Holiday in November replaced a previous holiday honoring Confederate Gen. Robert E. Lee's birthday even though Lee was born in January.

The day after the election, Secretary of State Brad Raffensperger formally announced the runoff and suggested that counties were likely to have Saturday voting. Due to legislation passed in 2016, that will not be possible. The Atlanta Journal Constitution first reported the lack of Saturday voting in the runoff.

Early voting must begin no later than Nov. 28 and run through Dec. 2.

Counties may still choose to hold early voting on Sunday, Nov. 27. Early voting locations must be open 9 a.m. to 5 p.m. and can be open from 7 a.m. until 7 p.m. The release from Evans also said that the Secretary of State's office is hoping to certify the results of the Nov. 8 general election on Nov. 21.
Over the next week the elections office in Thomas County will be waiting on ballots that they've ordered to come in, and shipping ballots out to those voting by mail. Early voting will begin on Monday, November 28. The last day to request a vote by mail or absentee ballot is also on the 28.

Supervisor of Elections in Thomas County, Frank Scoggins says he and his team are planning to work through the holiday to make sure everything is in order in time for the runoff in December.

"We've proofed our ballots. We've ordered our ballots, and we're just waiting to get the ballots, and for what we call the project. Which is actually the election that we have to load all of the machines that we're sending out on election day and also the early voting," he said.

As for voters wanting to participate in the runoff election, there are a few important facts Scoggins says you should know as you prepare. Mail-in or absentee ballots are available online now through the portal. Officials say it would save time, and be accessible a lot sooner than waiting for it to be mailed.

"We're not working on that Saturday, because what we have to do on that Saturday takes everybody that voted in those five days and roll it back into the voters file so that there wouldn't be the possibility of voting twice," Scoggins said.

Georgia was one of the states being watched to determine which party controls the US Senate, but with Democratic wins in Nevada and Arizona democrats will maintain a majority.
The restriction on Saturday voting leaves five days of required in-person early voting on the weekdays before the Dec. 6 runoffs. County governments will have the option to offer up to three more early voting days starting the day after the results of the initial election are certified, potentially on the Tuesday and Wednesday before Thanksgiving and the Sunday afterward.

Secretary of State Brad Raffensperger had said last week that voters would have a Saturday voting opportunity before the runoff, but his office's attorneys later learned it wasn't allowed under state law.

"It's not our choice. It's literally in black-letter law that the Saturday following a state holiday cannot be used for early voting," said Interim Deputy Secretary of State Gabriel Sterling. "We all thought there was going to be Saturday voting until we looked at the law really closely."

The General Assembly passed the law restricting Saturday voting after holidays in 2016, but it wasn't an issue in previous runoffs because at the time, they took place nine weeks after Election Day, long after Thanksgiving and the State Holiday.

Voting rights advocates criticized the limitations on early voting opportunities in runoffs.

"A Confederate holiday should not prevent the protection of democracy, which is called voting. That holiday needs to be eliminated," said Gerald Griggs, president of the Georgia NAACP, the nation's oldest civil rights organization.

Before general and primary elections, Georgia law requires at least 17 days of in-person early voting, including two mandatory Saturdays and two optional Sundays. In runoffs, five days of early voting are mandated. Early voting is prohibited the weekend before election day.

For decades until late 2015, Georgia had a state holiday on the day after Thanksgiving memorializing Robert E. Lee, the Confederate general during the Civil War.

Gov. Nathan Deal changed the day's name to a more neutral title, "State Holiday," which is still observed on the same day of the calendar.

Then in last year's voting law, the Republican majority in the General Assembly shortened the runoff period following the defeats of Republican Sens. Kelly Loeffler and David Perdue in runoff elections on Jan. 5, 2021. The runoffs gave Democrats control of the U.S. Senate following wins by Democrats Raphael Warnock and Jon Ossoff.
From the AJC Political Insider:
U.S. Sen. Raphael Warnock will hold a news conference today with voting rights activists that is likely to focus on a recent interpretation of state law that will eliminate Saturday voting ahead of the Dec. 6 runoff election.

Under the new runoff window, the Saturday that would have accommodated early voting is too close to both Thanksgiving and the state holiday formerly known as "Robert E. Lee Day" to allow it under state law. The Friday after Thanksgiving was traditionally the Lee holiday.

Chief election official Gabriel Sterling said he initially thought there would be Saturday early voting during the runoff election for the U.S. Senate, but he now says he misspoke and the law doesn't allow it. Counties do have an option for three additional early voting days the week of Thanksgiving.

Former Atlanta mayor Keisha Lance Bottoms was among those who were incredulous that a holiday that once celebrated a Confederate general is now being used to prohibit Saturday voting before the runoff. Democrats say the decision will negatively affect voters.

Sterling clapped back at her on Twitter: "The law says a Thursday or Friday holiday would not allow a Saturday vote. I'm going to assume someone didn't tell you the truth about the law because I'm sure you wouldn't intentionally mislead folks."

However, the issue might not be settled. An attorney aligned with Democrats said that the Secretary of State's office is misinterpreting the law by applying it to runoffs instead of just primaries and general elections. Marc Elias, representing the Democratic Party, sent a letter to officials in Fulton County and other parts of Georgia urging them to move forward with Saturday voting.

"The provision of the law cited in the Secretary of State's November 12 Official Election Bulletin which prohibits early voting from occurring on a Saturday following a state holiday simply does not apply to runoff elections," he wrote.
The Richmond County Board of Elections meets today to certify vote totals from last Tuesday's elections, according to WJBF.
Certification is a formality in the election process. Election officials will vote to agree that all the votes have been counted and are accurate and then they will confirm the winners.

This comes after a week of reviewing disputed ballots, conducting post-election audits, and double-checking numbers for accuracy.

Travis Doss, director of the Richmond County Board of Elections, said that certification is a necessary step.

"We have to make it official. It's just like any official document. Richmond County certifies the results, basically says, these are the results that we have counted. These are the results that we have verified and then we send it off to the state, he explained. "And all 159 counties have to do that. But then the state will get it, they will compare their numbers, and then they will do a certification themselves."

"Next we have a runoff and in that runoff we have the senate race and we also have a school board race in District 2. In the meantime, we're having to prepare for a special primary for the House District 129 and that will take place of December the 20th. The challenge that we are faced with here in Richmond County is both elections are going to be conducted at the same time," he said.
The Floyd County Board of Elections voted to certify election results, according to the Rome News Tribune.
The total includes 44 provisional ballots. Eleven provisional ballots were rejected.

A Sunday alcohol sales referendum to allow licensed outlets in Floyd County to sell beer and wine by the drink and by the package between 11 a.m. and midnight on Sundays passed with 20,316 yes votes to 10,929 no votes.

Early voting for the runoff begins on Nov. 28, which is also the last day to request an absentee ballot. Election Day is Dec. 6. There will not be weekend voting in Floyd County for the runoff. In order to cast a ballot in the runoff, Georgia residents must have been registered to vote by Nov. 7.

All 159 Georgia counties will be required to do a "risk-limiting" audit which, as the name suggests, is a statistical check meant to decrease the risk of certifying an incorrect election outcome. It will focus on one statewide race, which will be the contest for Georgia Secretary of State.

That process in Floyd County will begin Thursday morning at the elections office in the health department building on East 12th Street.
Some Metro Atlanta schools will move to remote learning to accommodate the Runoff Election, according to the AJC.
Several metro Atlanta school districts will shift to online learning Dec. 6, the day of the U.S. Senate runoff election.

Atlanta Public Schools as well as districts in Cherokee, Clayton, Cobb, DeKalb, Fulton and Gwinnett counties will hold virtual learning days instead of in-person school.

Many schools do double duty as polling sites, and districts said they're responding to safety concerns as well as expectation that voter turnout will be high. Forsyth County's schools are not polling sites, so there will be no online learning that day, a district spokeswoman said.

APS has 29 buildings that serve as voting locations, and three more sites are places where voters can drop off ballots.

"As such, APS will pivot to virtual learning that day in order to support quality teaching and learning while balancing the safety and security of scholars and staff," the district said in a statement.
State Representative Jon Burns (R-Newington) was nominated for Speaker of the House by the Republican Caucus, according to the Savannah Morning News.
Georgia House Rep. Jon Burns has been named the Speaker of the House on Monday, replacing outgoing speaker David Ralston.

Burns was up against Rep. Barry Fleming, who was recently elected to the House District 125 seat, which encompasses Augusta.

Burns will now fill the role held by Ralston, a North Georgia Republican, for the past 12 years. Ralston said earlier this month that the "House needs a Speaker who can devote the necessary time and energy" to the position.

Burns, who represents parts of Effingham and Bulloch counties in House District 159, currently serves as the House majority leader, who heads the majority party caucus. The House speaker is the chamber's most powerful role and is widely considered the second-most influential position in Georgia's state government, behind only the governor.

The new Speaker will enter the role when the General Assembly convenes again in January.
That article is not quite precisely correct. State Rep. Burns is the Republican caucus nominee for Speaker, but the Speaker is elected by the entire body of the House. I'd probably say that he is the "presumptive Speaker-elect." to be pedantic.
From the Associated Press via the Statesboro Herald:
State Rep. Jon Burns is likely to be the next speaker of the Georgia House, signaling continuity with the 13-year reign of outgoing speaker David Ralston after Republicans nominated Burns in a secret vote Monday.

Burns, a farmer and lawyer from Newington, defeated Harlem lawyer Barry Fleming for the nomination. Although the official vote won't come until the new House convenes on Jan. 9, Burns is likely to win the gavel unless the majority caucus fractures.

"I don't pretend to be any more entitled to this office than anyone else in this room," Burns told House Republicans before the vote. "If I am nominated as your speaker, it will be because you trust me to keep building off of our success, keep our caucus united and keep our state moving forward."

Republicans won 101 seats in the 180-member House, down from their current 103-seat majority.

Republicans chose [Rep. Jan] Jones to return as speaker pro tem without opposition.

Both the House and Senate will have new leaders in the coming term. Lt. Gov. Geoff Duncan didn't seek a second term and is being succeeded by another Republican, state Sen. Burt Jones, of Jackson.

Burns' choice means rural lawmakers will maintain control of the speakership. Power in the House has mostly rested in the hands of those from outside metro Atlanta for decades, although Glenn Richardson, of Douglas County, was speaker from 2005 to 2010 after Republicans won control of the chamber.
From the Capitol Beat News Service via the Albany Herald:
Burns, R-Newington, defeated Rep. Barry Fleming, R-Harlem, by secret ballot at Monday's Republican Caucus meeting at the state Capitol.

If Burns is elected speaker by the full House on the first day of the 2023 legislative session in January, he would succeed Speaker David Ralston, R-Blue Ridge, who is stepping down from leadership because of health concerns.

Before Monday's vote, Burns pledged to build on Ralston's successes leading House Republicans during the last two-year term protecting the rights of gun owners and the unborn, making elections "more accessible and secure," increasing funding for law enforcement and public safety and cutting taxes.

"All of these were House priorities I worked on as a member of your leadership team," Burns told his GOP colleagues.

Both Burns and Fleming paid tribute to Ralston, who has served as speaker since 2010.

"He was a mentor to me," Fleming said.

"We owe him a debt of gratitude for his leadership and service," Burns added.

Burns represents the 159th House District, which includes all of Screven County and parts of Bulloch and Effingham counties.
From Atlanta News First via WTOC:
For the first time in recent memory, the state House and Senate will have new leaders, as state Sen. Burt Jones was elected as the state's new lieutenant governor last week.

"Georgia doesn't turn over speakers very often," said Dr. Charles Bullock of the University of Georgia, adding he cannot remember a legislative session where both the House speaker and lieutenant governor – who is president of the Senate – were new.

Burns now becomes one of Georgia's most influential political leaders. Gov. Brian Kemp was easily re-elected last week to a second term, and Republicans hold a 100-80 advantage over Democrats in the state House.

Over the weekend, Kemp named Amelia Hawkins, his deputy re-election campaign manager to become the new executive director of the Georgians First Leadership Committee.

Also, Cody Hall, who was Kemp's director of communications and senior advisor during his campaign, will serve as senior advisor to the committee and for Kemp's political activity in his second term.
Herschel Walker and Senator Raphael Warnock are campaigning for the Runoff Election, according to 13WMAZ.
Senator Raphael Warnock and his challenger Herschel Walker have just three weeks to convince their supporters to turn out at the polls again and urge those who didn't vote to cast their ballot by December 6.

Beginning with Walker, he is spread out across the state this week, including in areas where he had a strong hold. An example is Jackson County, where he had nearly 77 percent of the vote.

He's also focusing in spots where he didn't do as well as Warnock like McDonough, Marietta, and Savannah.
Monday, Walker was in Augusta.

"I'm gonna run because I'm not no politician what I am is a warrior for God and do what's right," Walker said at a rally in Augusta on Monday.

"It looks like he's hitting some of those spots where he's gaining some of the turnout as far as the runoff election or get some of the same people that supported him in the past," said Clif Wilkinson, political science professor at Georgia College and State University.

Meanwhile, since Election Day, Warnock's campaign has been jumping around metro Atlanta– areas where he's had an overwhelming advantage of the vote.

But on Thursday, he plans to make stops in Bibb County, where he had 61 percent of the vote.

Also, he'll visit Houston and Peach counties– both counties where Walker got more votes.

"The people of Georgia need a champion and a champion for working people. That's the work I've done my entire life. It's the work I've been doing in the Senate," Warnock said.

Wilkinson says both candidates will rally their voters by talking about balance of power in the Senate.

For Democrats who already have control, they'll say Warnock's seat will give them that extra edge to push legislation and Biden's agenda through.

If Walker wins, this will make it even– 50 Democrats – 50 Republicans. The Vice President breaks ties in the Senate.

No word on if Walker will campaign in Central Georgia ahead of the runoff.

As for Warnock, he'll be hopping around the area Thursday, beginning with a stop in Fort Valley at 1 p.m., Warner Robins at 3:15 p.m., and Macon at 7 p.m.
Republican U.S. Senate candidate Herschel Walker rallied Augustans in style on Monday, climbing the stairs to the tune of "Bad to the Bone" to speak to a crowd in front of a huge U.S. flag.

It was a cold morning and voters were crowded in a sectioned off space in the parking lot of a Gerald Jones Honda dealership on Washington Road. But that didn't stop more than 130 supporters coming to listen and cheer as Walker promised to be something different from what they've had.

"Right now, we don't need politicians. We need a warrior in Washington," Walker said.

"[Warnock] got to the point where he started getting like Scooby Doo does," Walker said. "When they said, "Sir, would you vote for Biden in 2024?' And he's like, "Ruh roh,' and I was like, 'That's Scooby Doo right there.'"

"We gotta make sure they know that we want to take our country back. This is not the elite in Washington," he said. "This is our country. This is the people's country. This is the people's state."
Augusta Mayor Hardie Davis spoke at a Warnock rally in Augusta, according to WRDW.
For Davis, the energy was a very serious-toned and tight-knit call for action to use common sense and keep our current senator in office.

For Walker, a high-energy rally calling for change and accountability in Washington. Both agree that going back to the polls is the answer.

"We've got a Senate race that's been thrust into a runoff, a runoff that should have never happened. A runoff that is the decision between competence and character versus incompetence and a lack of character," said Davis.

Davis doubled down on Warnock as the "obvious choice" for Georgia, citing his work to keep the price of insulin down while maintaining the U.S. highway system, keeping military bases from Texas to Georgia connected.

"Augusta, Georgia has been an incredible beneficiary of the work of our two U.S. senators. It's been a long time coming when you've got senators that not only see in Augusta but that you can pick up the phone and call," he said.

Walker came out before a cheering crowd in Evans, joined with Florida Senator Rick Scott to tell people his record is clean and wants to serve Georgia.
The "Evict Warnock" bus tour stop was made at Gerald Jones Honda at 4022 Washington Rd.

"We gotta get out and vote," Walker said. "You gotta tell your friends to get out and vote. If you don't have no friends, go make some friends and get'em to get out and vote."

Many of his supporters were dressed in all red and were waving "Veterans for Herschel" signs.

Florida Senator Rick Scott was also there campaigning for Walker and for a balanced Senate.

"The more Republicans we have, there's a greater chance we'll have influence on what the Democrats do," Scott said.

Walker talked about issues such as inflation, border security, gas prices, law enforcement staffing, the school system and military spending.

"He's failed as a senator, has he not failed?" Walker said. "In less than two short years, he failed us as a senator, so it's time for him to go. He don't know but it's time for him to go. And imma tell him right now, don't let the door hit you in the backside as you leave the people['s] office."
From the AJC Political Insider:
TODAY ON THE TRAIL:

Herschel Walker campaigns in Jefferson with Riley Gaines, the former NCAA swimmer who has been outspoken about competing against transgender swimmer Lia Thomas.

U.S. Sen. Raphael Warnock kicks off his "One More Time" statewide tour with a "Coffee with the Rev" in Douglasville. He'll head to Macon, Fort Valley and Warner Robins later in the week.
The Stone Mountain Memorial Association  Board awarded a contract for new history exhibits at the park, according to the Capitol Beat News Service via the Gwinnett Daily Post.
The board of the Stone Mountain Memorial Association Monday selected Birmingham- and Nashville-based Warner Museums to design new history exhibits for Memorial Hall at Stone Mountain Park.

Warner has experience designing exhibits that address the South's complex history of racism, including at Birmingham's Sixteenth Street Baptist Church, the Negro Southern League Museum and the Montgomery Bus Station Freedom Riders Museum.

"This park, and the new exhibits, offer a unique opportunity for presenting history in a way that informs, educates, and challenges people to learn about their shared history," said the Rev. Abraham Mosley, chairman of the board. "After having seen their work up close, we have no doubt that the fine folks at Warner Museums can do that."

"The exhibit galleries will explore the complete and complex history of Stone Mountain, and I would point out this is only the beginning of a longer process of getting input from all parties and working with the community to put together a project the state of Georgia can be proud of," said Bill Stephens, Stone Mountain Memorial Association CEO.
Georgia's Judicial Council allocated $39.5 million dollars in federal COVID relief funding, according to the Albany Herald.
The Judicial Council of Georgia Ad Hoc Committee on American Rescue Plan Act Funding has awarded grants totaling $39,476,327 to be distributed among 37 judicial circuits that applied for CY 2023 funding. The Committee accepted applications from Sept. 15-30 for the award period beginning Jan. These awards kick off the second year of the Judicial Council's ARPA grant program.

The majority of circuits plan to continue their current backlog response plans, which includes funding for temporary personnel to respond to the case backlog, such as senior judges and judges to serve by designation, assistant district attorneys, security personnel, investigators and victim support staff, and court reporters. Funding is also being provided for rental costs for temporary space to hold court, supplies and materials, mandatory education and training for certain personnel, and staff to support grant administration.

Georgia's judiciary operated under a Statewide Judicial Emergency Order from March 2020 through June 2021. The order placed necessary limitations on court operations to protect the health and safety of those working in and coming to courthouses during this time but also resulted in a backlog of criminal and civil cases, particularly those requiring jury trials to resolve.
In October 2021, Gov. Brian Kemp announced the allocation to the judicial branch of $110 million of ARPA funds to address backlogs of court cases, particularly cases involving serious violent felonies. The Judicial Council is administering $96 million of that total for eligible courts, prosecutors, and related agencies. The remaining $14 million in ARPA funds was allocated to the Georgia Public Defender Council for grants to public defenders.
The Savannah Morning News attributes the failure of Chatham County's Special Purpose Local Option Sales Tax for Transportation (T-SPLOST) referendum to weak persuasion by county leaders.
But local leaders have failed to craft coherent plans for the area. They even failed to convince West Chatham voters that they should support TSPLOST.

Voters at the community center in Bloomingdale, for example, rejected the new tax by 56% to 44%. Similar results rolled in from polling places throughout West Chatham, including 53% voting no at the recreation center in Pooler.

TSPLOST failed by similar margins in other areas that tend to be more conservative than the county as a whole. About 56% of voters at the largest precincts on Skidaway Island and Wilmington Island rejected the new tax.

The closeness of the vote probably surprised some TSPLOST supporters who were expecting a more decisive loss. They could plausibly explain the defeat as a logical outcome of a midterm election at a time of high inflation and broad dissatisfaction with government.
Dougherty County Commissioners welcomed new Chairman-elect Lorenzo Heard, according to the Albany Herald.
A meeting on Monday served as sort of a welcome for Heard who says that while he hasn't necessarily worked in a position like this before, he has always been passionate about community affairs.

Different departments in Albany were in attendance at the meeting, including the department of transportation, the police department, code enforcement, jailers, EMS and many more.

Each department had a representative who introduced what exactly the department does and how they plan to better the city of Albany in the future.

Heard will start this position in January 2022, where he will be replacing former chairman Chris Cohilas.
The Georgia Ports Authority announced that October was their second-busiest month on record, according to the Capitol Beat News Service via the Albany Herald.
The port handled 552,800 twenty-foot equivalent units (TEUs) of containerized cargo last month, an increase of 9.8% over October of last year. That put Savannah's total for October below only the 575,500 TEUs the port moved in August.

"There has been downward pressure on the total U.S. container trade related to inflation and a shift in consumer spending toward services such as restaurants and travel," said Joel Wooten, the authority's board chairman. "However, the Port of Savannah continues to outperform relative to the national market, driving new business for Georgia."

The Port of Brunswick also had a strong October. Colonel's Island Terminal handled 70,233 units of roll-on/roll-off cargo last month, an increase of 22,045 units over the same month a year ago, or nearly 46%.

"Greater availability of computer chips has allowed carmakers to increase production," said Cliff Pyron, chief commercial officer for the ports authority. "This, combined with manufacturers' traditional end-of-year push, yielded strong results for our October auto volumes."

Authority Executive Director Griff Lynch said the Port of Savannah is continuing to make progress reducing the backlog of ships at anchor waiting to enter the port.