The Continental Congress renamed their new nation the United States of America, from the previously used "United Colonies" on September 9, 1776.
The United States government was nicknamed "Uncle Sam" on September 7, 1813.
An American fleet of nine ships under the command of Captain Oliver Hazard Perry routed a British fleet in the Battle of Lake Erie on September 10, 1813.
After the battle, Perry sent a famous dispatch to U.S. General William Henry Harrison that read, "We have met the enemy, and they are ours." The Battle of Lake Erie forced the British to abandon Detroit, ensuring U.S. control over Lake Erie and the territorial northwest.
Years later, Pogo, Georgia's Official State Possum, would paraphrase Perry's dispatch.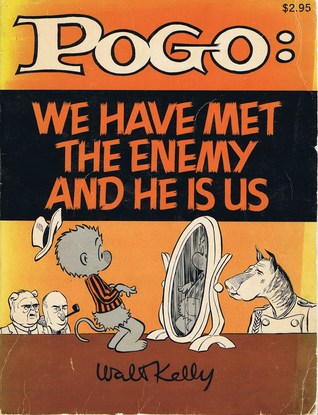 And eventually, Pogo's statement that, "We have met the enemy and he is us" would become the official slogan of the Georgia Republican Party.
One day after Perry's victory in the Battle of Lake Erie, American Master Commandant Thomas Macdonough led American forces in the Battle of Plattsburg at Lake Champlain, New York on September 11, 1813.
On September 7, 1864, General William T. Sherman sent a letter to his Confederate counterpart, General John Bell Hood, offering to transport civilians out of Atlanta for their safety.
The Union Army began evacuating civilians from Atlanta via Lovejoy's Station on September 11, 1864.
The Georgia General Assembly appropriated $1 million for construction of a new State Capitol on September 8, 1883.
The Fulton County Courthouse was dedicated on September 8, 1914.
Georgia-born Ty Cobb took his last at-bat on September 11, 1928.
On September 9, 1933, WSB Radio in Atlanta was upgraded to broadcasting via 50,000 watt transmitter. The first broadcast included Will Rogers and a letter from President Roosevelt.
On September 9, 1939, an audience at the Fox Theater in Riverside, California watched a preview of Gone With the Wind.
The first actual computer bug was identified on September 9, 1947, when Grace Hopper removed a moth from an electrical relay in the Harvard Mark II computer. Hopper received her Ph.D. in Mathematics from Yale in 1934 and attained the rank of Rear Admiral, Lower Half in the United Stated Navy. USS Hopper (DDG-70) was named after her.
On September 9, 1954, Marvin Griffin won the Democratic Primary election over Melvin Thompson. Below is a photo of the monument to Gov. Griffin in Bainbridge.
Elvis Presley first appeared on The Ed Sullivan Show on September 9, 1956.
The Professional Football Hall of Fame opened on September 7, 1963 in Canton, Ohio.
On September 8, 1966, viewers of the Star Trek debut first heard the monologue opening, "Space, the final frontier…"
On Sept. 8, one of the most enduring franchises in TV and movie history celebrates its 50th birthday. Star Trek debuted on NBC in 1966, developed by Roddenberry, a former Los Angeles cop who wanted to make a TV series which could sneak past the rampant escapism of most programs back then.

At a time when scripted TV rarely dealt directly with the turbulence of the times, Star Trek set its social messages against a space opera backdrop. Swashbuckling Captain Kirk ran the Enterprise, backed by cerebral first officer Mr. Spock and emotional Southern medical officer Dr. Leonard McCoy.

On the surface, the show's plots dealt with exotic alien worlds in a future where space travel was commonplace. But Roddenberry and his writers slipped in subtle messages.

One classic story pointed out the absurdity of racism by depicting a war among members of an alien race, where one faction was colored black on the left side of their face and body and white on the right. The other faction had the colors reversed.

And as the end of state-sanctioned segregation rattled America, Roddenberry featured TV's first interracial kiss: Aliens forced Captain Kirk to smooch his African American communications officer Lt. Uhura.
Future Atlanta resident Curtis Mayfield saw his song, "Superfly" turn gold on September 7, 1972.
President Gerald Ford pardoned former President Richard Nixon on September 8, 1974 for"all offenses against the United States which he, Richard Nixon, has committed or may have committed or taken part in during the period from January 20, 1969 through August 9, 1974."
After a week-long Presidential campaign swing through ten states, former Governor Jimmy Carter returned to Plains on September 11, 1976.
On September 11, 1985, Pete Rose broke Ty Cobb's career hit record, notching number 4,192 against the San Diego Padres.
On September 10, 1991, Senate confirmation hearings began for Georgia-born Clarence Thomas, who was appointed by President George H.W. Bush (41) to the United States Supreme Court.
Nirvana's Smells Like Teen Spirit was released as a single on September 10, 1991. Today, it smells more like Bengay.
I was in my car the morning of September 11, 2021, on the way to my job when I heard on the radio of the first plane hitting. The announcers thought at first that it must be a small plane and likely an accident. Seventeen minutes later all doubt vanished as the second hit. I called Mrs. GaPundit at home. Over the next hour, a third plane hit the Pentagon and a fourth went down in a field in Pennsylvania. We watched on television as the towers burned, then collapsed.
On September 10, 2002, the Atlanta Braves clinched an eleventh straight division title without playing, as a loss by the Philadelphia Phillies assured the Braves the title.
Happy 80th birthday to former Congressman John Linder. Linder served in the State House from 1974-1980 and 1982-90. In 1990 he ran unsuccessfully for Congress against incumbent Democrat Ben Jones; in 1992, after redistricting, Linder was elected to Congress from the 7th District and served until his retirement after the 2010 election.
Georgia Politics, Campaigns, and Elections
Governor Brian Kemp's office this week announced August revenues grew 8.5% over the previous year, according to a Press Release.
The State of Georgia's net tax collections for August totaled nearly $2.31 billion for an increase of $180.4 million, or 8.5 percent, over August 2021 (FY 2022), when net tax collections approached $2.13 billion. Year-to-date, net tax revenue collections totaled roughly $4.52 billion after two months, for an increase of $234.6 million, or 5.5 percent, compared to FY 2022 as of the end of August.

The changes within the following tax categories account for August's overall net tax revenue increase:

Individual Income Tax: Individual Income Tax collections for August totaled $1.32 billion, an increase of $215.6 million, or 19.5 percent, over the Individual Tax revenues for August of 2021.

The following notable components within Individual Income Tax combine for the net increase:

•  Individual Income Tax refunds issued (net of voided checks) decreased by $8.7 million or -9.9 percent
•  Income Tax Withholding payments for August increased by $164.1 million, or 15 percent, over August 2021
•  Individual Income Tax Return payments increased by $20.8 million, or 87.9 percent
•  All other Individual Tax categories combined, including Estimated Tax payments, were up nearly $22 million

Sales and Use Tax: Gross Sales and Use Tax collections approached $1.48 billion for the month, which was an increase of $156.4 million, or 11.9 percent, over August of 2021. Net Sales and Use Tax increased $73.3 million, or 11.1 percent, compared to August 2021, when net Sales Tax revenue totaled $663.1 million. The adjusted Sales Tax distribution to local governments totaled $736.1 million, for an increase of $88.1 million, or 13.6 percent, over the previous fiscal year. Lastly, Sales Tax refunds decreased by $5.1 million, or -63.9 percent, compared to FY 2022.

Corporate Income Tax: Corporate Income Tax collections increased by $60.2 million, to a total of $62.3 million compared to August 2021, when net Corporate Tax revenues totaled $2.1 million.

The following notable components within Corporate Income Tax make up the net increase:

•  Corporate Income Tax refunds issued (net of voids) were down $29.1 million, or -87.4 percent, from the same time last year
•  Corporate Income Tax Estimated payments increased by $16.2 million or 68.8 percent, over last year
•  All other Corporate Tax payments, including Return payments, were up a combined $14.9 million over August of 2021

Motor Fuel Taxes: Motor Fuel Tax collections for August decreased by $170.7 million, or -99.6 percent, compared to August of 2021, as a result of Governor Kemp's Executive Order to suspend the Motor Fuel Excise Tax.

Motor Vehicle – Tag & Title Fees: Motor Vehicle Tag & Title Fee collections increased by nearly $2 million, or 5.7 percent, to a total of $36.2 million, while Title ad Valorem Tax (TAVT) collections decreased by $2.3 million, or -3.4 percent, compared to the same time the previous year.
The New York Times reports that some Democratic insiders are concerned Stacey Abrams might lose the race for Governor of Georgia.
Georgia Democrats have grown increasingly pessimistic about Stacey Abrams's chances of ousting Gov. Brian Kemp from office, pointing to her struggles to rally key parts of her party's coalition and her inability to appeal to a slice of moderate Republican voters who can decide the state's elections.

Public and private polls have consistently shown her trailing Mr. Kemp, a Republican seeking a second term. And, in a particularly worrying sign for Ms. Abrams, polls also show she is drawing less support than the other high-profile Democrat on the ballot, Senator Raphael Warnock, who is seeking a first full term.

The gap between the two Democrats, which is within the margin of error in some recent surveys and as wide as 10 points in others, highlights the extent of her struggles. Though she is beloved by Democratic voters, she has lost some ground with Black men, who provided crucial backing in her narrow loss to Mr. Kemp in 2018. And while Mr. Warnock draws some support from Republican moderates, Ms. Abrams — who has been vilified more by the G.O.P. than any other statewide figure — has shown little sign of peeling off significant numbers of disaffected Republicans.

Ms. Abrams's standing — consistently trailing Mr. Kemp in polls by around five percentage points — has alarmed Democrats who have celebrated her as the master strategist behind Georgia's Democratic shift.

"Right now, people are concerned — kind of looking sideways," said Erick Allen, a Democratic state representative, who said he hoped enthusiasm would pick up in the fall sprint. "There's a lot of energy around the Warnock campaign. I'm not sure if the same energy that we had four years ago is around the Abrams campaign yet."

In an interview last week, Ms. Abrams defended her strategy, noting that her Democratic turnout operation helped carry the state for Mr. Biden, Mr. Warnock and Senator Jon Ossoff in the 2020 election cycle. "I imagine an electorate that is possible, not the electorate as if the election was held today," she said.

She and her top aides believe her standing is improving, buoyed by voter anger over the Supreme Court decision overturning the federal right to an abortion. She is planning a broader campaign to highlight Mr. Kemp's signing of a 2019 law — which went into effect in July — that bans abortion in Georgia after the sixth week of pregnancy.

"We have to work harder as women, as African American women," said former Mayor Shirley Franklin of Atlanta, who added that women "just have a harder time capturing the imagination as executives."

Democrats have largely kept quiet on their concerns about Ms. Abrams's campaign. But several county elected officials and community leaders in Georgia have privately expressed their worries to the campaign directly, according to interviews with more than two dozen Democratic officials who asked not to be named discussing private conversations. They have complained that the campaign was slow to reach out to key constituencies and underestimated Mr. Kemp's strength in an already difficult year for Democratic candidates.

Some of Ms. Abrams's supporters say her struggles are more rooted in sexism than any strategic misstep. She is running in the Deep South for an office that has long been elusive to women and candidates of color. If she wins in November, she will be the first Black woman and only the fifth Black person in American history to occupy a governor's mansion.

Fred Hicks, a Democratic pollster in Atlanta, said Ms. Abrams's 2018 campaign, and her prominent role in Democratic politics since, had put some voters out of reach to her — even those who turned to Democrats during the Trump era.

"There are Republican voters who are OK with Senator Warnock," he said. "But there is a very strong anti-Stacey Abrams feeling."
Tate Mitchell, who serves as Kemp's campaign spokesperson, reacted [to the NYT story]  in a statement first obtained by Fox News.
"Stacey Abrams' campaign isn't connecting with Georgia voters, and people across the country and here in Georgia know it," Mitchell said. "After raising millions hand over fist from out-of-state billionaires, her campaign — and Georgia Democrats — are now mired in internal squabbling. Governor Kemp will continue to run on his record of putting Georgians first and his vision for a safer, stronger Georgia."
"Stacey Abrams' campaign isn't connecting with Georgia voters, and people across the country and here in Georgia know it," a spokesperson for Kemp's campaign told the site. "After raising millions hand over fist from out-of-state billionaires, her campaign—and Georgia Democrats—are now mired in internal squabbling. Governor Kemp will continue to run on his record of putting Georgians first and his vision for a safer, stronger Georgia."

"Under Governor Kemp's leadership, Republicans have passed over fifty healthcare bills to lower costs and expand access, including waivers to increase options for affordable care throughout the state. While Abrams' desperate campaign misrepresents the truth on every issue, it's clear Georgians aren't buying her radical agenda. Governor Kemp will continue to run on his record of putting Georgians first and his vision for a safer, stronger Georgia," Tate Mitchell, a Kemp campaign spokesman, said in a statement.
n an exclusive interview with Fox News Digital, Kemp suggested the unnamed Democrats in The Times story chose to remain anonymous because they were scared of being "canceled," and that Abrams' status as a leader of her party was starting to "fracture."

"I think it's because she's been spending so much time out of the state over the last, really, three years. I mean, she's built all these bridges that she's got from high-wealth people out in California, and up in New York, and in Washington, D.C., and she's raising literally millions, if not tens of millions, of dollars from those folks," Kemp said when asked about those Democrats expressing alarm over the state of the Georgia governor race.

"It's easy pickings for her, but they don't have our values. They don't share the values that Georgians share, and I think she's kind of lost touch with that, and I think her base is realizing that," he added.
Republican Former South Carolina Governor Nikki Haley will campaign in Georgia with Governor Kemp, according to The Hill.
A media advisory from Kemp's campaign on Wednesday said that Haley, the former governor of South Carolina, would be joining Kemp and his wife for a campaign event in the Atlanta metro area. Haley formally endorsed Kemp's reelection bid last month.

Haley has been floated as a possible 2024 GOP presidential candidate, and her decision to campaign in Georgia is likely to continue raising speculation.
On Friday, Kemp and First Lady Marty Kemp will be campaigning in metro Atlanta with former U.N. Ambassador and South Carolina governor Nikki Haley.

Also on Friday, Abrams will participate in a conversation with radio host and TV personality Charlamagne tha God, along with rapper 21 Savage, and attorney Francys Johnson. The conversation, according to Abrams' campaign, will be focused on Black men in Georgia, along with the candidate's plans to create jobs, fully fund education, restore free technical college and address Georgia's affordable housing crisis.

On Saturday, Kemp and his family will tailgate with UGA college Republicans in Athens prior to UGA's home football opener.

On Saturday, Abrams will be in Austell and Augusta. Earlier this week, Abrams held "One Georgia" events in Valdosta, Waycross and Eatonton.
Governor Kemp toured Chattooga County to assess storm damage, according to Fox5News.
Gov. Brian Kemp and First Lady Marty Kemp spent Wednesday morning touring damaged areas in northwest Georgia hit the hardest floods over the weekend.

Most of Chattooga County is still without water, and some business owners say they don't know if they'll ever be able to reopen.

Gov. Kemp and top state first responders toured the damaged caused by what he called a 500-year storm.

"We have been here and we are not going anywhere," said Gov. Kemp. "We are going to hang here while everyone needs us. We are still seeing a lot of water in the area and in the drainage ditches, but I don't think it gives you the full effect of what people are dealing with."
"When you go up there it really doesn't look that bad … but they literally have businesses that are just out of commission," Kemp told the Greater Rome Board of Realtors, which met at Berry College's Oak Hill campus Wednesday. "They don't have any public water in the city … so the school systems are not in. There are a lot of great churches, a lot of state resources (providing needed water). We saw your sheriff, Sheriff (Dave) Roberson was up there with some of his folks lending a hand to a neighboring county and I certainly appreciate his leadership in regards to that.""It's just really a tough situation, but to see how people come together in an actual disaster like that, it makes me proud," Kemp said.

Looking forward, Kemp said he's planning on doing another $1 billion tax refund this year similar to the one from the past tax year.

"Then we're also going to use another billion to do a property tax relief grant," Kemp said. "For hard working Georgians (higher property tax assessments) are also squeezing their budgets … that hits our people in the pocket. We feel like it's going to save the average person with a Homestead exemption between 15 and 25% of their tax bill."
Democrat Stacey Abrams campaigned in Valdosta, according to the Valdosta Daily Times.
Georgia gubernatorial candidate Stacey Abrams said the closure of the Atlanta Medical Center was a "devastating loss" that highlights the plight of Georgia's current health care system.

"We got a governor who is proud of giving $1 billion to this company and $2 billion to that company. Well, I want to give Georgia $3.5 billion a year and expand Medicaid," Abrams said. "Expansion of Medicaid is the single largest economic development investment in Georgia's history. It will create 64,000 jobs. It will give health insurance to 500,000 people. It will provide mental health care and physical health care. It will save hospitals; it will save lives."

Abrams shared these sentiments this week during her visits to Valdosta State University and the One Georgia Rally at John W. Saunders Memorial Park Amphitheater in Valdosta.

She said she is focusing her expansion strategy on addressing mental health, granting minimum wage workers access to health insurance that makes "too much for Medicaid and too little for the Affordable Care Act," saving hospitals and reducing the pressure on law enforcement that has led to incidents such as Brianna Grier's passing.

Another major issue Abrams plans on addressing as governor is financial aid for Georgia's college students. Georgia is one of only two states that does not provide need-based aid, leading to three options: the HOPE scholarship, work studies and federal financial aid such as Pell grants and student loans.

Abrams criticized Gov. Brian Kemp's refusal to utilize available state funds to make need-based aid a reality and his touted tax-break plan during the panel at VSU.

"On a federal level, its a graduated tax rate. The more you make, the more you pay. In Georgia, it's flat; everybody pays the same percentage. That means when he says he's going to give it back, if you are a low-income Georgian, you're going to get $27. If you're middle income, you'll get $193. But if you are wealthy, you're going to get an average of $10,000 … 50,000 people are going to get a sum total of $500 million from his tax approach," she said.

"Everyone gets the same tax rate but not the same tax opportunity. So when you hear out of Brian Kemp's mouth saying taxes … he's not talking about you (students). You're not the beneficiaries. … I want to make certain we invest that money in our young people and transportation and housing and education. It's a difference of mission. My mission is not to make certain the wealthiest Georgians get even more; my mission is to make sure you all get to be the wealthiest Georgians. That should be our approach and that should be our promise," she said.

Abrams mentioned other strategies she would put in place to improve the lives of Georgians, include:

– Allowing sports betting and casinos in the state, which can generate between $200-$350 million in revenue.

– Utilizing a disability coordinator for the state to oversee every division of government to ensure those with disabilities will have an advocate to get them proper services.

– Enforcing accountability measures for law enforcement.

"It is a false choice to tell us you can either support law enforcement or support accountability. That's how they lie to us; that's how they divide us. The best in law enforcement want to be held accountable because when somebody makes a mistake, it ruins trust for everybody," she said.
That story lays out the difference between part of the governing philisophies of Governor Kemp and Stacey Abrams: Gov. Kemp believes that people are the prime movers in economic development and Ms. Abrams believes it's the government.
Stacey Abrams sat for an interview with WSAV:
"Four years ago I stood for governor because we faced crises: healthcare, education, criminal justice," Abrams said. "We needed real opportunities for so many Georgians. Four years later we are in the same crisis with COVID and economic challenges."

Abrams said she wants to expand Medicaid and provide better healthcare access for Georgians.

"In Georgia, we are about to lose yet another hospital, the 14th since 2013," Abrams said. "Hospitals are closing across the state… people need healthcare."

"A woman should have the right to decide if she should be a mother," Abrams said. "A woman's reproductive care is a medical choice, not a social issue. This is about whether a woman has the right to control her body and her future. We know that if you force a woman to carry an unwanted pregnancy, is that the likelihood of her ending up in poverty or welfare goes up dramatically."

"I am running because if can expand Medicaid we can create 64,000 jobs, we can reach 500,000 jobs and save our hospitals and save lives," Abrams said.
Republican nominee for U.S. Senate Herschel Walker campaigned in Emerson, according to the Albany Herald.
A bus with Herschel Walker's face on it pulled into an Emerson sports complex Saturday, and out of it stepped Herschel Walker himself, making the first stop in a tour promoting his candidacy for the United States Senate.

"Right now, they're bringing wokeness in our military," he said. "You know, I once said the reason we're the greatest country in the world is we've got the greatest military in the world. And the way we got to do this is we got to support them. Because I can promise you right now, Iran, Russia and China are not worried about pronouns. They're not worried about pronouns. A grenade is not worried about how you identify. A bullet is not worried about the color of your skin. We've got to remove wokeness from our military."

"I'm running because I'm sick and tired of this," he said. "When my father told me no, he meant no. And then when I got old enough, he said 'if you don't like the rules underneath my roof, it's time for you to leave my house.' And it's almost at a point that we say we are good people, and if you don't like the rules under our roof, you can go somewhere else. We're not going to hold you. But you've got to have people that are going to be strong enough to say it. It seems like everybody today is afraid to speak the truth."
The Floyd County Republican Party will host the Tillman Rally, according to the Rome News Tribune.
The Tillmans, who owned a hangar at Richard B. Russell Regional Airport, donated the use of that hangar to the party when the event was in its infancy, Floyd GOP Chair Jaime Palmer said. They were also instrumental in turning the gathering into a who's who event for the state.

Headliners at that rally will include the GOP pick for Senate, Herschel Walker, as well as 14th District Rep. Marjorie Taylor Greene, among others. Walker is challenging Sen. Raphael Warnock and Democrat Marcus Flowers is challenging Greene for the 14th District congressional seat.

Other speakers will include state legislators, including Rep. Katie Dempsey and Sen. Chuck Hufstetler. Congressman Barry Loudermilk, from the neighboring 11th District, will also be in attendance to present awards.
Democrat Neil Herring campaigned in the Golden Isles for the First Congressional District seat held by Republican Buddy Carter (Pooler), according to The Brunswick News.
Herring said Carter "violated his oath of office" when he was among a group of 138 Republican Congress members who voted against certifying the election results that put President Biden in office.

"He failed to do his job. Mr. Carter does not represent the people of this district," Herring said during an interview at The News' office Thursday.

Herring said Carter, a pharmacist, is planning to raise the cost of prescription drugs by trying to undo the Inflation Reduction Act. He also criticized Carter for his support of the Supreme Court ruling regarding abortions, with no exceptions.

"I believe a woman should have the right to her health care with her doctor," he said.

Locally, Herring said he is opposed to a proposal by Twin Pines Mineral to mine near the Okefenokee National Wildlife Refuge.
The Savannah Morning News profiles local races for State House
Rep. Ron Stephens has been in the House since the 1990s. Rep. Edna Jackson is the one-time mayor of Savannah. Rep. Jon Burns is the House majority leader. Reps. Carl Gilliard, Bill Hitchens and Jesse Petrea rank among the leaders in the chamber.

Heading into the Nov. 8 midterm election, most of those incumbents have either locked up or are favored to win their races. Three are running unopposed after winning May primaries, as are newcomers Anne Allen Westbrook, who won the Democratic primary for the open seat in District 163 and Lehman Franklin, the Republican winner in District 160.

The two contested posts are in District 161, currently held by Hitchens, and District 164, occupied by Stephens. Both are Republicans.

Margo Barbee is challenging Hitchens and Marcus Thompson is facing Stephens in a rematch of a 2020 race.
Savannah-area voters will elect three state senators instead of two in the Nov. 8 midterm election. The once-a-decade redistricting process, completed in late 2021, redrew the District 4 lines to include part of West Chatham as well as all of Effingham and parts of neighboring counties to the west, such as Bulloch.

The new maps mean the District 4 senator joins his colleagues in Districts 1 and 2 in the Savannah-area delegation and theoretically gives the area a greater voice in the Georgia General Assembly.

Of those three Senate races, one is uncontested. District 4's Billy Hickman is unopposed.

Incumbent Ben Watson, a Republican, is the favorite in District 1, which includes parts of Chatham County outside of the Savannah city limits as well as all of Bryan County and much of Liberty County. He'll face former Chatham Commission Jay Jones, a Democrat who ran unsuccessfully for Chatham Commission chairman in 2020.

District 2 is an open seat with the departure of Lester Jackson after more than two decades in the Georgia General Assembly. Jackson, a Democrat, ran for statewide office, Labor commissioner, in the May primary and lost. Current Georgia House member Derek Mallow won the Democratic primary for the Senate seat and will face Clinton Young,
Some alleged computer experts say Georgia should replace computerized voting with paper, according to the Associated Press via the AJC.
A group of computer and election security experts is urging Georgia election officials to replace the state's touchscreen voting machines with hand-marked paper ballots ahead of the November midterm elections, citing what they say are "serious threats" posed by an apparent breach of voting equipment in one county.

The 13 experts on Thursday sent a letter to the members of the State Election Board and to Secretary of State Brad Raffensperger, who's a non-voting member of the board. It urges them to immediately stop using the state's Dominion Voting Systems touchscreen voting machines. It also suggests they mandate a particular type of post-election audit on the outcome of all races on the ballot.

State Election Board Chair William Duffey responded in an email to The Associated Press that the "security of our election equipment is of paramount interest to the State Election Board as is the integrity of the election process in Georgia." He noted that the alleged breach in Coffee County is being investigated by the Georgia Bureau of Investigation and secretary of state's office investigators and said the FBI has been asked to assist.

The experts who sent the letter Thursday have long criticized Georgia's voting machines, which print a paper ballot that includes a human-readable summary of the voter's selections and a barcode that is read by a scanner to tally the votes. They argue the machines already made elections more vulnerable to tampering because voters cannot read the barcode to verify that it accurately reflects their selections.
Federal law enforcement agencies are beefing up their presence in Savannah, according to WTOC.
A portion of the Savannah office of the Bureau of Alcohol, Tobacco, Firearms and Explosives now focuses solely on working with police departments in Chatham to address violent crime.

Supervisory Special Agent Beccio has been making the rounds to meet with the leaders of all the police departments within Chatham County, strengthening partnerships with each, and letting those leaders know what resources the ATF can lend to help address serious gun crimes in their respective jurisdictions.

"One of the things we're doing here at the ATF here in Savannah is we're kind of bringing a data driven, an intelligence driven approach to violent crime," Beccio said.

And with port activity continuing to grow, Special Agent Beccio says so is their cooperation with other federal agencies like Homeland Security to crack down on gun trafficking.

"We are looking at different angles here that involve potentially groups that are trying to get more involved in the port, criminal groups that are trying to get more involved in the port. So we are taking a very close look at that as well. Because we see that as an emerging trend here in Savannah."
Pine Lake passed a resolution opposing enforcement of the state abortion law , according to the AJC.
The sweeping local resolution not only bans local funds from going toward recording, investigating or helping with the prosecution of the so-called "heartbeat law," it also instructs the city's four police officers not to make arrests, investigate, provide information about or even record reports of miscarriage or abortion.

It also declares that the City Council "supports an individual's right to choose" and that the council "has a responsibility to protect its residents from any violation of their human rights."

"There just wasn't a hesitation," Mayor Melanie Hammet said of the council meeting where the resolution passed. "I had each individual elected member of our group read a section of the resolution aloud to the room so that every woman would have had her voice on it."

The language itself originally came from the city's Democratic state Rep. Viola Davis. In addition to all its local leaders, Pine Lake's representatives in the Georgia General Assembly are also women, Davis and state Sen. Kim Jackson, who is also a Democrat.
The University System of Georgia will waive requirements for standardized test scores for admission to most institutions, according to the Capitol Beat News Service via the Gwinnett Daily Post.
he University System of Georgia will waive SAT and ACT test requirements at most of the system's 26 institutions for another year, system Chancellor Sonny Perdue announced Thursday.

The university system didn't include the tests as an admissions requirement for the fall semester this year at all schools except the University of Georgia, Georgia Tech and Georgia College & State University.

The waiver will continue next fall, with only UGA and Tech being excepted.

"[University System of Georgia] students coming into this fall went through pandemic high school years," Perdue said Thursday. "The quality of education wasn't as good."

Perdue said the value of SAT and ACT tests also has come into question in recent years.

"There's a national discussion on whether GPA (grade-point average) or (standardized) test scores are better predictors of student success," he said.

In other business Thursday, the system's Board of Regents unanimously approved a $3.14 billion fiscal 2024 operating budget request, a slight 0.8% increase over the fiscal 2023 spending plan that took effect in July.
The Lowndes County Sheriff's Office locked down a school after a reported threat, according to WALB.
A written threat at Pine Grove Middle School prompted the Lowndes County Sheriff's Office (LCSO) to evacuate students and investigate the threat Thursday morning, according to Lowndes County Schools.

School officials said the building was evacuated and is being searched at this time.

Students are safe, and classes will resume as soon as the building has been cleared by LCSO.
Bruce Campbell was sworn in as the first Black Mayor of Garden City, according to WSAV.
Campbell takes over for former mayor Don Bethune who stepped down for personal reasons. Campbell was serving as mayor pro team.
Cordele City Commission Chair Joshua Deriso filed a lawsuit over an effort to recall him from office, according to WALB.
Trae Sims, a Cordele resident, started the petition in July to recall Commission Chairman Joshua Deriso. While in the process of collecting necessary signatures, Deriso filed a lawsuit saying Sims' petition has no merit.

An incident at the center of the issue involves the Chairman removing a poster in the police department referencing a thin blue line. Deriso maintains he does not want the police department to have an "us versus them" mentality.

Other arguments involve a city commission meeting that took place April 5 when Sims said Deriso violated his freedom of speech. He and other residents are also outraged about an incident in which Deriso said another commissioner sounded "ignorant."

Deriso said he doesn't feel as though he's violated any rules.
Savannah City Council discussed homelessness, according to WTOC.
District 1 Alderwoman Bernetta Lanier shared her concerns that homelessness is not being addressed properly right now.

"All of these oodles and oodles of funds are coming into our market. If we have the people who need the housing and we have these vacancies that we clearly see and the money is in the market then something is wrong because we're not getting the people who need the resource into the housing market, but we want to tear the houses down," Lanier said.

Other concerns were brought up by Alderwoman Keisha Gibson Carter about homeless shelters not having enough capacity for the people in need.
Tackling affordable housing and homelessness remains a top priority for council members. The city estimates as many as 650 residents regularly experience homelessness.

The last five-year plan resulted in a 332% increase in affordable housing units. Looking ahead, council members say there is more work to be done.

"I am greatly concerned in that homeless mothers have children who are in our schools but they are also living in hotels and overcrowded conditions, on sofas," said Alderwoman At-Large Kesha Gibson-Carter.
Augusta Commissioners adopted a property tax rollback rate, according to WJBF.
Glynn County hosted a show-and-tell about the Special Purpose Local Option Sales Tax (SPLOST) on the November ballot, according to The Brunswick News.
During a town hall meeting Wednesday at the Brunswick library, only a handful of people showed up to meet with city and county employees at different tables, where they were prepared to answer questions about specific proposed SPLOST projects.

The tables had signs to show participants different projects and work that will be funded if voters approve the 1% tax. Tables included information on roads and traffic, drainage, storm and critical incident preparedness, fiber network, project management, fire and rescue safety, parks and recreation and the mainland.

Jeff Kilgore, a longtime opponent of SPLOST, called county commissioners "tone deaf" to the opposition and predicted the tax referendum will fail despite the county's best efforts to generate support.

"If I don't do anything, SPLOST will get defeated," he said. "The reason it will fail is because of the poor performance of the county commission. These commissioners want SPLOST but they don't know why."
Pooler City Council adopted a new ordinance that moves any charges of possessing less than an ounce of marijuana to their municipal court, according to WSAV.
The Hall County Tax Commissioner's office will send out property tax bills on September 15, according to AccessWDUN.