On May 1, 1707, the Act of Union with England, passed by the Scottish Parliament brought together England and Scotland and made the Union Jack the official flag of Great Britain.
George Washington was inaugurated as the first President of the United States of America in New York City on April 30, 1789. From Washington's inaugural address:
it would be peculiarly improper to omit in this first official act my fervent supplications to that Almighty Being who rules over the universe, who presides in the councils of nations, and whose providential aids can supply every human defect, that His benediction may consecrate to the liberties and happiness of the people of the United States a Government instituted by themselves for these essential purposes, and may enable every instrument employed in its administration to execute with success the functions allotted to his charge.

In tendering this homage to the Great Author of every public and private good, I assure myself that it expresses your sentiments not less than my own, nor those of my fellow-citizens at large less than either.

No people can be bound to acknowledge and adore the Invisible Hand which conducts the affairs of men more than those of the United States.
On April 30, 1803, negotiators from France and the United States finished discussions of the Louisiana Purchase, which would double the size of the country.
By the middle of the 18th century, France controlled more of the modern United States than any other European power: from New Orleans northeast to the Great Lakes and northwest to modern-day Montana. In 1762, during the French and Indian War, France ceded its America territory west of the Mississippi River to Spain and in 1763 transferred nearly all of its remaining North American holdings to Great Britain. Spain, no longer a dominant European power, did little to develop Louisiana Territory during the next three decades. In 1796, Spain allied itself with France, leading Britain to use its powerful navy to cut off Spain from America.In 1801, Spain signed a secret treaty with France to return Louisiana Territory to France.

Reports of the retrocession caused considerable uneasiness in the United States. Since the late 1780s, Americans had been moving westward into the Ohio and Tennessee River valleys, and these settlers were highly dependent on free access to the Mississippi River and the strategic port of New Orleans. U.S. officials feared that France, resurgent under the leadership of Napoleon Bonaparte, would soon seek to dominate the Mississippi River and access to the Gulf of Mexico.

U.S. envoys agreed to pay $11,250,000 and assumed claims of its citizens against France in the amount of $3,750,000. In exchange, the United States acquired the vast domain of Louisiana Territory, some 828,000 square miles of land. In October, Congress ratified the purchase, and in December 1803 France formally transferred authority over the region to the United States. The acquisition of the Louisiana Territory for the bargain price of less than three cents an acre was Thomas Jefferson's most notable achievement as president.
The Second Confederate National Flag was adopted on May 1, 1863.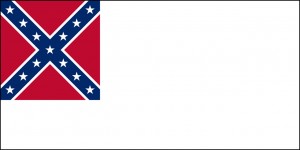 On April 30, 1886, former Confederate President Jefferson Davis arrived in LaGrange, Georgia for the unveiling of a monument to Benjamin Hill.
On May 1, 1886, Jefferson Davis visited the Benjamin Hill monument at Peachtree and West Peachtree Streets in Atlanta, having arrived the previous day. On May 2, 1886, Jefferson Davis left Atlanta, headed to Savannah.
Savannah officials had successfully solicited Davis to attend a variety of special ceremonies and events being planned in Savannah. On the way, the train stopped briefly in Forsyth and Macon, where the ex-Confederate president was greeted by crowds and spoke briefly from the back of his train. Although he didn't leave the train, Davis would return to Macon the following year for a more formal visit.
Franklin Delano Roosevelt made his fourth trip to Georgia on April 29, 1926, closing on the purchase of property at Warm Springs, Ga.
Dachau concentration camp was liberated by American troops on April 29, 1945. At least 31,951 inmates died there, more than 30,000 survivors were found on liberation day, and more than 250,000 passed through the camp and its subcamps.
Dobbins Air Force Base was dedicated on April 29, 1950, named for in honor of the late Capt. Charles M. Dobbins and in memory of the other servicemen from Cobb County. Dobbins was shot down over Sicily in 1943 and his family attended the opening of the base.
Hank Aaron hit his first home run in Atlanta against the Houston Astros on April 29, 1966, providing the winning margin as the Braves won 4-3.
On May 1, 1971, "Joy to the World," by Three Dog Night was the #1 song in the nation.
Kennesaw, Georgia City Council adopted an ordinance on May 1, 1982 requiring each household to own a gun and ammunition.
(a) In order to provide for the emergency management of the city, and further in order to provide for and protect the safety, security and general welfare of the city and its inhabitants, every head of household residing in the city limits is required to maintain a firearm, together with ammunition therefore.

(b) Exempt from the effect of this section are those heads of households who suffer a physical or mental disability which would prohibit them from using such a firearm. Further exempt from the effect of this section are those heads of households who are paupers or who conscientiously oppose maintaining firearms as a result of beliefs or religious doctrine, or persons convicted of a felony.
Atlanta was selected as the host city for the 1996 Summer Olympics on April 29, 1988.
On May 1, 1991, Rickey Henderson broke the major league baseball stolen base record on the same day that Nolan Ryan, the greatest pitcher in the history of baseball, recorded his seventh no-hitter.
On April 29, 1993, Barry White guest-starred on The Simpsons. I guess that makes today "Whacking Day."
The official state tartan of Georgia was designated on May 1, 1997.
Georgia Politics, Campaigns, and Elections
An Augusta Starbucks became the first unionized Starbucks in Georgia, according to the Augusta Chronicle.
Starbucks employees at an Augusta location voted on Thursday to unionize, becoming the first in Georgia to do so.

"The key goals we are going for is better pay, better benefits, better training, better working conditions all around," said Jaysin Saxton, the lead organizer for the store. "We all love working for Starbucks, but we just want it to be better."

The store at 228 Robert C Daniel Jr. Parkway had 37 eligible voters and they voted 26-5 to unionize. The ballots were counted by a representative of the National Labor Relations Board after the poll closed at 5 p.m., following two days of voting. Representatives of the union and Starbucks stood by during the count.
And to think, it happened just before May Day / International Workers' Day.
He's Back! Former State Rep. Steve Davis (R-Henry County) will reprise his role as City Manager for Port Wentworth, according to WSAV.
Facing turmoil and multiple resignations, Steve Davis was appointed to run the city in the interim. Thursday night, a vote of confidence earned Davis the job permanently.
Former interim city manager Steve Davis assumed the temporary role in February.

After two months as interim, he was sworn in Thursday night. It's his second time assuming the position in Port Wentworth.

The majority of Port Wentworth City Council Members were grateful for the work he's done to get the city back on track.

Councilwoman Jo Smith said, "You really did save this city plain and simple."

"This city was left in complete peril to the point where I was pregnant and fearful of how things were going to play out in the delivery room," said Councilwoman Gabrielle Nelson.

Councilman Rufus Bright said, "He didn't shrug his shoulders. He didn't throw away the ball. He took it and ran with it and we're in the process of getting better."

"Without Steve Davis, I honestly believe the city would not exist," said Councilman Mark Stephens.
Also back in the news is United States District Court Judge Mark Cohen, who has enjoined Gov. Kemp's leadership committee from fundraising until he is the Republican nominee, according to the Capitol Beat News Service via the Albany Herald.
On Thursday, U.S. District Judge Mark Cohen ordered Kemp's leadership committee to stop raising money unless and until he becomes the Republican nominee. If Kemp wins the GOP nomination this month or in a June runoff if that becomes necessary, both he and Abrams would then be allowed to activate their legislative committees and, thus, be on a level playing field.

"We are pleased the court both recognized and offered a remedy today for the unconstitutional fundraising advantage Brian Kemp signed into law benefiting himself," Lauren Groh-Wargo, Abrams' campaign manager, said following Thursday's ruling.

"After months and months of Brian Kemp having exclusive ability to raise unlimited funds as a result of the bill he signed, Kemp will no longer be able to raise these funds while Stacey Abrams and One Georgia are denied equal ability to operate under the same rules."
From the Associated Press via AccessWDUN:
Ruling on a motion in a lawsuit filed by Democratic candidate for governor Stacey Abrams, U.S. District Judge Mark Cohen said Kemp's Georgians First Leadership Committee cannot solicit or receive contributions until after the primary election and any possible runoff that makes him the Republican nominee for governor.

Cohen previously ruled that Abrams could not take in unlimited contributions through her own leadership committee, One Georgia, before she officially becomes her party's nominee in the May 24 primary. She had argued that she was already effectively the nominee because no other Democrat qualified to run for governor.
Governor Brian Kemp signed a package of education legislation, according to CBS46 via WTVM.
House Bill 1084 prevents divisive concepts, such as one race being inherently oppressed and another inherently being the oppressor.

"Because here in Georgia, our classrooms will not be pawns to those who indoctrinate our kids with their partisan political agendas," Kemp said.

The governor also signed bills that ensure school board meetings are transparent, ban obscene materials from school libraries, allow retired teachers to return to the classroom fulltime in high-need areas, and give the Georgia High School Association the authority to decide whether children born boys but who identify as girls can participate in girls sports.

"As parents of three daughters, Marty and I want every young girl in this state to have every opportunity to succeed in the sport that they love," Kemp said. "That should not be controversial."
"We put students and parents first by putting woke politics out the classroom and off the ball field," Kemp said.

"We weren't elected by the people of this state to shy away from doing what some may call controversial," he said.

HB 1084, one of the most contentious bills Kemp signed on Thursday, restricts how grade school teachers can discuss race in the classroom. Kemp and other Republicans claim the bill bans the teaching of "divisive" concepts.

That same bill authorizes the Georgia High School Association to ban trans kids in sports. A move Kemp said was in effort to "protect fairness."

"There are those outside our state, and others of the general assembly who chose partisan politics over common sense reforms for our students as well as our parents," Kemp continued.

Also signed on Thursday was SB 226, another piece of legislation that has brought controversy in the general assembly. The bill forces public schools to respond to challenges of materials parents consider "obscene."

The governor signed HB 588 Thursday as well. Kemp said this bill ensures "local school board meetings are transparent," by requiring school district board meetings be open to the public unless otherwise states by the law.

"So that every parent knows about their child's education when it's being discussed and decided," Kemp continued.
From the Capitol Beat News Service via the Albany Herald:
"Protecting the teaching of freedom, liberty, opportunity and the American Dream in the classroom should not be controversial," Kemp said during a signing ceremony at the Forsyth County Arts and Learning Center in Cumming. "Making sure parents have the ultimate say in their child's education should not be controversial. [For] every girl in this state to have the opportunity to succeed in the sport they love … should not be controversial."
From the Associated Press via AccessWDUN:
"Standing up for the God-given potential of each and every child in our schools, and protecting the teaching of freedom, liberty, opportunity and the American dream in the classroom should not be controversial," Kemp said of bills that were intensely disputed by Democrats and teacher groups.

"Making sure parents have the ultimate say in their child's education should not be controversial."
Governor Brian Kemp debated a lying sack of mess former United States Senator David Perdue last night, according to WTOC.
"He's lying again folks," Governor Kemp said.

"He's lying again," Kemp said. "Stacey Abrams and him can't admit they lost."

"Wages are rising in Georgia… strong economy in Georgia," Kemp said.
Separately, WTOC interviewed Kandiss Taylor. Jesus guns babies!
The Kemp income tax cut may total as much as $2 billion dollars over the coming years, according to the Associated Press via the Statesboro Herald.
A major state income tax cut signed by Republican Georgia Gov. Brian Kemp as he seeks reelection could eventually total more than $2 billion, but the reductions may only happen by a 2029 target date if state revenue holds up.

For Kemp, Tuesday's signing was a tax-cutting triumph as he touted not only the newly flat income tax, but also a $1.1 billion income tax refund and the zeroing out of nearly $400 million in fuel taxes for more than two months.

"We're doing our part to lessen the pain on people's wallets here in Georgia," Kemp said. "And today we will put into place a more long-term system of relief. I strongly believe that government should take in the very least amount possible needed to serve the people properly."
U.S. Rep. Marjorie Taylor Green's truthiness is under question. From the Valdosta Daily Times:
An election official in Rep. Marjorie Taylor Greene's 14th congressional district said voting records dispute her assertion at a federal court hearing last week that her husband served as an example of likely fraudulent voting practices in Georgia's 2020 election.

Pete McDonald, Floyd County's interim election supervisor, told CNHI that Greene's husband, Perry Greene, had requested a mailed absentee mail ballot but surrendered it so he could cast his ballot in person during the three weeks of early voting.

Greene testified under oath her husband did not request a mailed ballot and when he showed up to vote in person he was told he had already voted absentee.

"Yes. We saw a tremendous amount of voter fraud. We have investigations going on right now in Georgia. There is investigation going on in multiple states. My husband showed up to vote and when he went to vote he went to vote in person, he was told he had already voted by absentee ballot when, in fact, he had never requested an absentee ballot. There is many instances."

McDonald said Floyd County voting records contradict the statement about her husband's voting experience and an inference of election fraud.

He said the records show Perry Greene requested a mailed ballot, which he had done in previous elections, but did not mail it or put it in a secure drop box.

Instead, McDonald said, he brought the absentee ballot to a polling station, surrendered it to election officials and cast an early in-person vote.
U.S. Rep. Rick Allen (R-Augusta) was diagnosed with COVID, according to the Augusta Chronicle.
"Planned overseas travel required he take a test," said spokesperson Michael Plummer.

Allen was scheduled to travel with a congressional delegation to an undisclosed destination and took a precautionary PCR screening. "He was as surprised as the rest of us," Plummer said.
State Rep. Houston Gaines (R-Athens) is calling for an investigation of the Athens-Clarke Public Safety Civilian Oversight Board, according to the Athens Banner Herald.
State Rep. Houston Gaines has requested a legislative investigation into the Athens-Clarke Public Safety Civilian Oversight Board following recently unveiled text messages sent by Commissioner Tim Denson.

Gaines submitted a letter Thursday morning that asks that the new civilian board be investigated or that it be dissolved and the recruitment process restarted after text messages from commissioners were published by WGAU radio.

In the messages, Denson instructed members of the chat to "try to make your math work so that the 'conservative' people don't make it."

The board is tasked with investigating alleged misconduct by employees of the police department, probation services, the sheriff's office or the corrections department. The board can also review and make recommendations on policies and procedures in those departments.

Gaines' letter is addressed to Rep. J. Collins, chairman of the Public Safety & Homeland Security Committee in the Georgia House. He is requesting the committee investigate the oversight board, saying that the commission had "intentionally conspired to prevent conservatives from being appointed to this board."
Democrat Jaha Howard campaigned for State School Superintendent in Valdosta, according to the Valdosta Daily Times.
Jaha Howard, a pediatric dentist and a Democratic member of the Cobb County Board of Education, was at the Castle Park shopping center in Valdosta, where Floyd Griffin, a candidate for Georgia secretary of state, was holding a meet-and-greet with voters. Howard was not traveling with Floyd but said when he heard Floyd would be in Valdosta, asked if he could meet up there.

"I have significant concerns about statewide leadership regarding education, particularly literacy rates," he said.

Howard said he is disappointed with education leadership's "collaboration to ban books and debate (critical race theory) while showing little concern for reading and writing."

Critical race theory is the study of racism in modern America. On Thursday, Gov. Brian Kemp plans to sign House Bill 1084, which would outlaw "divisive concepts and ideologies" from being taught in schools. He also plans to sign Senate Bill 226, which would allow removal of "obscene materials" from school libraries, according to a statement from the governor's office.
Democrat Floyd Griffin also campaigned for Secretary of State in Valdosta, according to the Valdosta Daily Times.
Floyd Griffin, a Democrat, was meeting the public Wednesday afternoon at his campaign bus, which was parked at the Castle Park shopping area.

Griffin touted his 23 years of experience in the Army, ranging from flying helicopters in Vietnam to leading engineering operations under Gen. Norman Schwarzkopf. He said during service in the Pentagon he managed several major construction projects.

He successfully ran for state Senate in 1993; Griffin said he was the first African American elected to the seat from majority-white state Senate District 25.

He ran unsuccessfully for lieutenant governor in 1998, then won the mayorship of Milledgeville in 2002, the first Black candidate to do so.

If elected, he said the first thing he would do would be to audit the election that put him in office to ensure it was fair, accurate, secure and safe. Elections fall under the secretary of state's authority, and former President Donald Trump spent more than an hour on the phone with current Secretary of State Brad Raffensperger on Jan. 2, 2021, trying to get him to overturn Georgia's vote results, which had gone to Biden. Raffensperger refused and the phone call was cited in an article of impeachment against Trump.
Democrat Stacey Abrams will campaign in Brunswick today, according to The Brunswick News.
The Gainesville Times is doing video interviews with local candidates.
The Times also looks at Butch Miller's campaign for Lieutenant Governor.
United States Senator Ted Cruz (R-TX) will speak at an event in Georgia next month, according to the AJC.
Texas U.S. Sen. Ted Cruz will headline the "Together for Truth" conservative summit in Atlanta on May 21, a one-day conference that features speeches from conservative leaders and counsel from Republican strategists.

The event, organized by the Truth and Courage PAC, also includes workshops that train supporters on how to build grassroots political operations in their communities.

"We have important races in Georgia this year that may decide the fate of our nation," [Cruz] said. "That's why I'm asking fellow conservatives to join us in Atlanta and help us take back our country."
Savannah's Small Business Recovery Program (SBRP) will provide COVID relief fund to small businesses, according to WSAV.
Qualified businesses could receive up to $10,000 in federal grant funds that are made available by the United States Department of Housing and Urban Development (HUD).

Businesses that are interested are invited to join the Human Services Department SBRP for in-person information sessions Monday, May 2 and Saturday, May 7 beginning at 10:00 a.m., at the Pennsylvania Avenue Resource Center (PARC) on 425 Pennsylvania Ave.
This would have been really helpful at any point in the last two years.
If you hear screaming from Gwinnett County residents in the next few days, you'll know they've received their annual property tax assessments. From the Gwinnett Daily Post:
The [Gwinnett County Board of Assessors] recently mailed out 294,000 annual Notices of Assessment to residential and property owners. The notices tell property owners what the assessed value of their property was, as of Jan. 1. They also explain any changes in the assessed value of the property from the value assessed last year.

"Roughly 83 percent of the notices will state that the appraised value was adjusted for market conditions in response to real estate market changes throughout 2021," county officials said. "The Gwinnett County Assessors' Office uses available market data to value each property in a manner that meets state regulations. The Annual Notice of Assessment is not a tax bill but does include an estimate of 2022 property taxes."

The county is warning property owners that the estimated property taxes listed on the notices are a combination of their 2022 assessed value and the 2021 millage rates. The 2022 millage rates for the county government, school system and cities won't be set until later this year. The notices also do not take into account any changes to fees that might occur this year. These fees include stormwater, solid waste, streetlight or speed control device fees.