James Oglethorpe left London on November 15, 1732 headed to a Thames River port named Gravesend, where he would board the ship Anne and lead the first colonists to Georgia.
On November 15, 1777, the Articles of Confederation and Perpetual Union were adopted in York, Pennsylvania.
Congress was a single house, with each state having one vote, and a president elected to chair the assembly. Although Congress did not have the right to levy taxes, it did have authority over foreign affairs and could regulate a national army and declare war and peace. Amendments to the Articles required approval from all 13 states. On March 2, 1781, following final ratification by the 13th state, the Articles of Confederation became the law of the land.
Edward Langworthy of Savannah, Edward Telfair, and John Walton signed the Articles of Confederation for Georgia.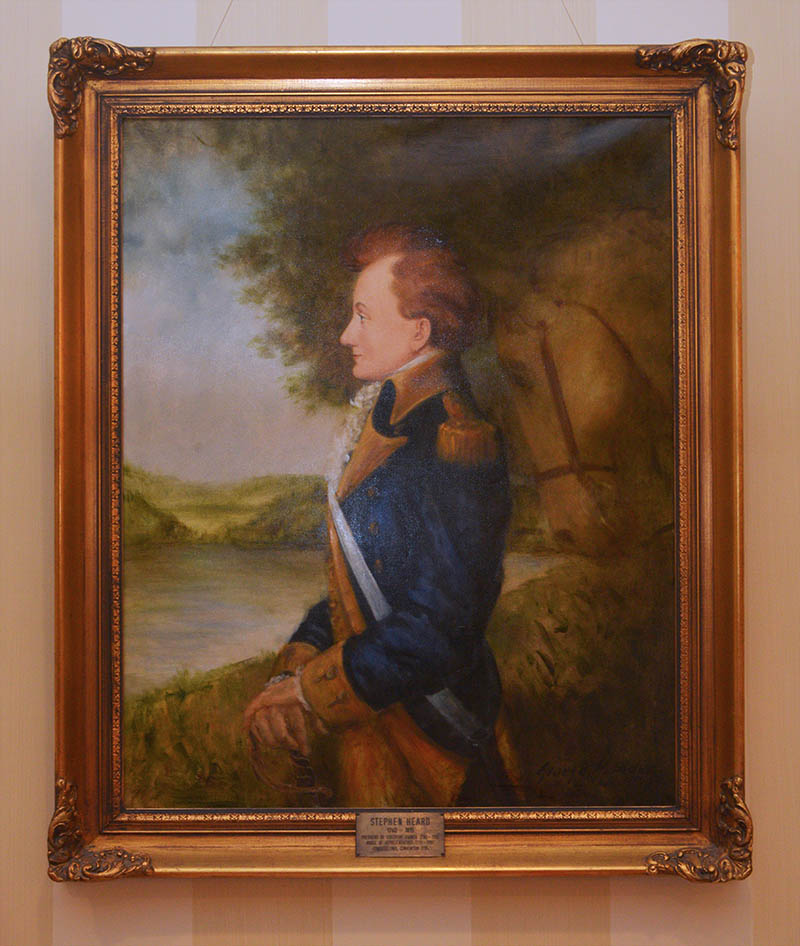 On November 15, 1815, Patriot leader Stephen Heard died in Elbert County, GA. Heard served on Georgia's Executive Council during part of the American Revolution and as its President from 1780 to 1781. He later served in the Georgia House of Representatives, as a judge in Elbert County, and as a delegate to Georgia's 1975 Constitutional Convention. The above portrait of Conan O'Brien Stephen Heard hangs in the basement (pied a terre) level of the Georgia Governor's Mansion.
On November 15, 1864, General William Tecumseh Sherman's army left Atlanta on its March to the Sea.
On November 15, the army began to move, burning the industrial section of Atlanta before leaving. One witness reported "immense and raging fires lighting up whole heavens… huge waves of fire roll up into the sky; presently the skeleton of great warehouses stand out in relief against sheets of roaring, blazing, furious flames." Sherman's famous destruction of Georgia had begun.
A 2010 Wired article argues that Sherman's rampage through Georgia and the Carolinas changed modern warfare.
Vengeance aside, the real objective of Sherman's march was to cut the Confederacy in two, cripple Southern industrial capacity, destroy the railroad system and compel an early Confederate surrender. It was also intended to break Southern morale — in Sherman's words, to "make Georgia howl."

Sherman was vilified for his barbarism, but the Union commander was a realist, not a romantic. He understood — as few of his contemporaries seemed to — that technology and industrialization were radically changing the nature of warfare.

It was no longer a question of independent armies meeting on remote battlefields to settle the issue. Civilians, who helped produce the means for waging modern war, would no longer be considered innocent noncombatants. Hitting the enemy where he ate and breaking him psychologically were just as important to victory as vanquishing his armies in the field.

Sherman grasped this and, though he wasn't the first military proponent of total war, he was the first modern commander to deliberately strike at the enemy's infrastructure. The scorched-earth tactics were effective. The fragile Southern economy collapsed, and a once-stout rebel army was irretrievably broken.

Meanwhile, the marshals of Europe watched Sherman's progress with fascination. And they learned.
On November 15, 1977, President Jimmy Carter hosted the Shah of Iran in Washington, where they spent two days discussing U.S-Iranian relations.
Brunswick has covered a Confederate monument with plastic to prevent vandalism, according to The Brunswick News.
The Confederate monument in Hanover Square is under wraps — literally — to prevent what happened last year after a video showing the shooting death of Ahmaud Arbery went public.

Brunswick Mayor Cornell Harvey said the plastic shroud that covers the monument, which has stood in the square since 1902, was placed there by people who want to protect it from further vandalism.

Harvey said the city still intends to remove the monument from the square at some time in the near future.

"We want to protect it before it gets removed," he said. "There is someone who wants it. We're trying to facilitate the move."
It's probably a good thing they didn't use a white sheet to cover it.
Georgia Politics, Campaigns, and Elections
Today, flags on state buildings and properties fly at half-staff by order of Governor Brian Kemp in in honor and memory of Jackson County Sheriff's Deputy Lena Nicole Marshall.
From the Athens Banner Herald:
Law enforcement officers from throughout the region will gather Monday at the Jackson County Sheriff's Office in Jefferson for a procession that will travel to Braselton to honor Deputy Lena Nicole Marshall who was killed in the line of duty.

Marshall, 49, of Jefferson was shot while on a domestic call on the evening of Nov. 5. She died three days later from the wound.

Marshall is survived by two daughters and a son, but also had another son who had passed away.

The procession of law enforcement vehicles will leave the sheriff's office at noon Monday and proceed down Georgia Highway 15 and Highway 11 to Highway 124 and then to Georgia Highway 53, where it ends at Free Chapel in Braselton.

The Georgia Bureau of Investigation is investigating the details of what happened when Marshall and another deputy arrived at a home in Hoschton in response to a 911 call. The residents wanted a person removed from their home, according to the report.

When the officers arrived, they encountered a woman at the front door, who pulled a firearm and pointed at the deputies, the GBI said.
Governor Brian Kemp announced that the Georgia Ports Authority had completed a rail project, increasing throughput and hit a new monthly record for container moves, according to a Press Release.
Governor Brian P. Kemp today announced that the Georgia Ports Authority has completed and is now operating the second set of nine new rail tracks for a total of 18 tracks at its Mason Mega Rail Terminal. The expansion immediately increases intermodal capacity to and from the Port of Savannah by more than 30 percent.

"The massive new Mason Mega Rail yard is coming online at the perfect time to help address the influx of cargo crossing the docks at the Port of Savannah," said Governor Kemp. "The added rail capacity, along with new container storage on and off terminal, are already serving as important tools to resolve the supply chain issues for Georgia and the nation. What we are doing in Georgia is working, and I am proud that we're helping identify solutions for hardworking Georgians and Americans."

Since Sept. 1, GPA has seen a 60 percent reduction in the amount of time containers are on terminal, as major retailers have begun moving cargo off-terminal at a faster pace. The improved flow of cargo and additional space at Garden City Terminal has allowed the Port of Savannah to expedite vessel service, reducing the number of ships waiting at anchor by 40 percent.

In addition, GPA and its two Class I rail providers are working in tandem to open temporary container yards to expedite cargo flow at the Port of Savannah. As soon as Monday, the GPA will open its first off-terminal overflow container yard less than five miles from the port.

"We're setting up multiple inland locations that will be connected via truck or rail to the Port of Savannah," said GPA Executive Director Griff Lynch. "We're working with both CSX and Norfolk Southern to provide inland and off-dock locations to move these long-dwell imports off the facility. We think this will make a huge difference for both importers and exporters as we clear out our yard."

GPA's South Atlantic Supply Chain Relief Program is funded in part by reallocated federal dollars. The effort will begin with Norfolk Southern's Dillard Yard in Garden City and the CSX Hulsey Yard, in Southeast Atlanta.

"This is the relief we needed in order to regain terminal efficiency and speed up vessel service," said GPA Board Chairman Joel Wooten. "By reclaiming this space on terminal, we can begin to reduce the backlog of vessels at anchor. This groundbreaking partnership between cargo owners and logistics providers should serve as a model for the entire nation as we work to address supply chain challenges."

Also on Friday, GPA announced it had, for the first time in its history, handled more than 500,000 Twenty-foot Equivalent Units (TEUs) in a single month. "We couldn't be moving a half-million TEUs per month without the combined effort of GPA employees, the International Longshoremen's Association, and the cargo owners who are clearing containers," said Lynch.

The Port of Savannah handled 504,350 TEUs in October, an increase of 8.7 percent or 40,250 TEUs over October 2020. The performance surpassed GPA's previous all-time record of 498,000 TEUs set in March.

Starting Dec. 1, GPA's Peak Capacity project begins coming online in phases, delivering 820,000 TEUs of additional annual capacity by March 2022. Another 18 acres now under development will add 400,000 TEUs of capacity by July, for a total of 1.2 million TEUs of additional space. GPA is also building a new big ship berth at Garden City Terminal to accommodate additional 16,000-TEU vessels.
Georgia Ports Authority Director, Griff Lynch says the mega rail will shorten that time. "We're moving most containers off ships onto trains within a day and a half to two days, which is world-class," Lynch said. According to Lynch, six mega rail trains can be on-site at the same time, and he expects the overall efficiency to double. "We are now capable, because of what you see here, of moving one million-plus containers a year," he said.

This growth will create 172 new jobs in the Savannah area alone, and Governor Kemp says he is optimistic about the future of Georgia's ports. "I believe that it is a great time to be a Georgian, and there is no doubt that The Port of Savannah and The Georgia Ports Authority is the engine that keeps that economic success going here in The Peach State."

Kemp also shared updates about pop-up container sites which will house the goods transported by the mega rails. He said this project will provide extra space for cargo that comes in at the ports and the first site is in Savannah. "As soon as this Monday, The Georgia Ports Authority will open its first off-terminal overflow container yard less than five miles from where we are standing today," Kemp said.

According to Kemp, another pop-up container yard in Atlanta will be ready for use as early as next month. These supplemental sites are a part of the president's plan to ease the supply chain released by which includes additional funding for The Georgia Ports Authority.
"The 85-acre well yard is the largest of its kind for a port terminal in North America. It will allow the Port of Savannah to build and receive six 10,000 foot long trains at the same time. In other words, there's nothing else like this in United States. This means an immediate 30 percent increase in capacity," Gov. Kemp said.

Master Pilot Trey Thompson, with Savannah Bar Pilots, has been in the business 30 years, and explained last month how the backlog at the ports has slowed business for the bar pilots.

"From our end, we've slowed down because they're taking longer at the dock to unload. They're bigger ships carrying more containers, so they take longer to unload and load. So, we've slowed down in actually moving ships back and forth," Thompson said.

As of Friday, Nov. 1, there were 27 ships at sea, according to marinetraffic.com. So, the number has leveled off, not budging much from where it was a month ago.

Some perspective to what we're seeing right now. Under normal trade conditions, the master bar pilot says there would only be one or two ships waiting at sea.
The AJC reports that Gov. Kemp's campaign has started airing a new 60-second spot.
Now his campaign is returning to the airwaves with a minute-long TV ad released Monday that seeks to shore up support with both conservatives and independents.

"The last three years, Georgia's been tested in ways we could never imagine," the ad's narrator said. "And it fell to Gov. Brian Kemp to successfully lead us during these troubling times."

The ad reinforces Kemp's campaign trail messaging about his law-and-order stances, support for a far-reaching election overhaul and aggressive economic approach during the pandemic. That narrative factors into the squeeze he's facing from both sides of the aisle headed into 2022.

Among those who are encouraging Perdue to run is former U.S. House Speaker Newt Gingrich, who said Sunday that he worries Kemp couldn't beat Abrams.

In a blog post, the ex-Georgian said that Trump's feud with Kemp has "virtually guaranteed that a Kemp nomination will lead to an Abrams governorship – and all the fighting and alienation that kind of radical administration would bring with it."

"Like Youngkin, Perdue's natural instinct is to solve problems and bring people together," Gingrich said. "Like Youngkin, Perdue can bring together the Trump base and those Republicans, independents, and moderate Democrats who will find Abrams too radical."
Gwinnett County schools Superintendent Calvin Watts said he opposes state legislation to make Gwinnett County Board of Education seats nonpartisan, according to the Gwinnett Daily Post.
"Gwinnett County Public Schools has serious concerns about the manner in which Senate Bill 5EX was introduced, the lack of input by the Gwinnett Legislative Delegation and affected Board members, the confusion the proposal would raise for voters and the impact this proposed legislation would have on the district," Watts said in a statement on Friday.

"We urge lawmakers to allow our duly elected Board members the opportunity to work within the established process to recommend new Board maps that fairly and appropriately reallocate residents, based on the 2020 Census."

"We hope that the matter of redistricting Gwinnett County Board of Education districts may be deferred until the General Assembly meets in January, and that when it does occur, it is based on a process that is fair and inclusive," Watts said.

Dixon said he heard from constituents in his Senate district who wanted changes made to the school board after the board voted to terminate former Superintendent J. Alvin Wilbanks' contract 11 months early. He said he does not plan to stop at making the school board elections nonpartisan, however.

"Another one of my legislative priorities this next session is banning (Critical Race Theory) statewide," Dixon said. "We're vetting several bills and just protecting our children from potential indoctrination."
The Georgia General Assembly continues meeting this week to draw redistricting maps, according to the Rome News Tribune.
House Bills 8EX and 9EX would disband the current [Floyd County] three-member elections board and create a five-member board — with four of the members drawn equally from lists submitted by the Floyd County Republican and Democratic parties. They are backed by the county's full legislative delegation.

Several congressional district maps are on the table, although Republicans hold the majority needed to push their version through.
The legislature may see more action on mental health in the next Session, according to the Georgia Recorder via the Gwinnett Daily Post.
Proposals for next session are still being hashed out behind the scenes. But lawmakers and advocates say they are pressing for both funding increases and legislatives fixes for mental health and substance use disorder treatment gaps that were worsened by the COVID-19 pandemic. The regular legislative session starts in January.

"I would like to make a prediction today: I think this is going to be a big legislative year for mental health. So, stay tuned," state Sen. Kay Kirkpatrick, a Marietta Republican, said.

State Rep. Sharon Cooper, a Marietta Republican who chairs the House Health and Human Services Committee, said state leaders "really must get down to work, help and put the resources behind our words."

Advocates have called the rising number of people experiencing mental health and substance use disorder after this extended period of isolation and disruption the next pandemic, urging state leaders to ramp up services and tackle barriers to treatment.

Overdose deaths in Georgia jumped 37% last year, claiming about 1,900 lives here. And the state's Department of Behavioral Health and Developmental Disabilities has reported an increase in people turning to their services.

But budget writers also will have to factor in the rising costs for fuel and other expenses. Auburn Republican state Rep. Terry England, who chairs the House Appropriations Committee, says the cost of doing business for the state may take one of the largest jumps seen in recent history.

"Many folks just think, 'Hot dog, we're flush with cash. Ain't a thing to worry about. We need to either spend it or give it back,'" England said in an interview. "And I'm trying to tell them no, it's just like in your business or home, the things you were buying for $2 last year, that had not increased in 25 years but from $1.89 is now $2, all of a sudden jumped to $3 this last year."
Republican candidate for U.S. Senate Herschel Walker campaigned in the Augusta area, according to WRDW.
He hosted a meet-and-greet at the Columbia County Republican headquarters.

Walker was pushed to run by his ally former President Donald Trump, who continues to claim that he lost his re-election bid in Georgia due to election fraud. That claim has not been proven.
Jenkins County public schools in Millen were closed last week due to a threat, according to the Statesboro Herald.
A problem of this kind was first reported last week, on Thursday, Nov.  4. In a statement posted on the Jenkins County Elementary School and Jenkins County Middle-High School pages on Facebook that afternoon, Jenkins County Superintendent of Schools Tara Cooper stated that a few teachers and students at the middle school had received a message, apparently sent late the night before, demanding $5,000 "in a threatening manner."

School officials met with law enforcement that day, Nov. 4, to assess the threat and then decided to put the school on lockdown. Noting the "threat was for a specific time," Cooper reported that students had been allowed to leave school with parents but that "the time came and went" and the school day had continued.

But an additional threat had been received by Monday evening, according to [a] statement that Cooper posted then on the schools' social media pages.

However, Tuesday did not bring a resolution, and she issued another statement that evening, indicating that school would be closed again Wednesday and that the Sheriff's Department and GBI had conducted interviews and were tracing phones and continuing the investigation.
The Association County Commissioners of Georgia (ACCG) met in Savannah, according to WTOC.
Clarke County School District Superintendent Xernona J. Thomas announced her retirement effective December 31, 2022, according to the Athens Banner Herald.
Statesboro City Council and the Mayor will hear proposed rules for liquor stores following a referendum approving of package sales, according to the Statesboro Herald.
City Attorney Cain Smith is scheduled to deliver information on options for rules on the location and operation of liquor stores in Statesboro to the mayor and council during a 3:30 p.m. work session Tuesday, Nov. 16.

This follows approval by 74% of participating voters in the Nov. 2 city election of a "package shop" referendum. No action will be taken on the topic this Tuesday, since it does not appear on the agenda for the 5:30 p.m. regular meeting. But the 3:30 p.m. work session, with reports to be presented on several topics, is also open to the public, in the council chambers at City Hall.

"Really, the material I'm going to provide is a survey of other cities' liquor store laws," Smith said Friday. "The majority of them just defer to state standards, but a lot of them do have local enhancements."

Among other things, some cities choose to regulate the distance between liquor stores, the total number of stores allowed and the size of the stores, in addition to restricting them to certain zones and certain hours of operation. What Statesboro will do remains for the elected council members and mayor to decide, in compliance with state law, Smith said.
Dalton and Whitfield County are expected to adopt in December budgets for FY 2022, according to the Dalton Daily Citizen News.
Members of the Dalton City Council and the Whitfield County Board of Commissioners are still working to finalize the 2022 budgets. Officials say they expect to present draft proposals to the public before the end of November or in early December.

The city's 2021 budget is $34.4 million.

Commissioners and council members both said inflation is complicating their budget planning.

"Oh, it's definitely going to have an impact," said Dalton Mayor David Pennington. "The price of everything we buy is going up."

Wages are also growing. Average national wages grew 1.5% in the third quarter. City Council members said that's also putting pressure on the budget.

"We aren't just competing against other governments for employees," said council member Gary Crews. "For example, we hire truck drivers. They have to have a CDL (commercial driver's license). Well, there's a shortage of CDL truck drivers, so the pay is going up. If you've got a CDL, it's a golden ticket."

Pennington said he expects the 2022 city budget will contain a "pretty significant" pay increase for city employees though he said City Council members haven't decided on an exact number.
The Dalton Daily Citizen News has more on the proposed raise for City of Dalton employees and proposed changes for Dalton retirees.
Tia Heard was sworn in as the District 1 member of the Valdosta Board of Education, according to the Valdosta Daily Times.
Elaina Beeman will be sworn in as a new Rome City Commissioner on January 10, 2022, according to the Rome News Tribune.
She became involved with the city in 2008 when she was appointed to the Rome-Floyd Planning Committee. Appointed by city commissioners, she spent five years listening to the concerns of Rome citizens and presenting solutions to the City Commission.

When her term ended in 2013, Beeman was elected to the Rome City School Board. Seeing a gap in education for students with learning disabilities, she spent eight years fighting to ensure these children were learning at the same rate as everyone else.

As her second term on the board was coming to a close, Beeman leaped at the opportunity to become a city commissioner. Because of her property management skills and passion for children to receive a quality education, Beeman believed she possessed the skills necessary to land the position.