On October 14, 1735, John and Charles Wesley sailed with James Oglethorpe from Gravesend, England, for Georgia and John Wesley wrote the first entry in his journal that would eventually cover 55 years. On that date, John Wesley wrote,
Our end in leaving our native country, was not to avoid want, (God having given us plenty of temporal blessings,) nor to gain the dung or dross of riches or honour; but singly this, to save our souls; to live wholly to the glory of God.
The First Continental Congress adopted the Declaration of Colonial Rights in Philadelphia, Pennsylvania on October 14, 1774.
Then-former President Theodore Roosevelt was shot before a campaign speech in Milwaukee, Wisconsin, on October 14, 1912.
Roosevelt, who suffered only a flesh wound from the attack, went on to deliver his scheduled speech with the bullet still in his body. After a few words, the former "Rough Rider" pulled the torn and bloodstained manuscript from his breast pocket and declared, "You see, it takes more than one bullet to kill a Bull Moose." He spoke for nearly an hour and then was rushed to the hospital.
A.A. Milne published Winnie-the-Pooh on October 14, 1926. E. H. Shepard illustrated the Pooh books.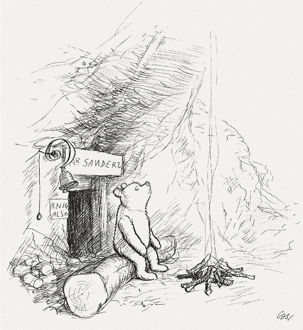 The War Department renamed Wellston Air Depot to Warner Robins Air Force Depot to honor Brigadier General Augustine Warner Robins on October 14, 1942.
On October 14, 1964, Martin Luther King, Jr. was announced as the winner of the Nobel Peace Prize, becoming Georgia's first native-born winner. The Atlanta Journal Constitution has a story on how King's Nobel Prize effected Atlanta.
The honor wasn't just a watershed for King and the civil rights movement but also for Atlanta. It set off a series of events that some say fundamentally changed the city's business, religious and racial cultures by bringing blacks and whites together for the first time to share a meal in public.

That simple act, holding a multi-racial banquet in the new Nobel laureate's honor, tested the will and even the nerves of those determined to make Atlanta a more just and inclusive place.

"It was a defining moment in the history of the city, and it should go down in the city's documented memory," said Janice R. Blumberg, the widow of Rabbi Jacob Rothschild, who was instrumental in organizing the event.

King's three surviving children are due in court in December to determine if the 23-karat gold medal — along with a Bible their father once owned — should be sold at auction. Brothers Martin Luther King III and Dexter King, representing the King Estate, plan to sell the items. Sister Bernice King has opposed the sale.

Mayor Allen and J. Paul Austin, chairman of Coca-Cola, gathered the business elite at the Piedmont Driving Club. Allen warned then he would be taking notes on who did not attend the dinner. But Austin delivered the crushing blow.

According to Young's written account, Austin said: "It is embarrassing for Coca-Cola to be located in a city that refuses to honor its Nobel Prize winner. We are an international business. The Coca-Cola Company does not need Atlanta. You all have to decide whether Atlanta needs the Coca-Cola Company."
On October 14, 1980, Republican candidate for President Ronald Reagan announced he would name a woman to the Supreme Court if elected.
To achieve those ends, we need the best people possible at the highest levels of Government regardless of sex, race or religion. I am also acutely aware, however, that within the guidelines of excellence, appointments can carry enormous symbolic significance. This permits us to guide by example, to show how deep our commitment is and to give meaning to what we profess.

One way I intend to live up to that commitment is to appoint a woman to the Supreme Court. I am announcing today that one of the first Supreme Court vacancies in my administration will be filled by the most qualified woman I can find, one who meets the high standards I will demand for all my appointments.

It is time for a woman to sit among our highest jurists. I will also seek out women to appoint to other Federal courts in an effort to bring about a better balance on the Federal bench.
Georgia Politics, Campaigns, and Elections
Advance voting is off to a slow start in Rome's municipal races, according to the Rome News Tribune.
As of Tuesday evening, 83 people had cast their votes in the Rome City Commission and Board of Education races. About 31 of those votes were cast on Tuesday.

Early voting will continue through Oct. 29 from 8 a.m. to 5 p.m. Monday through Friday. Weekend voting will be available this Saturday from 9 a.m. to 5 p.m. in the Community Room on the second floor of the Floyd County Administration Building at 12 E. Fourth Ave. Voting will also be available on both Saturday, Oct. 23, and Sunday, Oct. 24.

Three Rome City Commission seats are on the ballot. Incumbents Jamie Doss and Randy Quick are running for reelection and Elaina Beeman is stepping down from the city school board to run. Candidates Victor Hixon, Tyrone Holland and LuGina Brown are also seeking one of the three seats.

All seven Rome City Board of Education seats will be filled. Incumbents Faith Collins, Jill Fisher, Melissa Davis, Will Byington, Alvin Jackson and John Uldrick are joined on the ballot by Tracy McDew, Pascha Burge and Ron Roach.
Turnout was light, but Craig Lutz, vice chairman of the Hall County Board of Elections & Registration, said it's too early to tell if the new election law impacted overall voter turnout.

He said he was encouraged by the number of people who have voted by mail thus far.

"When people show up to vote on the first day, it's always exciting," Lutz said. "I remember when I was elected to the City Council in Flowery Branch, I think there were only 70 votes total in that race. Municipal races typically do not get large turnouts, so the fact that we did have people show up on the first day, and the fact that so many people requested absentee-by-mail ballots is encouraging in the fact that it looks like a lot of people are really engaged in civic activities that are going on."

Early voting polls will be open from 9 a.m. to 5 p.m. Monday through Friday until Oct. 29, and Saturdays Oct. 16 and 23.

Regardless of any postmark, ballots must be received in the elections office by 7 p.m. on Election Day, the same time as voting ends for all 31 Election Day precincts. Ballots cannot be returned via email or fax. They must be mailed in, dropped in the drop box, or delivered to the elections office in the Hall County Government Center at 2875 Browns Bridge Road.

"All absentee ballots must arrive at (the) county election office by election day," according to the State of Georgia website.
Georgia Governor Stacey Abrams endorsed a Clayton County candidate, according to the AJC.
The campaign for Clayton County Commission candidate Alaina Reaves posted an endorsement video from Stacey Abrams on Tuesday.

Reaves is running against former Clayton County school board member Alieka Anderson in a runoff for the District 1 seat formerly held by Commissioner Sonna Singleton Gregory. Gregory died in late May after a long fight with ovarian cancer.
Governor Brian Kemp appointed Amanda N. Heath to the Superior Court for the Augusta Judicial Circuit.
Elected Chattahoochee Judicial Circuit District Attorney Mark Jones is under fire again based on anonymous statements, according to WSAV.
Suspended District Attorney Mark Jones asked a person that the state refers to as a "contact" for a location where he could purchase and obtain cocaine the Georgia Attorney General's office alleges in new motions filed late Tuesday.

The filing states this incident occurred in July of 2021, while Jones was the elected District Attorney of the Chattahoochee Valley Judicial Circuit. The filing said the incident happened after Jones was intoxicated late one night. The evidence alleges around 3:00 a.m. Jones began banging on The Hooch's doors, a bar located in downtown Columbus, Jones' was asking for his keys which employees of the establishment told him they did not have.

When contacted for comment on the new allegations, Jones' Defense Attorney Christopher Breault said he's eager to examining the prosecution and their claims in court.

"Three weeks ago, the authorities coached witnesses who came to court and gave false testimony—including their star witness who perjured herself in open court. If they will do it in one case (the Civic Center Donut Case), then they will do it in others. I take anything said by these people with a grain of salt, and look forward for examining them in open court."

The evidence states defendant Jones "kept screaming that he was the District Attorney, and he would shut down the bar." It was after this that Jones received a ride home from a contact. The filing also said Jones thanked this contact for the ride and offered them a "free felony" before asking where he could purchase cocaine.
Prosecutors are claiming suspended District Attorney Mark Jones offered an unidentified person a "free felony" and asked where he could buy some cocaine this summer, according to new court documents.

The Tuesday evening filing from state Deputy Attorney General John Fowler is the latest in a string of motions alleging Jones committed misconduct in office and intended to abuse his power as district attorney.

In the motion, Fowler argues that the court should allow this evidence to be submitted because the alleged cocaine incident and other events demonstrate Jones' attempts to "abuse his power as District Attorney."

"He threatens to shut down the bar because he is the District Attorney. This goes to the Defendant's state of mind and his intent," the document reads. "Furthermore, it goes to explain the Defendant's behavior in the State's Case-in-Chief. That is, the Defendant's behavior is not a mistake; it is not an accident; it is not as a result of the Defendant's inexperience as a prosecutor. This evidence directly explains the Defendant's behavior as the District Attorney: the Defendant's intent is to abuse his power."

"Because of that, the authorities are doing everything they can to attack the character of Mr. Jones," [Jones's lawyer] Breault said. "There's an old saying in the Law: 'If you can't attack the case, then attack the person., So that's what is going on here. They know the cases are weak on the merits, so they are doing everything they can to tarnish Mr. Jones' reputation as a person."
Swainsboro City Council members say the Mayor's racism brought meetings to a halt, according to the Augusta Chronicle.
"This whole thing is a damn monkey show," Mayor Charles Schwabe said after ending the Aug. 24 meeting, using the racist reference while seemingly unaware the Zoom meeting's audio and video remained on.

The plaintiffs, African-American council members John E. Parker, Rita Faulkner and Bobbie Collins, warned, "We can still hear you," but the conversation continued and revealed Schwabe's motive, the lawsuit says.

"The decision to halt the meeting was not based on any legal requirements or any substantial justification, but rather due to the race of plaintiffs, and the subsequent belief that the plaintiffs should not possess the power to decide critical council votes because they had become the numerical majority," it said.

The NAACP branch weighed in on the recent events, voicing support for the plaintiffs in the "seeming impasse" that's now blocking city business such as implementing American Rescue Plan funding.
The University System of Georgia Board of Regents changed tenure policies for most institutions, according to the Athens Banner Herald.
The changes will replace a tenure system that allows professors to be fired only for a specific cause following a thorough peer review process with a new system that permits professors to be dismissed if they fail to take corrective steps following two consecutive subpar reviews.

The changes in post-tenure review, which will apply to all system schools except Georgia Gwinnett College, stem from a working group formed in September of last year that reviewed the current policy and submitted recommendations to the regents in June.

"The goal of the changes they recommended is to support career development for all faculty as well as ensure accountability and continued strong performance from faculty members after they have achieved tenure," the regents wrote in a prepared statement.

But representatives of the system's faculty warn the new tenure policy will make it easier to dismiss professors without due process. A report released by the working group found that 96% of professors who go through the tenure review process receive positive reviews.
Augusta Technical College has made a deal with an undisclosed Fortune 500 tech company, according to the Augusta Chronicle.
Augusta Tech and company representatives signed a memorandum of understanding last week, a document that typically precedes a formal legal partnership.

While the partner's identity has not yet been publicly disclosed, Barron's and Fortune magazines have ranked the tech-industry titan as one of the most admired and most respected companies in the world.

Whirl credited Tech's growing cybersecurity program for raising the school's profile high enough to register on the radar of some of the world's biggest corporations. Earlier this year, Newsweek magazine cited Augusta Tech among just three two-year colleges in the United States with superior cybersecurity programs.

Augusta Tech's new partner will provide training, some of which can result in professional accreditation. Students and faculty also will have access to the company's platform of products, including a supercomputer. Companies that operate supercomputers include IBM, HP, Dell, Cray and Fujitsu.
The National Defense Authorization Act contains more than $12 million dollars for Moody Air Force Base, according to the Valdosta Daily Times.
About $12.5 million has been included in the next National Defense Authorization Act for building new helicopter parking aprons for the 41st Rescue Squadron at Moody, according to a statement from Sen. Jon Ossoff's office Wednesday.

Ossoff and Sen. Rev. Raphael Warnock worked to get the money ahead of schedule to aid the 41st's move to the new HH-60W Pave Hawk combat rescue helicopter, used for search and rescue missions, the statement said.

If the act is passed, the funding authorization will provide an adequately sized, properly configured parking apron for the new helicopter fleet, Ossoff's statement said.

"I am proud we were able to secure the appropriation of this critical funding and I am glad that it will also be authorized this year. Moody Air Force Base is a unique and nationally important military installation and ensuring the future of the HH-60Ws and the 41st Rescue Squadron is a Georgia priority. Georgia remains a crucial part of our nation's defense infrastructure, and I will continue to support our military installations and service members to ensure they have the necessary tools to lead the way for our state and nation," Warnock said in a statement.
Brunswick and Glynn County leaders discussed safety preparations for the trial of three men accused of murdering Ahmaud Arbery, according to The Brunswick News.
"Public safety is always paramount," [Brunswick Mayor Cornell] Harvey said. "We don't want people to tear up our area."

[Glynn County Commission Chair Wayne] Neal said he expects a "tremendous amount of visitors" for the trial and they have the right to voice their opinions peacefully.

"As we move through this trial, there will be some good things and bad things," he said. "Our team is prepared for every eventuality. We have resources from around the state and surrounding states. Glynn County is prepared to do the best of our ability."
One thousand local residents received jury summons for the trial, according to the Statesboro Herald.
Savannah approved permits for the Savannah Marathon, opening the season for larger events, according to the Savannah Morning News.
City officials announced that November permitted events can continue as COVID-19 cases trend down across Savannah. This means that the Rock 'n' Roll marathon, one of the biggest events of the year, will take place next month as scheduled.

"After some lengthy discussion, and based on the data, and the advice of my medical advisory team, we have decided, thus I'm deciding to allow large outdoor events, to maintain the mask mandate in public buildings. In city facilities we will allow (events with) 60% of capacity," Savannah Mayor Van Johnson said Wednesday during a virtual press conference.

An estimated 16,000 runners will be in Savannah for this year's marathon, which is scheduled for Nov. 6 and 7. It will be the 10th year runners have hit the streets of Savannah, but the city has set conditions for the event.
Doraville enacted a moratorium on marijuana dispensaries, according to the AJC.
The City Council unanimously voted Monday to issue a 90-day moratorium on businesses that sell medical cannabis, including THC oil and products. While there's no current businesses focused on selling these products in Doraville, City Attorney Cecil McLendon said he's heard there is interest in the metro Atlanta market.

"The (number of) dispensaries are limited," McLendon said. "But I know they are looking at the metro area (to find) locations for dispensaries."

State law dictates that only 30 medical marijuana oil dispensaries can open in Georgia. Recreational marijuana, which is illegal in Georgia, typically has a much higher proportion of THC than medicinal cannabis.

Doraville isn't the first city to take this preemptive step. Alpharetta issued a similar moratorium in early September, and its city leaders decided to issue more stringent regulations on where medical marijuana dispensaries can operate.
United States Senate Candidate Herschel Walker canceled an out-of-state fundraiser, according to the AJC.
Republican U.S. Senate candidate Herschel Walker canceled a fundraiser with a conservative film producer who until Wednesday used a rendering of a swastika as her Twitter profile picture.

Walker's campaign said in a statement that the event at the Texas home of Bettina Sofia Viviano-Langlais has been "called off," hours after the campaign initially contended the symbol wasn't a swastika but a sign of opposition to vaccine requirements.

Walker's campaign spokeswoman early Wednesday said the swastika is "clearly an anti-mandatory vaccination graphic." In another statement hours later, the campaign disavowed Viviano-Langlais' usage of the symbol and said Walker opposed antisemitism and bigotry "in all forms."

"Despite the fact that the apparent intent behind the graphic was to condemn government vaccine mandates," the campaign said, "the symbol used is very offensive and does not reflect the values of Herschel Walker or his campaign."
Spokesperson Mallory Blount says Walker is a "strong friend of Israel and the Jewish community" and says the symbol is offensive.
The Savannah-Chatham County Public School System is seeking voter approval of a penny sales tax for education called an E-SPLOST or Special Purpose Local Option Sales Tax for Education, according to WTOC.
You'll get to vote on the measure in November. One of the largest projects it'll pay for – building a new replacement Windsor Forest High School.

District 6 School Board Member Dr. David Bringman hosted a town hall. They talked about the other plans for ESPLOST 4 in addition to discussing current ESPLOST projects that they are working on.

Architects also discussed their current plans for the new school should this pass and the 18 other substantial rebuilds at other schools. District leaders also emphasized pennies can make a huge difference in our community over time.

The vote for ESPLOST 4 will appear on the ballot on November 2.
Macon is also seeking voter approval of a sales tax measure, according to the Macon Telegraph.
In Macon, voters can vote for or against an "Other Local Options Sales Tax," or OLOST, in a special election. The OLOST would add a penny sales tax on the dollar for county purchases and services, while allowing for a property tax rollback, reports the CCJ's Liz Fabian. According to the county, the additional tax revenue would go to pay public safety and emergency services, road repair, street cleanup, park maintenance and more.

Property taxes collected for Macon-Bibb County would be initially reduced by 5 mills according to House Bill 575, which authorized the additional tax, and then by an estimated 7 mills, more than one-third of the county's property tax rate. The OLOST would bring in an estimated $30 million a year for the county.

"This would be the largest single property tax reduction in our community's history," Mayor Lester Miller said back in April. "The OLOST will generate millions in revenue for our general fund and, because of our geography, we know that more than 70% of it will come from people who live outside of our county. "It will provide much needed funding for public safety infrastructure and even to begin planning for the second phase of our payscale to ensure we can retain deputies, firefighters, and other first responders."

Read more at: https://www.macon.com/news/politics-government/article254947112.html#storylink=cpy
Julius Hall will re-appeal to the Georgia Supreme Court the decision to remove him from the ballot for the election of Mayor of Port Wentworth, according to the Savannah Morning News.
Disqualified Port Wentworth mayoral candidate Julius Hall plans to refile his appeal to the Georgia Supreme Court after the court clerk confirmed Hall's appeal was dismissed because he used the incorrect application.

The paperwork snafu led the state's high court to decline to hear Hall's case for reinstatement. The clerk's office said the Georgia Supreme Court would consider the case should Hall refile using the correct documents.

Hall said he plans on refiling the appeal soon, but that he is "not going to make it for this term," meaning in time for the Nov. 2 election.
Jeffrey Lundy will be on the ballot for Fort Valley Mayor after a judge reversed the city's decision to disqualify him, according to 13WMAZ.
Councilman Lemario Brown will no longer run unopposed for Fort Valley mayor on the November ballot.

On Wednesday, [Peach County] Superior Court Judge Connie Williford reversed a decision made by Fort Valley election officials, ruling that mayoral candidate Jeffery Lundy will be placed on the ballot.

This decision comes after the city of Fort Valley held a hearing Sept. 27 to determine if mayoral candidate Jeffery Lundy qualified for the November 2 election. Then, the city's election supervisor, Scakajawea Wright, decided that Lundy did not meet the 12-month residency requirement laid out in the Fort Valley charter.

The order signed by Judge Williford says Wright "erroneously calculated the 12-month residency period from the date of qualification."

Judge Williford says Wright looked 12 months back from the qualifying date for the election instead of 12 months back from the Nov. 2 election date, meaning that if Lundy was a resident of Fort Valley before Nov. 2, 2020, he is qualified to run. Wright said in her original order that Lundy was a resident of Fort Valley as of Sept. 9, 2020.
Floyd County Commissioners voted to seek a review of the county elections board handling of the 2020 elections, according to the Rome News Tribune.
Senate Bill 202, or the Elections Integrity Act, was signed into law by Gov. Brian Kemp this year. Under the new law, local governments or state legislators can request a performance review of their local elections boards or superintendents conducted by the Secretary of State's office.

On Tuesday night, Floyd County commissioners endorsed a third party peer review for the elections board and office, as opposed to enacting a state run performance review.

According to Elections Board Chair Melanie Conrad, they're looking at bringing in elections clerks from neighboring counties to review their operations. Board member Corey Townsend said he has already reached out to chief clerks in Bartow County and Paulding County, and they're also considering approaching the Gordon County clerk.

Rep. Katie Dempsey, R-Rome, said that she disagrees with the county's actions and supports bringing in the Secretary of State's office to conduct a performance review of the elections board and is willing to go further.

The process, if enacted by the legislative body, requires one local representative and one local senator to sign off on it.

"We've got to do our due diligence on it," Dempsey said early Wednesday. "The reality is we can do it or (the county) can do it, it does not require votes."

Sen. Chuck Hufstetler, R-Rome, a cosponsor of SB 202, said Wednesday that Floyd County could benefit from the state review as well as a review by elections officials from nearby counties.

"Historically, our elections have been slow and we've had some problems. I don't see fraud, but if they want to bring in successful county boards and follow up with the state, I don't have a problem with that," he said.

Dempsey went on record to oppose the county-approved peer review, saying there's no basis for it in Georgia law.
Henry County Superior Court Chief Judge Brian Amero dismissed a lawsuit over Fulton County's 2020 elections, according to the Associated Press via WALB.
The lawsuit was originally filed in December and alleged evidence of fraudulent ballots and improper ballot counting in Fulton County. It was filed by nine Georgia voters and spearheaded by Garland Favorito, a longtime critic of Georgia's election systems.

Henry County Superior Court Chief Judge Brian Amero's order dismissing the case says the voters who brought the lawsuit "failed to allege a particularized injury" and therefore lacked the standing to claim that their state constitutional rights to equal protection and due process had been violated.

Favorito expressed frustration after the ruling, saying his team had "prepared diligently to show the evidence of our allegations" at a hearing the judge had previously scheduled for Nov. 15. He said an appeal is planned.

"All citizens of Georgia have a right to know whether or not counterfeit ballots were injected into the Fulton Co. election results, how many were injected, where they came from and how we can prevent it from happening again in future elections," Favorito wrote in an email. "It is not adequate for any organizations to secretly tell us there are no counterfeit ballots and refuse to let the public inspect them."
Chatham County and Effingham County have deployed speed cameras in school zones, according to the Savannah Morning News.
The cameras are active on school days. They start an hour before the first bell and run through the entire school day, turning off one hour after the final bell. They take down your plates if you go more than 10 miles over the speed limit. The first fine is $100. Every ticket after that is $150.

"Even during the day, when we're traveling through the school zone, they're moving pretty quick!" said longtime resident Rick Schirtzinger. Schirtzinger has lived by Islands Middle School off Islands Expressway for more than 20 years. He feels the cameras are long overdue.

"Oh, the cameras are a great idea, yeah," Schirtzinger said. "I think people need some incentive, if it has to be financial, to follow what the rules are."
13WMAZ spoke to the candidates for Mayor of Warner Robins about their plans to address violent crime.