Saturday is Leif Erikson Day, celebrating the Norse explorer being the first European to visit North America. From Mental Floss:
While the actual date of Leif Erikson Day doesn't have anything personally to do with Leif, it was picked for the holiday because it's the anniversary of the day that the ship Restauration arrived in New York from Stavanger, Norway, back in 1825. The arrival of the Restauration marked the beginning of organized immigration from Scandinavia to the USA. The holiday was first recognized by Wisconsin in 1930, eventually becoming a nationally observed holiday in 1964.
The United States Naval Academy opened in Annapolis, Maryland on October 10, 1845.
The Chicago Fire began on October 8, 1871. A completely different kind of Chicago Fire is underway now.
On October 8, 1895, the Liberty Bell arrived in Atlanta for the Cotton States Exposition.
The famously–cracked 2,000 pound pealer left Philadelphia on seven trips between 1885 and 1915. Each time it came home with more cracks. It turned out the men hired to guard the Bell were taking liberties, literally: chipping off pieces and selling them as souvenirs.

Cheering crowds greeted the Bell in Atlanta. A two–mile parade took it to Piedmont Park, where 50,000 people lined up to see it.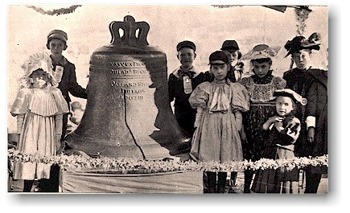 On October 9, 1963, the Board of Regents approved a new junior college in Cobb County that is today Kennesaw State University. The next year, Cobb County voters approved a bond referendum to fund construction.
Polling released on October 8, 1976 indicated that Democrat Jimmy Carter won the second debate against President Gerald Ford by a 50-27 margin.
Democrat Jimmy Carter challenged President Gerald Ford to make his income tax returns public on October 9, 1976.
On October 10 1976, a poll by Time magazine showed Georgia Governor Jimmy Carter with a 2-1 electoral vote margin.
Carter led in 21 states and the District of Columbia, with 273 electoral votes (three more than necessary to win), while President Ford led in 17 states with 113 electoral votes.
The online Georgia archives at UGA has a collection of campaign materials, including a 1976 Carter for President brochure.
On October 10, 1980, the Martin Luther King, Jr. Historic Site was established in Atlanta.
On October 8, 1981, former Presidents Nixon, Ford, and Carter visited with President Ronald Reagan at the White House before heading to Egypt to represent the United States at the funeral of assassinated Egyptian President Anwar Sadat.
Long-time Atlanta Braves pitcher Phil Niekro won his 300th game on October 8, 1984, though he wore Yankees pinstripes for that game.
United States Senator Sam Nunn announced on October 9, 1995 that he would not run for reelection. From CNN's contemporary story:
"I know in my heart it is time to follow a new course," Nunn told reporters gathered in the Georgia State Capitol. He said his decision followed "a lot of thought and prayer" and he expressed enthusiasm about meaningful days ahead in the private sector.

"Today I look forward to more freedom, to more flexibility," he said, adding he planned to spend time with his family, to write, and "devote a substantial amount of time" to public policy and public service. He said he has no immediate plans for a presidential bid.

Nunn hailed America as "the greatest country in the world," but cited problems that need attention, including education concerns, illegitimate children, and widespread violence and drugs. He expressed optimism on such items as the strong military and entitlement reform.
The Chicago Tribune reported that Speaker of the House Newt Gingrich said of Sam Nunn's retirement,
"For those who listened carefully, it is clear that the Democratic Party is not the vehicle for the values outlined by Sen. Nunn."
Nolan Waters of Knight-Ridder wrote of the announcement,
Nunn's departure is a watershed.

"Nunn is the last of the great moderate Southern Democrats. This creates a huge hole for the party," said Merle Black, a specialist on Southern politics at Emory University in Atlanta.

Nunn, like President Clinton, helped organize a group of moderate Democrats, the Democratic Leadership Council, in an attempt to move the party rightward after the 1984 landslide re-election of President Reagan.

"He has been fighting the liberal wing of his party for over two decades," Black said. "It's been a losing battle."

In place of Nunn, the state's most prominent politician is becoming House Speaker Newt Gingrich – whose futuristic, activist style of conservatism seems radical along-side Nunn's traditionalism.
The first C-5A airplane arrived at Robins Air Force Base on October 8, 1997.
On October 8, 1998, the United States House of Representatives voted 258-176 to authorize an impeachment inquiry against President Bill Clinton.
President George W. Bush issued an Executive Order establishing the Department of Homeland Security on October 8, 2001.
On October 10, 2015, Donald Trump made his first campaign stop in Georgia.
A fundraiser is being held to help preserve the Avenue of Oaks at the Wormsloe State Historic Site in Chatham County, according to WTOC.
It is the number one most visited historic site in the state of Georgia and a big part of Wormsloe's charm is the iconic trees.

There are 400 trees on the Avenue of Oaks, but more than 70 of them are dead. Thursday night students from Savannah Country Day and the Rotary Club of Savannah held a pavilion party to help raise funds to replace the trees.

"These trees to me represent more to me than a postcard moment. More my childhood in Savannah and growing up taking filed trips to Wormsloe and being able to learn about the history of our city as well as our country all in one place is very important to me," said Charlton Strong, President of Savannah Country Day Interact Club.
Georgia Politics, Campaigns, and Elections
Can a local government require masks for prospective Advance (In-Person) voters in order to exercise their right as American citizen? From WSB-TV:
Polling locations across Fulton County will require poll workers to wear masks on the job.

When it comes to voters, state law prevents counties from forcing those casting their ballots to wear masks. The lack of a mask mandate has some people concerned.

"Sooner or later somebody's going to get sick and I don't want to take that chance," a Canton resident said.

Another Cherokee County resident, who also didn't want to be identified, said she had the same concern.

"We went in and only half the people were wearing masks," she said. "We're all in line. There's no social distancing whatsoever. I take a glance around the room and notice at least 50 percent don't have their masks on."

Cherokee County provided the following statement when asked about these concerns:

"We are providing masks and face shields to poll workers choosing to wear them. By law, we are not allowed to require voters to wear masks to vote."

The governor's executive order prohibits requiring voters to wear masks because a spokeswoman told us they don't want anyone disenfranchised for showing up without one.
DeKalb County says the following about masks for in-person advance voting:
Restrooms are available, if needed, at many of our Advance Voting locations. Please be sure to wear a mask and practice social distancing at all times. We encourage you to be a good neighbor while waiting in line.

What to bring with you for in-person voting:

• A valid ID, such as a driver's license, passport, or voter identification card
• A mask to help ensure your safety and the safety of the poll workers and voters around you.
• Chair, water, and snacks if the location has a long wait line
• Your absentee ballot if you are wanting to vote in-person instead. If you do not have your absentee ballot, you will need to sign an affidavit stating that you are instead casting your ballot in-person.
DeKalb County does not say that a mask is required, but it appears that they are implying it. Georgia law requires photo ID to vote in person:
What IDs are acceptable?
Any valid state or federal government issued photo ID, including a free ID Card issued by your county registrar's office or the Georgia Department of Driver Services (DDS)

• A Georgia Driver's License, even if expired
• Valid employee photo ID from any branch, department, agency, or entity of the U.S. Government, Georgia, or any county, municipality, board, authority or other entity of this state
• Valid U.S. passport ID
• Valid U.S. military photo ID
• Valid tribal photo ID
• Bring one of these six forms of identification to vote.
The DeKalb Elections offices doesn't say a mask is required, but it puts it at the same level as a valid ID, which is required. It's unclear what will happen if you try to vote in person without a mask, but I suspect they'll offer you one. I won't let a minor inconvenience prevent me from voting, so I'll have a mask.
I'm not sure how the presence or absence of a mask mandate will affect voter turnout, but I think it will.
The Prosecuting Attorneys' Council of Georgia is investigating Chattahoochee Judicial Circuit District Attorney Mark Jones for Facebook posts, according to the Ledger-Enquirer.
"This afternoon I was made aware of his posts on Facebook. I have directed PAC Legal Counsel to research the matter in order to determine whether such statements violate the intent of the Governor's Order of Suspension," said Pete Skandalakis, the executive director of the Prosecuting Attorneys' Council of Georgia. "At this time, I have no further comments to make."

The agency doesn't have the authority to discipline Jones, and would offer its findings as advice on his actions. The Prosecuting Attorneys' Council of Georgia provides important services to elected and appointed prosecutors statewide, including legal research assistance and professional responsibility guidance.

In one post, the chief prosecutor for the six-county Chattahoochee Judicial Circuit that includes Columbus said Kemp "wants the DA seat but it doesn't belong to him. It belongs to the people."

Other comments on the post echo similar claims previously made by Jones and his supporters over the last several months: the city's "good-ole boy network" never wanted him to be elected, and there's been a concerted effort to remove him from office.

"They never wanted me to be DA," Jones wrote in response to a comment. "I put the people first, and they couldn't stand that. So they whip up some charges and basically call me a B word."
And The Man dropped another load on the head of elected District Attorney Mark Jones. From the Ledger-Enquirer:
Fresh court filings in the felony misconduct case against suspended Columbus District Attorney Mark Jones delve into details of the evidence against him.

The motions filed this week by Deputy Attorney General John Fowler lay out allegations that Jones tried to influence the testimony of a homicide detective and tried to persuade the nephew of a homicide victim to drop a victims rights complaint.

In both cases, Jones' comments were recorded, including about 10 minutes on police Cpl. Sherman Hayes' body camera, as Jones confronted the officer outside a downtown bar, and 32 minutes of audio that Chris Bailey recorded over the phone as he and Jones discussed the death of Bailey's uncle Danny Jones.

Fowler in a separate motion cited Jones' conduct in a cold-case murder as evidence that he "willfully disregards law and ethics to win murder cases at any cost."
At some point, all the piling on to Mark Jones seems to reinforce the statements he's made about the "good ole boy network" not wanting him to be DA. And his response has been almost-Trumpian. It's an ongoing saga that will likely get more and more interesting.
The Georgia Bankers Association criticized plans by the Biden Administration to require greater disclosure of client information, according to The Brunswick News.
Biden's new rule would require deposits or withdrawals totaling more than $600 annually of all business and personal accounts to be reported to the Internal Revenue Service.

Joe Brannen, president & CEO of the Georgia Bankers Association, said it would impact every working Georgian and every business.

In a statements released jointly by the bankers association and Georgia Chamber of Commerce Thursday, Brannen said it would be an infringement on personal and business privacy without any grounds for suspecting tax fraud.

"This wrongheaded proposal violates the privacy of almost every American in the name of catching wealthy tax cheats," Brannen said. "Consumers, small business owners and families should rightly be concerned that their personal financial information will be turned over to the IRS with no assurance their data will be protected from cyber criminals or restricted to this one idea."

It would create a massive increase in regulatory burden and cost for Georgia's banks, Brannen said.

The Georgia Bankers Association is not alone in its opposition. Joining it in a joint public announcement this week was the Georgia Chamber of Commerce, which also went on record Thursday as objecting to the Biden proposal.

Chris Clark, president and CEO of the Georgia Chamber, called it a burden.

"This blatant overreach by government would place an incredible burden on our state's banking institutions and the small businesses that make up 99% of Georgia's business community," Clark said. "It undermines the privacy of everyday Georgians and simply outweighs any hypothetical, unproven gains."

Gov. Brian Kemp also weighed in on the issue Thursday.

"This ridiculous power grab by the Biden Administration is only their latest attempt to hurt businesses and undermine the constitutional rights of hardworking Georgians," Kemp said. "There is absolutely no reason for the federal government to have the ability to monitor nearly every checking account in the country. This is a reckless invasion of privacy and a gut punch to community banks, small businesses, and large banking institutions alike."
Cutting federal unemployment benefits in Georgia appears to have not had the intended effect, according to the AJC.
Gov. Brian Kemp eliminated federal unemployment benefits in June, arguing the move would push many people back into jobs and kindle rapid hiring.

Since then, job growth has slowed while hundreds of thousands of job openings continue to go begging.

Moreover, Georgia didn't add more jobs in July and August than states that continued to disburse the benefits through Labor Day, according to an analysis by The Atlanta Journal-Constitution.

Economists say other factors — child care needs, fear of the coronavirus, a desire to change careers — are still keeping many workers on the sidelines.

"It was not like turning the faucet on," said William Adams, senior economist with PNC Financial Services. "There are other factors holding back job growth."
The Georgia film industry may be impacted by a strike, according to WTOC.
Locally, four TV and film productions are currently getting permits from the City of Savannah. That's according to Savannah's Office of Special Events, Film & Tourism.

Those productions are The Girl from Plainville, The Menu, The Accursed and Paradise City. The city says all of these productions have some workers part of the International Alliance of Theatrical Stage Employees Union.

The film industry in Savannah and across the state generate big bucks. This summer, the Georgia Department of Economic Development announced the 2021 fiscal year the film and tv industry spent 4-billion dollars on productions in the Peach State.

[Savannah Film Alliance founder Charles] Bowen points out most of what films in Savannah are not major studio productions, rather, independent films shows.
More money, more shots. This lesson in basic economics brought to you by local governments. DeKalb County got more takers for the COVID vaccine by offering more money than another local government, according to the Augusta Chronicle.
So many people showed up at a COVID-19 vaccination event Saturday in DeKalb County that some were turned away, DeKalb CEO Michael Thurmond said.

Like Augusta, DeKalb is offering $100 gift cards for COVID-19 vaccination, but there are important differences between the two that could explain why DeKalb's events are better attended than Augusta's. Most notably, Thurmond said, is that DeKalb is offering $100 per shot while Augusta is offering $100 for full vaccination, which for most people will be two shots, and could lead to some confusion or lack of interest.

"I think that undercuts your effectiveness," Thurmond said. "This is my opinion. The key is to get a shot, to get a shot in the arm."

A big advantage DeKalb has had is the ability to have recognized and trusted people serve as spokespeople for its events, with former NBA star Dikembe Mutombo at one event and actor/comedian Chris Tucker at the most recent one.

"The messenger is so important," Thurmond said. "You need someone that is trusted."
U.S. Senator Jon Ossoff (D-Atlanta) said he will ask federal help in addressing affordable housing in Columbus, according to WTVM.
Senator Ossoff said there is a shortage of nearly 200,000 affordable housing units in the state of Georgia. Two Biden Administration Housing and Urban Development officials agreed there needs to be a significant investment to create affordable housing.
State House Majority Whip Rep. Matt Hatchett (R-Dublin) announced his team of deputy whips, according to The Brunswick News.
Rep. Buddy DeLoach, R-Townsend, will continue to serve on the team during the 2022 legislative session. The General Assembly will reconvene in January.

In naming his team, House Majority Whip Matt Hatchett, R-Dublin, announced that Rep. Rob Leverett, R-Elberton, will serve as Chief Deputy Whip.

"I am excited and ready to get to work with this Whip team to advance our caucus' conservative policies," Hatchett said. "This is a proven group of leaders in the Georgia House of Representatives who work tirelessly on behalf of their constituents and our state."

Other Republican House members on the team are Reps. John LaHood of Valdosta, Mark Newton of Augusta, Vance Smith of Pine Mountain, Stan Gunter of Blairsville, Matthew Gambill of Cartersville, Houston Gaines of Athens, Noel Williams of Cordele, Ginny Ehrhart of Marietta and Dale Washburn of Macon.
The General Assembly also reconvenes November 3, 2021 for a Special Session.
State Rep. Katie Dempsey (R-Rome) received an award from the Georgia Inclusive Post-Secondary Education Consortium for her work with Georgians who have developmental disabilities, according to the Rome News Tribune.
Former United States Attorney for the Norther District of Georgia Bjay Pak spoke about pressure to resign in January 2020, according to the AJC.
Then-President Donald Trump's unhappiness with Pak has long been reported as the reason why he stepped down Jan. 4, but transcripts released Thursday mark the first time he described publicly how it all unfolded.

Pak said he wrote his resignation letter after a late-night phone call with Richard Donoghue, who was serving as the acting deputy U.S. attorney general.

"That's when Mr. Donoghue relayed to me that the President was very unhappy and that he wanted to fire me, that he believed that I was a Never Trumper," Pak told lawmakers and their attorneys Aug. 11, according to the transcript. "And Mr. Donoghue told me that he had told Mr. Trump that he thought that was incorrect, and that the President did not care but wanted me out of that spot."

The transcript was included as part of a report from the Judiciary Committee, which spent eight months investigating how Trump and his allies attempted to overturn the results of the 2020 presidential election. A House select committee has a similar investigation underway, and its scope also includes the Jan. 6 riot at the U.S. Capitol.
Candidates for Garden City Council District 5 say that impacts from the port are a major issue, according to the Savannah Morning News.
As the Nov. 2 municipal elections draws near, issues about livability, driven in large part by the the city's proximity to the South Atlantic region's busiest railway, dictate who residents want to see in charge of their local government.

Citizens of District 5, which sits closest to the ports, will choose between four candidates this year: incumbent Kim Tice and challengers Corey Foreman, Todd Payne and Chris Figiel.

A Garden City at-large seat is also up with Donna Williams facing previous council member Bruce Campbell. The District 1 seat, currently occupied by Marcia Daniel, is uncontested.

Issues of traffic, infrastructure and essential resources are Garden City residents' top concerns.
13WMAZ profiles the candidates for Warner Robins City Council District 5.
Savannah-Chatham public schools are seeing lower COVID numbers, according to WTOC.
The latest numbers show 0.24 percent of students tested positive for COVID, which is down from 1 percent of students one month ago. Teachers testing positive was at 0.16 percent compared to 1.29 percent one month ago.

Quarantines of students was cut in half over the last month. The most recent data shows 3.31 percent of students were quarantined compared to 6.83 percent the first week of September. The school district attributes the decline to everyone following the rules and proper protocol now that they are familiar with the system.

Less than two months ago, Savannah-Chatham Schools had 352 COVID cases among students in just one week, plus another 44 among staff members. At that time, more than 4,200 students and staffers were in quarantine.

Last week, only 88 students and nine staffers tested positive, with slightly more than 1,200 in quarantine. This data includes charter schools as well.
The Savannah-Chatham County Board of Education voted to pay off bus leases early, according to the Savannah Morning News.
The Savannah Chatham County Public School System unanimously passed a motion during Wednesday's board meeting that will free the district of all of its remaining debt. About $6.6 million will go towards paying off capital leases on bus purchases, an item that wasn't expected to zero out until 2026.

"Overall, it reduces the tax burden on citizens," said district 6 board member David A. Bringman. "This past year we were able to lower our taxes and still pay off all of our debt."
Bulloch County public schools will educate students on human trafficking, according to the Statesboro Herald.
The Bulloch County Schools district has announced that its high schools and middle schools will begin teaching state-mandated, single-day human trafficking awareness lessons this fall.

So, the school district will provide parents and guardians an opportunity to review the lessons before instruction begins. A review session is scheduled for 5-7 p.m. Monday, Oct. 11, in the cafeteria of Southeast Bulloch High School. Families are asked to make an appointment online at https://tinyurl.com/BChumantraffickreview if they plan to attend, or to contact Debbie Sarratt at (912) 212-8566 to schedule an individual appointment for a review.

Georgia House Bill 287, signed into law April 27 by Gov. Brian Kemp, mandates the instruction for all children in sixth through 12th grades.
Sea turtles had a productive nesting season on Tybee Island, according to WTOC.
On Monday, turtle season came to an end here on Tybee. Volunteers with the Sea Turtle Project say it was a longer season than usual due to the rain, but even with a bit of a delay the season ended on a high note.

For the last five months there were turtle nests spread all along Tybee's five miles of beach. This year there were 19 nests and all of them hatched.

Tammy Smith, the Tybee Island Sea Turtle Project coordinator, says about 2,000 babies safely emerged from their nests. Smith says she's very pleased with the season and all the hard work the volunteers put in to keep the turtles safe.

Smith says, statewide, there were about 2,500 nests this year.