King George, III issued the Proclamation of 1763 on October 7, 1763.
With respect to Georgia's official boundaries, the proclamation expanded Georgia's southern boundary by giving the colony all lands between the Altamaha and St. Marys rivers. Previously, the Altamaha had served as Georgia's southern boundary.

So, the impact of the Proclamation of 1763 was to set Georgia's official southern boundary as the St. Marys River from its mouth to the headwaters, then north to the Altamaha River, then north to the headwaters of that river, and then westward to the Mississippi River. Georgia's northern boundary was the Savannah River from its mouth to its headwaters.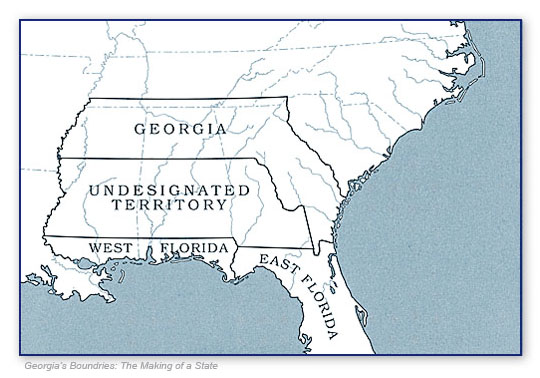 Patriot militia defeated Loyalists at the Battle of King's Mountain in North Carolina, near the South Carolina border on October 7, 1780.
On October 7, 1916, Georgia Tech beat Cumberland College in the most-one-sided college football game in history, by a score of 222-0.
The Engineers led 63–0 after the first quarter and 126–0 at halftime. Tech added 54 more points in the third quarter and 42 in the final period.
Recently, a Georgia Tech alumnus paid $44,388 for the game ball with the intention of donating it to the trade school.
The Democratic Republic of Germany (East Germany) was created by the Soviets on October 7, 1949.
Democrat John F. Kennedy and Republican Vice President Richard Nixon met in the second televised Presidential debate on October 7, 1960.
President Richard Nixon proposed a structure for peace and eventual withdrawal of American forces from Vietnam on October 7, 1970.
President George W. Bush (43) announced military action in Afghanistan on October 7, 2001.
In a televised address that evening, Bush informed the American public that "carefully targeted actions" were being carried out to crush the military capability of al-Qaida and the Taliban, with help from British, Canadian, Australian, German and French troops. An additional 40 nations around the world provided intelligence, as well as bases from which the operations were conducted.

Bush touted the multinational effort as proof that America, in the aftermath of the September 11 attacks, was "supported by the collective will of the world." He also warned that the war in Afghanistan would likely be only the first front in a long struggle against terrorism. He vowed to continue to take what he called the "war on terror" to those countries that sponsored, harbored or trained terrorists.
Arnold Schwarzenegger was elected Governor of California on October 7, 2003.
Georgia Politics, Campaigns, and Elections
Early voting for local elections begins Tuesday, October 12 in many municipalities across Georgia. From the Statesboro Herald:
Sixteen days of early voting opportunity begin Tuesday in city elections across Georgia and will include two Saturdays, as required under the state's voting law changes enacted earlier this year as Senate Bill 202.

Locally, the elections include mayoral races in Statesboro and Register; referendums, also in both Statesboro and Register, on whether to allow liquor stores in their city limits; two separate referendum questions in Brooklet on whether to allow stores to sell alcoholic beverages on Sunday or allow restaurants to serve liquor-based drinks; and races for council seats in all four towns, including Portal.

While the new law expands Saturday voting, it has shortened the timeline for voters to apply for absentee ballots and for election officials to mail these out.

Previously, Georgia voters could apply to be sent an absentee ballot as much as 180 days before an election. The new law reduced that lead time to 78 days for this election, Jones noted.

In previous election cycles, the mailing out of absentee ballots office could continue through the Friday before the Tuesday traditional Election Day. That Friday remains the last day for in-person early voting, but Senate Bill 202 moved the deadline for mailing out ballots to a week earlier.

"So the last day that our office can mail out an absentee ballot for an eligible voter, if their application has been received, is going to be October 22," Jones said. "So voters won't have that last week that they previously would have had to continue to submit those requests."

Voters whose absentee ballot request is received after that date will be sent a notice that the request is denied, and they can still vote early in person until Oct. 22 or at their assigned precinct Nov. 2, she said.
Governor Brian Kemp joined other GOP Governors at the Southern Border in Texas to urge Biden Administration action on immigration, according to 11Alive.
Gov. Kemp spent the morning with fellow governors in McAllen, Texas, touring the southern border and talking about immigration policies.

During the governor's trip, he stopped to visit Georgia Guard Members currently assisting with U.S. southern border patrol.

In a tweet, Gov. Kemp wrote, "These dedicated men and women are doing everything from vehicle fleet maintenance to providing intelligence support. Great job!"

Gov. Kemp said he's joining several colleagues "to identify 10 policy proposals that the Biden Administration could enact today to secure our nation's border."
The announcement came a little more than two weeks after 26 Republican governors signed on to a letter asking President Biden to meet with them about the situation at the order.

"It's been 16 days since we sent the President the letter and we still haven't heard anything back," said Gov. Doug Ducey, R-Arizona.

Data from U.S. Customs and Border Protection showed from October 2020 through August 2021, they reported 1,741,956 "enforcement actions." That is up from 646,822 from October 2019 through September 2020.
Idaho Governor Brad Little (R) joined the other Governors in Texas, and while he was gone, Lieutenant Governor Janice McGeachin swiped his pen and stamp and issued an Executive Order of her own, according to the Washington Post.
As acting governor, Lt. Gov. Janice McGeachin (R) issued an executive order Tuesday afternoon banning state officials from requiring covid-19 "vaccine passports" from new or current employees. Little quickly promised to undo McGeachin's order as soon as he returned from touring the U.S.-Mexico border with a group of fellow Republican governors.

This is the second time the state's top two officials have battled after Little left the state and McGeachin seized the opportunity to issue an executive order in his absence. While Little attended a Republican governors' conference in Nashville in May, McGeachin banned local governments from issuing mask mandates. Little, saying he wanted those local governments to have control over their communities, rescinded her order when he returned the next day.

Idaho's constitution requires the lieutenant governor to take over when the governor is out of state. The top two elected leaders run for office separately, not on a joint ticket.

This week, Little is in Texas with almost a dozen other Republican governors to discuss concerns about how the Biden administration is handling border issues. The trip again temporarily elevated McGeachin to power. McGeachin's most recent executive order expands on one Little signed in April that banned state officials from requiring proof of vaccination from constituents trying to access government services or buildings. McGeachin's order also prohibits them from requesting people show they've tested negative for the coronavirus, and it prevents state officials from requiring employees' immunization proof.

"I will continue to fight for your individual Liberty!" McGeachin wrote on Facebook Tuesday evening.

Four minutes after McGeachin announced the order on social media, Little fired back, saying he had not authorized her to act on his behalf and promising he would be "rescinding and reversing any actions taken by the Lt. Governor when I return."
Chattahoochee Judicial Circuit Chief Assistant District Attorney Sheneka Terry was sworn in as acting District Attorney after elected DA Mark "Down by Law" Jones was suspended, according to WTVM.
Terry becomes the first African American to assume the duties of district attorney in Muscogee County.
The six-county judicial circuit based in Columbus has its first Black woman leading the district attorney's office as Sheneka Jones Terry was sworn in Wednesday as acting DA.

Terry had been on maternity leave since July 21, but cut that short Tuesday to return to Columbus from Mississippi, where her family lives, to take charge of the DA's office. Judge Gil McBride, chief judge of the Chattahoochee Judicial Circuit, swore her in Wednesday morning.

Terry vowed to get the office back on track, filling seven vacancies among 29 staff attorneys and prioritizing murder cases.

"Right now, I think our focus should be on the community," she said after the ceremony in Judge McBride's Government Center courtroom. "As we're all aware, we've had a lot of homicides this year, so I don't think we have time to focus on anything else, except assisting the community in resolving the murder cases, and making sure that people get their day in court."
Mark Jones says "put up or shut up," demanding a speedy trial. From the Ledger-Enquirer:
Facing felony charges alleging misconduct in office, suspended Columbus district attorney Mark Jones filed motions this week asking for a hearing to question the witnesses against him and for a Nov. 8 trial date.

Jones argued his suspension violates the will of the voters who elected him to office last year, so his case should be resolved as soon as possible.

"Every day that the public is deprived of their duly elected district attorney is a crime against democracy and the will of the people," he wrote.

The Georgia Attorney General's office is handling his prosecution, and the case has been assigned to Superior Court Judge Katherine Lumsden of the Houston Judicial Circuit. Jones so far is acting as his own defense attorney.

And he's charged with bribing two prosecutors, Kim Schwartz and Sheneka Terry, by offering each a $1,000 bonus for convictions in murder cases. Terry, who was Jones' chief assistant district attorney, was sworn in as acting district attorney Wednesday, and still faces the prospect of testifying against her former boss.

If Jones is acquitted at trial, he may return to office. If he is convicted, the governor may name a replacement to serve the rest of Jones' term, which ends in 2024.
I have to wonder about that bribery charge. Is it not legal to offer a subordinate prosecutor a performance-based bonus? I welcome anyone's knowledge on this. I also wonder if the promotion of one of his accusers to the big office doesn't create a conflict of interest that would become an issue at trial. All the hours I've spent watching "Law & Order" didn't prepare me for this.
An investigation into allegations against Hall County Tax Commissioner Darla Eden suggest partying too hard might be to blame, according to the Gainesville Times.
A physical altercation broke out after dinner in a hotel lobby between Hall County Tax Commissioner Darla Eden and a subordinate.

As the argument escalated, Eden took Property Tax Supervisor Nicole Griffin's cellphone, pulled her hair, berated and publicly humiliated the woman at the 2021 annual tax commissioner's conference in May at the Hyatt Place in Athens, according to an outside investigation into her actions that concluded she broke Hall County's code of conduct.

"Griffin began to cry, and Eden called her a 'crybaby,' mimicking her crying (mocking her) with her balled up fists rubbing her eyes," the investigation states.

She accused Griffin, 33, of excess drinking and bad behavior, but according to the investigation, it was Eden, 53, who made a scene. Earlier at the conference, Eden ate a cookie out of the mouth of a male tax commissioner from another Georgia county during a vendor hospitality event and did alcohol-fueled cartwheels on the dance floor as the event ended.
The Georgia Department of Labor spent more than $1 million dollars providing meals for employees during COVID, according to the AJC.
A state audit obtained by The Atlanta Journal-Constitution found labor department employees received a daily free meal beginning in March 2020 and continuing for more than a year, violating state purchasing rules. Until it was discontinued this summer, the pandemic-long feast cost taxpayers more than $1.1 million in state and federal money, much of which was earmarked for unemployment benefits.

In an interview on Tuesday, Commissioner Mark Butler strongly criticized the findings, saying he received permission to provide the free meals from Alex Atwood, head of the state Department of Administrative Services (DOAS), which oversees state spending.

Allowing employees to stay on the job helped them process more unemployment claims during the pandemic than the office had in the past 10 years, he said.

"We squeezed every single bit of work we could get in," Butler added. "I'll stand up for our folks here. I'm going to take care of them because they were taking care of Georgia."

The free meal program began in the worst of the COVID-19 crisis, arguably when restaurant closings made lunch offerings for workers scarce. But it continued long after Gov. Brian Kemp declared the state "open for business," with the department ordering in everything from fast food meals to catered lunches by coveted names like Fox Bros. Bar-B-Q and Proof of the Pudding.
Northlake Mall will find new life as parts are rebuilt as offices for Emory Healthcare, the largest employer in Metro Atlanta. From the AJC:
Most of the mall's big box stores have closed, but Macy's will remain as Northlake's retail anchor tenant. The former Sears location at Northlake is being converted into office space for a new corporate anchor tenant, Emory Healthcare.

It's leasing 240,000 square feet of space to accommodate 1,600 employees. Becky Willis, Emory University's senior associate vice president of government and community affairs, said they'll begin moving workers to the Northlake offices in December.

"We love this location. It's so geographically close to everything," she said of the mall's proximity to I-285 and several MARTA stations.

"What we have here is available buildings and available parking, and we can really make good economical deals to get people to come here," Mihalopoulos said. "By using existing buildings and being in the position that we are, we can attract other businesses from Midtown, Buckhead, downtown and give them a better financial package."

He also mentioned that the COVID-19 pandemic has increased the market for outdoor dining, so his company plans to partner with three or four restaurants to open locations with ample porch space along the front of the mall. Those won't open until next year.

The struggling mall was annexed into Tucker's city limits in 2019 at the request of ATR Corinth Partners. Tucker Mayor Frank Auman said the Northlake area of the city won't be recognizable once the redevelopment project is finished.

"It's the kind of thing that instantly transforms an area," Auman said. "We're going to wonder how it ever was whatever it was before. And that's a good thing."
Speaking of Tucker Mayor Frank Auman, political analyst Bill Crane wrote the following that was published in the Gwinnett Daily Post:
In Tucker, that new city's first mayor, Frank Auman, has expanded the job base and tax digest, built out numerous parks and other city amenities, paved miles of roads and new sidewalks, and somehow along with a collegial City Council accomplished all of that with a millage rate of zero.
In full disclosure, I am volunteering my time to support Frank Auman's reelection.
Columbus will consider revising the policy on cleanup after evictions, according to WTVM.
Usually, the city would come and pick up furniture and debris after an eviction.

"It's because of a lack of employees in our public works department. As a result of that, we've just had a dirty city," said Lisa Goodwin, deputy city manager.

"But in order for us to continue to maintain and keep our city clean, we need the landlords to step up and do a little more," Goodwin said.

On October 18, the city will be meeting with landlords and property managers like Councilwoman Charmaine Crabb, who also happens to be a property manager, to adjust the policy for eviction clean up.

"Right now, landlords don't have to do anything. They just wait for the city to come and clean it up," Goodwin said.
A strike by film workers is not yet affecting local productions, according to the Savannah Morning News.
A labor strike could be imminent for thousands of International Alliance of Theatrical Stage Employees (IATSE) members, including those in Savannah, as negotiations continue with the Alliance of Motion Picture and Television Producers (AMPTP), which represents more than 300 film and television studios.

The issues on the table amount to basic rights, according to Darla McGlamery, business agent for IATSE Local 491, which includes more than 1,000 union members across North Carolina, South Carolina and the Savannah area.

On Monday, 36 local IATSE unions across the county voted to grant IATSE International President Matthew Loeb the authority to call a strike. Voter turnout was around 90% with about 98% of those voting to support the strike authorization. It marked the first time in IATSE's 128-year history that members have authorized a nationwide strike.

There are currently two major productions filming in the Savannah-area and no disruptions have been reported, according to the Savannah Economic Development Authority, which oversees the Savannah Regional Film Commission. SEDA President and CEO Trip Tollison said his organization is monitoring the situation.
The Democratic Party of Georgia responded to criticism by U.S. Rep. Buddy Carter (R-Pooler) of the Democratic agenda, according to The Brunswick News.
Rhyan Lake, spokeswoman for the state Democratic Party, said Carter is just trying to draw attention away from his own record in the U.S. Congress.

"Rep. Carter voted against the critical relief for businesses and working families in President Biden's American Rescue Plan and even opposed funding to keep our government open — putting millions of Georgia families, veterans, social security recipients and more at risk," Lake said.

"It's time for Rep. Carter to put aside the political theater and heed the call of Georgians to work with the president and Democrats to defeat the pandemic and build back our economy."

The Pooler Republican's First District includes Glynn and surrounding counties.
It's ironic: Rep. Carter's criticisms of Democratic policies got more ink in that article than the Democratic response to earlier jibes.
The Floyd County Republican Women heard from candidates for Rome City Commission, according to the Rome News Tribune.
U.S. Rep. Sanford Bishop (D-Albany) announced $4.5 million in federal funding to expand broadband, according to WTVM.
Georgia Congressman Sanford Bishop has announced that the FCC is awarding more than $4.5 million to local school districts through the Emergency Connectivity Fund.

County school districts in Bibb, Calhoun, Muscogee, Taylor, and Webster Counties are benefiting from the program.

"Ensuring that our students have access to broadband and connected devices helps close the 'homework gap' by connecting students to our schools and teachers," Congressman Bishop said in a statement. "This is a huge federal investment in our communities, and I encourage other schools and libraries across middle and southwest Georgia to apply for these funds."
A nationwide shortage of crutches is affecting some hospitals and patients, according to The Brunswick News.
"If you have a pair of new or gently used adult regular or universal crutches, we ask that you consider donating them to the health system," said Kyle Culbertson, manager of supply chain services at Southeast Georgia Health System.

"The donated crutches will be thoroughly cleaned and re-donated to patients in need."

COVID-19 is the blame for the shortage of crutches and other medical aids in the national supply chain. The virus is behind delivery issues and the interruption of the flow of raw materials needed to manufacture them.

Donations can be dropped off at the Southeast Georgia Health System Foundation office at 2436 Parkwood Drive in Brunswick Monday-Friday, 8 a.m.-4:30 p.m.
Georgia's United States Senators both co-sponsored the John Lewis Voting Rights Advancement Act of 2021, according to the Capitol Beat News Service via the Albany Herald.
Both the offices of Jon Ossoff and Raphael Warnock issued statements after the legislation, named after the legendary Georgia congressman and civil rights activist, was introduced.

The legislation is designed to restore some protections of the Voting Rights Act of 1965 that, Ossoff said, were gutted by the U.S. Supreme Court to prevent states with a history of discrimination — like Georgia — from enacting laws that discriminate against minorities.

The bill also includes Ossoff's Election Worker and Polling Place Protection Act, aimed at protecting election workers and their families from threats of harm and safeguard election infrastructure.

"Preclearance has been allowed to atrophy, and we've seen the results not only in Georgia but in Texas and Arizona and Pennsylvania, all across our country," [Sen. Warnock] said, referring to a wave of state election law changes critics say amount to voter suppression.

The Senate Judiciary Committee was scheduled to hold a hearing on the legislation on Wednesday, with Ossoff chairing one of the witness panels.
Clayton County is asking Georgia's senators for help with a taxing matter, according to the AJC.
Warnock and Ossoff recently introduced a federal bill that would allow Clayton to resume collections of fuel taxes from Hartsfield-Jackson International Airport, which is operated by the city of Atlanta but is located mostly in Clayton County.

For more than two decades, Clayton received millions in funding from the taxes, most recently getting $9 million for the county school system and $9 million for the county government and Clayton's seven cities.

But a 2014 Federal Aviation Administration policy mandated all revenue from air travel fees must go back to airports for infrastructure, operations and other airfield needs.
The U.S. Department of Education is making changes in the Public Service Forgiveness Loan program, according to the AJC.
U.S. Department of Education officials announced Wednesday they are making several temporary changes to the federal government's Public Service Forgiveness Loan (PSFL) program, which forgives the remaining student loan balance for borrowers in these types of jobs after they've made 10 years of payments.

The program, though, has been rife with confusing regulations that in some cases prevented many participants from being able to apply payments to their debts. Just 2% of program participants have had their loans erased since the program's inception in 2007, statistics show.

"It needs to be simpler," Education Secretary Miguel Cardona said in a video call Wednesday afternoon with three people who've had trouble completing the program: a math teacher from Oklahoma, an assistant professor in New York City and an U.S. Army National Guard officer in Pennsylvania.

Through October 2022, borrowers who have worked 10 years in a qualifying job will be eligible for loan relief no matter what kind of federal loan or repayment plan they have.
Three Swainsboro City Council members are suing the Mayor, alleging racism, according to WJBF.
During an August 24th Special Called Meeting, Swainsboro Mayor Charles Schwabe told three council members, "My research tells me that we do not have a quorum and the meeting will stop now."

Councilmembers Faulkner, Bobbie Collins and John E. Parker say they are speaking in court now, filling a lawsuit earlier this month against the City of Swainsboro and Mayor Charles Schwabe. We told you two weeks ago about a series of meetings that these leaders say impeded completing the important business of the city. After the council unanimously voted to remove the District 1 councilmember due to lack of attendance in August, a quorum battle began over whether three equaled a majority.

"[The] City attorney told us yes that you had a majority. Now when the other members or when someone else contacted the city attorney, he said we did not," Swainsboro City Councilmember John E. Parker, who represents District 5, said.

The lawsuit goes on to say because the September meeting ended early, the council could not vote on the 2022 budget or submit a report on the more than $2 million of American Rescue Act money. A decision on both items is due at the end of October, with the budget taking effect December 1.

The councilmembers told NewsChannel 6 they feel that since they are the councilmembers who attend each meeting each time and vote, carrying the majority, the abrupt meeting cancellations are due to racism. The lawsuit also states Mayor Schwabe is violating the the Georgia Open Meetings Act, something they believe happened this past Monday when the Mayor canceled October's meeting.
Valdosta City Schools plan to return to in-person learning on Wednesday, October 13th, according to the Valdosta Daily Times.
COVID numbers are declining in Muscogee County Schools, according to the Ledger-Enquirer. This is also being seen in other school systems in Georgia.
The Pooler Police Department is recommending that trick-or-treating take place on a Saturday, while some locals plan to host trick-or-treaters on Sunday, according to WTOC.
"You know, the children have had a rough two, two and a half years now. If we can make one simple move to let them maybe stay up a little later, sleep in a little longer, not have to rush home put away their candy, get in bed, get up early and go to school the next day. Just to kind of help them have fun a little bit. Enjoy their holiday a little bit more," said Pooler Police Department Public Information Officer Lindsey Heintzman.

"Usually we don't change it, we don't recommend a change. The last time we did this was seven years ago when Halloween happened to again fall on a Sunday," said Heintzman.

If you'd still prefer to do your trick-or-treating Sunday, "we're not saying that you cannot do that." Heintzman says, "we've heard some neighborhoods saying, 'hey, our neighborhood is doing it on the 31st.' That's your neighborhood that's your decision."
So, there really is a "Fun Police."
Whitfield County Commissioners will consider an ordinance that would allow farm wineries, according to the Dalton Daily Citizen News.
Farm wineries — which both make and sell wines and grow the fruits and berries used to make the wines — are common in Fannin, Gilmer and Pickens counties. And one local businessman is looking to start the first farm winery in Whitfield County.

Commissioners will also hold the first reading of an ordinance that would require people applying for an alcohol beverage license be a U.S. citizen or legal permanent resident and a resident of Whitfield County for at least 30 days. The requirement to be a resident of Whitfield County can be waived if the applicant appoints someone who is a resident to be responsible for any matters related to the license.

"We have had people who are not residents (of Whitfield County) applying for licenses," said board Chairman Jevin Jensen. "Right now, they can do that. That just seems like so much liability (for the county) if there are issues with the license holder. We want to be able to find somebody if there is an issue."
Lake Park City Council approved a Service Delivery Strategy Agreement with Lowndes County, according to the Valdosta Daily Times.
State law requires cities and counties to cooperate in reducing duplication of services, and negotiations have gone on for nearly five years between Valdosta, Dasher, Hahira, Lake Park, Remerton and Lowndes County.

Water and sewer issues and the question of who pays for road maintenance have been the two big holdups in the talks, said Rob Plumb, Lake Park city attorney.