James Oglethorpe arrived at Augusta on September 12, 1739.
French troops arrived near Savannah to prepare for a siege against British forces there on September 12, 1779.
An American fleet of nine ships under the command of Captain Oliver Hazard Perry routed a British fleet in the Battle of Lake Erie on September 10, 1813.
After the battle, Perry sent a famous dispatch to U.S. General William Henry Harrison that read, "We have met the enemy, and they are ours." The Battle of Lake Erie forced the British to abandon Detroit, ensuring U.S. control over Lake Erie and the territorial northwest.
Years later, Pogo, Georgia's Official State Possum, would paraphrase Perry's dispatch.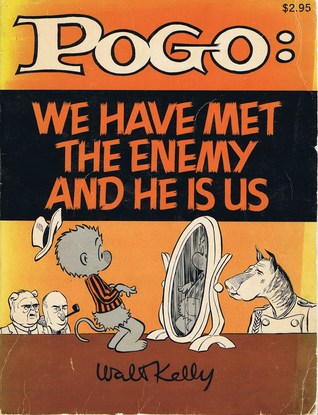 And eventually, Pogo's statement that, "We have met the enemy and he is us" would become the official slogan of the Georgia Republican Party.
One day after Perry's victory in the Battle of Lake Erie, American Master Commandant Thomas Macdonough led American forces in the Battle of Plattsburg at Lake Champlain, New York on September 11, 1813.
The Union Army began evacuating civilians from Atlanta via Lovejoy's Station on September 11, 1864.
Georgia-born Ty Cobb took his last at-bat on September 11, 1928.
After a week-long Presidential campaign swing through ten states, former Governor Jimmy Carter returned to Plains on September 11, 1976.
On September 11, 1985, Pete Rose broke Ty Cobb's career hit record, notching number 4,192 against the San Diego Padres.
On September 10, 1991, Senate confirmation hearings began for Georgia-born Clarence Thomas, who was appointed by President George H.W. Bush (41) to the United States Supreme Court.
Nirvana's Smells Like Teen Spirit was released as a single on September 10, 1991. Today, it smells more like Bengay.
On September 10, 2002, the Atlanta Braves clinched an eleventh straight division title without playing, as a loss by the Philadelphia Phillies assured the Braves the title.
I was in my car the morning of September 11, 2021, on the way to my job when I heard on the radio of the first plane hitting. The announcers thought at first that it must be a small plane and likely an accident. Seventeen minutes later all doubt vanished as the second hit. I called Mrs. GaPundit at home. Over the next hour, a third plane hit the Pentagon and a fourth went down in a field in Pennsylvania. We watched on television as the towers burned, then collapsed.
Georgia Politics, Campaigns, and Elections
Governor Brian Kemp ordered flags on Georgia state buildings to fly at half-staff on September 11, 2021.
Governor Kemp yesterday said the state will sue to block sweeping executive actions undertaken by President Joe Biden to combat COVID, according to the AJC.
Kemp said Thursday that he will "pursue every legal option available to the state of Georgia to stop this blatantly unlawful overreach by the Biden administration" shortly after the president announced plans that could affect as many as 100 million Americans.

The new rules mandate that private-sector businesses with more than 100 workers require their staffers be vaccinated or tested regularly for COVID-19, which is estimated to affect roughly 80 million Americans. An additional 17 million workers at health care facilities that receive federal medical funding would have to be vaccinated.

Separately, Biden also signed an order to require that federal executive branch employees and contractors be vaccinated.

Attorney General Chris Carr, a Republican also running for another term next year, also criticized the Biden administration's vaccine rules and vowed to defend "the citizens and businesses of Georgia from this latest example of federal overreach."
Just two months ago Biden prematurely declared the nation's "independence" from the virus. Now, despite more than 208 million Americans having at least one dose of the vaccines, the U.S. is seeing about 300% more new COVID-19 infections a day, about two-and-a-half times more hospitalizations, and nearly twice the number of deaths compared to the same time last year.
United States Representative Buddy Carter (R-Pooler) and Savannah Mayor Van Johnson (D) weighed in on President Biden's actions, according to WTOC.
Representative Carter sees this as a complete overreach of power from the president. Mayor Johnson, on the other hand, couldn't be happier about this announcement today.

"This is not a president. This is a dictator," said Rep. Carter.

"Those people who have not gotten vaccinated so far, a lot of them are just going to quit. A lot of them are going to work. We're going to end up with a shortage of work or else as it is." [said Carter]

On the other hand, Savannah Mayor Van Johnson applauds the Biden Administration for taking what he says was a necessary step.

"When you want to win, you go hard. So President Biden is going hard," said Mayor Johnson.

"The fact is that we're not winning fast enough, particularly here in the south, particularly here in Georgia where our state has not moved decisively enough to get people vaccinated. Well maybe the federal government can help us get to where we need to be. I want to get to the point to where COVID-19 is in our rearview mirror where we can open up our facilities and have events and Savannah can go back to being what Savannah is," said Mayor Johnson.
Republican U.S. Rep. Rick Allen, R-Evans, encouraged Georgians to get their vaccinations but said Biden's plan could undermine efforts to increase the inoculation rate.

"The federal government has no right to place this mandate on private workplaces that have been struggling over the past 18 months and are desperate to hire workers."

The announcement also quickly ended up as fodder for Republicans on the campaign trail. Among the many enraged Republicans was GOP LG candidate Jeanne Seaver, who quickly put out a statement with a message to Biden: "You can shove your mandates where the sun don't shine!"
U.S. Rep. Barry Loudermilk (R-Cassville) will introduce legislation prohibiting a vaccination requirement for military members, according to the AJC.
Republican U.S. Rep. Barry Loudermilk has signed onto a Republican-sponsored bill that aims to overturn a recent mandate that members of the U.S. military get COVID-19 vaccinations.

The bill is sponsored by Kentucky Rep. Thomas Massie, one of the House's most conservative members.

"This is a doctor/patient decision, and one that should remain private," the Cassville Republican wrote on Twitter.
The Athens-Clarke County Commission passed a policy requiring employee vaccination, according to the Athens Banner Herald.
The vaccination policy leans heavily on incentives, such as money and additional paid time off, for those who comply. Any employee who is fully vaccinated as of Nov. 10 is eligible for $200 and eight hours of PTO.

Those who do not show proof of vaccination by the deadline will be subject to COVID-19 mitigation efforts such as masking and social distancing, and those who do not comply with ACC's COVID-19 policies can face "progressive discipline" up to termination, according to Manager Blaine Williams.

All Athens-Clarke County employees regardless of vaccination status are currently required to wear masks indoors, as stated in the current mask ordinance.
University System of Georgia Acting Chancellor Teresa MacCartney said the USG will not adopt a mask mandate, according to the Capitol Beat News Service via the Gwinnett Daily Post.
The system's policy encouraging but not requiring students, professors and other employees to get vaccinated and wear masks is in keeping with Gov. Brian Kemp's position that mandates are divisive, and people should be given a choice.

"Everybody has the ability to get vaccinated," Acting Chancellor Teresa MacCartney told the system's Board of Regents. "Everybody has the ability to wear a mask."

MacCartney outlined steps the university system has taken to discourage the spread of the virus since classes began last month. She said the campuses have distributed 432,000 masks, 942,000 gloves, more than 1,000 gallons of hand sanitizer and more than 313,000 COVID-19 tests.
"What we know is the single most effective way to keep from getting and spreading the virus that causes COVID-19 is to get vaccinated and to wear a mask," MacCartney said.

The Board of Regents is the only group with the power to mandate masks, and MacCartney said people throughout the state have the ability to get vaccinated and wear a mask.

"Yes, we're doing everything we can to get students, faculty and staff access to vaccinations and to wear masks on campuses," MacCartney said. "Campuses have been urged to communicate, communicate early, often widely, about those and other important measures."

The board members "continue to be in alignment with the governor's expectations and requirements for state agencies," MacCartney said, adding that they will not be swayed by protests.
The AJC looks at how the federal child care tax credit is affecting families.
Amid a pandemic, there's often little consolation for those enduring extreme hardship, especially families with young children. However, to ease some of those challenges, the federal government this year enhanced the federal child tax credit.

Under the American Rescue Act, the program was broadened to include most families, including the poorest of the poor, who haven't been eligible before because they didn't earn enough to file taxes. And instead of making families wait until tax time to get the money, the government offered them immediate help: monthly payments of up to $300 per child for the remainder of the year.

Hundreds of thousands of Georgia families are receiving the payments. So far, payments to those families have totaled more than $1 billion, according to data from the U.S. Treasury Department.

The Georgia families used the checks to pay utility bills and back rent, buy groceries and school supplies and cover other expenses. A survey by the U.S. Census found a similar trend nationwide, with the money most often going to buy food, clothing, and school supplies, pay for housing and child care and to reduce debts. Even after one check, surveys found that families were less likely to report food insufficiency.

As a result, the tax credits been characterized as the most impactful anti-poverty effort by the federal government in half a century, expected to lift roughly 40% of children out of poverty. That may have particular significance in Georgia, where nearly a half million — one of every five children — live in poverty.

An estimated 39 million U.S. households are eligible for the expanded child tax credit. In addition to low-income families, individual taxpayers earning up to $75,000 and married couples filing jointly and earning up to $150,000 receive the full amounts. Above those amounts, the payments start to phase out.

The program provides annual payments of $3,000 per child ages 6 to 17 and $3,600 per child for children ages 5 and younger.

Families who elect to do so can receive half of the total credit in installments delivered each month. Those with children ages 5 and younger receive $300 per month per child, while those with children 6 to 17 can receive $250 per child.

The payments continue until the end of the year. Families then can receive the remainder of the credit when they file taxes in the spring.
This measure and Republicans' reaction to it could reverberate in elections for a generation.
Floyd County voters may be asked to approve new Special Purpose Local Option Sales Tax for Education (E-SPLOST) next year and an extension of the 2017 general purpose SPLOST later, according to the Rome News Tribune.
Local school systems are gearing up for the next round of education local option sales tax packages and hope to have them ready for the May 2022 primary elections ballot.

After the superintendents and school board members decide on their project lists, they'll put together committees made up of residents and parents to make the final decisions on what goes on the ballot.

While officials have planned ELOST and special purpose, local option sales tax packages together in the past, County Manager Jamie McCord said he doesn't think the county is ready to decide on the next SPLOST.

They're still only halfway through their 2017 SPLOST projects and they don't have the turn around time to put together a package by May.
Former Savannah Mayor Edna Jackson will campaign for the State House District 165 seat vacated by the death of State Rep. Mickey Stephens (D-Savannah), according to the Savannah Morning News.
The last time Jackson ran for an elected position was in the 2015 mayoral election, which she lost to Eddie DeLoach in a runoff. The Monday before the election, she was in the hospital being treated after suffering a heart attack. She says it was God's way of telling her she was doing too much.

So why get back into the game now? Jackson says the answer is simple.

"I don't know how to stop," she said.

Clinton Young, a retired Army specialist and vending machine businessman who mounted unsuccessful runs for Savannah City Council in 2007, 2011 and 2015, qualified on Wednesday and Chatham County Elections Board Member Antwan Lang qualified Thursday.

Sabrina Greene-Kent, who described herself as "semi-retired" and works part-time as a payroll specialist for ILA 141, said she plans to file her qualifying paperwork Friday.

Jackson is a Democrat but says her ability to work across the political aisle with Republicans wouldn't be so limited.
The State House Study Committee on Innovative Ways to Maximize Global Talent heard about labor supply issues in Northwest Georgia, according to the Dalton Daily Citizen News.
The House Study Committee on Innovative Ways to Maximize Global Talent held a public hearing at Dalton State College. The committee was created by the House earlier this year to look at ways to help Georgia's foreign-born residents make a greater contribution to its economy.

"The issue we are trying to address is workforce development," said committee Chairman Rep. Wes Cantrell, R-Woodstock. "We are looking at any unnecessary regulations that are keeping people from getting into the workforce."

[Greater Dalton Chamber of Commerce President Rob] Bradham said immigration is important to Dalton and to the floorcovering industry.

"It's a key to solving our labor shortage," he said.

State Rep. Kasey Carpenter, R-Dalton, is a member of the committee. Carpenter noted he has authored a bill that would give those covered by the federal Deferred Action for Childhood Arrivals (DACA) program who were raised in Georgia in-state tuition at state universities and colleges.

"That would be huge for Dalton," Bradham said of Carpenter's bill. "I know a bunch of DACA recipients who would like to go to GNTC (Georgia Northwestern Technical College) or Dalton State College but can't because it's too expensive because they would have to pay out-of-state tuition. I applaud Kasey for doing it."
Tybee Island announced the winner of a contest to design a new license plate bearing the image of the Tybee Island Lighthouse, according to the Savannah Morning News.
A panel of four judges including State Rep. Jesse Petrea (R-Savannah), who sponsored the license plate bill, and Tybee Island Mayor Shirley Sessions voted between two finalists. The group chose the design that reflects a more realistic portrayal of the city's centuries-old lightstation.

"The lighthouse is definitely a beacon, not only for Tybee, but also for Georgia," said Sessions.

In order for the new tag to become available to drivers, 1,000 pre-orders must be made in order for the bill to pass in the 2022 legislative session. Right now there's 350, said Tybee Island Historical Society (TIHS) Executive Director Sarah Jones.

Pre-orders must be made by January 2022 on tybeelighthouse.org.

Partial proceeds from the sales will go towards the TIHS, which will aid in the repainting of the lighthouse in the upcoming years, a $500,000 endeavor, according to Jones.
Tybee Island City Council voted to revise regulations on short term rentals, according to WTOC.
The changes include a new fee structure for short-term vacation rentals. Previously, owners had to pay a $100 renewal fee. Now, they'll pay a $200 base fee, plus other fees based on the number of people staying there.

Council also approved a golf cart ordinance, requiring inspections within 48 hours of coming on the island instead of within 10 days, as well as increased fees over the next five years for alcohol licenses.

[City Manager Shawn] Gillen says this is because when there's more people who stay overnight there's more need for police, code enforcement and fire services.

"So, it's a three tiered structure. People who have STVRs that on their application put 1-5 occupancy will pay $10 per person on top of a $200 base rate. The 6-10 occupancy level, they'll pay $15 per person and over ten it'll be $20 per person. The bigger your STVR the more you'll pay," Gillen said.
Houston County public schools announced that backpacks and large bags will not be allowed in stadiums, according to 13WMAZ.
Julius Hall was disqualified from running for Mayor of Port Wentworth because of a prior felony conviction, according to the Savannah Morning News.
After a Friday hearing at city hall regarding Hall's qualifications, clerk of council, Shanta Scarboro, acting as Municipal Superintendent of Elections, determined he did not meet the candidate requirements as 10 years have not elapsed from completing his federal sentence.

Hall told the Savannah Morning News he plans to appeal the decision at the Superior Court of Chatham County.

The Georgia law in question, Article 2 section 2 paragraph III, states that: "no person…who has been convicted of a felony involving moral turpitude, unless that person's civil rights have been restored and at least ten years have elapsed from the date of the completion of the sentence without a subsequent conviction of another felony involving moral turpitude…shall be eligible to hold any office or appointment of honor or trust in this state."

Hall applied for and received a restoration of civil and political rights from the Georgia State Board of Pardons and Paroles in January of this year. The document restores Hall's right to run for and hold public office, which was previously lost as a result of his sentencing.

Hall argues that the restoration of civil and political rights restores his ability to run for office and that "the State Board of Pardons and Paroles had the discretionary authority to remove all disabilities imposed by law, including eligibility requirements proscribed by the Georgia Constitution itself."