On May 1, 1707, the Act of Union with England, passed by the Scottish Parliament brought together England and Scotland and made the Union Jack the official flag of Great Britain.
George Washington was inaugurated as the first President of the United States of America in New York City on April 30, 1789. From Washington's inaugural address:
it would be peculiarly improper to omit in this first official act my fervent supplications to that Almighty Being who rules over the universe, who presides in the councils of nations, and whose providential aids can supply every human defect, that His benediction may consecrate to the liberties and happiness of the people of the United States a Government instituted by themselves for these essential purposes, and may enable every instrument employed in its administration to execute with success the functions allotted to his charge.

In tendering this homage to the Great Author of every public and private good, I assure myself that it expresses your sentiments not less than my own, nor those of my fellow-citizens at large less than either.

No people can be bound to acknowledge and adore the Invisible Hand which conducts the affairs of men more than those of the United States.
On April 30, 1803, negotiators from France and the United States finished discussions of the Louisiana Purchase, which would double the size of the country.
By the middle of the 18th century, France controlled more of the modern United States than any other European power: from New Orleans northeast to the Great Lakes and northwest to modern-day Montana. In 1762, during the French and Indian War, France ceded its America territory west of the Mississippi River to Spain and in 1763 transferred nearly all of its remaining North American holdings to Great Britain. Spain, no longer a dominant European power, did little to develop Louisiana Territory during the next three decades. In 1796, Spain allied itself with France, leading Britain to use its powerful navy to cut off Spain from America.In 1801, Spain signed a secret treaty with France to return Louisiana Territory to France.

Reports of the retrocession caused considerable uneasiness in the United States. Since the late 1780s, Americans had been moving westward into the Ohio and Tennessee River valleys, and these settlers were highly dependent on free access to the Mississippi River and the strategic port of New Orleans. U.S. officials feared that France, resurgent under the leadership of Napoleon Bonaparte, would soon seek to dominate the Mississippi River and access to the Gulf of Mexico.

U.S. envoys agreed to pay $11,250,000 and assumed claims of its citizens against France in the amount of $3,750,000. In exchange, the United States acquired the vast domain of Louisiana Territory, some 828,000 square miles of land. In October, Congress ratified the purchase, and in December 1803 France formally transferred authority over the region to the United States. The acquisition of the Louisiana Territory for the bargain price of less than three cents an acre was Thomas Jefferson's most notable achievement as president.
The Second Confederate National Flag was adopted on May 1, 1863.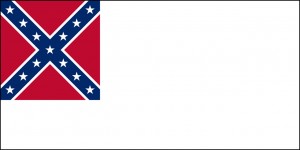 On April 30, 1886, former Confederate President Jefferson Davis arrived in LaGrange, Georgia for the unveiling of a monument to Benjamin Hill.
On May 1, 1886, Jefferson Davis visited the Benjamin Hill monument at Peachtree and West Peachtree Streets in Atlanta, having arrived the previous day. On May 2, 1886, Jefferson Davis left Atlanta, headed to Savannah.
Savannah officials had successfully solicited Davis to attend a variety of special ceremonies and events being planned in Savannah. On the way, the train stopped briefly in Forsyth and Macon, where the ex-Confederate president was greeted by crowds and spoke briefly from the back of his train. Although he didn't leave the train, Davis would return to Macon the following year for a more formal visit.
On May 2, 1939, Lou Gehrig benched himself as the Yankees took the field against the Detroit Tigers, ending his streak of 2,130 consecutive games.
On May 1, 1971, "Joy to the World," by Three Dog Night was the #1 song in the nation.
Kennesaw, Georgia City Council adopted an ordinance on May 1, 1982 requiring each household to own a gun and ammunition.
(a) In order to provide for the emergency management of the city, and further in order to provide for and protect the safety, security and general welfare of the city and its inhabitants, every head of household residing in the city limits is required to maintain a firearm, together with ammunition therefore.

(b) Exempt from the effect of this section are those heads of households who suffer a physical or mental disability which would prohibit them from using such a firearm. Further exempt from the effect of this section are those heads of households who are paupers or who conscientiously oppose maintaining firearms as a result of beliefs or religious doctrine, or persons convicted of a felony.
The Weather Channel began broadcasting from Cobb County, Georgia on May 2, 1982.
On May 1, 1991, Rickey Henderson broke the major league baseball stolen base record on the same day that Nolan Ryan, the greatest pitcher in the history of baseball, recorded his seventh no-hitter.
The official state tartan of Georgia was designated on May 1, 1997.
United States forces killed Osama bin Laden on May 2, 2011.
Georgia Politics, Campaigns, and Elections
President Joe Biden discussed plans for massive government spending and tax increases in his Democratic political rally in Gwinnett County, according to the Associated Press via AccessWDUN.
President Joe Biden took his pitch to Georgia Thursday night for $4 trillion in spending to rebuild the nation's aged infrastructure and vastly expand the federal social safety net, choosing a new political battleground to make his case that Americans want a more activist government.

With his visit to a state he won by fewer than 12,000 votes, Biden set out to build public support for his plan and try to persuade resistant Republicans that his massive proposal is an investment that the country can't afford to pass up.

The Georgia trip is part of an effort to gain momentum for the massive — and expensive — agenda Biden articulated during his first address to a joint session of Congress one night earlier. It's a dramatic shift from nearly four decades of politics in which leaders from both parties have spoken of a need to contain government.

Before the evening car rally in Duluth, Biden and his wife, Jill Biden, first visited former President Jimmy Carter and his wife, Rosalynn Carter, at their home in Plains, Georgia.

He renewed his call for the wealthiest Americans to pay more in taxes to help pay for a wide array of proposals, including universal pre-kindergarten, tuition-free community college, expanded childcare benefits and more. Biden says his proposal for about $1.5 trillion in tax hikes will only target households making $400,000 or more.

"It's about time the very wealthy and corporations start paying their fair share," Biden said. "It's as simple as that."
Biden and other speakers pointed to not only his win in Georgia in the Nov. 3 presidential election, but also the election of Sens. Jon Ossoff and Raphael Warnock, both Democrats, to the U.S. Senate on Jan. 5. The assertion was that Democratic wins in Georgia allowed Biden to find success in his first 100 days.

The president highlighted passage of the American Rescue Plan Act, which included $1,400 stimulus checks for Americans.

"I want to stop here and give thanks to both of your senators, Sens. Ossoff and Warnock, for making it happen because those two votes … those two votes made the difference," Biden said. "It passed by a single vote, and that means we owe special thanks to the people of Georgia.
Because of your two senators, the rest of America was able to get the help they need."

Biden also said the federal government made is possible for Georgia to expand Medicaid — something state leaders have shown reluctance to do — to 500,000 more Georgians.

Biden said he will raise taxes on corporations and the most wealthy residents to pay for these programs, but he added lower and middle class families will see a tax cut.

"As I said (Wednesday night during an address to Congress), the middle class and working people of this country are already paying enough in taxes, it's time for the richest 1% of Americans and corporate America to start to do their part," the president said.

During his remarks on federal voting rights legislation, Biden renewed is criticisms of Georgia's controversial new voting changes while pushing for passage of federal voting rights reforms. He asserted voting rights were under attack in the state because of the passage of state Senate Bill 202.

"More people voted for president in 2020 than anytime in American history, and they did it in the middle of a pandemic," Biden said. "And, you've seen what happened here in Georgia with your state's laws. It's just wrong, wrong, and it's why we have to pass the voting rights protections laws coming through the Congress."
From CNN via the Gwinnett Daily Post:
President Joe Biden and first lady Jill Biden met with former President Jimmy Carter and former first lady Rosalynn Carter at the Carters' Plains, Georgia, home on Thursday.

The visit, which lasted about an hour, marked the first time the couples had met in person since Biden became president, since the Carters did not attend Biden's inauguration in January because of the coronavirus pandemic.

"It was great to see President Carter," Biden said before departing Georgia. "It reminded me that I was the first person to endorse him outside of Georgia. And we sat and talked about the old days and he introduced me to a friend of his, a reverend he wanted me to get to know, and Rosalynn was great, too. We just had a nice time. We're old friends."

"The President and the first lady have a longstanding friendship with President Carter and Mrs. Carter. President Biden actually spoke to them, President Carter, the night before inauguration. As we all know, they were not able to attend. … They had said on that call that they would try to connect after the inauguration, and since they were both in Georgia they wanted to stop by and say hello," principal deputy press secretary Karine Jean-Pierre told reporters aboard Air Force One ahead of the Georgia visit.
But it also was meant to reward Georgia Democrats in a combustible new political battleground who fueled not just his narrow victory in November but also the U.S. Senate runoff sweep in January that flipped control of that chamber.

The roughly $6 trillion in combined spending wouldn't even have a remote chance of passing a divided Washington without the upset victories by Jon Ossoff and Raphael Warnock, who campaigned on a pledge to enthusiastically back Biden's platform.

"We owe a special thanks to the people of Georgia. Because of you, the rest of America was able to get help," he said. "If you ever wonder if elections make a difference, just remember what you did here in Georgia."

"We played a very important role in 2020 in delivering Biden a governing majority," said U.S. Rep. Carolyn Bourdeaux, whose flip of the Gwinnett-based 7th Congressional District was one of the few down-ticket bright spots for Democrats in U.S. House contests.

"It's a slim one," she said, "but it's enabled him to actually accomplish things in a government that's struggled with gridlock."
U.S. Representative Drew Ferguson (R-West Point) is co-sponsoring the Behavioral Intervention Guidelines Act, according to the Newnan Times-Herald.
According to a release from Ferguson's office, the legislation would allow the U.S. Department of Health and Human Services, in consultation with the U.S. Department of Education, U.S. Department of Justice, U.S. Department of Homeland Security and various stakeholders to "develop best practices for the proper use and implementation of behavioral intervention programs to help communities identify the earliest signs of violence to self or others."

"We cannot ignore the mental health ramifications of the pandemic," Ferguson said in a release. "The devastating medical and economic consequences, compounded by stress and isolation, have profoundly impacted the mental health and well-being of many Americans. The BIG Act works to bring the silent effects of this epidemic out of the shadows by providing local communities and educational systems with the tools to help identify mental health needs before it's too late."
Candidates for the State House District 156 seat held by State Rep. Mickey Stephens are lining up in anticipation of the seat opening, according to the Savannah Morning News.
For years, the seat has been held by Mickey Stephens, who has been sidelined by illness since 2019.

Stephens returned to the Georgia Capitol on March 31 after being kept mostly homebound since falling ill in 2019. There, Gloria Stephens, his wife of over 50 years, gave a heartfelt thank you to his colleagues for their support.

Stephens has not yet sent a resignation letter to Georgia Gov. Brian Kemp, however.

Olivia Sims, Stephens' administrative assistant, said on April 29 that Stephens has not officially retired.

Chatham County Elections Board Member Antwan Lang said he would run if Stephens' retired, adding he would only run if Stephens retires.

Former Savannah Mayor Edna Jackson said she was considering a run for the position as well, but said she wouldn't formally announce a run for the seat until Stephens officially retires "out of respect."

Sabrina Greene-Kent, who described herself as "semi-retired" and works part-time as a payroll specialist for ILA 141, is also considering a run, but was reverent of Stephens' legacy.
Former Warner Robins city council candidate Eric Langston pled guilty to forgery in a case related to his candidacy, according to 13WMAZ.
Back in Nov. 2019, 13WMAZ covered Langston's candidacy. We obtained documents saying he owed back taxes, but he pushed back and gave us documents that said he didn't.

On Thursday he appeared in court and pleaded no contest to the charges. Houston County DA George Hartwig said it's called an 'Alford plea.'

"Instead of saying 'Yes, I did do this' and saying 'I'm guilty.' That is a plea where the defendant can basically say, 'I've seen what the state's evidence is and I believe that if I go to trial that I may be convicted based on this evidence, so it's in my best interest to enter a plea on this charge,'" said Hartwig.

The original document sent to Langston from the Georgia Department of Revenue showed he owed nearly $5,000. The document he gave WMAZ in 2019 showed a balance of zero.

City officials saw the story and asked for an investigation, which led to charges of forgery and writing a false statement.

"He was sentenced to 10 years. That's going to be 10 years of probation. He was given a $5,000 fine and then he has a number of what we call 'special conditions' of probation," said Hartwig.
An outdoor burning ban goes into effect in 52 counties on May 1, according to the Augusta Chronicle.
The annual ban prohibits residents from burning any yard or land clearing debris. Some exceptions in the ban include agricultural burning exemption, forestry prescribed burning exemption, campfires or barbeques, firefighting training, operation of open flame equipment and explosives disposal.

Violators of the burn ban could face fines.

Beasley said most of the violations are not even reported. The Augusta Fire Department and Georgia Forestry encourage anyone who sees someone illegally burning during the ban to contact the forestry commission at (706) 556-3962 or call 911.
From the Georgia Forestry Commission:
On May 1, a ban on outdoor burning begins in 54 Georgia counties, primarily in the northern half of the state. Affected residents are asked to refrain from burning yard and land clearing debris during the hot summer months because smoke can negatively impact the state's air quality by contributing to high ozone levels. These conditions have been linked to lung and heart disease in humans.

"The restrictions are required by the state Environmental Protection Division," said Georgia Forestry Commission Protection Chief Frank Sorrells. "By limiting outdoor burning, fewer chemicals and particle pollutants are released into the air." The burn ban is in effect until September 1 in the following counties: Banks, Barrow, Bartow, Bibb, Butts, Carroll, Catoosa, Chattooga, Cherokee, Clarke, Clayton, Cobb, Columbia, Coweta, Crawford, Dawson, DeKalb, Douglas, Fayette, Floyd, Forsyth, Fulton, Gordon, Gwinnett, Hall, Haralson, Heard, Henry, Houston, Jackson, Jasper, Jones, Lamar, Lumpkin, Madison, Meriwether, Monroe, Morgan, Newton, Oconee, Paulding, Peach, Pickens, Pike, Polk, Putnam, Richmond, Rockdale, Spalding, Troup, Twiggs, Upson, Walker and Walton.

While campfires and barbecues are exempt the burn ban, the risk of wildfire in Georgia is always a concern. An increase in the number of wildfires has been recorded in March and April, with 860 wildfires burning almost 5,500 acres across the state. Escaped burning is the leading cause of wildfire in Georgia.

Residents in counties not included in the annual burn ban will continue to be required to secure a burn permit from the Georgia Forestry Commission (GFC) before conducting any outside burning. Permits can be requested online at GaTrees.org or by calling the local office of the GFC.

"Georgia's 25 million acres of forestland serve a giant air purifier," said Georgia Forestry Commission Director Tim Lowrimore. "We can help them do their work by recognizing the burn ban and enjoying the many benefits Georgia's trees and other natural resources give us in summer and all year long."

For more information about the burn ban, the many benefits of trees and services of the Georgia Forestry Commission, visit GaTrees.org.