On April 7, 1776, the United States warship Lexington captured a British warship, HMS Edward, for the first time.
On April 7, 1798, President John Adams signed legislation authorizing negotiations between three representatives of Georgia and three Presidential appointees over Georgia's claim to land west of what is now the Georgia-Alabama state lines. Georgia would continue to claim most of what is currently Alabama and Mississippi until 1802.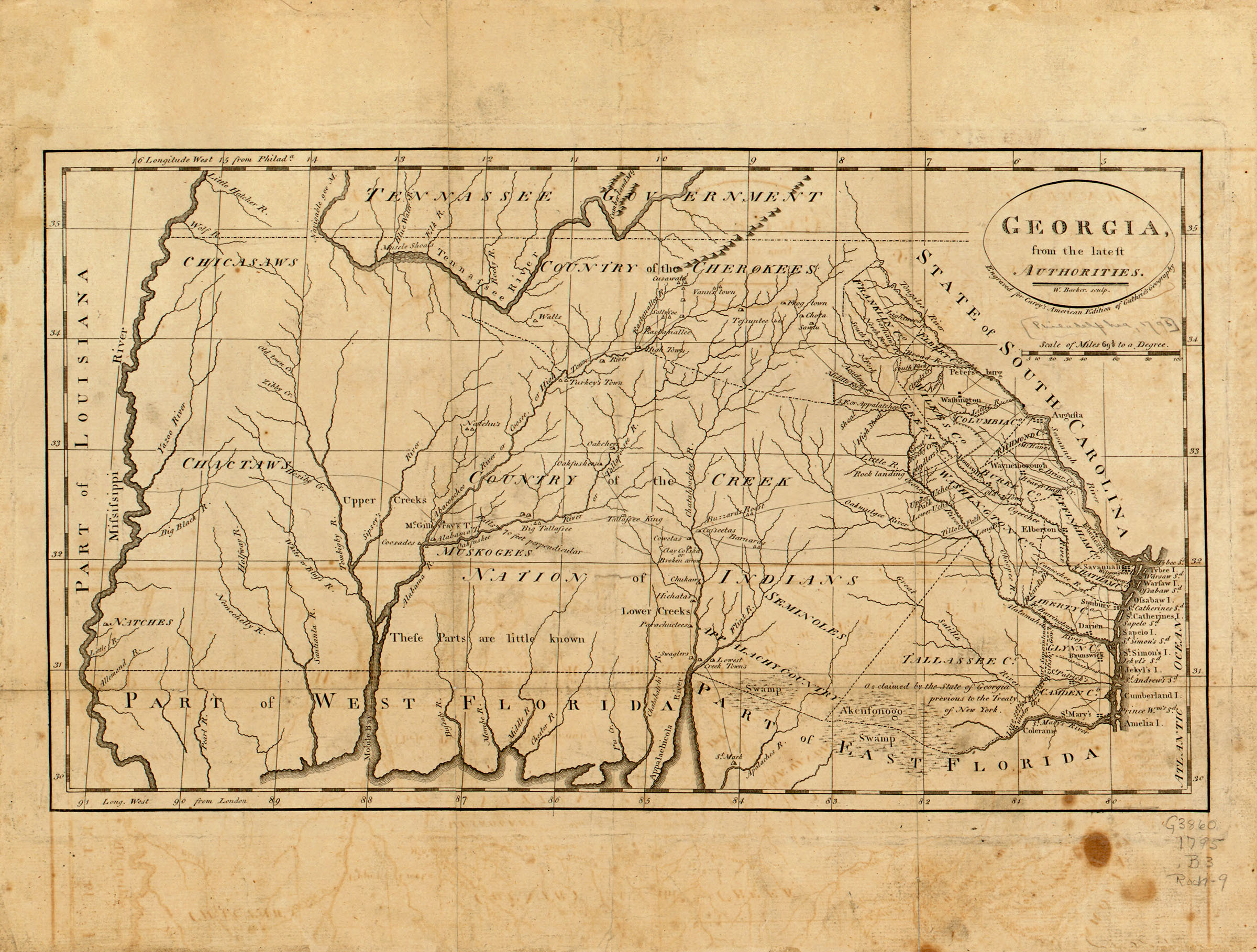 Above: a 1795 map showing Georgia extending west to Louisiana. "These Parts are little known."
On April 7, 1995, Governor Zell Miller signed legislation recognizing the peach as the official state fruit of Georgia.
Georgia Politics, Campaigns, and Elections
Atlanta Mayor Keisha Lance Bottoms has declared herself above the law and will enforce only those state laws she agrees with and will impede those with which she disagrees. From CNN via the Gwinnett Daily Post:
Atlanta Mayor Keisha Lance Bottoms issued an executive order Tuesday that directs the city's chief equity officer to implement "a series of actions to mitigate the impact" of Georgia's new election law imposing a series of voting restrictions.

The city of Atlanta does not have authority over state election law, so the administrative order cannot change any of the new requirements. Most of the actions focus on voter education and staff training to better assist Atlanta residents with information on the new law changes or how to obtain necessary identification.

"This Administrative Order is designed to do what those in the majority of the state legislature did not — expand access to our right to vote," Bottoms said in a statement.

Her order specifically aims to provide training to staff members on voter registration along with early, absentee and in-person voting "in order that they may communicate this information to City residents." The order also has provisions for disseminating information about how to obtain the identification forms needed for absentee voting, and adding QR codes that lead to voter registration information websites on water bills and other mail.
"The voting restrictions of SB 202 will disproportionately impact Atlanta residents—particularly in communities of color and other minority groups," Bottoms said in a statement. "This Administrative Order is designed to do what those in the majority of the state legislature did not—expand access to our right to vote."

The order will enact efforts to develop a plan within the city's authority to expand opportunity and access to the ballot box, according to the mayor's office.

The city is also developing plans to provide information on voter registration and absentee voting using water bills, QR Codes, and weblinks to city websites, according to the statement.

The order also seeks coordination with business and community leaders to create Public Service Announcements to explain the newest voting related deadlines and timelines.
Governor Brian Kemp told Fox 5 Atlanta that he doesn't support requiring a "vaccine passport."
The phrase vaccine passport refers to required documentation that proves a person is vaccinated against COVID-19 in order to travel.

"I do not and will not support any kind of state-mandated vaccine passport," Kemp said in a tweet. "While the development of multiple safe, highly effective COVID-19 vaccines has been a scientific miracle, the decision to receive the vaccine should be left up to each individual."

Other governors have made similar promises to resist vaccine passports, including Florida Gov. Ron DeSantis and Texas Gov. Greg Abbott, who issued an executive order banning any state or local government from requiring a vaccine passport.

The Biden administration has said it would not likely federally mandate vaccine passports.
Governor Kemp continued to discuss the relative merits of Georgia's voting laws and those of places the woke favor, according to Fox News.
"Yeah, I think they will. I mean, it's almost comical–just all of these hits that keep following: moving the All-Star game from a city that's, you know, a metro area that's 51 percent African-American to a metro area that's 10 percent African-American; that has less early voting days than Georgia has. They have 15. We have 17. They have a photo ID requirement for in-person voting as we do." [said Kemp.]

"I mean, it's insane…you compare where Major League Baseball is headquartered in New York, you know. I talked to that issue…about the discrepancies in how they're boycotting and pulling games out of a state like ours. Yet they're headquartered in a state that's more restrictive than we are. I mean, It just doesn't add up. And I will tell you, the people here and all over the country have figured this out. They are outraged and they are sick and tired of the cancel culture." [said Kemp.]
Former Major League Baseball Commissioner Fay Vincent has some advice for his successor, writing in the Wall Street Journal.
Major League Baseball decided last week to move the All-Star Game out of Atlanta after the Georgia Legislature passed changes to the state's voting laws that many, including President Biden, called racist. Activists urged Commissioner Robert Manfred to punish Georgia. By rushing to do so without first protesting the substance of the law, Mr. Manfred made a serious mistake.

Organizations like Major League Baseball have sometimes participated in public debates over policy. Moving directly to an economic sanction suggests that Mr. Manfred believed the Georgia law required drastic intervention. But consider what he didn't do: He didn't limit the number of home games the Atlanta Braves will play. He'd need the approval of the players' union to do that, and Braves owner John Malone would surely resist. To move the site of the All-Star Game is one thing; to ignore union and ownership powers is quite another.

The midsummer All-Star Game is an exhibition that benefits only the city where it's played. It was reported Tuesday morning that Denver will be the new host. The players will get paid no matter where the game takes place. MLB will get the same television revenue. The only people hurt by Mr. Manfred's decision will be Atlanta's stadium workers and local vendors.

During my time as commissioner, I learned that the American people view baseball as a public trust. They want the game to stand for the best and noblest of our national virtues. They see baseball as the repository of their dreams, even as they root for their favorite teams. They don't want, and won't accept, anything that separates them from the game's history and leadership.

Major League Baseball can't become a weapon in the culture wars, a hostage for one political party or ideology. It can't be only for the rich or the poor, nor can it only be for one race, as it was until 1947. Baseball must always stand above politics and its dark elements of corruption, greed and sordid selfishness. It can't go wrong by standing for national greatness.
Much more damaging is the allegation by the Wall Street Journal that these corporate CEOs are putting their own opinions ahead of stockholder interests, according to the Wall Street Journal Editorial Board.
Companies have long sought to influence policies that affect their business, and rightly so. They have the First Amendment right to petition the government. And as the reach of the state has grown, the success or failure of a firm or industry can depend on defeating political predators in Washington or state capitals. We wish it were otherwise, but this is today's reality.

The CEO intervention into Georgia election law is different. It concerns a matter that doesn't directly affect Coca-Cola or Delta Airlines, to cite two companies whose executives condemned the new law. The CEOs are instead injecting themselves into a heated debate over election law and the tension between ballot access and integrity.

This is the kind of brawl that most CEOs typically avoid as too polarizing, and even business lobbies like the Chamber of Commerce tend to steer clear. Not this time.

By endorsing the (false) claims that Republicans are denying the franchise, the CEOs are supporting the direct electoral interests of the Democratic Party. If H.R.1 passes, it will impose rules on all 50 states that will make it easier to elect more Democrats. That's why Nancy Pelosi, Chuck Schumer and President Biden are so intent on passing it.

This is where the interests of shareholders come in. The House-passed PRO Act is the most far-reaching labor legislation since the 1935 Wagner Act and would give union organizing a huge advantage. It bans right-to-work laws nationwide. It would reduce hiring flexibility and make companies less competitive.

The Biden tax increases would reduce the after-tax return on investment and make U.S. companies less competitive globally with the highest combined state-federal corporate tax rate in the developed world. The coming vast regulatory expansion will raise costs by directing investment through political intervention rather than via projected returns on capital.

Perhaps these CEOs think they are buying cheap insurance against the growing political pressure from the left by siding with Democrats so publicly. They may also think they can appease the woke factions among their employees and the public pension funds that are increasingly trying to direct business to side with Democratic priorities.

They are fooling themselves. What the CEOs are doing is helping Democrats pass legislation that will solidify and expand their majorities in Congress. This will not co-opt the left; it will embolden them.

The CEOs are also playing into the hands of the Republican Party's growing anti-corporate wing that is already making hay with Big Tech's free-speech restrictions. The ultimate harm accrues to shareholders, who expect CEOs and corporate boards to represent their interests but are watching them do the opposite.
And the WSJ is questioning MLB Commissioner Rob Manfred's actual commitment to screwing Georgia voting rights.
An MLB spokesman declined to say whether or not Manfred will attend the tournament, which begins Thursday. Manfred, a member at the exclusive club, was at last year's Masters, which took place just five months ago, in November, because of a pandemic postponement. The MLB All-Star Game will be played at Coors Field in Denver, according to several news reports.

An NFL spokesman also had no comment on whether commissioner Roger Goodell, who is also a member, will attend.

The decision on whether to attend the Masters is particularly combustible for Manfred, and even Goodell, because Georgia's new law specifically clashes with one goal both leagues championed: voting access. Critics of the legislation say the new law restricts just that.

While MLB's decision drew praise from the primarily liberal opponents of the law, it also drew backlash—from both the law's backers and MLB's Atlanta-area team, the Braves. "This was neither our decision, nor our recommendation, and we are saddened that fans will not be able to see this event in our city," the Braves said in a statement. "Unfortunately, business, employees and fans in Georgia are the victims of this decision."
White County District One Commissioner Terry Goodger proposes to ban the sale of Coca-Cola products on county property, according to AccessWDUN.
During Monday's commission meeting, District One Commissioner Terry Goodger proposed the county restrict the sale of Coca-Cola products on all county properties and at all county-sponsored events. Goodger also suggested the county encourage retailers, restaurants and entertainment venues in White County restrict sales of Coke products. Further, Goodger suggested the commission should discourage White County employees from using Delta Airlines as a preferred method of air travel.

Both Coca-Cola and Delta, Atlanta-based companies, have criticized the state's new election law. Coca-Cola Chairman and CEO James Quincy said he was disappointed in the Georgia law and that the company would support federal legislation to expand voting access.

The board took no action on Goodger's request, but he acknowledged it was a last-minute request.

"I only came up with this this afternoon, so no one has time to really mull it over and decide what they might want to do as a board, but I would encourage them as a board to support our state legislature and governor," Goodger said.

Goodger's request came on the same day three North Georgia legislators asked Coca-Cola to no longer deliver free products to their legislative offices. Victor Anderson of Habersham County, Stan Gunter of Union County and Lauren McDonald III – all Republicans – joined six other lawmakers in a written request to the soft drink company, asking that Coke no longer supply beverages to their offices.
The Savannah Morning News considers the impact of House Bill 286, preventing "defund the police" actions by local governments.
The bill would prevent cities and counties in Georgia from decreasing their annual police budget by more than 5% year-over-year. If a local governmental body's overall year-over-year revenue decreases by more than 5%, the bill will let them decrease the police budget up to the percentage of total revenue lost.

Mayor Van Johnson is against the defunding of the Savannah Police Department, but says the nature of the bill itself is government overreach.

"It sets a very dangerous precedent. The state and legislators who are not in Savannah, not from Savannah, are making budget decisions that affect Savannah," Johnson said. "The state pays very little into the coffers of our law enforcement budget. These decisions are best made by the local individuals who are in the best position to make these types of critical decisions."

Johnson said these measures, which more or less line up with the goals of the Defund movement couldn't be possible without the increased police budget.

"We're talking about militarization of the police department, we're talking about issues that deal with police officers in uniform, over-policing," Johnson said. "Are there ways that we can better police? I think as a city we absolutely embrace that. Let's find alternative ways for us to be able to address the issue that doesn't necessarily require a traditional police response."
State Rep. Jesse Petrea (R-Savannah) discussed his House Bill 168 with WTOC.
State Representative Jesse Petrea who represents the Chatham County islands says he has been attacking the issue of parole reform head-on because of the enormity of violent crimes that have happened over the years right in Chatham County.

"Most of those crimes are committed by a small subset of people who commit violent crimes over and over and over again," said Rep. Petrea.

House Bill 168 is heading to Governor Kemp's desk to be signed. Petrea says the bill is written to give District Attorneys the ability to request records of the inmates while they're incarcerated to see if being released is safe for the community.

"In every county in the state every solicitor, every district attorney, that person that is the chief law enforcement officer of a jurisdiction, will have the ability to get this information. It can only make our community safer."

Petrea calls this bill a 'victims' bill' and itemized in the bill are the most violent felons who've committed the most violent crimes. For example, Torrey Scott who Petrea says wreaked havoc on the community a few years ago.

Petrea says his mission is public safety.

"This is about keeping the most violent in our prisons off the streets prematurely."
Candidates for 2022 are lining up to run, according to the Capitol Beat News Service via the Athens Banner Herald.
Democratic state Rep. Erick Allen of Smyrna announced his candidacy against Republican Lt. Gov. Geoff Duncan, who also could draw a hardline GOP primary opponent over his appeal to the state's moderate Republicans following last year's election losses.

That's the case for Secretary of State Brad Raffensperger, a Republican seeking reelection against fellow Republican U.S. Rep. Jody Hice of Greensboro as well as former Alpharetta Mayor David Belle Isle.

Meanwhile, Gov. Brian Kemp has yet to draw an opponent from his own party after absorbing blows from Trump, who lost to current President Joe Biden by a slim margin in the first of what is expected to be many tight statewide elections over the next decade.

Abrams is widely expected to run against Kemp again but has not officially declared her candidacy. If she does, Abrams will be on the Democratic ticket with recently elected U.S. Sen. Raphael Warnock, who is staring down another brutal campaign in 2022 after winning the final two years of retired U.S. Sen. Johnny Isakson's term.

Democratic state Sen. Jen Jordan, an Atlanta attorney, has been floated as a possible candidate to run against Carr. She has not said whether she'll launch a 2022 campaign but told lawmakers during debate on a prosecutor-oversight bill she opposed that it "just may mean we may need a new [attorney general]."
Georgia state parks saw surging attendance during COVID, according to WTVM.
With many people heading to local state parks, there are still changes in effect because of the pandemic.

"Our campground, we are pretty much sanitizing everything, which is something new," says Danielle Yeager, an Interpretive Ranger at FDR State Park.

She adds they've been trying to keep up with the camping demand this year, as campsites are completely booked at times. Even as the COVID-19 pandemic continues.

Leaders with Providence Canyon State Park in Lumpkin say during their spring preparations, they've had to change the days they are open after seeing so many visitors.
Savannah will receive $50 million in magic federal money COVID relief funds, according to WTOC.
Last week, Senator Raphael Warnock announced Savannah would be getting more than $50 million.

WTOC asked Mayor Van Johnson what goals he has for the federal aid. And the mayor, while making it clear these are just his thoughts and that council as a whole would have to ultimately approve the allocation, listed a few of his priorities.

Mayor Johnson gave some examples of how to build up the city's infrastructure, improving lighting around the city, and a broadband network. He also says he'd like to see the minimum wage for city employees raised to $15 an hour, for some of the federal aid to build back up city funds that were used for pandemic-related expenses, and help small businesses that applied for CARES Act funding but never received it.

"If we take it and spend it on small pet things, then we've really missed the whole purpose of what these funds were for. It was for building back better. It was for creating a springboard for cities like Savannah to be able to now move on another plane," said Mayor Johnson.
The Mountain Judicial Circuit, serving Habersham, Rabun, and Stephens Counties, resumed jury trials, according to AccessWDUN.
According to information from Habersham County Superior Court, jury trials resumed on Monday, April 5. Seven cases on the trial calendar in Habersham County were disposed of without the need for a trial. Even so, a number of prospective jurors showed up for jury duty.

"I could not have been more proud of the effort this committee has shown toward making this idea a realization," said Chief Judge Chan Caudell of Habersham County.
Richmond County's backlog of court cases burgeoned during the pandemic, according to the Augusta Chronicle.
The pandemic has turned a chronic backlog of pending cases into a pending avalanche of open cases in Richmond County State Court.

In 2019, the last full year before COVID-19 struck, the court closed just over 15,000 misdemeanor and traffic offenses cases.

Currently, according to clerk records, there are 26,396 open cases, most of which were filed before the pandemic brought most court proceedings to a halt in March 2020.

Priority will be given to older pending cases, with more than 22,000 of them stacked up.

Richmond County State Court Solicitor Omeeka Loggins said the first trial week will be April 19. There are cases signed up and ready to go that week.

Loggins said she and her staff are trying to weed down the cases to those that really need to be trials and not just cases in which people are looking for better deals. She said a 2020 case like Goodson's probably won't go to trial any time soon with so many older cases in front of the line.

Of the cases listed as jury trials pending in Richmond County State Court, nearly 6,000 cases stand ready. An additional 95 trial-pending cases are filed as cases with speedy trial demands.
The City of Albany and Dougherty County are discussing needed repairs to the Government Center, according to the Albany Herald.
Throughout the nearly 30 years the two governments have shared the building, the county has provided the bulk of capital improvement dollars.

Moving forward, county officials say they intend to split those costs, the purpose of an agreement they are trying to iron out details for the building, which is jointly owned. The 45,221-square-foot structure was a topic during a Tuesday Albany City Commission meeting.

The city occupies about 55 percent of the office space, and the county about 45 percent in the five-story building, according to Dougherty County Administrator Michael McCoy. The two share the first-floor meeting space for public meetings.

Under an intergovernmental agreement, the county and city will split capital improvement costs accrued after the agreement goes into effect, City Attorney Nathan Davis said.

"In the future, there is a paragraph about parties getting together to discuss capital expenses," he said. "If the county has any outstanding expenses, those are wiped out and we'll start fresh in the future."
The Medical College of Georgia at Augusta University will receive a $1.5 million dollar grant to research how to address racial disparities in heart disease and diabetes research and treatment, according to the Augusta Chronicle.
A 2020 study in the Journal of the American Heart Association looking at clinical trials for drugs for heart disease and diabetes found only 4% of the participants were Black, although those diseases heavily affect that community. It is a longstanding problem because of past abuses in medical research, said Dr. Jennifer Sullivan, interim dean of the Graduate School at AU and a co-director of the training program.

"There's a huge distrust among the African American community of science and research, huge distrust," she said.

MCG and the university are committed to trying to increase trust by increasing diversity "so that we better reflect Georgia," Sullivan said. "If we're going to beat these diseases in Georgians, people want to see themselves in their physician."