Charles Wesley, hymnist, and brother of Methodist founder John Wesley, died on March 29, 1788 in London, England. Charles Wesley served as Secretary to James Oglethorpe and as a Chaplain at Fort Frederica on St Simons Island. This past Sunday, his hymns were played in churches across the globe, including Christ the Lord Is Risen Today and Rejoice, the Lord Is King.
On March 29, 1865, Federal troops under General Ulysses S. Grant began the Appomattox campaign.
On March 29, 1937, Georgia Governor E.D. Rivers signed legislation imposing the first state tax on distilled spirits in Georgia.
If made in another state and imported into Georgia, distilled spirits were taxed at 80 cents per gallon and alcohol at $1.60 per gallon – or at fractional amounts for smaller containers. If made in Georgia, distilled spirits were taxed at 40 cents per gallon and alcohol at 80 cents per gallon.
Note: GeorgiaInfo says Governor Talmadge signed the legislation, but Talmadge left office in January 1937. It was Gov. Rivers who signed the bill.
On March 29, 1973, the last American troops left Vietnam, ending United States engagement in the war.
Georgia Politics, Campaigns, and Elections
Governor Brian Kemp toured parts of Newnan and Coweta County that were struck by hurricanes, according to the Newnan Times-Herald.
Gov. Brian Kemp was given a tour of Newnan High School where he witnessed the results of the devastating tornado, which was only the 10th F4 tornado to hit Georgia since 1950 and the first in 10 years.

The path of the storm was reportedly 6 miles long and one-half mile wide.

"As someone who's responded to several storms in this state, this is different from anything I've ever seen," he said. "This is total destruction. … and our thoughts and prayers are with this community."

"We've been resilient this last year through COVID and were looking forward to getting back to normal, in-person learning," Kemp said. "This has been upended once again, but I have great hope and optimism for the people here today."

Gen. John F. King, Georgia Insurance Commissioner, echoed Kemp's sentiments, citing that "after every disaster, fraud follows."

"We have to be mindful of those coming in to do work and make sure no one gets revictimized," King said. "Make sure those doing work around your house are qualified. If you face any challenges, please call our office."
From the Associated Press via AccessWDUN:
"We are going to do everything in our power with the state resources that we have to help this community rebuild," Kemp said. "But I have great hope and optimism that they (residents) will pull their bootstraps up and we will be there to help them rebuild and continue on."

Kemp was joined by Georgia Emergency Management and Homeland Security Agency Director Chris Stallings, Georgia Insurance and Safety Fire Commissioner General John King, Congressman Drew Ferguson, and local officials.

A temporary shelter has been opened at Evans Middle School for anyone who was displaced due to the storm damage.
Gov. Brian Kemp and other Georgia officials surveyed the damage in tornado-ravaged Coweta County on Saturday and urged people against allowing scam artists from repairing their homes or businesses.

"They're like locusts and we need to make sure that our community is protected and understand not to allow somebody who's not authorized or qualified to do work on properties," state Insurance and Fire Safety Commissioner John King told The Atlanta Journal-Constitution.

Unqualified contractors often attempt to pressure property owners into signing contracts and demanding immediate deposits. King said it's a constant problem after such storms. Officials projected there will be about 10,000 insurance claims in Coweta County alone.

Kemp signed an emergency order late Friday, granting additional state resources to the area. The severe storms rolled through North Georgia late Thursday into Friday, and one person died while others were injured.
On Tuesday, Governor Kemp will help make an announcement at Wild Adventures in Valdosta, according to the Valdosta Daily Times.
Gov. Brian Kemp is scheduled to visit the park for its anniversary and to introduce a new, undisclosed attraction. Kent Buescher, who founded Wild Adventures, is also expected to attend.

While the park has remained tight-lipped about many of the things coming to the park, a few announcements have been made.
Governor Kemp will also host a meet and greet in Valdosta tomorrow at 1:oo PM.
[Note: that "Paid for" disclaimer on the graphic above doesn't refer to its publication here. We didn't receive anything for posting it.]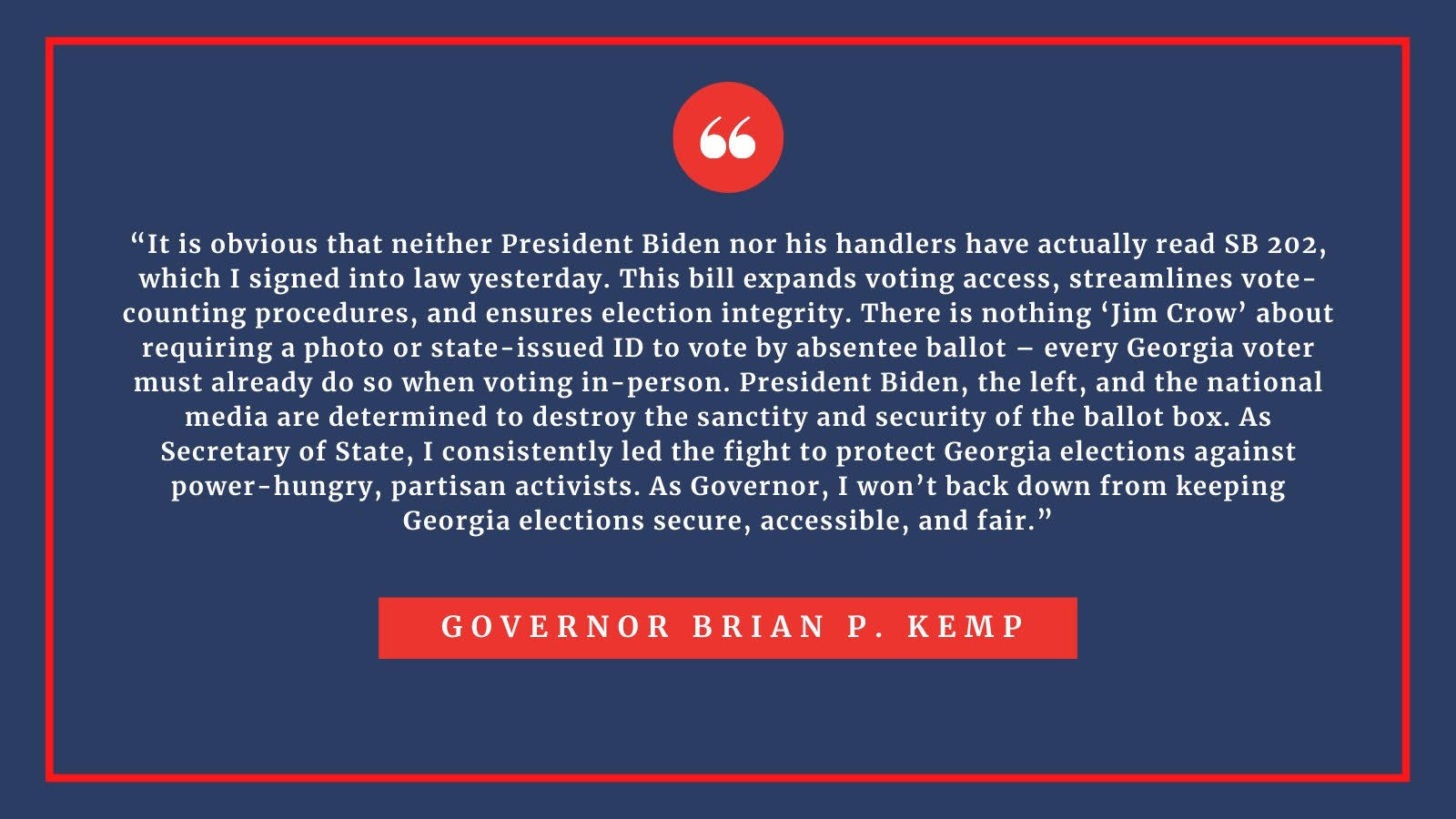 Under the Gold Dome Today
9:00 AM HOUSE RULES – 341 CAP
10:00 AM HOUSE FLOOR SESSION (LD39) – House Chamber
1:00 PM Senate Rules – 450 CAP
SENATE RULES CALENDAR
HB 509 – Insurance; require certain insurers to make at least one reasonably priced comprehensive major medical health insurance policy available (I&L-17th) Gaines-117th
HB 714 – Georgia Civil Practice Act; revise and provide for new requirements (Substitute)(I&L-18th) Kelley-16th
HB 307 – Georgia Telehealth Act; revise (Substitute)(H&HS-32nd) Cooper-43rd
HB 635 – Courts; each judge of the superior court, state court, and probate court and each magistrate shall have authority to perform any lawful judicial act; provide (Substitute)(JUDY-17th) Leverett-33rd
HB 539 – Medical Practice Act of the State of Georgia; institutional licenses; revise provisions (Substitute)(H&HS-11th) Cooper-43rd
HB 371 – Evidence; certain proceedings may be conducted by video conference; provide (Substitute)(JUDY-53rd) Gunter-8th
HB 67 – State government; public property; extend automatic repeals of certain provisions (Substitute) (Rules-46th) (Substitute)(H ED) Martin-49th
HB 355 – Georgia Carbon Sequestration Registry; inclusion of building products in construction; provisions (NR&E-7th) Wiedower-119th
HB 411 – Prosecuting Attorneys Oversight Commission; create (Substitute)(JUDY-29th) Gullett-19th
HB 605 – Health; provide for authorized electronic monitoring in long-term care facilities (Substitute)(H&HS-18th) Cooper-43rd
HB 290 – Hospitals and nursing homes; policy during a declared public health emergency that limits patients' abilities to be visited by designated family members and friends; provisions (Substitute)(H&HS-19th) Setzler-35th
HB 282 – Ad valorem tax; qualified timberland property; add a definition (Substitute)(FIN-52nd) Meeks-178th
HB 458 – Georgia Composite Medical Board; require certain training relating to sexual misconduct for members (Substitute)(H&HS-32nd) Cooper-43rd
HB 134 – State government; meetings relating to cybersecurity contracting and planning from open meeting requirements; exclude (S&T-50th) Anderson-10th
HB 619 – Heritage trust program; sale of Patrick's Fishing Paradise to a private entity; authorize (Substitute)(GvtO-7th) Houston-170th
HB 575 – Ad valorem tax; authorize on premises processing and marketing of agricultural products as a qualifying conservation use (Substitute)(FIN-18th) Dickey-140th
SR 281 – Senate Study Committee on Violence Against Health Care Workers; create (RULES-49th)
HB 218 – Crimes and offenses; weapons carry license reciprocity in this state; expand (Substitute) (Rules-50th) (Substitute)(PUB SAF) Ballinger-23rd
HB 94 – Crimes and offenses; provide for the crime of theft by possession of stolen mail (Substitute)(JUDY-18th) Rich-97th
HB 174 – Motor vehicles; federal regulations regarding safe operation of motor carriers and commercial motor vehicles; update reference date (TRANS-25th) Wiedower-119th
HB 495 – Georgia Bureau of Investigation and the Sexual Offender Registration Review Board; revise duties (PUB SAF-29th) Crowe-110th
HB 534 – Crimes and offenses; promoting illegal drag racing and laying drags; provide for offense (JUDY-10th) Bonner-72nd
HB 562 – Criminal procedure; add DFCS case managers to people for whom arrest warrants may be issued only by certain judicial officers (Substitute)(JUDY-17th) Carpenter-4th
HB 676 – Georgia Farmers' Market and Produce Terminal Development Authority Act; enact (Substitute)(AG&CA-20th) Houston-170th
HR 143 – Property; granting of non-exclusive easements;authorize (Substitute)(SI&P-28th) Greene-151st
HR 142 – Property; conveyance of certain state owned property; authorize (Substitute)(SI&P-28th) Greene-151st
HR 130 – Board of Community Affairs; approving transfer of Forsyth County from Georgia Mountains Regional Commission to Atlanta Regional Commission; ratify action (Substitute)(GvtO-27th) McDonald-26th
HB 653 – Georgia Pharmacy Practice Act; pharmacy care; revise definition (H&HS-52nd) Jasperse-11th
HB 409 – Judicial Legal Defense Fund Commission; establish (Substitute)(GvtO-50th) Gunter-8th
HB 43 – Motor vehicles; require registration application forms to include optional information regarding certain conditions which may interfere with a registrant's ability to communicate (Substitute)(PUB SAF-14th) Cantrell-22nd
HB 128 – Health; prohibit providers from discriminating against potential organ transplant recipients due solely to the physical or mental disability of the potential recipient (H&HS-45th) Williams-145th
HB 152 – Postsecondary education; exemption applicable to certain institutions operating on military installations or bases; revise provisions (H ED-54th) Wiedower-119th
HB 165 – Motor vehicles; use of mounts on windshields for the support of wireless telecommunications devices and stand-alone electronic devices under certain circumstances; allow (TRANS-29th) Barr-103rd
HB 466 – Motor vehicles; number of required hours in the intervention component of DUI Alcohol or Drug Use Risk Reduction Programs; reduce (Substitute)(PUB SAF-29th) Powell-32nd
HB 470 – Property; no plans are required when units are not designated by physical structures; provide (JUDY-28th) Washburn-141st
HB 617 – Postsecondary education; student athletes may receive compensation for use of name, image, or likeness; provide (H ED-46th) Martin-49th
HB 273 – Distilled spirits; initiate a referendum election for the authorization of the issuance of licenses; provide additional method(Substitute) (Rules-28th)(Substitute)(RI&U) Ballinger-23rd
HB 179 – Special license plates; support breast cancer related programs; amend logo design (PUB SAF-3rd) Camp-131st
HB 194 – Criminal procedure; term of probation shall follow mandatory term of imprisonment for persons convicted of a sexual offense; clarify(Substitute)(JUDY-50th) Sainz-180th
HB 231 – Crimes and offenses; victims of stalking; expand applicability of protective orders (Substitute)(JUDY-17th) Gaines-117th
HB 241 – Insurance; revise meaning of property insurance; change parameters under which certain contracts or agreements may be (I&L-29th) Gambill-15th
HB 246 – Motor vehicles; issuance of replacement licenses and permits; increase fee (PUB SAF-56th) Watson-172nd
HB 254 – Insurance; Commissioner's enforcement authority with regard to adjusters; increase (Substitute)(I&L-29th) Lumsden-12th
HB 255 – Sexual Assault Reform Act of 2021; enact (PUB SAF-56th) Holcomb-81st
HB 287 – Education; tobacco and vapor products in course of instruction regarding alcohol and drugs; include (Substitute)(ED&Y-32nd) Rich-97th
HB 328 – Public utilities; one-time right of way permit fee and reduce annual right of way use fees; establish (RI&U-51st) Momtahan-17th
HB 317 – Excise tax; revise definition of innkeeper to include marketplace facilitators; provisions(Substitute) (Rules-49th)(Substitute)(FIN) Stephens-164th
HB 334 – Superior courts; clerks; notaries public; provisions (Substitute)(JUDY-19th) Gullett-19th
HB 338 – Motor vehicles; issuance of veterans' driver's licenses; revise qualifications (VM&HS-3rd) DeLoach-167th
HB 369 – Physicians; job description submission to Georgia Composite Medical Board; provisions (Substitute)(H&HS-20th) Powell-32nd
HB 306 – Corporations, partnership, and associations; corporations may hold shareholders' meetings by means of remote communication; provide(Substitute)(JUDY-50th) Gunter-8th
HB 32 – Income tax; credit for teacher recruitment and retention program; provide (Substitute)(FIN-25th) Belton-112th
HB 443 – Torts; transfer of structured settlement payment rights; provide new requirements (Substitute)(JUDY-4th) Leverett-33rd
HB 454 – Insurance; certain coverage requirements concerning providers that become out-of-network during a plan year; provide(Substitute) (Rules-49th)(Substitute)(I&L) Newton-123rd
HB 449 – Georgia Utility Facility Protection Act; revise (Substitute)(RI&U-37th) Smith-133rd
HB 479 – Criminal procedure; revise certain arrest powers; provisions (JUDY-46th) Reeves-34th
HB 548 – Social services; reasonable access to records concerning reports of child abuse to the Administrative Office of the Courts; provide (JUDY-50th) Dempsey-13th
HB 591 – Mental health; marriage and family therapists to perform certain acts which physicians and others are authorized to perform; authorize (Substitute)(JUDY-32nd) Hogan-179th
HB 532 – Labor, Department of; employment security; changecertain provisions (I&L-16th) Werkheiser-157th
HB 117 – Low THC Oil Patient Registry; ulcerative colitis as a condition for which low THC oil may be used for treatment; add (Substitute)(H&HS-29th) Wilensky-79th
HB 517 – Education; calculation of minimum revenue obligations for scholarships and tuition grants; provide for the inclusion of earned interest (Substitute)(FIN-54th) Carson-46th
HB 480 – Property; creation, declaration and priority of liens for labor, services, or materials performed or furnished by registered interior designers; provide (RI&U-24th) Washburn-141st
HB 477 – Income tax; applications for credit for qualified donations of real property; extend sunset date(Substitute) (Rules-52nd)(Substitute)(FIN) Watson-172nd
HB 587 – Georgia Economic Renewal Act of 2021; enact (Substitute)(FIN-18th) Williamson-115th
HOUSE RULES CALENDAR
Modified Open Rule
SB 100 – State Government; this state shall observe standard time year round; provide (Substitute)(SP&CA-Cantrell-22nd) Watson-1st
Modified Structured Rule
SB 59 – Education; additional QBE funding for each full-time equivalent student within a local charter school; provide (Substitute)(Ed-Jones-25th) Albers-56th
SB 78 – Invasion of Privacy; prohibition on electronically transmitting or posting nude or sexually explicit photographs or videos for purposes of harassing the depicted person; revise (Substitute)(JudyNC-Smith-18th) Jones II-22nd
SB 105 – State-Wide Probation System; conditions and procedures under which probation may be terminated early; revise (JudyNC-Smith-18th) Strickland-17th
SB 117 – Department of Human Services; offenses of improper sexual contact by employee or agent in the first and second degrees; revise (Substitute)(JudyNC-Gaines-117th) Miller-49th
SB 156 – Labor and Industrial Relations; appointment, oath, bond, power, duties, and authority of a chief labor officer; provide (Substitute)(I&L-Kirby-114th) Harbin-16th
SB 198 – Department of Public Safety; subsistence and per diem allowances; receipt of badge and duty weapon upon retirement; provide (PS&HS-Lumsden-12th) Harper-7th
SB 220 – "The Georgia Civics Renewal Act"; enact (Substitute)(Ed-Gambill-15th) Payne-54th (Rules Committee Substitute LC 49 0551S)
SB 225 – License Plates; individuals who served in the armed forces for an ally of the United States during active military combat; provide a veteran's license plate (Substitute)(MotV-Hitchens-161st) Harbison-15th
SB 236 – Alcoholic Beverages; food service establishments to sell mixed drinks for off-premises consumption in approved containers under certain conditions; allow (RegI-Carpenter-4th) Brass-28th
SB 260 – Soil Amendments; exclude from regulation (Substitute)(A&CA-Corbett-174th) Harper-7th
The Rome News Tribune notes that the House Rules Committee is likely to add to the calendar for today's session.
Karl Rove writes about Senate Bill 202, the Georgia elections bill, in the Wall Street Journal opinion pages.
Moves by Republican legislators to reform state election laws are drawing incendiary accusations from Democrats. Former Georgia gubernatorial candidate Stacey Abrams denounced them as "Jim Crow in a suit and tie." Vice President Kamala Harris declared, "It's all voter suppression by any other name." The Democratic Governors Association calls GOP efforts "a direct attack on our democracy." Such cant is unfounded and damaging to the nation's political culture.

In Georgia, Republican legislators are close to passing a bill that expands the state's early-voting period by four days. What a clever GOP suppression technique—provide voters with more opportunities to cast ballots.

The legislation would also require Georgians to vote in their home precinct or risk having their ballot disqualified, and it would forbid outside groups to send duplicate applications for mail-in absentee ballots to voters who've already applied for one. Both are sensible protections.

Democrats are particularly upset with requiring Georgians voting by mail to provide the number from their driver's license, free state-provided ID or other generally accepted identification.

If this is racist, then New Jersey, Virginia and California are suppression hotbeds. New Jersey requires a driver's license number or the last four digits of a Social Security number for online voter registration, while Virginia requires both a photo ID card and your Social Security number. California—hardly a red stronghold—also requires ID to register. Where are the bitter denunciations of these state's racist (Democratic) governors and legislatures?

But something tells me there's no chance Ms. Abrams and Ms. Harris will condemn the absence of democracy in these Democratic states. Republican attempts to take reasonable and prudent actions to prevent future election messes are now routinely condemned as racist and antidemocratic while prominent Democrats are silent on these same practices in blue states, aided and abetted on both their attacks and selective silence by media allies.
The AJC editorial board does make a good point or two in the midst of some sanctimonious horse:
We suspect another law — the one of unintended consequences — may quickly swing into place as a counterweight to this overreach. As in, rather than stomping into oblivion voter-engagement activity that some lawmakers do not like, supporters of Senate Bill 202 have likely awakened and greatly empowered it.

There may be a political and economic price to be paid for Georgia lawmakers' contemptuous stance toward making voting reasonably accessible to all who are legally able to do so.

In fairness to this debacle, AJC polling did show significant support for strengthening ID requirements for absentee ballots. This snippet of the bill at least has some commonsense basis. And the more than 200,000 Georgia registered voters who currently lack ID should take advantage of the state's existing offer to provide it free of charge.

Likewise, no-excuse absentee voting survived attempts to end the practice. And weekend voting for general elections was expanded. Sunday voting also remains a legal option, after many people pressed lawmakers to not ban it. Even so, early voting before runoffs was tightened to a minimum of one week before election day.

We'll note that the world will long remember the shameful scene of a state lawmaker — a Black woman — being dragged down a Gold Dome hallway by white state troopers Thursday because she dared bang on the door of a governor who chose to lock himself away while signing this legislation and livestreaming about it.
And that's the fatal mistake. The Park Cannon photo op. And the unintended consequences. Why is there not a rule against dragging elected State Representatives out of the State Capitol? All it does is create a national hero.
From the Wall Street Journal Editorial Board:
Georgia's new law leaves in place Sunday voting, a point of contention with earlier proposals, given that black churches have a "souls to the polls" tradition after services. The Legislature, rather, decided to expand weekend early voting statewide, by requiring two Saturdays instead of only one under current law. In total, Georgia offers three weeks of early voting, which began last year on Oct. 12. This is not exactly restrictive: Compare that with early voting that started Oct. 24 last year in New York.

The new law also leaves in place no-excuses absentee voting. Every eligible Georgia voter will continue to be allowed to request a mail ballot for the sake of simple convenience—or for no reason at all. Again, this is hardly restrictive: More than a dozen states, including Connecticut and Delaware, require mail voters to give a valid excuse.

So what does the Georgia law do? First, it gets rid of signature matching, so election workers aren't trying to verify mail ballots by comparing John Hancocks. This subjective process should concern both sides. It creates avenues for contested outcomes, with fighting over ambiguous signatures. In 2018 about 2,400 ballots in Georgia were rejected for issues with the signature or oath, according to a recent paper in Political Research Quarterly. Those voters were 54% black.

Instead of signature matching, voters will submit a state ID number with their mail ballots or applications. This way there's no arguing over handwriting: The ID number either matches or it doesn't. Georgians who vote in person are already asked to show identification. Anyone who lacks an ID can get one for free.

Much hay is being made about a provision that prevents third parties from giving gifts, including "food and drink" to those standing in line at the polls. But the point is to prevent activists from showing up in union shirts—or National Rifle Association shirts, for that matter—and passing out drinks and snacks, with some subtle electioneering thrown in.

As for the genuinely thirsty, the new law specifically allows poll workers to provide "self-service water from an unattended receptacle." Also, the legislation recognizes that it's a failure if voters stand in line long enough to get parched. That's why it says wait times at large precincts must be measured three times throughout Election Day. If the line hits an hour, changes are required before the next election.

The law makes ballot drop boxes a permanent part of Georgia's voting architecture. The terms are tighter than they were during last year's pandemic emergency, but how is it part of "Jim Crow 2.0" to give absentee voters more options than they had in 2019? The legislation also says applications for mail ballots are due 11 days before the election, instead of four days. If that's racist, so is the U.S. Postal Service, which urges voters to allow 15 days for two-way delivery.

No election rules are perfect. Ballot access, integrity and administration are all important. Mr. Biden knows this. Democrats aren't smearing Georgia because they believe their "Jim Crow" nonsense. Their strategy is to play the race card to justify breaking the Senate filibuster, so they can jam through their election reform known as H.R.1 and overrule 50 state voting laws.
ARE PEOPLE BANNED FROM HANDING OUT SNACKS OR WATER TO VOTERS IN LINE?

The new law makes it a misdemeanor to hand out "any money or gifts, including, but not limited to, food and drink" to anyone standing in line to vote. The prohibition extends 150 feet from a polling place and 25 feet from any person standing in line.

Advocates of the law say they are attempting to crack down on political organizations or advocacy groups trying to influence voters just before they cast a ballot. Critics say it's cruel and would penalize even nonpartisan groups or individuals for something as simple as giving water to someone waiting in a long line. Democratic state Senate Minority Leader Gloria Butler slammed the proposal Thursday before the bill was signed into law, saying: "They want to make it a crime to bring Grandma some water while she's waiting in line."

Polling places would be able to, but not required to, set up self-serve water dispensers for voters.
Let me tell you a story. On November 6, 2018, I got a text from my then-State Representative alleging that her opponent on the ballot that day was inside the voting precinct with a stack of pizzas from Domino's, handing out slices.
That is probably campaigning within the voting precinct, which was illegal then, and will remain illegal. The difference is that the polls workers did not know or did not care that it was illegal and did nothing to stop it. So now, you can point to state law that says, in §21-2-414
(a) No person shall solicit votes in any manner or by any means or method, nor shall any person distribute or display any campaign material, nor shall any person give, offer to give, or participate in the giving of any money or gifts, including, but not limited to, food and drink, to an elector, nor shall any person solicit signatures for any petition, nor shall any, other than election officials discharging their duties, establish or set up any tables or booths on any day in which ballots are being cast:

(1) Within 150 feet of the outer edge of any building within which a polling place is established;
(2) Within any polling place; or
(3) Within 25 feet of any voter standing in line to vote at any polling place.

These restrictions shall not apply to conduct occurring in private offices or areas which cannot be seen or heard by such electors.
The words that are underlined and italicized were added to the statute. We're not talking about withholding food and water from grandmother.
From the Capitol Beat News Service:
Kemp, who signed the bill about an hour after its final General Assembly passage, batted back at Democrats' attempts to cast the bill as a form of voter suppression akin to discriminatory tactics of the Jim Crow era.

"Contrary to the hyper-partisan rhetoric … the facts are this new law will expand voting access in the Peach State," Kemp said in a video speech shortly after signing the bill.

"Georgians will no doubt soon be overwhelmed with fancy TV ads, mailers and radio spots attacking this common-sense election reform measure. … The truth is ensuring the integrity of the ballot box is not partisan [but] it's about protecting the very foundation of who we are as Georgians and Americans."

Ronna McDaniel, chairwoman of the Republican National Committee, slammed Democrats' "false narrative" on the election bill and said her organization "look[s] forward to defending this law in court."

"Democrats can lie and spin about the bill all they want, but the real question should be: 'Why are Democrats so terrified of a transparent and secure election process?' " McDaniel said in a statement.
From the Savannah Morning News:
Remember those partisan campaign mailers that doubled as a ballot request form? The new bill requires that third-party applications be clearly marked as such, denoting that the forms sent are not an official government publication and not a ballot. And, they can only send them to voters who haven't requested a ballot yet.

The ballots themselves will be different, as well. Printed on "security paper," the ballots will incorporate "features which can be used to authenticate the ballot as an official ballot," but not reveal the choices of the voter.

Another change, for military and overseas voters only, is a new ranked-choice instant-runoff ballot. Runoffs will now come four weeks after an election instead of nine, but this conflicts with federal law, which requires ballots be sent to voters by 45 days before the election.

The legislature's solution is to allow military and overseas voters to rank their choices in the case of a runoff, so their vote for the runoff is already recorded, regardless of the outcome of the general election or primary.
Reactions from local activista, via the Macon Telegraph:
"That's disheartening, and it's a slap in the face to all of the folks that have come before me to continue to do this work and right here in our local community who are still on the ground doing activism work to make sure that folks have access to the ballot," [Fenika Miller, state coordinator for Black Voters Matter] said.

Miller said Black Voters Matter will pursue every avenue in their disposal to stop voter suppression including continuing their support for community partners throughout Georgia.
More reactions, from 13WMAZ:
The Executive Director for Major League Baseball's players association told The Boston Globe some players want to move July's All-Star game from Cobb County because they feel the law suppresses minority voters.

The National Black Justice Coalition is calling on professional golfers to refuse to play in The Masters in Augusta in April unless the law is repealed.
The League of Women Voters of Coastal Georgia, a nonpartisan group, believes this law is unecessary and if it stands, will hurt voters in the long run.

"There is not a single provision in this law that is born out by facts so they're fixing a problem that doesn't exist," said Rebecca Rolfes, president of the League of Women Voters of Coastal Georgia.

The changes include a provision that makes absentee drop boxes officially part of state law. Counties are required to have at least one. Drop boxes are required to be moved inside of early voting locations.

"The supposed purpose of everything in this law is that it's going to make elections safer. How does giving somebody a bottle of water undermine the safety of the election?" said Rolfes.

Rolfes says if the law stands and survives the legal challenges it faces, voters will suffer.

"Everything in this law will make the lines longer, which is a form of voter suppression. You discourage people from voting. I don't have six hours to stand in line. I have to pick my kids up from school. I have a job. I'm 85 years old. I can't stand up that long, whatever, so you discourage people from voting so they just say 'Okay! I can't do it,'" she said.
She's actually either lying about what Georgia law requires or ignorant. From the Secretary of State's website:
If you are 75 years of age or older or have a disability and you show up at the polling place between 9:30 a.m. and 4:30 p.m., you will not be required to wait in line. Such voters should tell a poll officer if he or she wants to move to the front of the line. For information on the accessibility of your polling place, please contact your county elections office. You may contact the Secretary of State's office at 404-656-2871 or (V/TTY) 656-1787 for additional assistance.
From Golf Week via the Augusta Chronicle:
The National Black Justice Coalition is calling on the PGA Tour and Masters Tournament to pull the upcoming event from Augusta National Golf Club in reaction to the recent passing of Georgia's voter bill, SB 202.

NBJC executive director David J. Johns said the law was created to restrict the voting rights of Black and disenfranchised voters in Georgia.

"Georgia's new law restricting voting access is designed to turn back the clock on civil rights, and return Black and poor and already disenfranchised voters in Georgia to second class citizens," Johns said in a statement provided to Golfweek. "This is an unacceptable attack on our democracy and companies that operate in Georgia must speak out against this restrictive law."

"Professional golf should not reward Georgia's attacks on democracy and voting rights with the millions of dollars in revenue that the tournament generates and the prestige it brings to the State," Johns said. "We all must act to protect our democracy and the right to vote."
Mail-in absentee voting will look the most different for voters, especially after 1.3 million people used that method in the November general election. Voters over 65, with a disability, in the military or who live overseas will still be able to apply once for a ballot and automatically receive one the rest of an election cycle. But the earliest voters can request a mail-in ballot will be 11 weeks before an election instead of 180 days — less than half as much time.

The final deadline to complete an application is moved earlier, too. Instead of returning an application by the Friday before election day, SB 202 now backs it up to two Fridays before. Republican sponsors of the bill and local elections officials say this will cut down on the number of ballots rejected for coming in late because of the tight turnaround.

Counties will also begin mailing out absentee ballots about three weeks later than before, starting four weeks before the election.

Another new rule that affects both in-person early voting and election day voting would prohibit anyone except poll workers from handing out water to voters in line, and outlaw passing out food and water to voters within 150 feet of the building that serves as a poll, inside a polling place or within 25 feet of any voter standing in line. Depending on the location, it is still possible for third-party groups to have food and water available — and it is possible for the lines to extend beyond 150 feet.

During early voting, counties must publicly report daily how many people have voted in person, how many absentee ballots have been issued, returned, accepted and rejected. Early voting sites and times must be published publicly ahead of time.
From the Associated Press via AccessWDUN:
Stacey Abrams, the 2018 Democratic nominee for governor in Georgia, wrote on Twitter that the new law signaled Republican "capitulation to lies over truth. To fear over fairness. To suppression over participation."

Richard Hasen, an election law expert at the University of California at Irvine law school, said the outcome is hard to predict. "Many of the things that the bill does are in line with what other states already do, so the question is whether a contraction of voting rights for bad purposes is illegal, even if the contraction does not go as far as some other states (or that Georgia considered)," Hasen wrote in an email.
State Rep. Matt Dubnik, R-Gainesville, said that for many the bill "doesn't go far enough" to address election reform and for others, it "goes too far" in changing the state's voter registration and balloting process.

"Conversations around voter law changes began after the 2016 presidential election and continued through the 2018 gubernatorial election and now in the November 2020 and January 2021 elections as well," Dubnik said. "Both sides of the political spectrum have been clamoring for changes to Georgia election laws for a while, and this bill is not a 'knee-jerk' reaction to the November election."

"Not addressing the election process was not an option," said state Rep. Lee Hawkins, R-Gainesville. "No matter where one is on the issue, I believe we can all agree that voter integrity and confidence are of the utmost importance."

"While election outcomes may be debated and even challenged, voter confidence in our voting process is imperative," Hawkins said. "The recent pandemic has caused changes in our way of life and for some, those changes may be permanent. Hopefully, we will all emerge, in some way, stronger and better prepared for future challenges."

Dubnik added that 97% of Georgia residents have a driver's license, and the bill allows anyone to receive a state-issued ID at no cost.

"Consider this. More Georgians voted in the November 2020 general election than ever before – some 5 million voters," Dubnik said. "Georgia is a state that cherishes the right to vote, encourages citizens to vote and protects the sanctity of the ballot box. By this bill being signed into law, we ensure elections are fair, accurate and secure."
Some of the state's leading Democrats are tapping the brakes on the talk of economic punishment. State Sen. Jen Jordan urged liberals to "stop with this boycott Georgia nonsense."

"I would rather people and companies use their economic power in this state for change rather than not come here at all," said Jordan, who is expected to run for attorney general.

State Rep. Teri Anulewicz, who represents the area near the Braves stadium, said she hopes the All-Star Game remains in Atlanta and that the players "join this fight."
The Rome News Tribune looks at local legislators' bills headed toward the end of the legislative session.
Rep. Eddie Lumsden, R-Armuchee, is slated to present a Senate bill for a full House vote on Monday.

SB 198 authorizes the state Department of Public Safety to present sworn officers with their badge and gun upon their retirement. It is unchanged from when it passed the Senate unanimously in February, so Monday's vote is the last step before it heads to the governor. Lumsden, a retired Georgia State Patrol trooper, is the House sponsor.

The House Rules committee is slated to meet before the session convenes at 10 a.m. and is expected to add more bills to the 11 already listed on the calendar.

Rep. Katie Dempsey, R-Rome, is the sponsor of House Bill 548, which will make it easier for the Administrative Office of the Courts to access child abuse reports from the Division of Family and Children's Services.
The Bulloch County Board of Education approved the purchase of five mobile classrooms, according to the Statesboro Herald.