Jersey is a male Terrier mix who is available for adoption from Furever Match Inc in Dallas, GA.
Hi there, my name is Jersey! I'm 8 years young and such a southern gentleman! You can count on me not jumping and taking my business outside. I like the outdoors, but I'm also happy just snuggling up on the couch watching some good ol' reality TV. I don't mind sharing my space with other pups if I'm not your one and only. As long as I get some belly rubs, I'm good to go!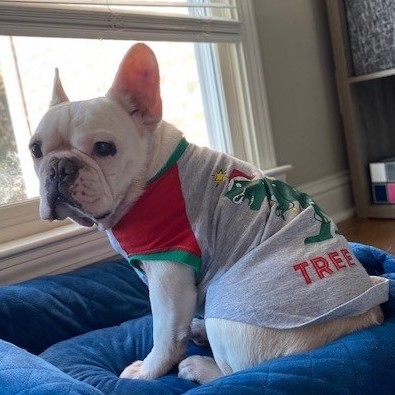 Harlem is a senior male French Bulldog who is available for adoption from Friends To The Forlorn Pitbull Rescue Inc. in Dallas, GA.
Harlem is the perfect lap dog for someone looking for a good nap companion! He loves to curl up and snuggle. For the most part, he is very laid back, but gets the zoomies every now and then – which is super cute. He loves to chase balls and is happy to lay down and chew on his kong. He does great with his harness and walks well with the leash – he loves to go on walks! He is housetrained and does well with whining at the back door when he needs to go out.
Harlem does have something known as reactive aggression with other dogs. He would need to be an only dog or a companion to someone with a very submissive dog. He does well with his foster brothers, who are very submissive, so he could be tested depending on the companion. He is easily triggered by hyperactivity and will growl/snap with toys, treats and his food. Knowing this, he would do well in a home with older kids, as he gets startled by lots of commotion and loud noises. He can also get a bit nippy when he is excited.
Camo is a male American Staffordshire Terrier mix who is available for adoption from Friends To The Forlorn Pitbull Rescue Inc. in Dallas, GA.
Camo is a fantastic, goofy boy. A Wisdom Panel DNA test revealed that he is 100% American Staffordshire Terrier. He has a medium energy level and is well-behaved in the home. He loves to play a good game of fetch as it's his all-time favorite activity. Seriously, the ball is life! Although he is not overly demanding in his exercise requirements, he does benefit from a bit of daily exercise. A simple 15 minute session of fetch with a Chuck-It is enough to keep him happy. He actually seems to enjoy (and is quite good at) walking on the treadmill too.
Camo also loves toys and will entertain himself for hours with a plain and simple Kong. He still thinks he is a small puppy and is not aware of his massive size, but he is a super-snuggler and will happily lounge on the sofa with his family.